Dave is the name, tracking customs is my game! So it gives me great pleasure to introduce this month's rare gem… Diamond Dogs.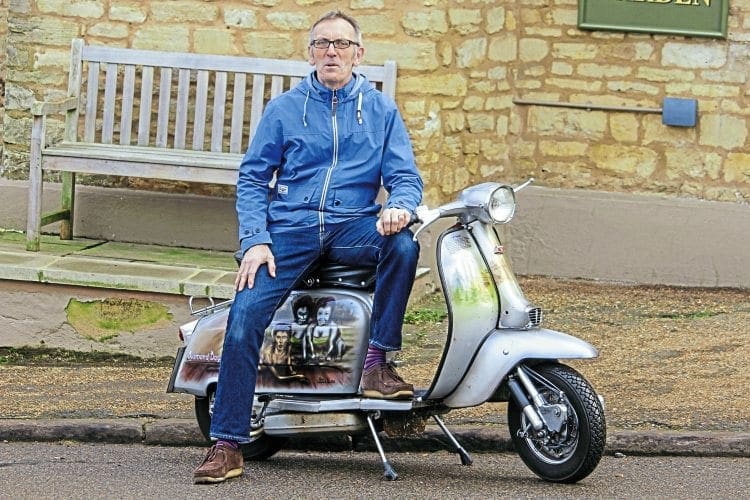 Ch, Ch, Ch, Changes! Over their life most custom scooters have many different owners, as well as various revamps or rebirths… so it is very unusual to find an 80s classic still untouched! This month though, I have tracked down such a rare specimen, a real 'glamour-puss' in the form of Bowie tribute scooter 'Diamond Dogs'. Its new owner (lucky) Jason Dairy found it 'shed fresh' and although the urge was at first to 'modernise' it, in the end, he has (thankfully) decided to keep it 'era-original' Much to our approval. I think in the interior design world they call that shabby chic! But regardless, once a classic of any kind is 'modernised' its real history is gone forever. These hard to find classics are truly rare beasts, so please enjoy every inch of this one.
Dave O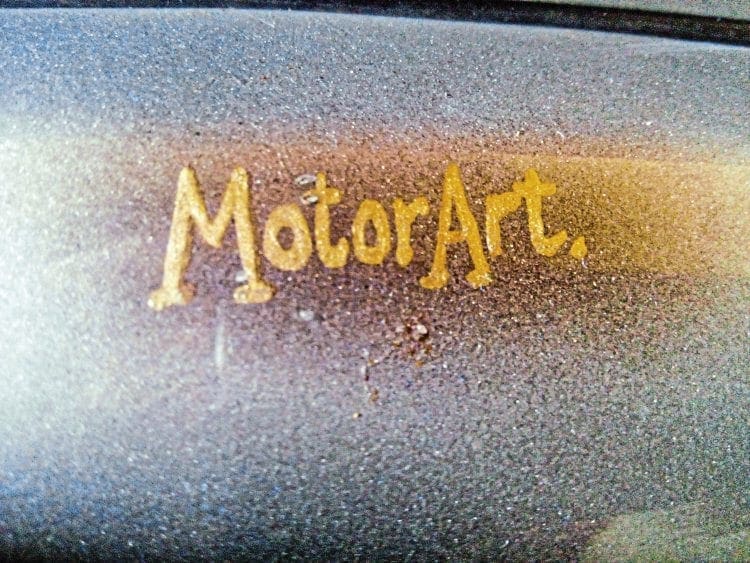 Owner: Jason Dairy
Hometown: Born Hillingdon, Middlesex, scooter years in Aylesbury Bucks, now live in Silverstone, Northants.
Scooter club: Founder member of Aylesbury Upstarts SC, don't belong to clubs these days, just not my thing any more. Well, apart from LCGB.
Scooter name: Diamond Dogs.
Year originally built: It's a 1982 Serveta Jet 200, turned into custom scoot in 1983 (that's the date on the paintwork!).
Paintwork: Andy Lukehurst (I think?).
Engine: Standard Jet 200.
Chrome/engraving: Old original 1983 flaky chrome on the engine casing, forks and hubs.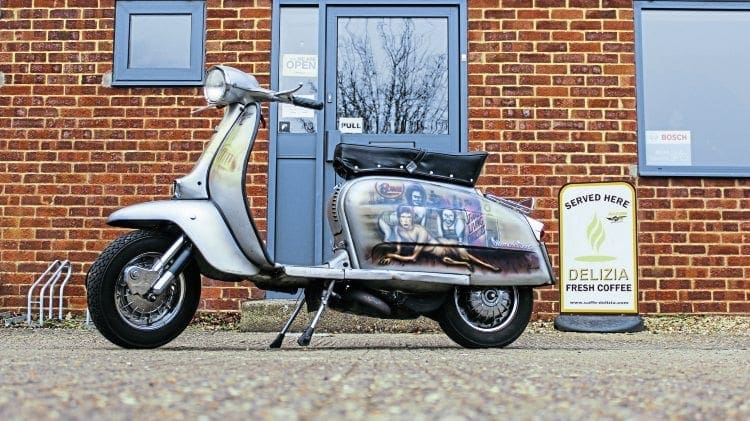 When did you get it/how did you find it: I had been away from the scooter scene from about 1992/3, started a family with my wife Michelle in 1995 with our eldest son Cameron, followed by our youngest son Jake in 1997. It wasn't until 2009, while chatting to old friends, that I got the taste to get another scooter, and was reminded that the last scooter I had was a Jet 200. So it made perfect sense for me to look for another. Along with good mate Gavin Chamberlain's help, due to him having a lot more knowledge than myself, I went on the hunt. Scouring the adverts for a few months, I spotted this for sale, and decided to go take a look. It ticked all boxes, so we loaded it up, paid £1960. I was back in the game!
What condition was the scooter in when you got it: Condition was okay… only about 4000 miles on the clock, it had been stored in a shed for a few years, guessing 24 years to be exact, as tax disc displayed was 1985. Therefore, bought new 1982, customised in 1983, and taken off the road 1985.
What have you had done to it or plan to do since owning: Nothing really with exception to the upgrading from points and condenser to electronic ignition. Old original rear light has been swapped for a sleeker style to the old one, the chrome Fresco has been swapped for a standard setup and the handlebars and switches have been changed from the big boxy square Spanish ones.
Article continues below...
Advert
Do you still do rallies: Not really… went to IOW with family during the rally time for three years about eight years ago, and have done LCGB locals.
What other scooters do you own: Just sold a V90, but still have my 1978 Serveta Jet 200, and a mid-80s Spanish Motovespa 200.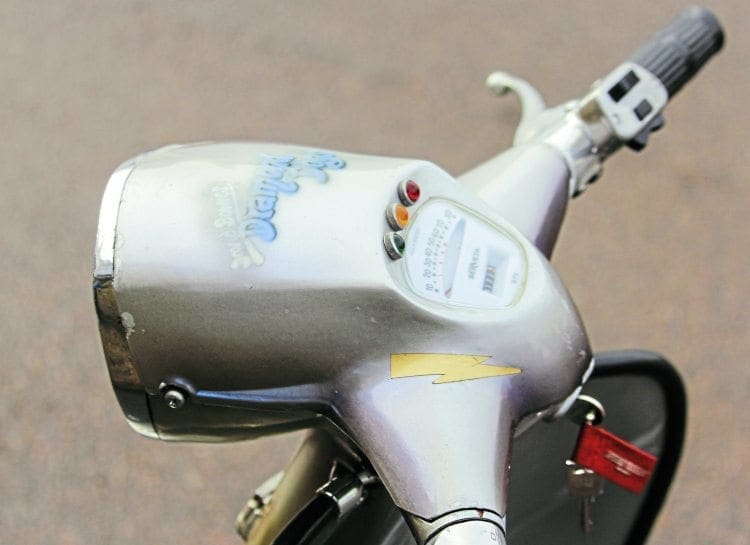 Funny/memorable 80s stories or rides: To be honest, if I hadn't labelled up all my packets of photos from back then, I probably wouldn't have known where I had been, apart from a few memorable landmarks. It all became a blur and a mash up of fun and frolics next to some coast somewhere. I suppose the furthest travelled is always special to anyone, and that for me was Girvan '85 to camp for one night and head back home again… two up with tent and kit on a T5 Mkl. Le Rochelle on my Jet 200 was a great trip, but the Recovery Company delivered it back home for me.
Favourite custom scooter ever: Tricky this one, due to the fact that growing up in Aylesbury, with the Aylesbury Custom Club being as big as it was… it seemed every one of my mates had custom scoots, and bloody good ones at that. Darren King 'Genesis'/'One Track Mind', Richard Cyster 'Warriors of the Wasteworld', Chris Randall 'Goddess', Waz 'Wild Thing', Pete Orchard 'It's a Mystery', Marc 'Honey' Durham 'Indian Sunset', take your pick!
Article continues below...
Advert
Favourite dealer: Two Wheel Centre in Aylesbury.

Enjoy more Scootering reading in the monthly magazine. Click here to subscribe.