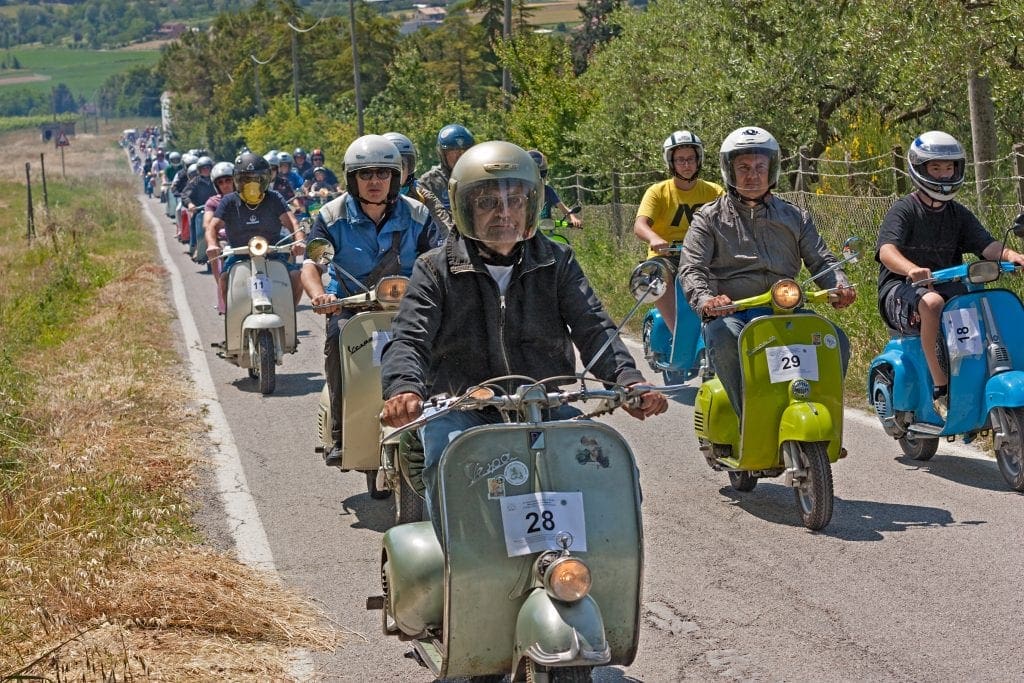 All the latest events and rallies in the Scootering world. Get your event listed for free today!
Get your event listed: diary@scootering.com

12 July 2019 to 14 July 2019
Morecambe Rides Again
Various venues throughout Morecambe
Featuring events at various venues including the legendary Carlton. Bands appearing include Marquis Drive, Heavy Sol, The Skapones, Jack the Lad and the Joe Publix. Custom show, trade stalls, rideout and camping available close to venues. Early bird tickets are £10 for teh weekend including camping. Contact Mark Dugan on 07984 620434, email mark_dugan@hotmail.com or visit the events page on Facebook.
12 July 2019 to 14 July 2019
Guernsey Rally, Imperials SC
12 July 2019 to 14 July 2019
Get Outta Dodge 19
Glen Hotel, Arranmore Island, Donegal, Ireland
Ferry deals, camping on site, £10 all in, Wild Atlantic Way. For details see FB or email muffspeed@gmail.com.
12 July 2019 to 14 July 2019
The Mutiny Returns by South Coast Pirates SC
Mansion Sports and Social Club, Ramsgate, CT12 5BG
13 July 2019
Ride To The Waterfront, Lincoln Knights SC
Brayford Wharf, Lincoln
19 July 2019 to 21 July 2019
National BRSA, #5
Llandudno
19 July 2019 to 21 July 2019
Summer Scrum 9 by Driffield Midnight Runners SC
With Skandals, Extra Specials and Eddie Soulfinger. Camping £10. Call 07868 050620.
19 July 2019 to 21 July 2019
Modafest 4
Whittingham Sports Club, Preston
Ska Face playing live. Info 01772 28444.
19 July 2019 to 21 July 2019
Tin Soldiers Rally
Milton Keynes, MK3 5BX
26 July 2019 to 28 July 2019
Solent Cougars SC, Annual Weekender
BTC Football Club, Eastleigh, nr Southampton
26 July 2019 to 28 July 2019
Rocking the Heifer by Tykes SC
The Rock and Heifer Inn, Bradford, BD13 3RH
£10 for weekend, £5 for day pass.
26 July 2019 to 28 July 2019
ScootAyr Rally
Ayr Racecourse, Whitletts Road, Ayr
26 July 2019 to 28 July 2019
Resurrection Rally, The Second Coming by Prodigy SC
Ashton on Mersey RFC, Sale, M33 5SL
27 July 2019
Hope 'n' Glory Parkas in the Park #18 Scooter Rally
Dungannon Swifts FC, Stangmore Road, Dungannon, Northern Ireland
28 July 2019
Alfreton Classic & Custom Scooter Show
Alfreton Leisure Centre, Church Street, Alfreton, Derbyshire, DE55 7BD
From 10am to 4pm, 30th anniversary since the first NRSA Alfreton Scooter Show. Enquiries email customscootershow@gmail.com.
02 August 2019 to 03 August 2019
Munster SC Rally Into the West Series III
The Ritz Hotel, Lisdoonvarna, Co Clare
For more info, see FB page.
02 August 2019 to 04 August 2019
Harlequins SC Shindig 8
Swatham RFC, Norfolk, PE37 7QX
09 August 2019 to 11 August 2019
Glevum Stax 40th Anniversary
Lower Lode Inn, Tewkesbury
Scooters only, £10 tickets from jamesdixon2017920@gmail.com using PayPal.
10 August 2019
Southern Counties Scooterist Alldayer
East Preston Football Club, Lashmar Road, Littlehampton, BN16 1ES
Free daytime entry from 10am. Evening event £4 on the door, 7pm til midnight.
09 August 2019 to 11 August 2019
Retrofestival
Newbury Showground, Newbury, RG18 9QZ
www.retrofestival.co.uk
23 August 2019 to 26 August 2019
National BRSA, #6
Isle of Wight
30 August 2019 to 01 September 2019
Kustom Kulture Blast Off
Gate 1. Grange-de-Lings, Lincolnshire Showground, Lincoln, LN2 2NA
www.kustomkultureblastoff.com/kkbo-scooterama/
For further info contact 0116 281 0029 or email events@kkbo.co.uk
13 September 2019 to 14 September 2019
Rhyl Weekender
Robin Hood Holiday Site, North Wales
20 September 2019 to 23 September 2019
National BRSA, #7
Woolacombe
25 October 2019 to 27 October 2019
National BRSA, #8
Southport Trade & Custom
01 November 2019
40th Anniversary of the Original Circles
St Anne's Club, Alcester Street, Digbeth, B12 0PH
Support band Turning Black Like Lizards, plus DJ's playing mod, Nothern, sixties, R&B, ska and indie. Tickets £8 or £10 otd, 8pm til 2am. More info Tigga 07854 620386.
02 November 2019
Scooterists Charity Night by AONSC
Standard Triumph Club, 1130-1140 Herald Avenue, Coventry, CV5 6UB
Special Brew live on stage, tickets TBC, doors 7.30pm.
Get your event listed: diary@scootering.com