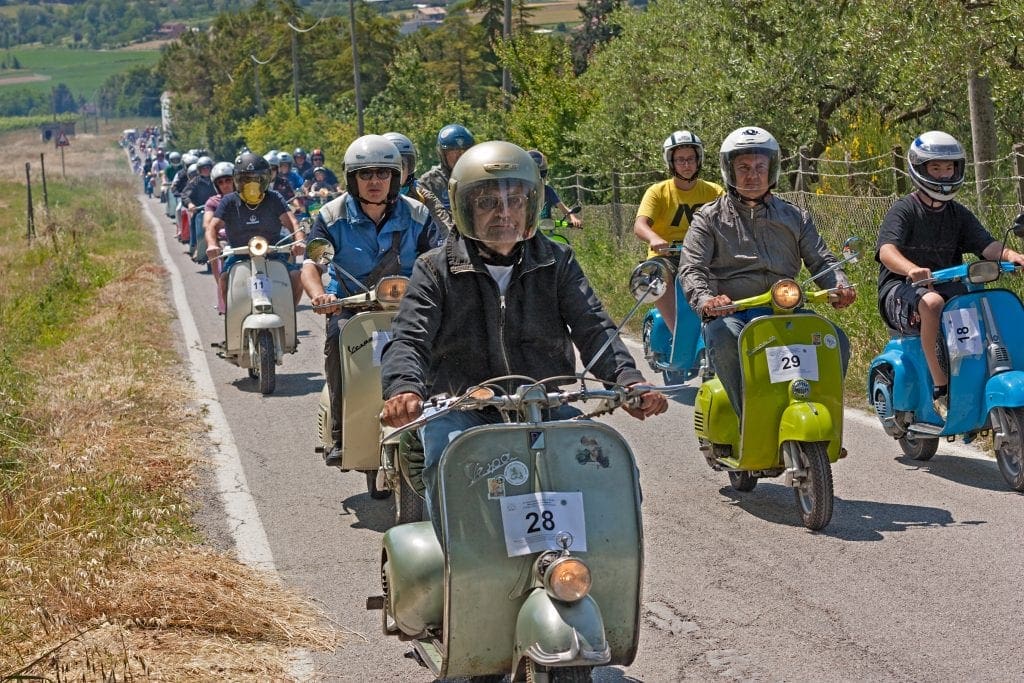 All the latest events and rallies in the Scootering world. Get your event listed for free today!
Get your event listed: diary@scootering.com
05 October 2018 to 07 October 2018
Clacton 11
Martello Beach, Clacton, CO15 2LF
Featuring El Sid plus support. For wristbands call Rob 07840 695245 and for caravans call Sue 01255 820372. Raising money for Saint Luke's Hospice and Marie Curie.
07 October 2018
The Wicksteed Parts Fair
Kettering, Northants, N15 6NJ
14 October 2018
Parts Fair
Aston-cum-Aughton Leisure Centre, Aughton Road, Swallownest, S26 4TF
14 October 2018
The Brighton Ska Train 'Scooter 'n' Ska Special'
The Volks, Brighton Beach
www.thebrightonskatrain.com
Alldayer – midday to midnight and free entry.
20 October 2018
Crossfire Allnighter London
The Venue, 229 Great Portland Street, London W1W 5PN
www.newuntouchables.com
Three rooms of musical perfection. £12.
20 October 2018
The Circles & DJ Tigga
Benjamins, Halesowen, B63 3HN
Tickets £7.50, phone Tigga 07854 620386.
20 October 2018
Soul Night
Northallerton, DL7 8QR
Raising funds for Teesside hospice, 8pm-1am and free parking next to venue. See FB Northerallerton Soul Club for more details.
26 October 2018 to 28 October 2018
BSRA National 9
Bridlington Trade & Custom Show
01 November 2018
From The Jam
Robin 2, Bilston, nr Wolverhampton
www.therobin.co.uk/whats_on/giginfo.asp?gigid=5132
Tickets from box office 8am-8pm.
10 November 2018
Fundraising with The Ska45s
The Studley Sports and Social Club, Eldorado Close, Studley, Warks, B80 7HP
Ticket only, £6 each. Contact club on 01527 857708.
10 November 2018
Pontefract Scooter Club End of Season Do
Night Do at The Ambiance, Pontefract
Memorial rideout then night do. Tickets only £10. For more details contact Kelv 07767 455792 or Mick 07508 108149.
22 November 2018 to 26 November 2018
Skamouth
Vauxhall Holiday Park, Acle New Road, Great Yarmouth, Norfolk
www.vhpweekenders.co.uk/skamouth-november18.html
Tel 01493 857231.
24 November 2018
New Untouchables 21st Anniversary Party
Orleans, 259 Seven Sisters Road, Finsbury Park, London, N4 2DD
www.newuntouchables.com
NUTs DJ's and special guests from 10pm-6am/Adm £8.
25 November 2018
Parts Fair
Bloxwich Leisure Centre, High Street, Bloxwich, Walsall, WS3 2DA
01 December 2018
Mousetrap Pyschedelic Allnighter
Orleans, 259 Seven Sisters Road, Finsbury Park, London, N4 2DD
www.newuntouchables.com
Primest Garage/Freakbeat and Psych on the planet. Resident DJ Dr Robert + guests. 10pm-6am.
01 December 2018
Leicester Phoenix SC, Christmas Do
The Fairfield, Gloucester Crescent, Wigston, Leicester, LE18 4YE
From 8.30pm-1.30am with Heavy Sol, £5. For info Mitch 07857 590095.
29 December 2018
A1 Scooter Club Charity Do
Silverwood Miners Welfare, Rotherham, S65 3ET
All proceeds to Bluebell Wood Hospice. Ticket only admission at £2.50. Contact Jimmy 07425 155362.
31 December 2018
New Untouchables New Year's Eve Party
The Rocksteady, 574 Kingsland Road, London E8 4AR
www.newuntouchables.com
27 January 2019
Bradford Parts Fair
Richard Dunn Sports Centre, Rooley Avenue, Bradford, BD6 1EZ
03 February 2019
Worcester Parts Fair
Perdiswell Leisure Centre, Bilford Road, Worcs, WR3 8DX
23 February 2019
St Helens SC 40th Anniversary Do
Haresfinch Social Club.
Live band TVOD, doors open 7.30pm, tickets £5. Contact Mike – 07989 021820 or Phil – 07538 833745.
03 March 2019
Wicksteed Parts Fair
Kettering, Northants, N15 6NJ
26 April 2019 to 28 April 2019
Undercover Festival 2019
Boston Music Room & The Dome, Tufnell Park, London
www.undercoverfest.com
Further details: Mick Moriaty 07872 173651.
Get your event listed: diary@scootering.com