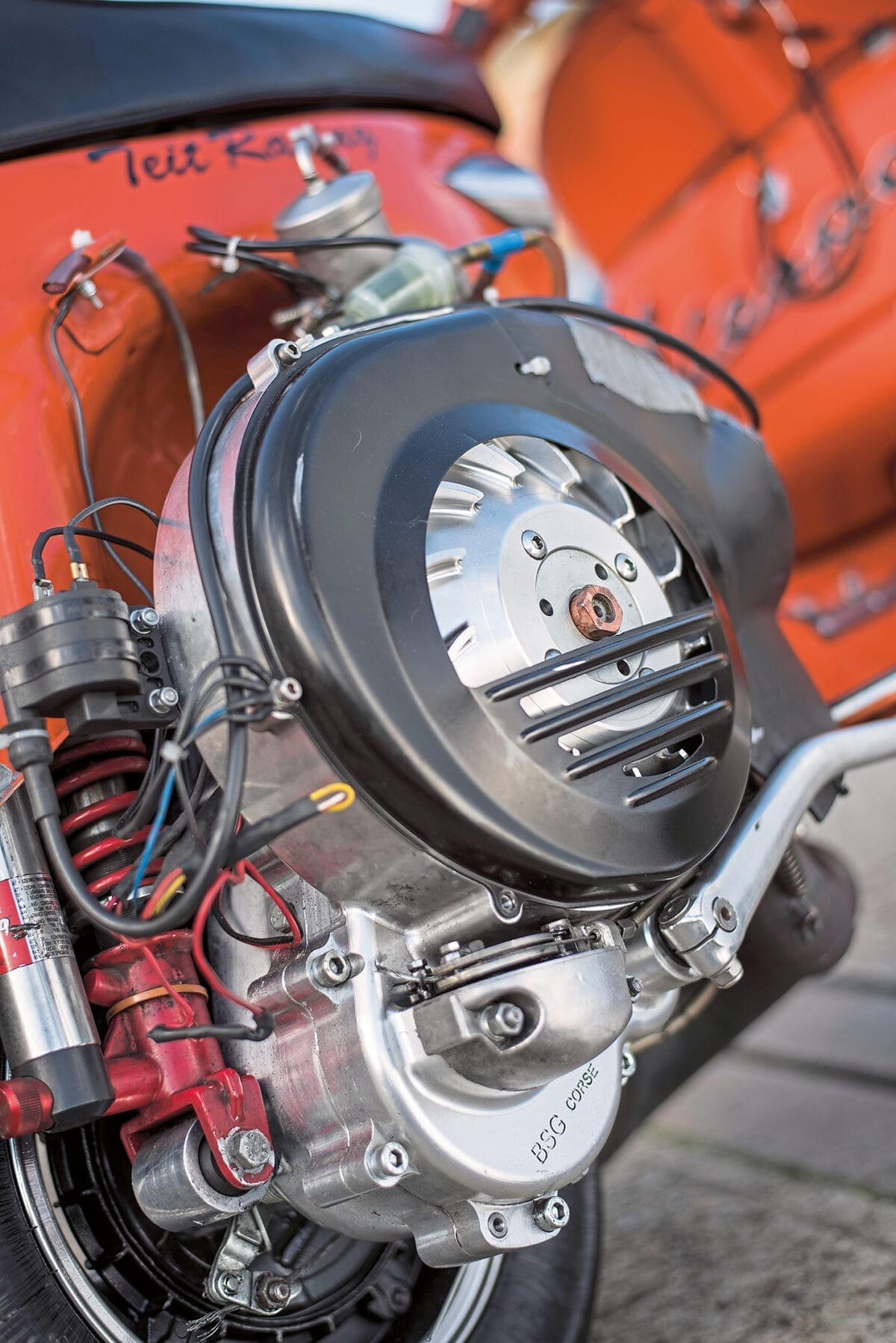 We unloaded the Vespa from the van back end first, so the racing slick tyre on the rear was the first thing I saw. Then the expansion pipe exhaust, with a bloated middle like a snake whose eyes were certainly far bigger than its belly. I had a feeling both its bark and bite may be evenly matched…
As exclusively revealed in Scootering a few months ago, followed up with images, Italy's BSG Corse has teamed up with Casa Lambretta, the goal being to develop and produce a billet Lambretta engine casing and 305cc kit.
BSG consists of engineer Fabio Begani, racer and tuner Stefano Scauri and et3.it boss Alessandro Graiani, and they already produce a CNC engine for smallframe Vespas, one achieving a whopping 47bhp on the dyno at the SIP Customshow in 2013.
They have been working on the engines project  for years, and it has evolved to largeframe Vespa and Lambretta engines. Their idea is to produce an engine capable of enough power that those who in the past have sought out suitable motorcycle engines to transplant into a scooter and scare the living daylights out of themselves no longer need to do so. No. BSG wants you to be able to scare the bejesus out of yourself with what is basically an improved Vespa or Lambretta engine casing using 21st century technology.
Even with things progressing massively since Innocenti first cast a Li engine casing in the 1950s, or Piaggio a rotary induction Vespa block, such extremes don't come cheap, so BSG looked at the possibility of utilising certain components in both its billet Lambretta and Vespa engines, thus reducing the cost of development and production.
As a result, there is a 305cc kit that will attach to a hefty crankshaft that will fit into either their Vespa or Lambretta engines. Yes folks, on its way is a tuning kit that will fit either scooter.
Clever, eh?
Pre-production power
So, back to the Vespa I've just helped lift out of the back of a van. Rimini Lambretta Centre brought it over from Italy to display at Bridlington Trade & Custom Show in October, so a few of you will have already seen it there, maybe even heard it run. We intercepted RLC en route to drop off some stock at JB Tuning in Essex (aka the UK's new Casa Lambretta performance centre), for a closer inspection and that all-important test ride. And how much does the company value the British market? Scootering were the first journalists anywhere to test ride this engine, including Italy.
The 305cc top end is apparently based upon that of a Husqvarna motocross bike, a machine renowned for its power. It features a two piece cylinder head, offering option of liquid- or air-cooled, the former something my esteemed colleague Sticky suggested may be essential when used by British scooterists for marathon motorway-long full throttle thrashes – a riding style it seems that no where else in the world replicates on these little Italian shopping bikes we love so much.
The aluminium barrel features a Nicasil liner and is designed and produced by BSG in Italy. The two-ring piston is 78mm (stroke 64), and assembled it looks like a work of art, suitable for showing off to friends.
The billet Vespa engine casing is also pre-production, hence looking a little less than polished around the edges maybe in some photos. The design is so that the 305cc barrel kit and crank can fitted to either this or the Lambretta version, stud spacing and machining the same on both to suit. And as I stated early, the crankshaft (weighing in at a sturdy 3.3-3.5kg, depending on tungsten balance insert) has been designed for either engine, and to cope with the power.
For the purposes of this test, the Vespa is breathing through a 36mm Dell'Orto carb and reedblock, it features a completely redesigned five-plate clutch, and believe it or not a standard PX four-speed gearbox with 23/64 primary and 35 tooth fourth.
The exhaust is a prototype, built specifically for this engine and still in the early stages of development, with a couple of threads still attached for fitting sensors too, and minimal ground clearance on left-handers. Oh and no baffling at all, as far as I could tell.
Skywards and beyond
I was told this engine was producing around 43hp, a figure obtained from an Italian dyno I believe. With plans to later put it on the dyno at JB Tuning, which is known to be conservative (or more truthful, depending on your opinion), I thought it may actually put out around 38-40hp at the rear wheel. Erm, right…
So it's loud, okay, but I won't be hanging around too long for complaints to stack up. After a few  pre-flight checks from Micky at RLC, and a warning  of a few things to watch out for, I was off. Gently twisting the throttle open, both in anticipation of the power and the fact I wasn't yet in an area suitable for much more, I was firstly aware that despite the assumptions I'd made, this scooter was actually rideable at low speed. Taking into account the rich carb, the fact I dislike drop handlebars and the strong clutch springs, it was still usable in traffic. Wow.
But of course you probably don't want to hear that just yet, and I wasn't too fussed either, it was an open road I wanted. Gently pulling away, with space in front of me, I opened her up and "f**k me!" The front wheel came up, I leant over the bars to keep it down, feathering the throttle to keep control, foot over the rear brake, bum firmly wedged against the back of the sports seat. Wow! Change in to second, accelerate and again the front wheel came up; change into third and… nope, I'd run out of road.
It didn't take long to conclude that this scooter is a beast. Twist the throttle cautiously and it will pull through the gears like a steam train running for home. Grab a fistful and it will kick you so hard that you know it is lining up to spit you off and land you on your arse in the road.
Finding a suitable place to fully test ride all four gears was impossible in the afternoon we had the scooter, and to be honest trying to max it out in third wasn't easy, but after you'd learned to respect this Vespa, it became an object more of pleasure than fear, albeit a dark pleasure. Again, though, for the photographs, steady riding was required and it behaved well – unlike the rider who wanted to play of course! (Sorry Joe!). Photos over and more chance to ride, and to be honest the only limitations were the size of my cahonas and the Vespa itself, with the rear tyre sliding in slightly damp conditions, a little flex detected on the frame at times (which is why European Vespa racers brace their frames!), and a loose ignition which cut the engine out on one run, signalling the end of what I can only describe as truly a ride of my life. Okay, and those drop bars and strong clutch springs were playing havoc with my wrist too!
Make no mistake, this scooter is fun, the power addictive, the delivery instant, verging on aggressive and the rush of acceleration immense, but get it wrong and it will make you pay.
Dyno to go
The next morning at JB Tuning, Group 4 BSSO scooter racer Mikey Bonett started his race Lambretta and rode it up and down outside the shop. He then got off and on to the 305cc BSG Vespa for a spin, returning with a smile on face and the words: "F**k me!" (the same words were also uttered by Group 6 racer Stuart Day when he tried it at Bridlington!). John Balcomb also took it out for a spin, returning some time later with an approving smile, while at the same time acknowledging what a beast it was.
But how much of a beast is it? Running it up on JB's dyno meant it got thrashed to the max in fourth for the first time in the UK. The results? If you've not looked at the graph yet, peak power on a four gear run was 51bhp at 8843rpm, with maximum torque 30.59lb-ft at 8712rpm and an impressive 105mph speed too. To put it into perspective, an average 210 Malossi kitted Vespa will do something like 20bhp, and a RB250 kitted Lambretta, something in region of 26bhp out of the box. This 305cc Vespa is truly mental! Not only that, but BSG tells us that at the moment – remember that this engine and kit are still in development – it only runs to 75-80% of its potential power. This is an engine that should sit comfortably at 80mph, with enough grunt to pull away from there for overtaking and showing off purposes.
Originally published December 2014

Enjoy more Scootering reading in the monthly magazine. Click here to subscribe.