This beauty fits the bill perfectly… When I started out on my nostalgic look back on the previous decades of custom offerings, the main objective was to unearth or revisit scooters that had stood out, made an impact, and were slightly different.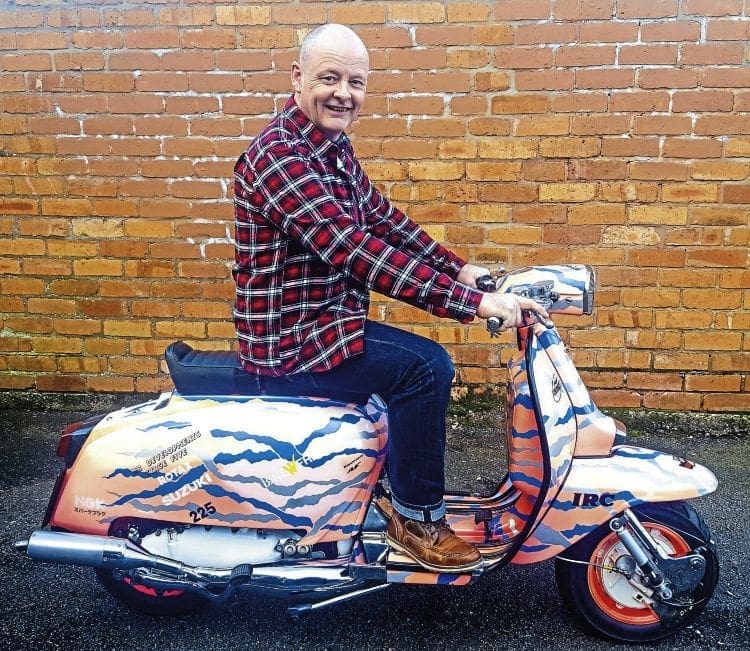 My discoveries can come about through internet research, friendships, word of mouth or even just pure luck! Now while discussing a previous headliner, 'Road Warrior', I just happened to ask Tony if he knew the whereabouts of the 'bright bretta' that could often be seen accompanying him during the early 90s? "What, Shocking Stuff?" came the answer, "It's in my garage!" Tony had originally built it for his girlfriend at the time, but after splitting up, he became the new custodian at the start of the millennium. As a street racer its main attributes were of course a 'tasty' engine and statement paintwork. However in a change from blockwork and lettering he opted for ribbon effect graphics on flouro base.
Now as you can see this type of paint has one main drawback, although 'shocking' at the start it does tend to fade quite badly over the years. This is not the first time I have seen this, I have had first-hand experience with a pink Acid Racer Vespa I built in the early 90s, and also viewing what was left of the ground-breaking Nike Air panel work. That said, Tony has had good use out of his machine and after nearly 30 years of scootering we all have blemishes and faded skin!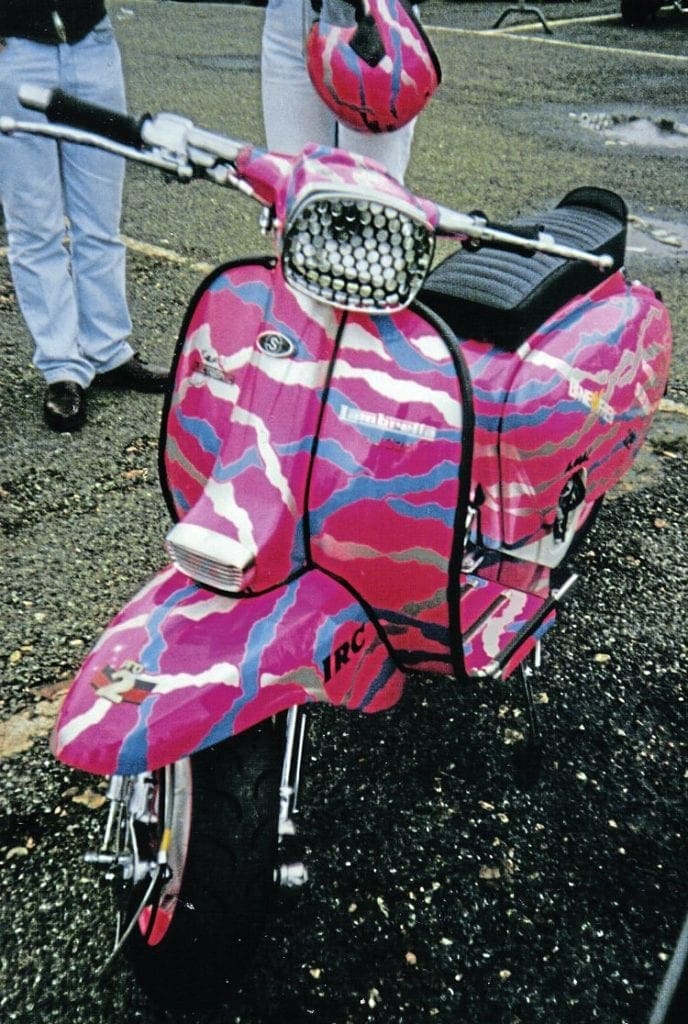 I had always thought that the inspiration for the graphics had come from the Mick Doohan Arai crash helmet, but Tony says he actually got the idea from a Harris Suzuki he saw on the Crossbow calendar stall at the NEC the year of the build – you never stop learning!
Owner: Tony Lewis
Hometown: Shrewsbury.
Scooter club: Solo.
Scooter name: Shocking Stuff.
Theme and why: Streetracer, saw the Nike racer and wanted to do something that looked fast standing still.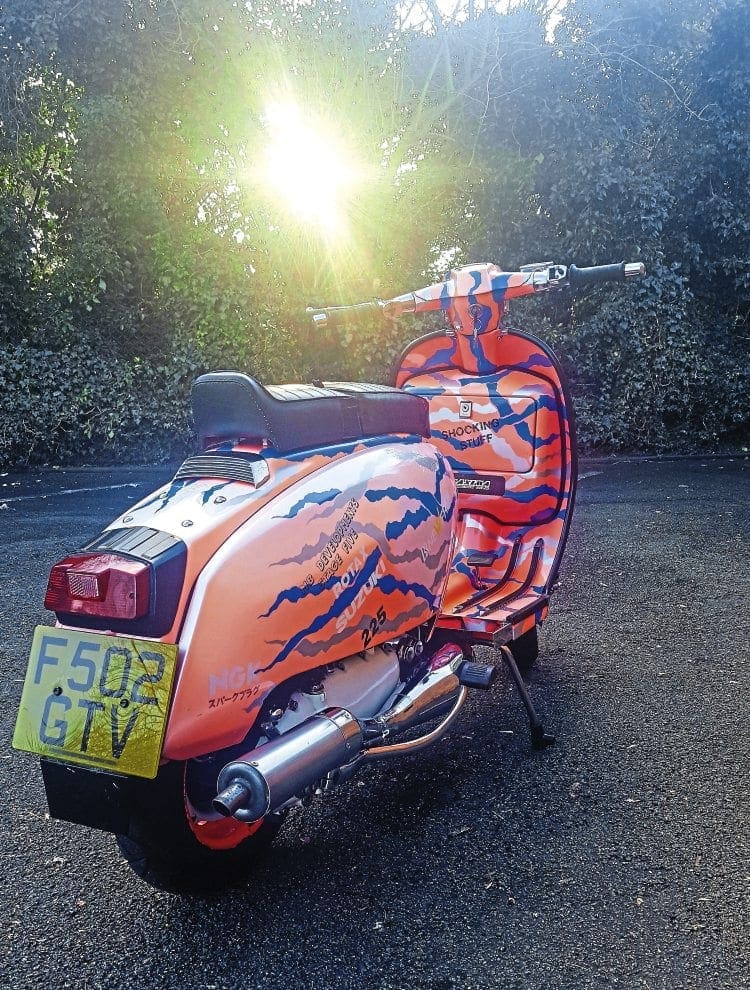 Year originally built: 1991.
Paint: John Spurgeon Aerographics.
Engine: MB Developments Stage 5 Suzuki 225, Rotax con rod, 34 mm Amal power jet and prototype MB devtour exhaust. The exhaust has got more patches on the U pipe than an 80s scooter boy now though!
Fabrication: Front hub air scoop, Yamaha levers, grips, handlebar weights, hydraulic front disc, cut panels, small footboards and one off seat.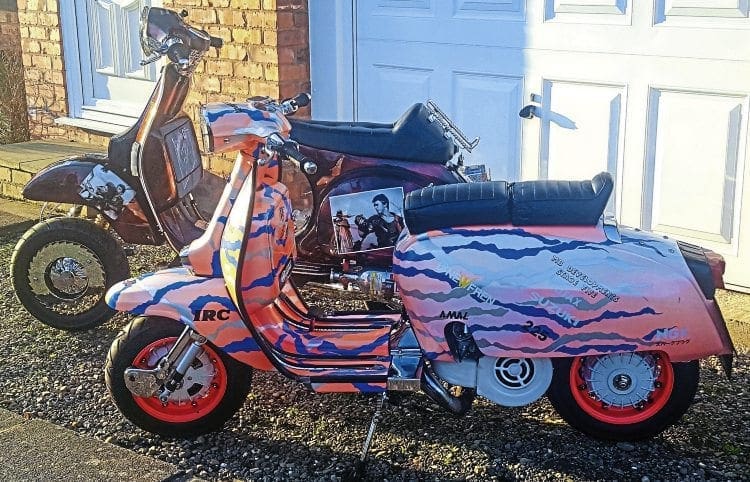 Chrome/engraving: No engraving. Chrome exhaust, small footboards, legshield bridge etc. Are you the original owner or when did you become the owner: No, I built it for my girlfriend at the time and then bought it off her some years later, in 2000 I think.
When you got the base scooter what condition was it in: It was a year old orange Indian GP 200 when first bought, so in very good condition and a good start for the project.
What have you had done to it or plan to do since owning: Only really added an RI shock and made some Italjet front shocks fit. Just basically ridden over the years.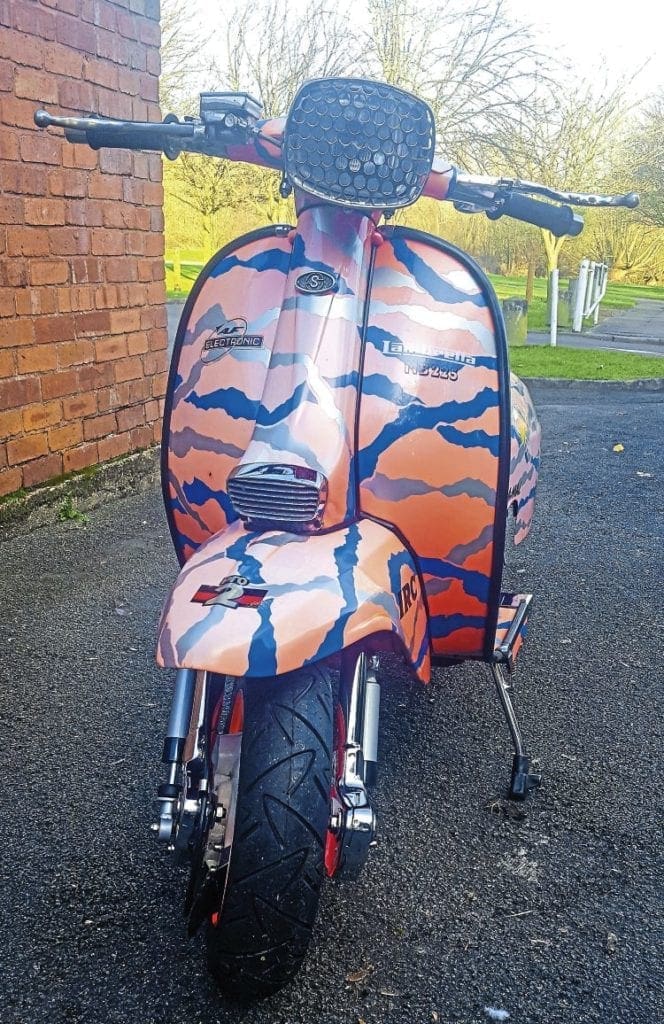 Do you have restoration/upgrade plans: As you can see from the photos the paintwork has faded considerably, so would like to repaint it. Think I will have to do it myself though. Would like to keep the same design but would like to change the pink. You wouldn't believe how much stick I get for riding a pink scoot. Would also like to get the seat recovered and the engine bought up to date.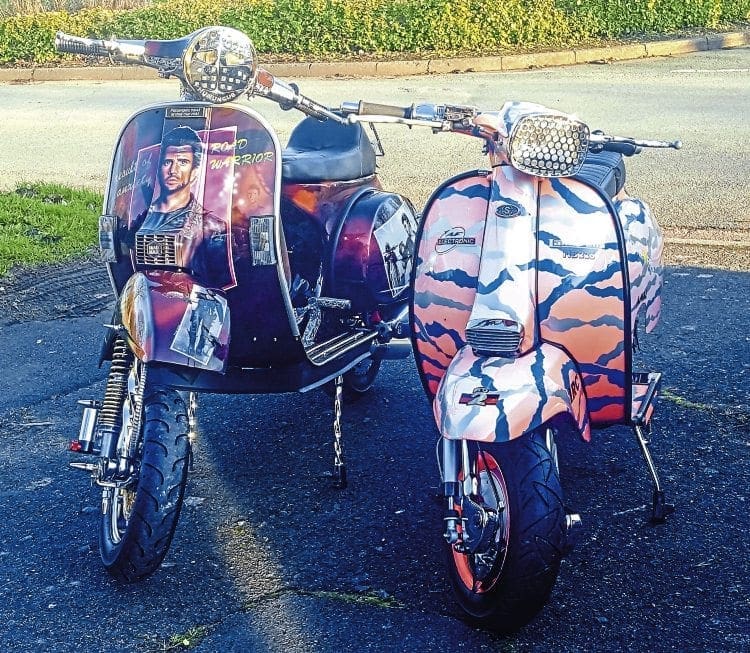 Funny scootering stories from the 80s-90s: At Southport rally in the early 90s we were all in a pub and I noticed a lot of lads had disappeared. Didn't think much of it until I went to the gents, only to find and hear my mate Dean, who could knock out a tune on the harmonica, giving his rendition of Love Me Do accompanied by about eight lads playing toilet seats, toilet doors and even the urinal at one point to the beat. One of the most memorable and best things I've ever seen or heard.
Anything else you'd like to add or think is relevant: I've used the scoot up until recently every day in wind rain sun and even snow to go work, and it's never let me down. It still has the original barrel, piston, crank, carb and exhaust. Just goes to show tuned scooters can be reliable.
Dave O

Enjoy more Scootering reading in the monthly magazine. Click here to subscribe.