Scooters are a hobby for many, others work on them for a living. John Quintos found another way to go. He eats and drinks vintage Lambrettas at his scooter-themed cafes in San Francisco.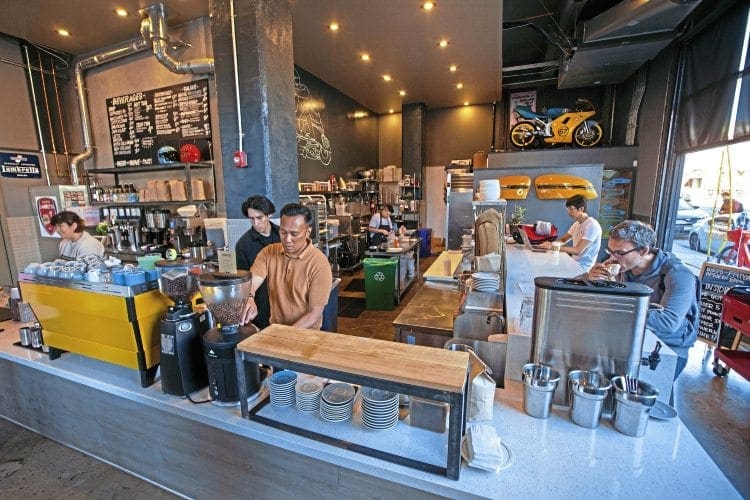 Hooked on scooters…
John bought his first Mod parka when he was 15, a year before he traded his 1970 VW squareback for a 1967 Lambretta SX200. By his 19th birthday he had become a scooter boy, graduating to bomber jackets and Doc Martens. After crashing it in 1989 he sold it, only to buy it back again for twice the price 10 years later. John explains: "My Lambretta passed through all the incarnations from Mod (drilled holes in the leg shield for front crash bars) to street racer.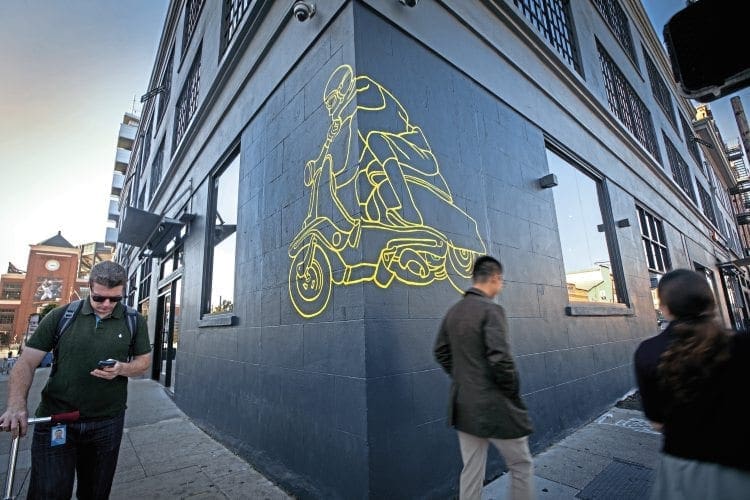 "I modified the floor board to fit my MSC (Midland Scooter Centre) DJ exhaust, I personally ruined the body work when I cut a hole in the side panel so I could fit a 28mm Amal carburettor," he recalls.
Years later his wife presented him with a replacement panel.
Racing ahead
In the late 80s, John got involved in American scooter racing. He became fast friends with Lambretta enthusiast Barry Gwin, owner of the San Francisco Scooter Centre. With Gwin's sponsorship (John believes the two of them were among the first to fashion an expansion chamber exhaust for a Lambretta) he won many races, and the attention of the far larger scooter racing scene in Britain.
He told us: "In 1988, Norrie Kerr and David Webster, co-owners of Midland Scooter Centre, asked me to come to rainy England to join the Leicester Lambretta Racing Team." They discovered John after obtaining a copy of a story the San Francisco scooter publication called Whaaam. It was titled Life in the Fast Lane: American Scooter Racing Comes of Age. There, they read about John's accomplishments with his racing skills.
"In England I won a couple of newcomer races, including Three Sisters, with the unfair advantage of riding Dave Webster's champion Lambretta, and #1 Vespa." Over the course of the season, John also lost a few, crashing out on Dave Webster's Group 4 bike, yet he came back for a second year in 1989.
Lambrettas and Coffee
Done with racing, John was still taken with Lambrettas, but now primarily as icons decorating his three cafes: Cafe Lambretta, Cento and Venga. He got the idea back in the 80s, but it wasn't until 2006 when his son was born that he decided to stop working at night in the restaurant industry, and open a daytime cafe operation. "This pushed me to create the Cafe Lambretta business model," he said. John's Zagat-rated cafes roast their own beans and offer high-end baked goods they make themselves. He's intentionally not offering wi-fi to give patrons a break from email, and it seems quite a success. His customers are 90% tech industry workers. "Most customers work in the neighbourhood and they need to get out of their offices, and away from their cubicles for a while."
Customer Jordon Le Boeuf, who rides a red 1962 Lambretta S3 TV175, told us: "Walking into John's cafes is a unique feeling. Part of it is a feeling of belonging because of the common love of the Lambretta. Where else are you going to find an actual Lambretta in a café of parts of one? Nowhere, very cool!
"Whether riding a Lambretta or any scooter for that matter I have always felt a sense of being free, and not constricted to what is around me. My preferred mode of transportation is the scooter. The fact that I am able to ride a beautifully designed very unique piece of machinery that is more than 50 years old is an absolute bonus."
Sydnee Wayman rides a 1980 Lambretta Jet 200 she's owned for 23 years. She grew up with classic cars and motors so she's always had an interest in vintage. Syd wishes more women would ride Lambrettas.
She loves the scooter scene. "The people are friendly, and diverse. It's such a great community. The Lambrettas are works of art, and through them I've met people all over the world." She's know John for about 18 years and added: "His cafes have great atmosphere, coffee, and pastries. Scooters create community."
LaLo Ride
As a life-long scooter boy, now married with two kids, John still manages to find time to ride with his crew. In 2005 he started a yearly ride called LaLo. It's an acronym for Loose Association of Lambretta Owners.
He claims it's the largest gathering of Lambrettas in the San Francisco Bay area. This year about 40 people showed up; they've had as many as 67. The next Lalo is already scheduled for May 4, 2019.
Lambretta rider Jordon Le Boeuf says: "John is one of the pillars of the scooter scene here in the Bay Area. He's brought in diversity along ethnic, cultural, and economic lines. This is what helps to make the Bay Area scooter scene so appreciated. People ride many miles to come to a Lalo. That speaks volumes of the power of the man."
Words & photographs: Penni Gladstone
Vintage images: Courtesy of John Quintos
CAFE CONTACT
Lambretta
700 2nd Street, San Francisco, California
Cento
372 Ritch Street, San Francisco, California
Vega
1246 Folsom Street, San Francisco, California

Enjoy more Scootering reading in the monthly magazine. Click here to subscribe.