Being a scooter owner doesn't only mean having and riding your two-wheeler. People who own a scooter usually like to go the extra mile and maintain it on their own. There is something magical in repairing your vehicle between rides. However, if you don't have the necessary tools, you won't be able to do any repairs on your scooter. That's why we have selected six essential tools for every DIY scooterist.
1)    Impact driver for easy tightening
Tightening and unscrewing dozens of screws and bolts is both a tiring and annoying thing to do. When you take into consideration the amount of time you'll waste doing that, it's a truly Sisyphean task. This is where an impact driver will not only save the day, but it will save a lot of your time, as well.
You can both fasten or loosen bolts and screws with this device. Every impact driver kit comes with various additions and adapters. That way, you can adapt it to nuts, bolts, and screws or different sizes.
What's more, you can choose between the cord and cordless impact drivers. For instance, the latter will be convenient if you need to repair your scooter on the road.
2)    Chain breaker for a smooth ride
If you're about to buy a chain-driven scooter, or you already have one, you'll need to learn how to maintain the chains.
Chains for scooters are practical because they will rarely break. Just make sure that the master link is installed correctly and feel free to hit the road with your scooter.
And if it happens that the chain breaks, you should have the right tool to repair the damage or break the old chain and shorten the new one.
You can use a chain breaker for both these actions. Apart from that, you can use it to adapt the master link for the new chain. It's a special device that should be a part of every scooterist's toolbox.
3)    Axle tool for the front wheel
Only a few years ago, you had to buy specific hex keys to take off the front wheel on the scooter. Truth be told, different manufacturers put different bolts on the front wheel axles.
However, now you can go and buy an axle tool for your scooter. It's a multifunctional tool that can cover several key sizes so that it can be used for scooters of different sizes and ages.
This is something that owners of multiple scooters will especially look forward to. What's more, you can lend your axle tool to your fellow bikers in case of emergency.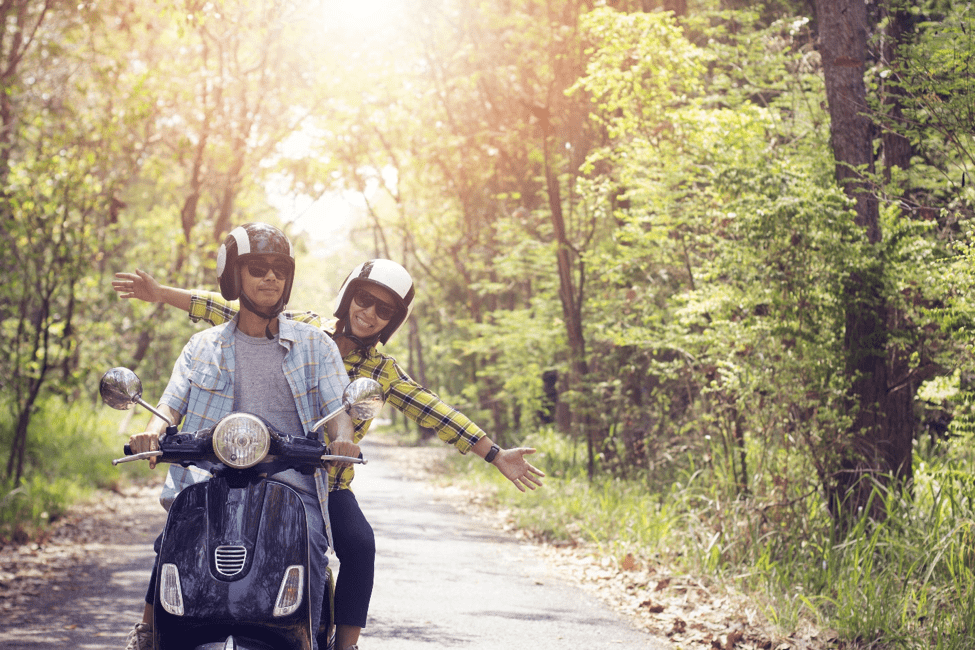 4)    Rear stand for easier repairs
Many modern scooters come with centre stands, while others come with a side stand. No matter if your scooter has or doesn't have a centre stand, you should get a rear stand. It's extremely important to keep your scooter fixed when you're repairing it. That way, you'll meet the safety standards and make the entire process easier for you.
For instance, when you get new scooter accessories and want to install them on the bike, it's safer to put the vehicle on the stand. You'll be able to look at every part of your scooter from a better angle. That way, you'll reduce the possibility that you overlook a potentially hazardous issue.
5)    Multimeter for electric scooters
You can't say that you're a skilful DIY scooter owner if you don't conquer electricity. It's even more important to get to know electricity if you own an electric scooter.
The multimeter is the crucial device for people who want to deal with electricity in their two-wheelers.
No matter if you have a traditional fuel-powered vehicle or you're planning to buy an electric scooter, this device will meet your needs. To top it all off, you don't have to buy an expensive or too complicated multimeter. The three basic functions that you need are resistance, continuity, and voltage.
6)    Torque wrench for all sizes
Scooters have become sophisticated vehicles. Today you can't repair an average bike with a set of combination wrenches. From wheel axles and brakes to electronic bits and baggage racks, every part of a scooter might require different wrench size. Because of that, every scooterist always needs to have a torque wrench in their garage or on their bike.
Even though a top-notch torque wrench might be a bit expensive, bear in mind that this tool can replace many other wrenches. As a result, it might be less expensive to buy one torque wrench than several other tools.
Conclusion
Your garage and toolbox are the PR department of your biker's character. If you keep it neat and equipped with all the necessary tools, you'll be able to repair more things.
Over the course of years and repairs, you'll become a true standalone scooter owner. These suggestions are only the beginning of the tool list that you should keep populating as time goes by. Therefore, getting the tools we've presented in this guide will be a great start for a well-furnished garage.

Enjoy more Scootering reading in the monthly magazine. Click here to subscribe.