The Vespa Elettrica uses a power unit which delivers continuous power of 3.5 kW and peak power of 4 kW: values that, combined with a torque of over 200 Nm, provide claimed performance superior to that of a traditional 50 cc scooter, especially in terms of acceleration and uphill power that benefits from the typical quick output of electric motors.
Vespa Elettrica guarantees a maximum range of up to 100 km, a value that does not change significantly on a rural route, thanks to a modern lithium ion battery and an efficient Kinetic Energy Recovery System (KERS), which charges it in the deceleration phases. Charging operations are the simplest thing imaginable: the lithium-ion battery, just like the one in modern smartphones, needs no special precautions.
To charge, simply extract the cable from the seat compartment, where the fuel cap is usually located, and plug in to a normal wall outlet or one of the growing number of public charging stations in big cities. The standard time required for a full charge is 4 hours (with voltage of 220 V).
As further confirmation of how extremely easy user-friendly Vespa Elettrica is, the motor and battery pack are completely maintenance-free. The battery provides excellent efficiency for up to 1000 full charging cycles. This translates into a range of between 50,000 and 70,000 km, equivalent to approximately 10 years of operation for a vehicle intended for urban commuting. Even after the thousand charging cycles, the battery still maintains 80% of its capacity and is perfectly usable. Located under the helmet compartment, the compact battery pack does not compromise the functionality of the Vespa Elettrica seat compartment, which can hold a Jet helmet.
The Ride by Wire electronic accelerator controls the power output of Vespa Elettrica's motor. By pressing the RIDING MODE button on the right-hand side of the handlebar, the rider can choose between ECO and Power, in addition to Reverse mode for easier handling of Vespa Elettrica while maneuvering. ECO mode, intended to save energy, extends battery life; speed is limited to 30 km/h and acceleration is more gradual. However, Power is the basic riding mode which fully exploits the power of the motor.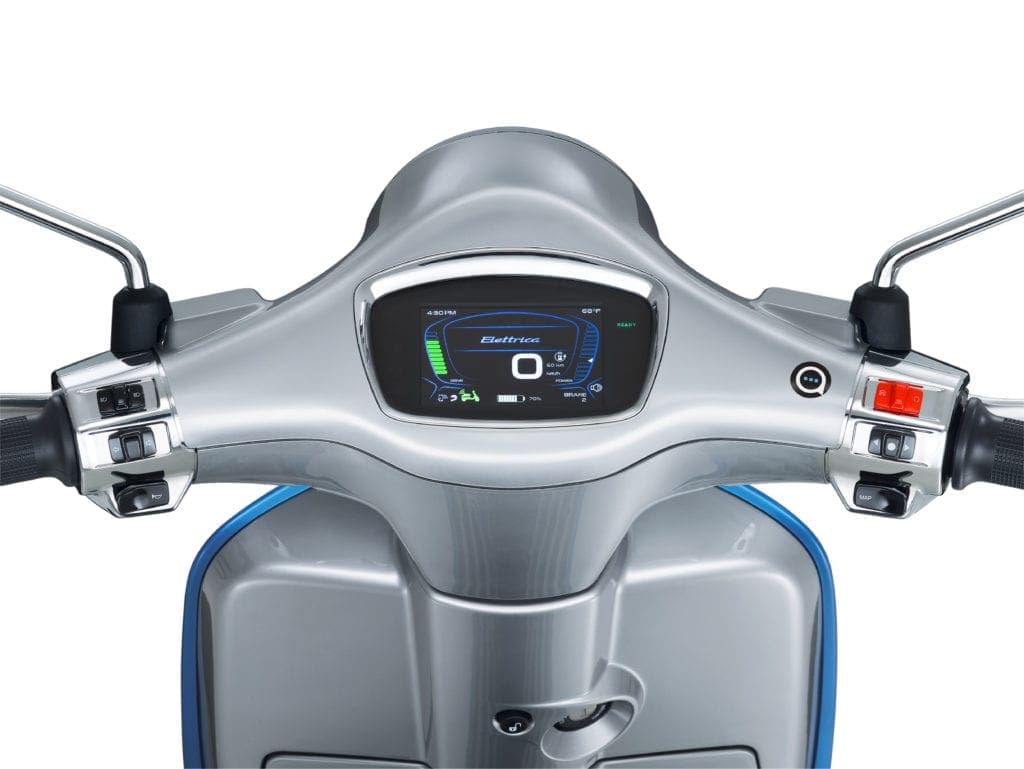 VESPA ELETTRICA, CONNECTED…
Vespa Elettrica is also… connected: A new version of the Vespa Multimedia Platform system connects a smartphone to the vehicle, can be managed through a man-machine interface incorporating a digital instrument panel with a 4.3 inch colour TFT display, has a  twilight sensor that adapts the background and colour of the characters to the light conditions (day/night mode) and the four adjustable brightness levels.
The centre of the screen always contains the main information such as speed, selected riding modes, residual range in km and battery charge level (%), while the ecological riding quality and the level of energy used or recovered during the ride are indicated on either side. But it is using the dedicated Vespa App on your smartphone and connecting it to the vehicle – via Bluetooth – that lets you take full advantage of the capabilities of the TFT display on which all notifications of incoming calls and messages appear, highly visible in the centre.
The system also allows you to use the handlebar buttons to answer calls and to use the smartphone's voice commands to make calls or play music from your own playlist. To fully enjoy all these features, easily managed through the handy MODE joystick on the right control block, a special dedicated Jet helmet with built-in earphones and Bluetooth intercom is available for Vespa Elettrica as an optional accessory.
Vespa Elettrica X: a range of up to 200 km
Vespa Elettrica will also be available in the X version at some point during 2019, with a range of almost 200 km thanks to its petrol driven generator that, depending on riding style, conserves battery power. To make room for the generator and its fuel tank (3 litres), Vespa Elettrica X uses a smaller battery pack that, with the generator off, provides a range of up to 50 km. The generator adds another 150 km to the range, bringing it up to 200 km to make Vespa Elettrica suitable for out of town riding as well.
The generator kicks in automatically, when the battery charge level falls below a certain threshold or the rider can start it manually by selecting the Extender mode.
Vespa Elettrica – Technical Data Sheet
| | |
| --- | --- |
| Motor | Electric Piaggio brushless motor with KERS (Kinetic Energy Recovery System) |
| Power | 3.5 kW (4 kW peak) |
| Torque | 200 Nm at the wheel |
| Battery | Piaggio 4.2 kWh lithium battery, LG Chem cells, built-in battery charger |
| Battery voltage | 48 V |
| Battery capacity | 86 Ah |
| Recharge time | 4 hours (with voltage of 220 V) |
| Load Bearing Structure | Sheet steel body with welded reinforcements |
| Front suspension | Single-arm fork with coil spring and hydraulic monoshock absorber |
| Rear suspension | Hydraulic monoshock absorber |
| Front wheel rim | Die-cast aluminium alloy 3.00×12" |
| Rear wheel rim | Die-cast aluminium alloy 3,00×11" |
| Front tyre | Tubeless 110/70-12″ |
| Rear tyre | Tubeless 120/70-11″ |
| Front brake | Hydraulically operated 200 mm ø stainless steel disc |
| Rear brake | Mechanically operated 140 mm ø drum brake |
| Length/Width | 1870/735 mm |
| Saddle height | 790 mm |
| Wheelbase | 1350 mm |

Enjoy more Scootering reading in the monthly magazine. Click here to subscribe.