In 1956 Michael Marriott and his wife, Nita, emigrated to Australia. Their chosen mode of transport was an NSU Prima.
It's fair to say that having already crossed the Sahara in an old London Taxi, the Marriotts were no strangers to adventure. Yet even their friends and family were concerned at their choice of a motor scooter for such a long and hazardous journey. This book, first published in 1960, sets out their experiences on that journey in a way that's both engaging and evocative of a time gone by. As a narrator, Michael isn't afraid to laugh at his own mistakes and I suspect he'd have made an excellent travelling companion.
Although in the book she's cast as his long-suffering wife, it's clear that Nita was a force to be reckoned with. Whether making mayonnaise from scratch in a hotel room, or cooking a full roast dinner in an old biscuit tin over a camping stove, she is, in many ways, the unsung hero of the adventure. When she finally lost her cool even the ever-frugal Michael knew it was time to spend some of their meagre funds on a spot of luxury.
Written as the sun had all but set on the British Empire, the Marriotts travelled through a world that's now gone forever. The very idea of travelling across Iran, Pakistan and Afghanistan on a British-registered scooter laden down with camping gear and carrying a hunting rifle now seems ludicrous, yet that's exactly what they did. I can also guarantee that it will be a long time before any itinerant scooterist will follow in their tyre tracks and knock on the door of the British Embassy in Kabul to ask the ambassador if they can camp on his lawn.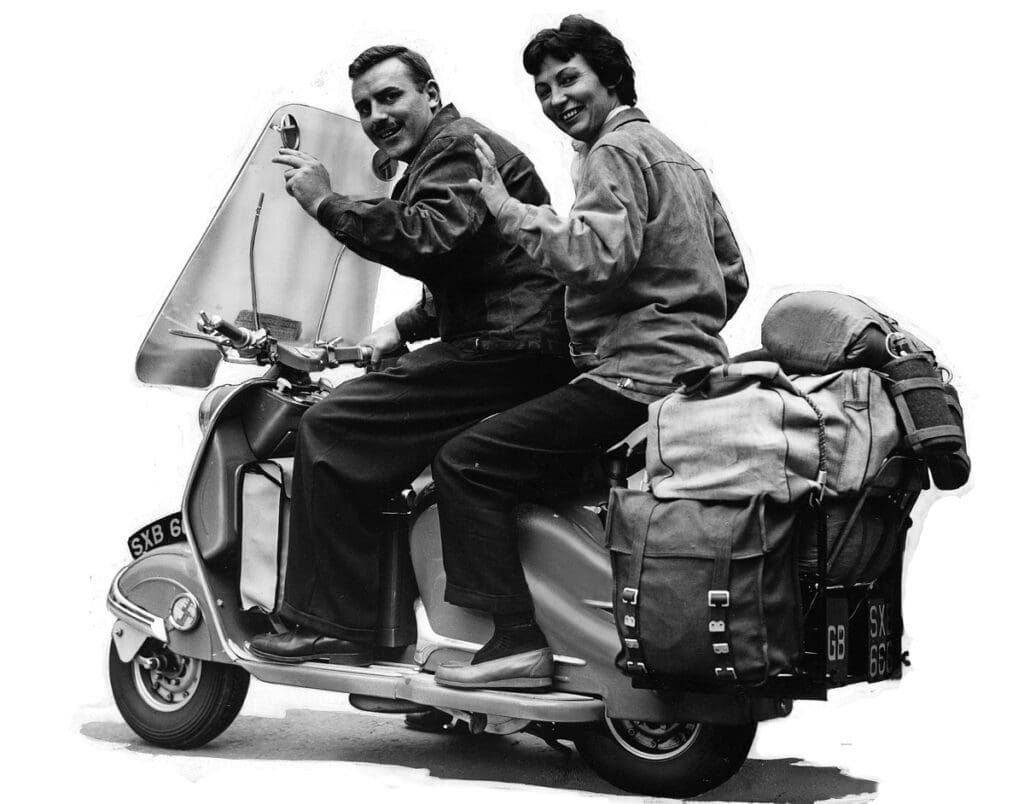 Although it's an extraordinary tale, there are plenty of episodes that every scooterist can identify with and it should come as no surprise that breakdowns are a common occurrence. One notable rescue occurs in the Khyber Pass when the intrepid duo hitch a ride in an oil tanker, strapping the broken NSU to the truck's roof!
For NSU fans there's also a wonderful description of the Neckarsulm factory, where the Marriotts were welcomed with open arms and treated to German hospitality at its finest.
Article continues below...
Advert
Although written six decades ago, and being out of print for most of that time, it's surprisingly easy to find a copy on line. Although the language may be a little stilted by today's standards this is still a very enjoyable book and one that's certain to feed the desire to travel.
Buyer's Guide
Title: Two Up
Author: Michael Marriott
Best enjoyed with: A nice cup of tea, a slice of cake and a
stiff upper lip
Pages: 214
First published: 1960
ISBN: N/A
RRP: Currently out of print, expect to pay around £25
Words by: Stan

Enjoy more Scootering reading in the monthly magazine. Click here to subscribe.
Article continues below...
Advert