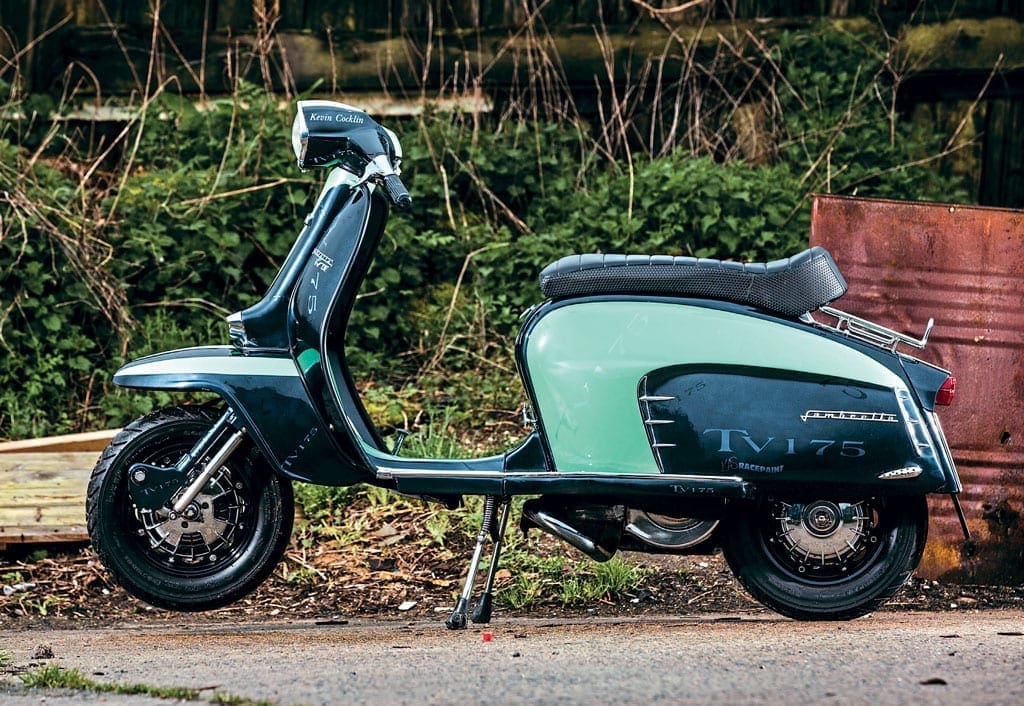 Words: Sarge |  Photographs: Gary Chapman
Misquoting the bard, William Shakespeare, is intentional, as this subtle, yet striking custom-built Lambretta was actually sourced from Vietnam.
Kev Cocklin's subtle yet striking green and black Turismo Veloce, TV, street racer Lambretta is genuinely different from most examples of Innocenti's one-time flagship model. Broadly speaking, most tend to follow a restored to factory specification or an unrestored path.
Popular variants on the aforementioned often include a 60s-inspired street scooter paint job, with or without either a few or a number of period accessories. Conversely, and also in vogue, was the introduction of an appearance which suggests a classic old Lammy liberated from years of neglect in a derelict outbuilding or an overgrown part of a backyard.
Kev's Series3 TV fits neither template. Although not totally unique, it is unusual for a TV 175 Lambretta to be the metal canvas for a custom creation. Its transformation took place over a number of stages, all under the expert curatorship of Mick Gauntlett at Surrey Scooter Services over an extended period of time.
"I saved up money I earnt from my paper round, when I was 16 in 1969 I bought my first scooter, a LI 150, which, never mind second hand, was at least fifth or sixth hand! After which, a few years later, I upgraded to a GT200, though it was more of a replica than a genuine GT."
The base frame, bodywork and other integral parts that form Kev's scooter initially came from Vietnam to the UK. After residing in a loft, half-forgotten for a while, Kev was offered the non-runner back in 2000.
The desire and demand for classic scooters have continued to spiral upwards for more than several decades. This in turn has seen dealers, enthusiasts and collectors alike scouring all corners of the world in their quest to locate complete machines, new old stock spares, and rare and elusive extras.
The advent of the worldwide web has shrunk the global market to that of a big city, with many a deal struck online without either party needing to meet face-to-face, or see the goods first-hand.
Vietnam was a previously untapped source which, during the 90s, provided pastures new in terms of locating classic scooters. Many machines found in Vietnam have since been imported and are exactly as described when they've subsequently been offered for sale.
Pattern parts for classic scooters, irrespective of the country of origin, can often be a hit-and-miss affair when an attempt is made to fit them. Yet Vietnam-sourced scooters and pattern parts have been targeted as particular ones to avoid.
Is there any substance to Vietnamese-sourced classic scooters being targeted as being particularly worse than scooters found elsewhere? Well, that old adage of no smoke without fire may well have been contributed to by a combination of exposé-type footage of side of the road running repairs doing the rounds on social media, coupled with a few cut 'n' shut re-made machines finding their way in via not so scrupulous sources looking to make a fast buck.
Add to the mix several small-time UK dealers without contacts in South Asia, but along with an agenda, who bad-mouth all scooters imported from Vietnam as wrong'uns. It is all too easy for unsubstantiated horror stories, via sharing on various areas of social media, to be wrongly perceived as factual and thereby cause confusion in the market place.
Truth be told, there are probably no more suspect machines that have been subjected to all manner of fabrication emanating from Vietnam, than from any other country.
In the UK there are a number of scooter dealers that import classic scooters from Vietnam. In the process, they have built themselves a good reputation from machines they have sold to happy customers. The key, as ever, is who you buy from in Vietnam (see Stan's previous feature on the subject). Kev's Series 3 TV was in good condition when he first bought it at the turn of the Millennium.
After spending some time residing in the loft, along with a GP engine with TV engine casings, once it was obtained by Kev, Mick Gauntlett carried out the first stage of this particular TV Lambretta's resurrection.
"Mick checked it all over, re-built the engine and checked it over, and refurbished the frame and bodywork where required. I rode it as it was after that for a few years."
Kevin first developed an interest in scooters back in 1968. "I saved up money I earned from my paper round and when I was 16 in 1969, I bought my first scooter, a LI 150, which, never mind secondhand, was at least fifth or sixth hand! A few years later I upgraded to a GT200, though it was more of a replica than a genuine GT. I had something of a hiatus from scooters for some years, with interests in cars as well as motocross.
"It would've been in the 90s when I encountered Scootering magazine. I saw it for sale, had a flick through and bought it. From that point on, the scooter bug bit me again."
Kev is based in the shadow of Brands Hatch racing circuit, so it's no surprise that he owns five motorcycles, as well as a total of four different Lambrettas.
"Wheels and an engine, yes, that interests me. Scooterwise, I own and ride a 67 SX 200, 68 SX 150 and a 69 GP 200 with a Honda top end and a yellow and blue paint job and, of course, my TV. "
The next stage in the transformation of his TV was the unique paint job and engine upgrade.
"After I'd ridden my TV around for a while I went over to the USA. While I was there I took in some car race meetings. I was getting photos of various ones that for a variety of reasons I liked the look of, and there was one that really caught my eye. It was in the same colour combination that my TV is now.
Back in the UK, I contacted Mick (Gauntlett), who commissioned KAS Racepaint on my behalf. At the time I had no idea that Mick had asked for the TV stencil logos to be strategically added.
Mick got it absolutely right with those small additions. They are not in your face, but nonetheless they add to the overall paint job. Even bikers seem to like and appreciate it. I'm always getting great comments from bikers when it's parked up, and when I'm riding, I get a thumbs-up from bikers, too.
"At the same time as having KAS doing the paint, there was a Holiday in Holland rally coming up. It made sense to give the engine a bit of attention, too. Mick advised going for a Mugello 186cc top end kit."
Made of lightweight alloy, with a nicasil lined bore, Mugello 186 kits are similar in design and port layout to an Innocenti TV175, with the addition of an additional boost port. Designed to provide bolt-on additional power to Lammy Series 1-3 non-200cc engine casings, Mugello 186 kits produce a similar performance as a standard Lambretta 200 motor. Kev is more than happy with the Mugello 186 on his Lambretta.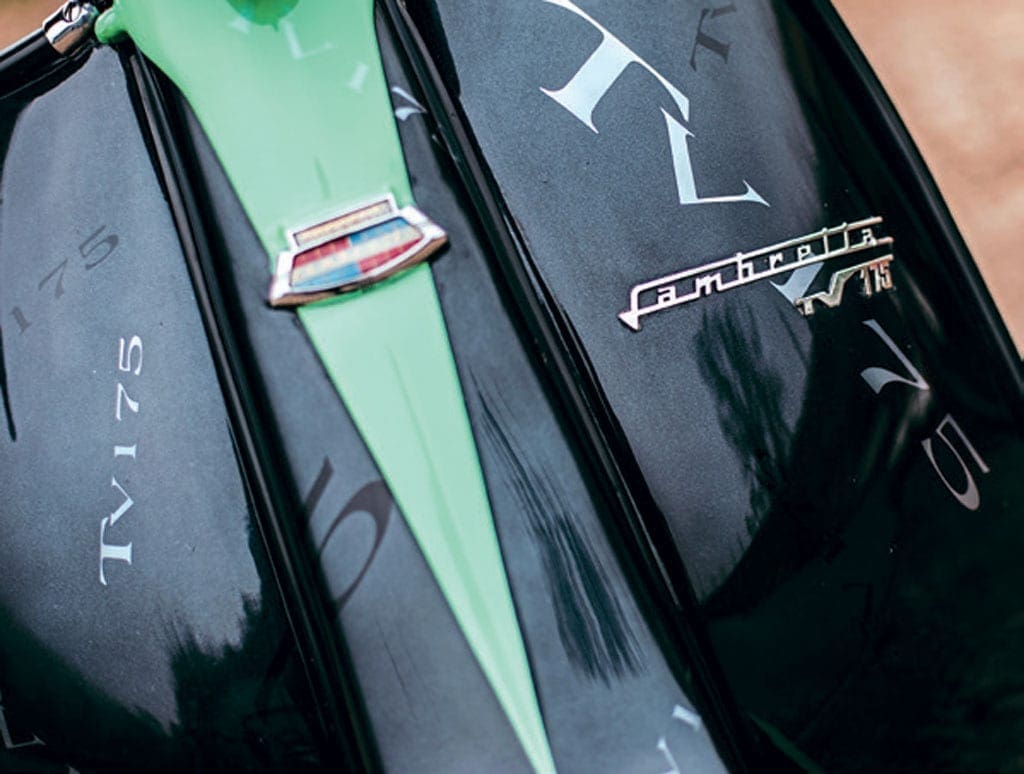 "It's been on there for four or five years now. It's been brilliant. In all that time, including riding to and from rallies in mainland Europe, it's not missed a beat. I do a few rallies in the UK and abroad, and the engine has never let me down. I may eventually treat it to another upgrade. I've heard good reports on the newer 198 Mugello kit, though if it happens, it's way down the line. For now it's great as it is."
In the eyes of all but the most rabid Innocenti illuminati, Kev's retro custom street racer is, of course, a TV Lammy with a contemporary twist, provided by Surrey Scooter Services.

Enjoy more Scootering reading in the monthly magazine. Click here to subscribe.