Malossi Options: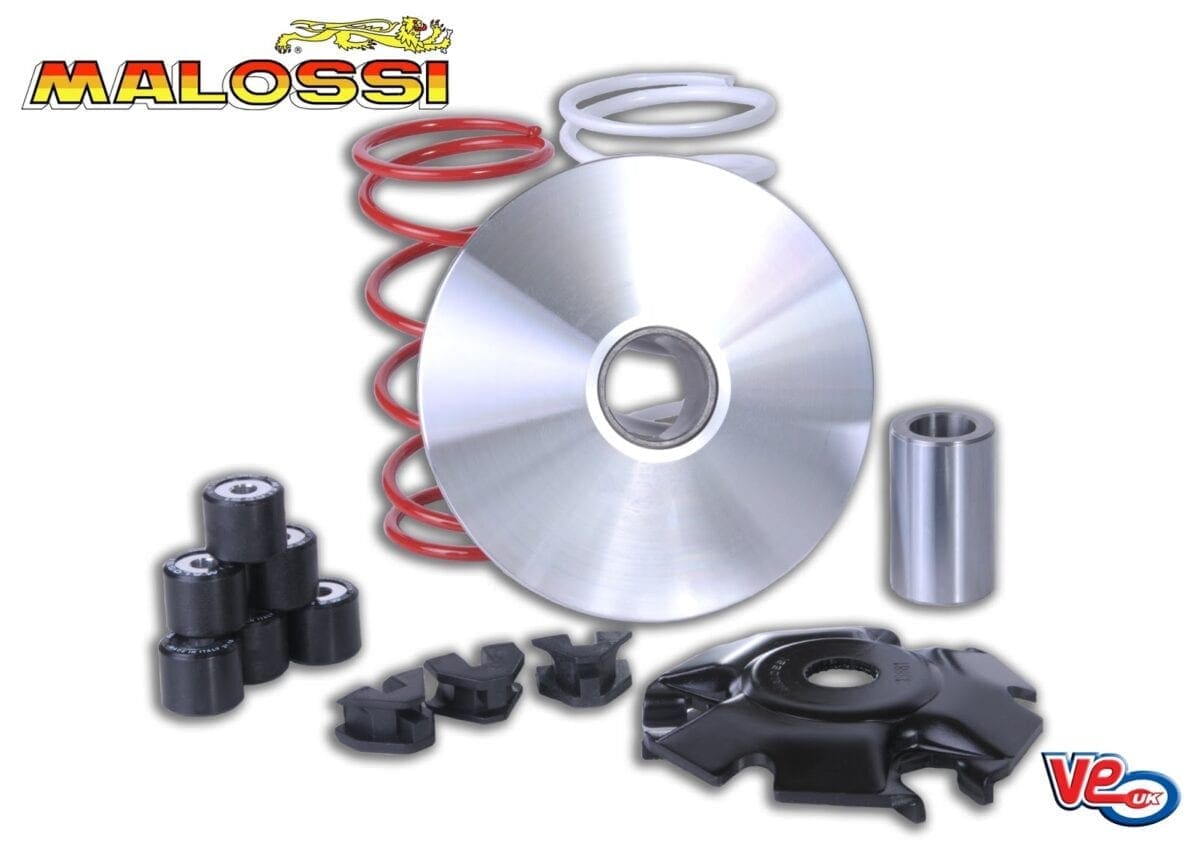 Malossi variators are available for a vast range of Automatic scooters from 50cc to 850cc, with the latest 3 valve 125cc scooters from Piaggio and Vespa being no exception. Due to differences in the rear pulley assembly between models, Malossi supply different configurations to suit the exact model of scooter that they are being fitted to. Both variators are supplied as a complete kit with rollers, variator driven pulley, pulley bush, back plate, sliders, and torsion spring.
VM515639 – is designed to fit the early 3 valve engine fitted to the Vespa 946 – 2013 onwards, Piaggio Fly 125, Vespa LX125, and Vespa S125. The variator kit includes two sets of rollers to adjust the transmission between compatible models.
VM516149 – is designed to fit the later 3 valve engine fitted to 2014 Vespa models 2014 onwards: Vespa Primavera 125, and the Vespa Sprint 125. The kit is supplied with two torsion springs, ensuring whichever rear pulley (early or late), is fitted to the 2014 models, you have the correct spring to suit.
Owners wishing to further refine the transmission after other tuning modifications have been made, can also choose from a wide selection of Malossi belts and roller weights from the extensive range available. VE (UK) are the official Factory Appointed Sole UK Importer for Malossi Performance Products. VE (UK) stocks the full range for both classic and automatic scooter models. Purchasing your Malossi parts through Malossi Tech Centres or VE dealer network ensures that you receive a factory TWO year UK warranty with full factory support. VE (UK) do not supply Grey Imports of Malossi Performance Products.
To browse the complete range of Malossi Performance Products available from VE (UK), visit
www.malossiuk.com
At the Malossi Online Shop – buy your parts – choose a dealer at the checkout, and we'll dispatch your order same day, on the dealers behalf – Direct to you by courier. Alternatively you can visit
www.ve-uk.com/dealers
to locate a VE dealer near you.
Stage 6 Options: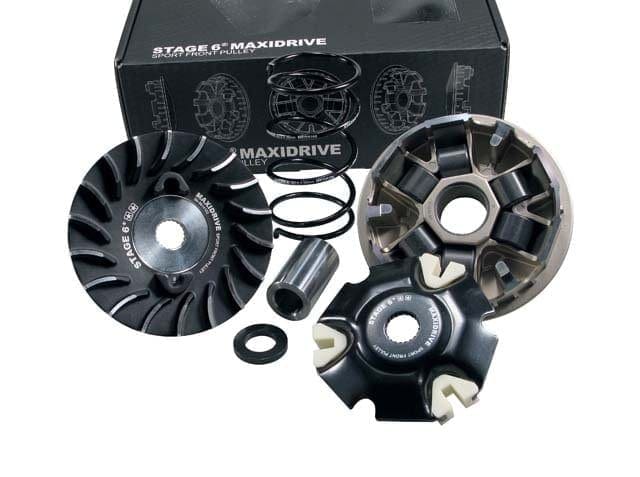 Stage6 is a well-known manufacturer for high-quality tuning products for automatic scooters.
With the Stage6 MAXIDRIVE variator, Stage6 is catering to the increasingly popular maxi-scooters with 125cc and more, offering a first rate component with improved performance at a fair price. Features such as self-lubricating sintered metal bushing, CNC-manufactured surface and especially durable weights employ state-of-the-art technology. In conjunction with the Stage6 MAXIDRIVE drive belt, this variator achieves noticeably better power transmission and improved performance throughout the speed range.
Depending on the model, a stronger torque spring and an optimised MAXIDRIVE front pulley may be included.

Enjoy more Scootering reading in the monthly magazine. Click here to subscribe.
Article continues below...
Advert