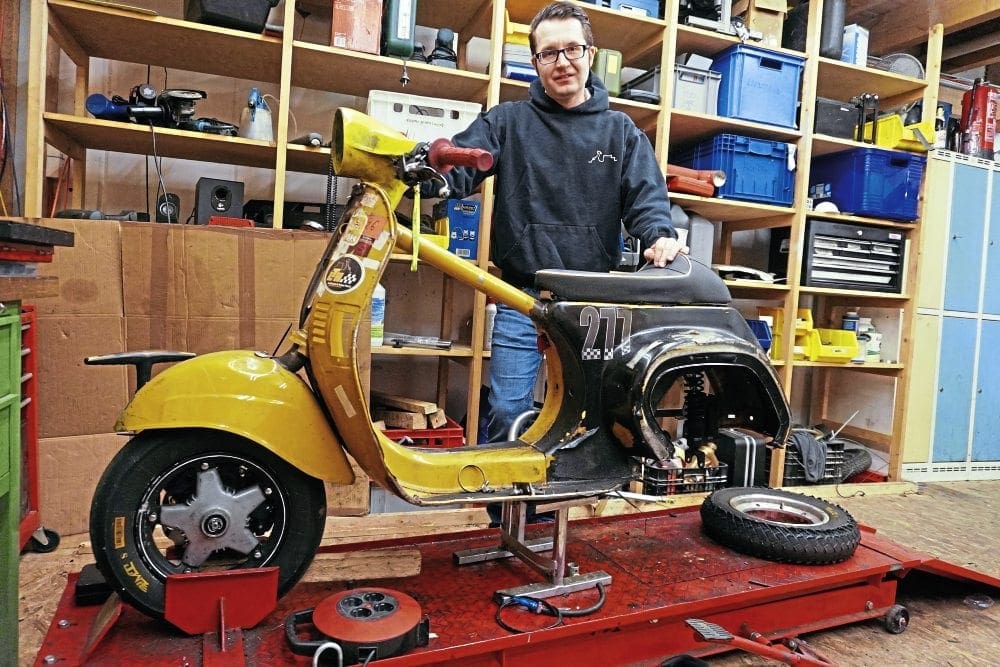 It has an enviable reputation for high-quality products, but LTH remains a mystery to many. Stan meets the man behind the magic.                           
Speak to most British scooter dealers and the chances are that their story involves a Vespa 50 and lots of 1980s seaside rallies.
In Germany it's often a different story. "We had some crazy rules over here that meant we could ride an 80cc scooter whilst we were still at school," began Marco Buttner, founder and owner of LTH.
"I had a PK80 and although it gave me freedom it was really slow, particularly with a girl on the back! I thought that it must be possible to do something about this so I started messing around with engines. I knew nothing about the scooter 'scene', but soon I was mixing my studies with tuning and painting scooters for my friends."
Bargain racer
Like many entrepreneurial scooterists of the 1990s, Marco made regular buying trips to Italy, specialising in sourcing Vespa small-frames.
"I'd like to say that these were carefully restored, but we were teenagers and there was a constant demand for cheap, used parts. Most of the Vespas I brought home were broken for spares."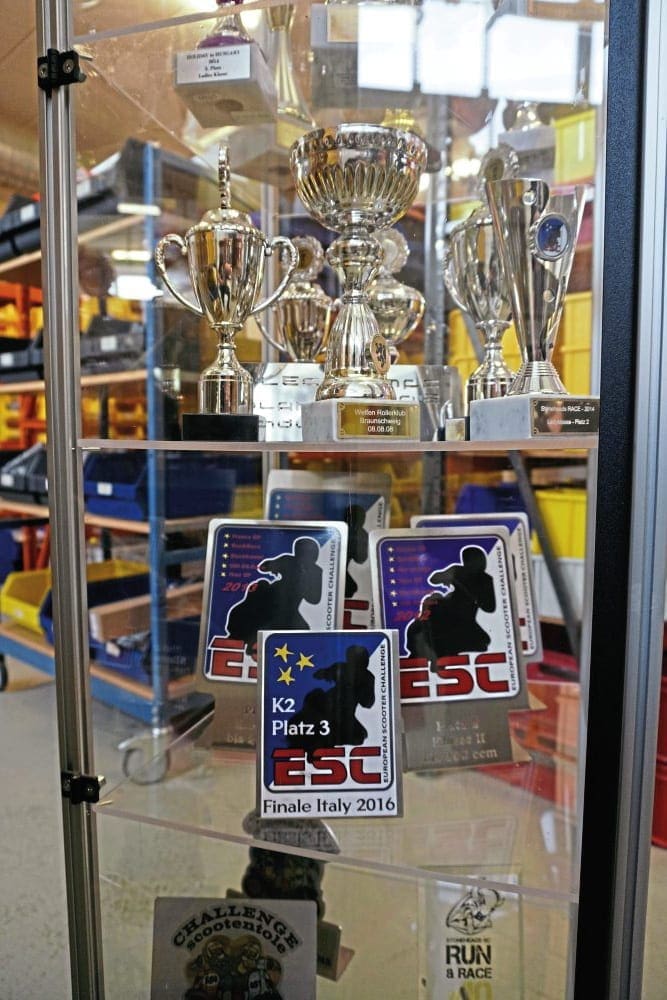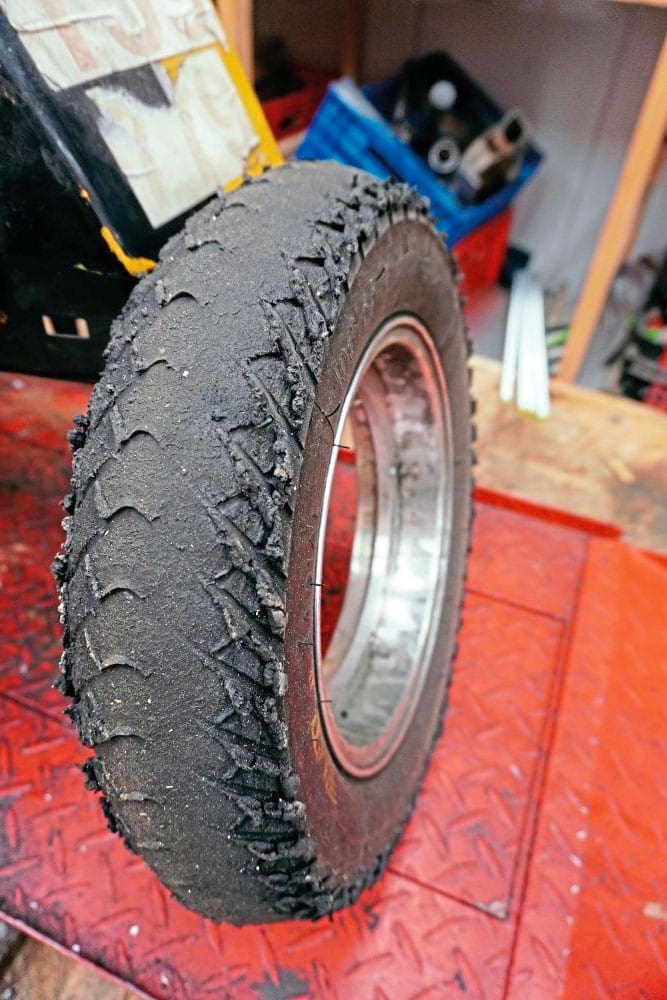 As his knowledge and reputation began to grow, Marco began servicing scooters and made his first steps towards becoming an established trader by importing Lambretta spares from India. Although he was mostly working on road-going scooters, tuning remained his main passion. In 2002 he made the life-changing decision to attend a scooter race meeting in Austria.
"At that time there was no scooter racing in Germany," he explained. "I was curious to see what went on and the bug really bit me."
After a short while Marco was part of the team to establish what would become the European Scooter Championship, the inaugural meeting being held at the Liedolsheim kart circuit.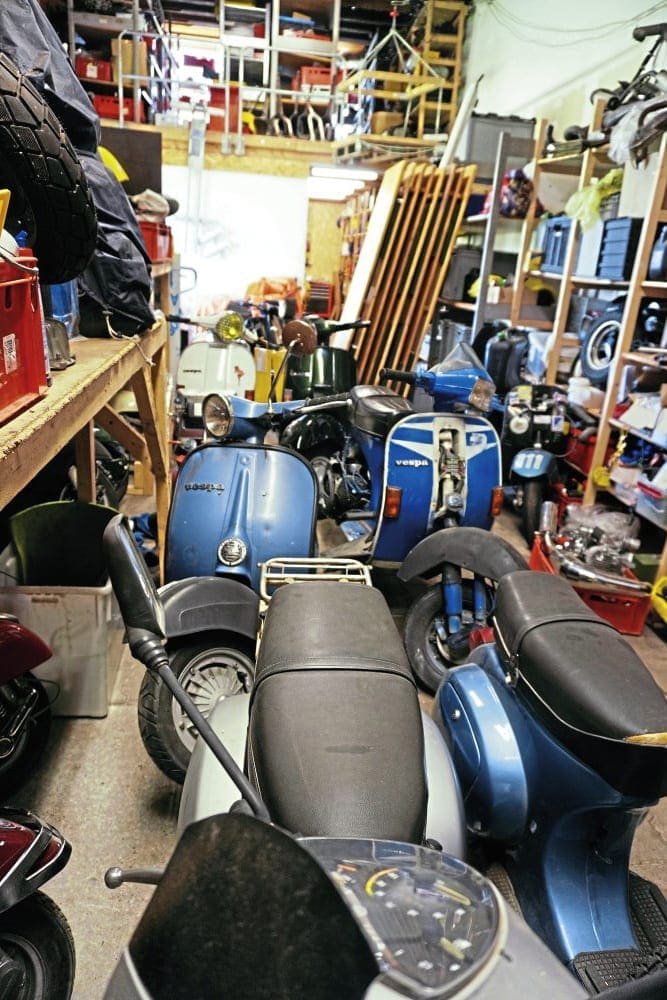 "My first mount was an old Kegra racer," said Marco.
"It was sold to me as 160cc, but I soon realised that it was a 200cc casing with the barrel sleeved down, which gives an increased area for the transfer ports. I don't think the seller knew about the conversion, but I was pleased to get a bargain. Sometime later a friend looked at the engine number and saw that it was from a TV200. We looked at one another and checked the frame, and that too was a P1200. I did very well out of that racer," he laughed.
Into business
Around 12 years ago Marco took the plunge and established LTH, turning his hobby into a business. His first shop was in Heilbronn, which gave rise to the name 'Lambretta Teil (Parts) Heilbronn'.
Since then LTH has moved several times, settling in their current Ehningen premises around two years ago. Although best known for their superb Lambretta clutch, LTH offer a full range of services, from routine maintenance to in-house tuning.
"We stock a full range of parts from such names as BGM, SIP, Malossi, Polini and Quattrini," said Marco.
"These are all available through our on-line web store, along with what's probably the largest selection of Pinasco parts available off the shelf in Germany."
Although Marco began his racing career on Lambrettas, it's the small-frame Vespa that's brought him most success. "Most of the German circuits are go-kart tracks," he explained.
"The Lambretta's wheel base is too long for them, but the small-frame is perfect." This crossover means that LTH have practical race experience in both the popular marques. Unsung heroes of the LTH range are P range exhausts, that offer both longevity and improved performance.
"Our P range exhausts are available for both large and small block engines. Although it can be used with a standard barrel, the 200 is made to suit the Malossi sport kit, producing around 20bhp, but retaining a similar feel to standard. The 125 exhaust, however, is much freer revving and suited to performance kits. Both of them are made using a good thickness of metal and are more resilient to rusting. I think that's important for British riders!"
Personal touch
At the time of my visit LTH was preparing to expand by adding a mezzanine floor to the warehouse. This will enable Marco to bring his test facility, workshop and retail space into one building, but LTH is far from being a faceless, ever-expanding corporate entity.
LTH began as Marco's own business and that's how it remains. Although LTH is now large enough to develop its own range of high-performance products, Marco's personally connected to every product it sells.
"The Quattrini engine is a good example of how we work," he said. "The idea came from the track. I have the capacity to develop it into prototype form and enough contacts to produce the finished article. I've a great personal connection to our customers and that's really important. It's my name and my reputation on every part I sell. Come to the shop and most days I'm around somewhere unless, of course, I'm racing."
Vesbretta
Currently under development is an exciting project that will combine the handling qualities of a Lambretta with the performance of a Vespa small-frame.
"The problem with the Lambretta engine case is that both bore and transfer port sizes are dictated by the stud spacing," explained Marco.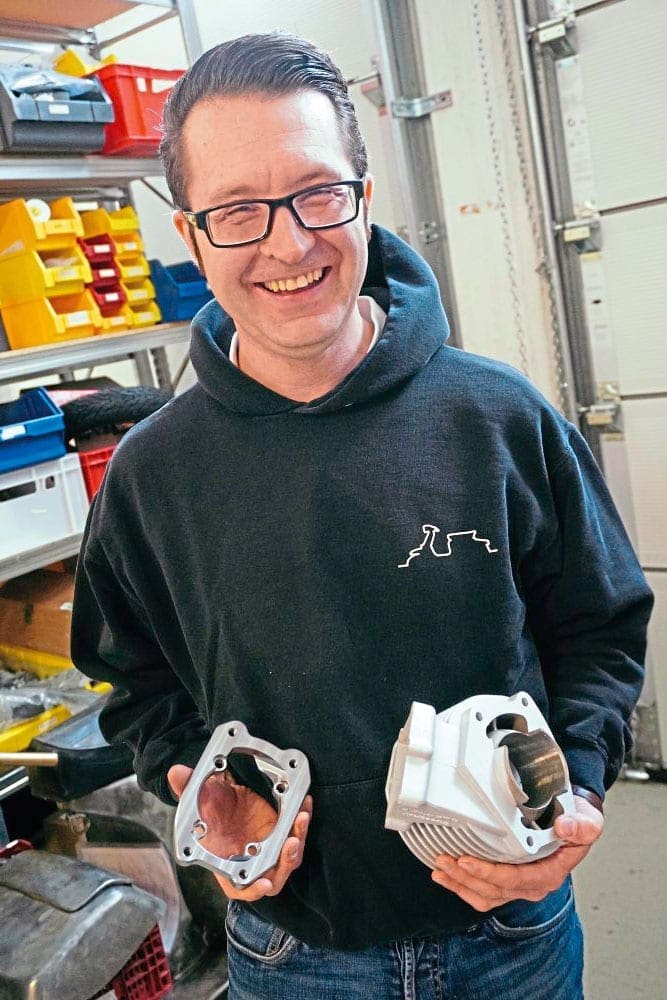 "In contrast, Vespa small-frame engines offer far more potential as their barrels bolt directly to the engine casing without studs. There's no doubt that Ouattrini's M200 Vespa small-frame conversion is one of the most exciting out there, and I've designed an adaptor plate that allows it to be mated with a Lambretta small block casing. We'll be launching that very soon, with options of buying the engine 'plug and play' or in component form."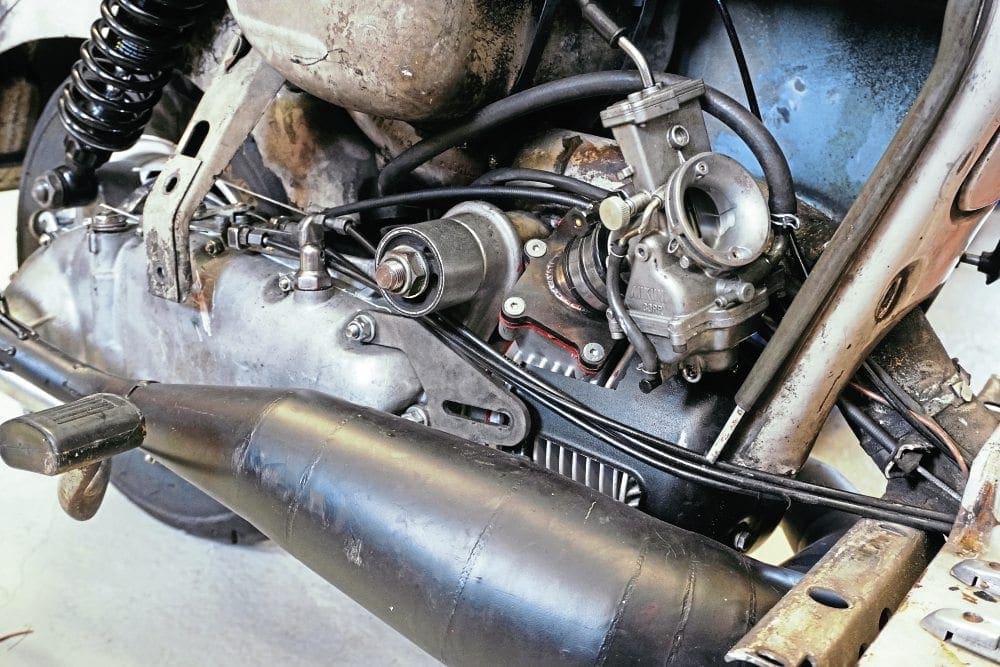 The kit is being developed using Marco's Li, and is also being used as a test bed for BGM's prototype PRO Competition crank. "It's currently fitted with a 60mm crank, but 58mm would probably suit the port timings better," he said. "The engine is very free revving, although the Franspeed RB exhaust seems to create a flat spot, which I'm hoping a Chiselspeed pipe will smooth out. The biggest problem is that the 17×46 gearing is too tall. Once it's away though, it pulls like a train."
When offered a quick spin around the trading estate I jumped at the opportunity. As Marco had warned, setting off was a challenge and on the first attempt, like a novice, I stalled.
On my second attempt a good handful of throttle and a little clutch slip got me underway. After a small protest the engine caught up with the gearing and kicked in like a mule. The power was surprising and for a few seconds I was just holding on whilst the Lambretta did its own thing!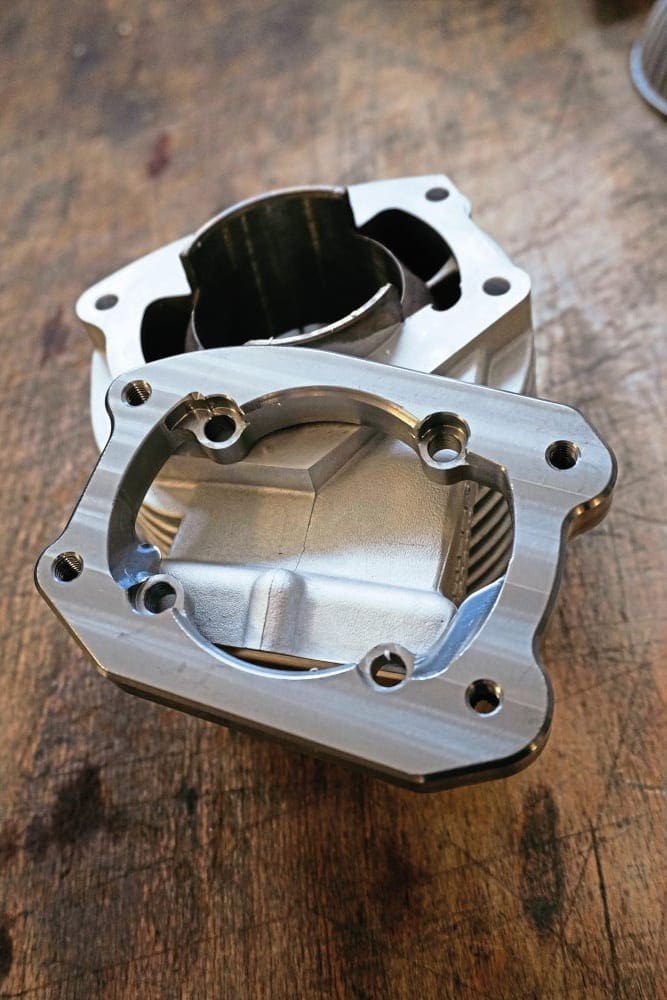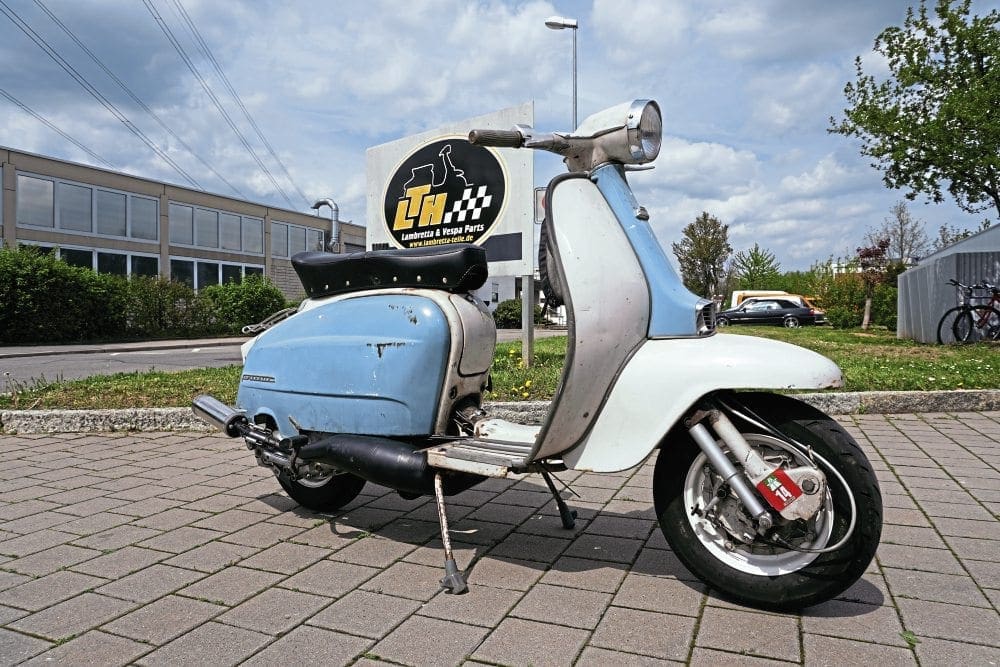 Once I'd regained my composure it became clear that this was a very tractable, high revving engine. 'Out of the box' the M200 produces bhp measured in the low 30s and in the hands of small-frame tuners it's already realising in excess of 50bhp. This potential makes the €5,000 cost of LTH's plug and play engine something of a bargain when compared to the competition.
Import and export
A core part of LTH's business has always been sourcing good, used machines, and these are always listed on the website, though often not for long!
"The days of picking up bargains in Italy are long gone," said Marco. "There are still good machines to be found in Spain and on occasion even Germany."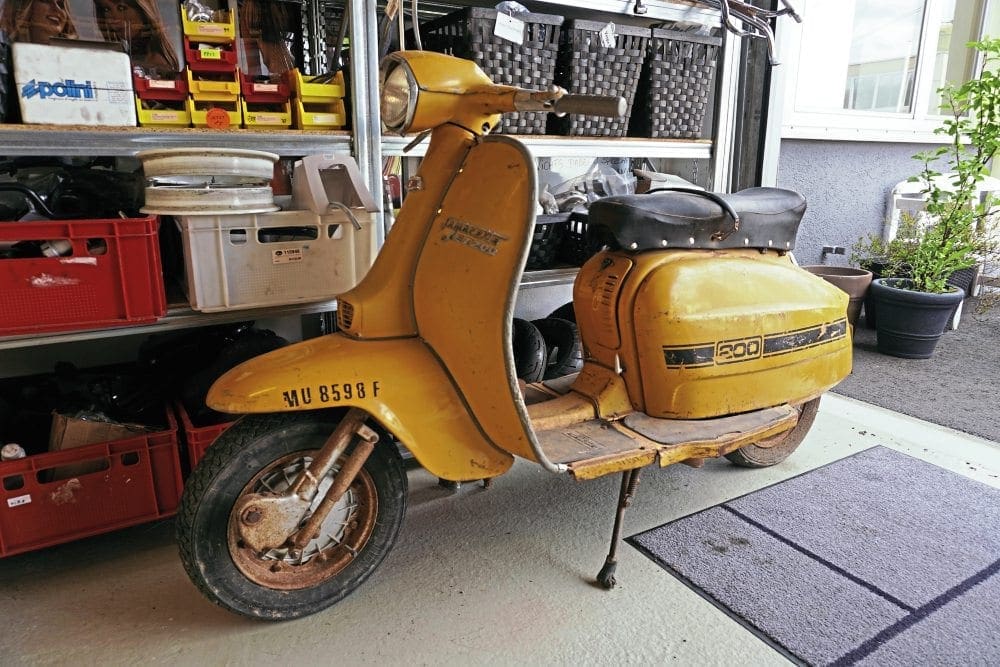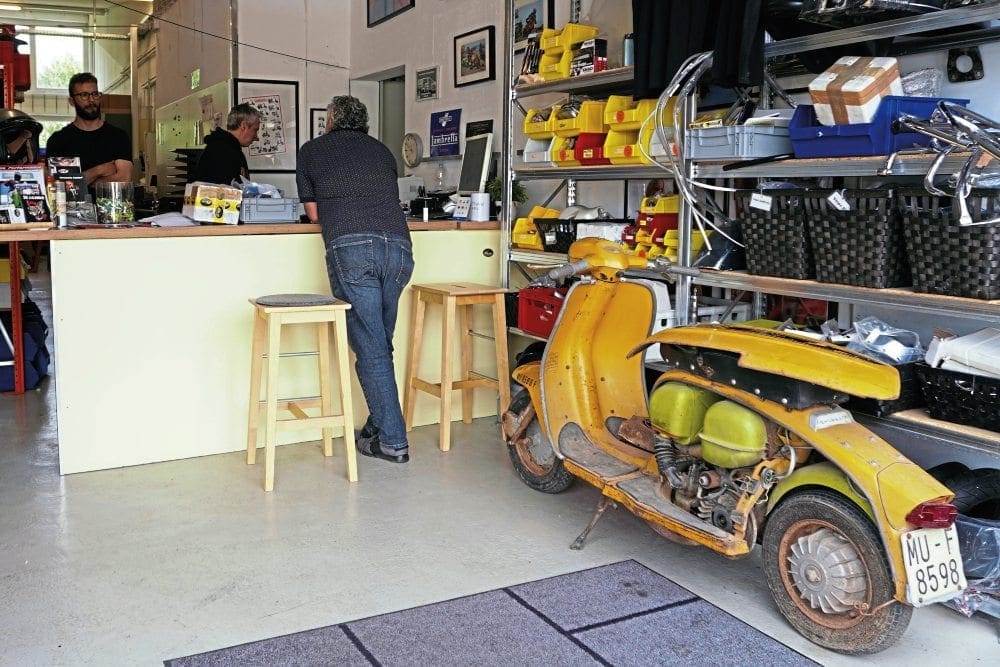 The latter include our cover scooter Lince from edition 394, whilst at the time of my visit a beautiful ochre Jet 200 was being prepared for sale. "We've know about that one for years," smiled Marco.
"I'd bet that its new owner will be British. That's where we ship most of our used machines."
Visit "the shop with more than 10,000 Vespa and Lambretta items" here: www.lambretta-teile.de/

Enjoy more Scootering reading in the monthly magazine. Click here to subscribe.