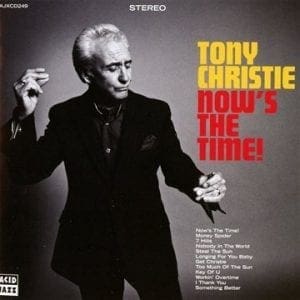 Following on from his Northern Soul-esque single of 2010, Nobody In The World, comes Tony Christie's promised album from which said single
was taken.
Christie is apparently approaching his 50th anniversary in music and this CD, due, for release on 14 February puts him back in the studio to celebrate that milestone. Title track Now's The Time (also released as a single on 7 February) kicks off proceedings and continues in the Northern style, something which Christie does well. Personally I think his voice suits it too. It has the mature tone required to be able to sound both modern and also of a time gone by without sounding false, a rare quality. Anyway, following the storming beginning, and believe me this brass laden track is a fast floor shuffler, is Money Spider; a 60s sounding cult pop tune, if that makes sense. Rasping sax adds emphasis to the beat and also add a little raunchy flavour to this basic but stand out track, while repeated hand claps define the era we're revisiting here. 7 Hills is another that you could date as being of the 60s, albeit with a slightly modern edge as Christie (together with female vocalist) add soul to what appears to be a Bond theme, or at least a TV detective series inspired number.
The press release for this album (Christie's 19th apparently) says that it 'takes him back to his musical roots,' which does explain the style. Apparently, 'He has spent time rediscovering the soul side of his early career, and has encompassed this into the recording of an incredible album, which was produced by friend, fan and one time collaborator, Richard Barrett from The All Seeing Eye. The album brings together the sound of northern soul, British beat and filmic soundtracks.' Get Christie (a re-work of the iconic theme from Get Carter) features a collaboration with Jarvis Cocker, and somehow just manages not to be cheesy. Other collaborations on the album come from Roisin Murphy among others.
Yes there are ballads and tracks here that your mum (or your nan) will prefer, like Steal The Sun, while the wild west TV theme inspired Looking For You Baby is maybe a bit too much for most of us. Key of U is soul with a swing and added blues, and another that could get you up on your feet, which is what we like, and Workin' Overtime keeps things upbeat and suggests Stax and Motown influence which of course we all like. Again, Christie's vocal work perfectly with this musical style. I Thank You is almost an end of night number, while album closer Something Better brings things to a close with a crescendo.
While not everything here will be to your taste, this album has some hidden gems that deserve exploring, an opinion obviously shared by Eddie and co at Acid Jazz who made the decision to release this 12 track album. Christie's on tour starting in April too, which may be worth checking out. www.tonychristie.com As one of the reviews for his last single stated, 'Christie is cool again…'
Listen to: Now's The Time
Article continues below...
Advert
• Scootering Magazine – February 2011

Enjoy more Scootering reading in the monthly magazine. Click here to subscribe.
Article continues below...
Advert