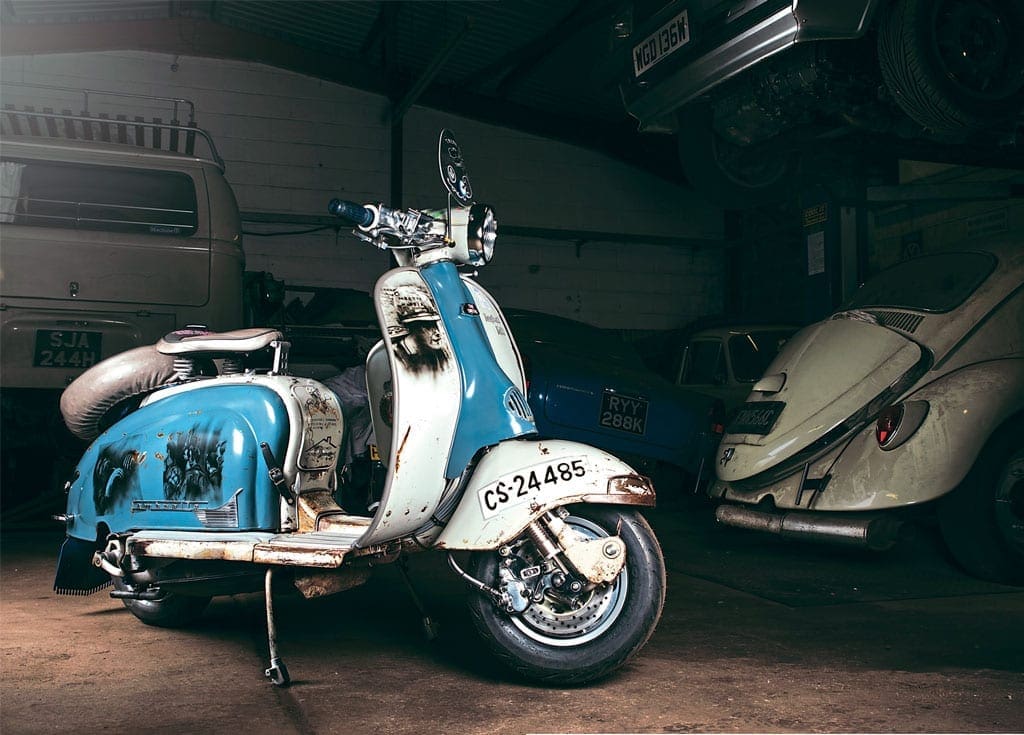 Words: Dave O | Photographs: Gary Chapman
Two things that are popular in scooter customising are alternative music themes and more lately 'rusterations'… this scooter has them both, and boy do they go well together!
Now I may be wrong but I think this is the first time both themes have been incorporated together, and very nicely I must say too! The subject band of this stunning scooter's artwork is The Smiths, who have been immortalised several times on other scooters over the years, not least of all on Adi Clark's Brace and the stunning chop Meat Is Murder.
However this time owner Scott Durnion decided to use a well-loved Spanish Series 2 Lambretta as a base. Not a traditional base canvas but boy do those curves look good. In fact the older I get, the better fat-bottomed Spanish girls seem to look!
The scooter was bought in 2017 for £1500, and it was then passed over to Craig Hutchinson (Hutch & Son Speedshop) to create his dream. Paintwork was entrusted to Big Shed Customs with a brief to keep the 'used' look but make sure it was sound, and to add various Smiths-related images and singles covers throughout.
While this was being done Craig completely stripped the engine and brought it up to modern day spec as he rebuilt it. Being a small-block unit, several options were on the table but in the end they decided to go for the much loved GT set-up.
An 186cc kit on a matched crank was thus ported and fitted. Breathing through a PHBH Dellorto 30mm carb and BGM Clubman exhaust, the engine was taking shape… and looking like a well thought out small-block touring setup. Other additions came in the form of an AF cassette clutch and AF Rayspeed five-speed gearbox, it just keeps getting better and better!
Article continues below...
Advert
The end result, according to Scott, seems very promising. With smooth power delivery, enough torque to pull him and his luggage along at a decent speed, good fuel economy, and the pleasure of a five-speed box. To top it all off, he says, and I quote: "She handles like a sweet ole girl!"
After just nine months everything was brought back together, to cope with the near on trebled power gains, a hydraulic front brake was fitted as well as a logo'd seat and matching spare wheel cover. With nice period additions like barrel grips and hand engraved flyscreen the look was complete.
The finished article is a very nice, usable machine that Scott and his build team can be very proud of. It does help that the name he has chosen happens to be, in my view, one of the all-time classics!
Article continues below...
Advert

Enjoy more Scootering reading in the monthly magazine. Click here to subscribe.