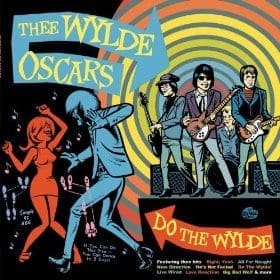 I don't know why, but for some reason Thee Wylde Oscars don't sound Australian. What an Australian garage punk band should sound like I don't know, I suppose I just never associated this type of music with the land down under.
Anyway they are, hailing from Melbourne with founding member Jay 'Wylde' Wiseman previously playing with a couple of 80s and 90s R&B Garage bands in LA and Seattle. He's American so maybe that's why they do, or don't, sound like I think they should… or shouldn't. Anyway, those easily sold on anything scooter related will no doubt be overjoyed that the sleeve art features cartoon scooters and a general 60s theme.
Those after a little more substance will be overjoyed to learn that the simplicity of this guitar fuelled album is its greatest feature. Strong Riffs, pounding bass, wailing harmonica and steady drums all complement the vocals perfectly as they take you back to the swinging 60s… or in my case The Garage beneath The Clarendon Hotel on Hammersmith Broadway in the 80s.
Don't expect X-Factor sickly sweet harmonies but do expect non X-Factor like self -written numbers, delivered with energy verging on aggression.
Do The Wylde is the closest there is to (60s) pop on here I reckon, and that's only because you'll recognise a few rhythms from the era as they demand you join in with their own dance routine (as opposed to the wild turkey or boogaloo for example). Live Wired sounds just that, wired, with an 80s garage mix of chaos a la The Stingrays, with a little Cannibals and Milkshakes thrown in too.
New Direction on the other hand could be a young new Mod sound in the making, showing just how close these genres are, Love Reaction turning another gentle corner again with its raw guitar solo. Yes, I love this album. It arrived out of the blue from a band I'd never heard of but am now more than glad I have.
Article continues below...
Advert
The word is that The Wylde Oscars may be touring Europe during April 2011 so keep an eye out for them, we will be! www.copasedisques.de
Listen to: Live Wired
Article continues below...
Advert
• Scootering Magazine – January 2011

Enjoy more Scootering reading in the monthly magazine. Click here to subscribe.