At heart, scootering is all about adventures on (relatively) low-capacity motorcycles. If you can accept that as a definition, then this is probably the best book you've never heard of.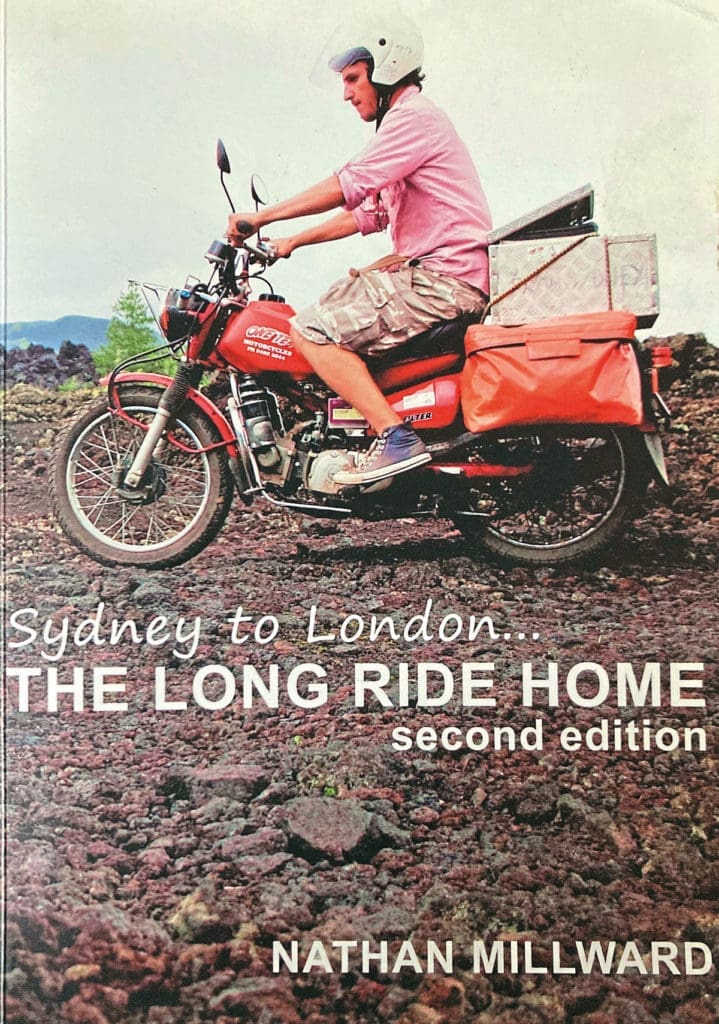 At the start of 2009 Nathan Millward, an ordinary lad with a home in the Midlands, found himself with 20 days to get out of Australia and a hatred of flying. The Long Ride Home is the story of how he made it back to the UK using a motorcycle that at best could be described as 'inadequate for the intended purpose'. I'll make a declaration here, although I wouldn't describe Nathan as a close friend, I've met him a few times and he's one of the nicest people in motorcycling. Since the epic trip he's had a few jobs in and around the motorcycling media but not once has he ever looked down on scooters; indeed his mantra could be 'If you're on two wheels then you're on an adventure bike.' Although much of that is down to his infectious enthusiasm for all things two-wheeled, there's no doubt that most of it comes from his long term love affair with the humble Honda CT110. Most easily, but not entirely accurately, described as a 'pimped Honda Cub' it's a machine used in vast numbers by the Australian Postal Service and just as with its Spanish counterpart's Vespa PXs, these 'postie bikes' are sold in used and abused condition to unwitting members of the public. One of those being our hero, Nathan.
The start of the book finds Nathan in Australia trying to make the best of a long term, long distance relationship with a girl from Sydney. It's a relationship that's seen Nathan exhaust his options for visas, a fact brought home to him when he's sent packing from the visa office with a notice that he's to leave the country within 20 days. Like many of us, Nathan's long harboured the idea of an epic overland trip, in fact he'd previously got so far as the eve of departure for a ride from the UK to Australia using a Honda Cub but got cold feet at the last minute. The question he asks is whether his planning will work in reverse and, if he's to ride all the way, can he make those plans in two days because that's the only way he can reach Darwin in time to avoid arrest.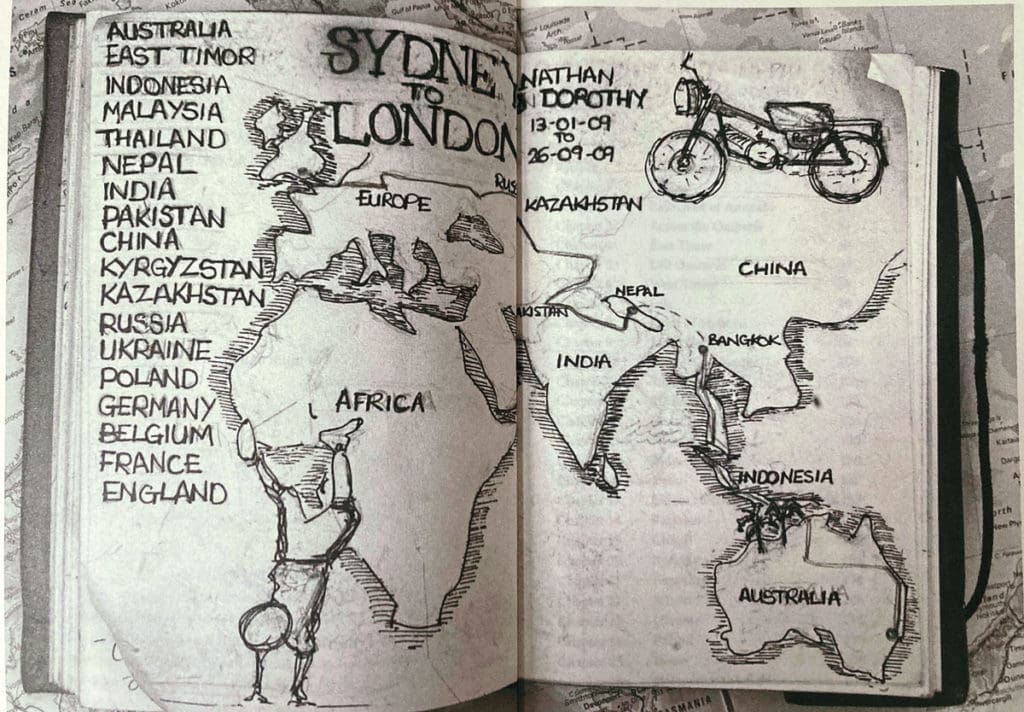 Armed with little more than a reasonable credit card limit, a helmet signed by the Australian prime minister (all is revealed) and a hastily acquired postie bike called Doris, he decides to take the plunge. Fairly soon it's clear that Doris isn't up to the job and a replacement, Dorothy, is secured. Over the next eight months Nathan and Dorothy wind their way north-west and their adventures, literally, fill a book. It's not a short account, the book runs to 235 printed pages but every one of them urges the reader onwards; Nathan's a true rider and he knows how to tell a story.
What makes this story so spectacular is that it's not one of those corporately sponsored riders engaging in false jeopardy for the benefit of a TV crew, this is adventure riding in the raw. It's Nathan, Dorothy and the open road. When the going is rough, Nathan's honest about it, when he's frustrated he's not afraid to share how he feels, and when things go well we're transported along with his delight. There's sleeping in hedgerows, mechanical failures and bureaucratic hurdles aplenty, but Nathan perseveres. The only stretch of the journey that defeated him was the leg from Bangkok to Nepal, which both he and Dorothy had to cover by air.
Without giving away too many spoilers the intrepid duo makes it back to the UK, where Nathan struggles to deal with the mundane nature of ordinary life, a spiral of depression that Nathan himself describes as leaving him feeling "broken". His recovery leads him to another journey with Dorothy, told in the sequel Running Towards The Light. The good news is that Nathan and Dorothy are still going strong. Indeed, you can meet the pair at Dorothy's Speed Shop down in North Devon where Nathan runs a fleet of 'postie bikes' taking riders on adventures of their own or escorting riders of small-capacity motorcycles on pre-planned tours of the UK.
Article continues below...
Advert
Whether you're an experienced adventurer, a novice who wants to take the first steps towards something different or just someone who enjoys the thrill of travel from their armchair there's something in this book for you.
I'd go so far as to say if you only read one real life adventure book this year – in fact, if you only read one book this year – it should be Long Ride Home. Sadly, the book is currently out of print but it's well worth the effort of hunting down a copy.
Buyer's Guide
Title: The Long Ride Home (aka 'Going Postal' in Australia)
Author: Nathan Millward
First published: 2014
Format: Softback 235 pages plus 40 colour plates
ISBN: 978-0-9572297-2-3
Price: Currently out of print, but keep an eye on www.dorothysspeedshop.com
Best enjoyed with: A McDonald's meal – (because every traveller needs free Wi-Fi.)
Article continues below...
Advert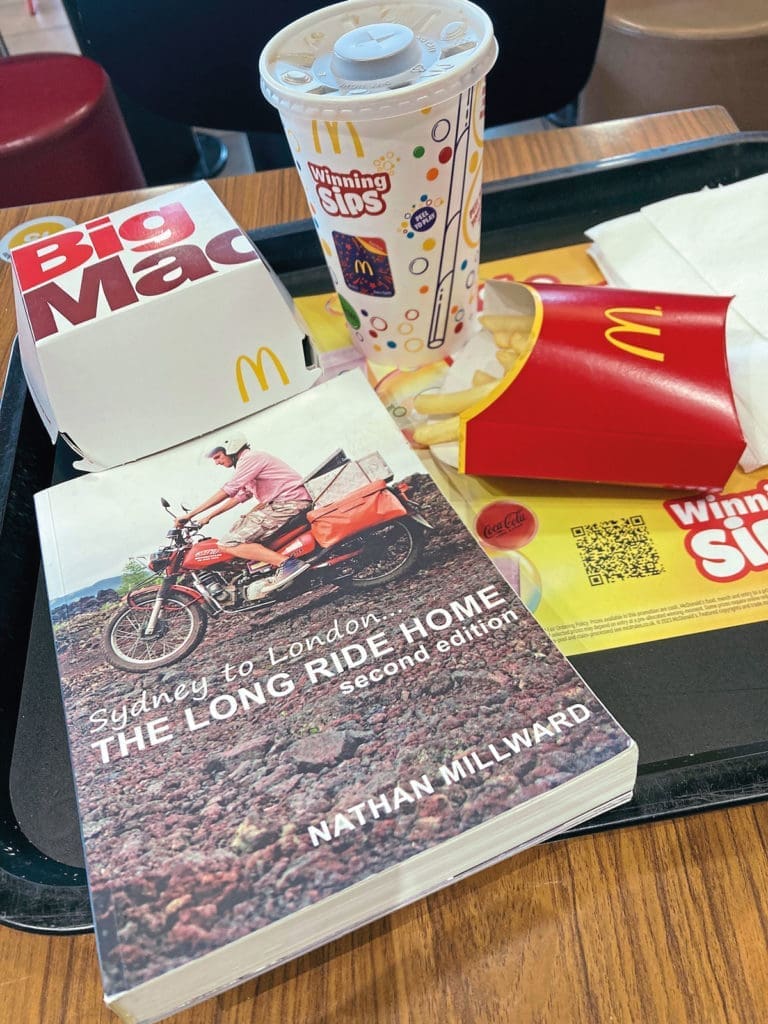 Words and images: Stan

Enjoy more Scootering reading in the monthly magazine. Click here to subscribe.