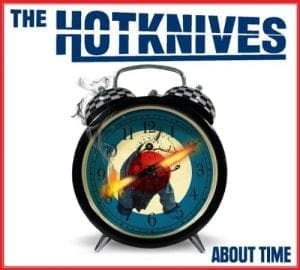 And about time too, for unless you've caught the Hotknives at one of their rare UK performances over the last few years, you're not going to have heard much in the way of new material from them recently. Formed in the late 80s as part of the '3rd Wave of Ska' The Hotknives toured alongside labelmates The Riffs and The Loafers who together became a mainstay of the scene for a number of years.
Like a lot of bands, The Hotknives have evolved since then and of late the place to be if you want to catch them live has been mainland Europe, mainly Germany. And you can hear that in this new album as a number of tunes are aimed at the style of ska our teutonic friends like, that being at a bit of a pace with some regimented brass to help you on the way. Track one, Harsh Reality, sets this scene, yet still contains The Hotknives blueprint of contagious tunes about everyday life that you can't but help to enjoy.
So the album continues as you may expect, given that The Hotknives as a band are over 20 years young now. Accidentally Human sounds as if you've known the song all your life, then Communication (featuring Dr Ring Ring on toasting duties) chills you out a little and reminds you this lot also sang Skin Up Harry back in the 80s.
Speaking of which, there's a new recording of the classic Doing Alright here as well, though I'm still unsure whether I prefer the original or this. You'll hear some mature Madness in the brass arrangements, complementing the similar edge they had in the early days, and to be honest, I think I prefer some of the more refined, albeit slower numbers.
There appear to be a few nods to the bands they've been touring with too among their songs, a bit of Bad Manners here, old school reggae there, and more maybe? What is certain is that the Hotknives have lost none of the magic that enraptured myself and many others back in the late 80s, so well done Brighton chaps!
Listen to:  The Hotknives – Harsh Reality
Article continues below...
Advert
• Scootering magazine – November 2010

Enjoy more Scootering reading in the monthly magazine. Click here to subscribe.
Article continues below...
Advert