Reminiscing about the scooter scene is all well and good, but what about its future and what can we do to secure it?
Everybody reminisces about their past and when it comes to scooterists perhaps we are the worst culprits of all. Not that there is anything wrong with that and I myself regularly indulge in doing so by way of the many enthusiastic social media groups dedicated to it. Every now and then I'll blow the dust off an old shoebox full of grainy old images that's kept in the loft and reminisce over my misspent youth. A quick fix it may be but going back in time is something we can't do, we can only go forward. Which leads on to the real matter of this piece, what about the future?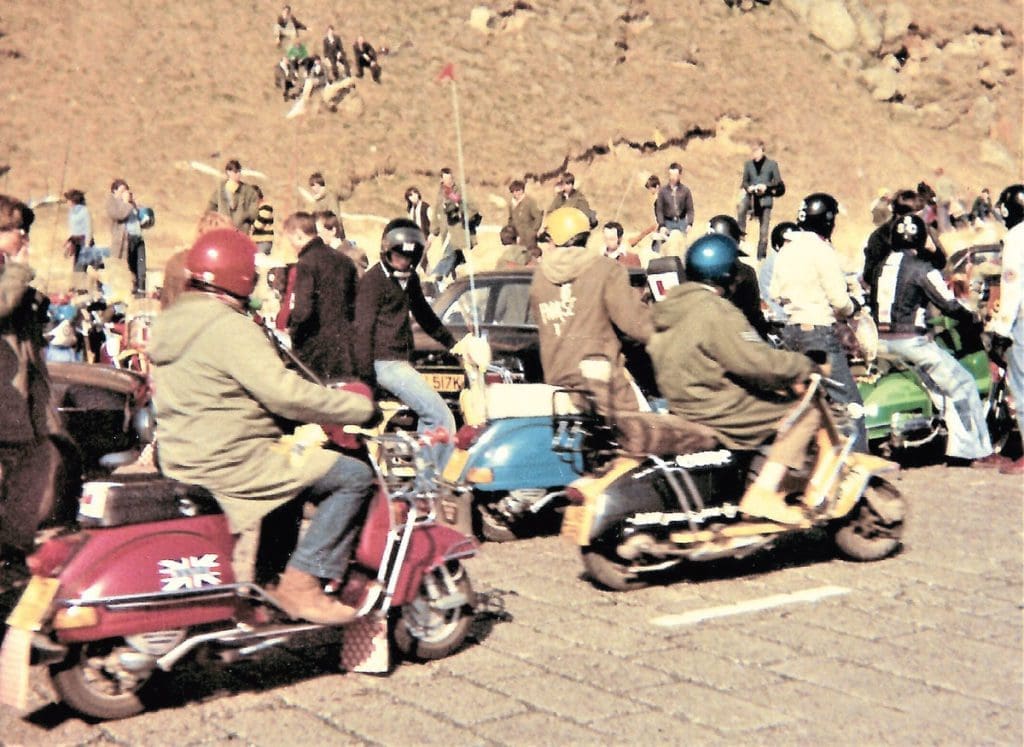 We've all discussed it many times and it's not long before someone asks the biggest question of all: "How long do you reckon the scene's got left in it?" I'm sure that when the Innocenti factory closed owners worried about how long they could keep their machines roadworthy, just as manufacturers worried about their survival when inexpensive cars began to steal their sales.
When Lambretta stopped production it was seen as the death knell of scootering. Although Vespa filled the gap, few machines were being sold as a general mode of transport. The underground scene of the 1970s preserved scootering as a cult but, let's face it, scootering as we know it came out of the 1980s Mod revival and the rally culture that it spawned.
Those 1980s teenagers are now approaching retirement age and many have, perhaps, moved on to other interests. This is where the real worry about the future lies, the ageing population of those within it. Thankfully there is a growing number of slightly younger riders who bolster the scene admirably, attending rallies and events and, in my opinion, securing the immediate side of scooter riding.
Those of us who are slightly senior still play an active role, maybe not riding quite so much, but turning their passions to other parts of scootering such as collecting and restoring.
It's been a gradual shift from what was to what is now. For example, in the 1980s combats and grass skirts looked good on most of us but that's not the case any longer. The scooters we ride may also be old enough to have experienced those halcyon days, but their level of tuning, reliability and paint are totally removed from back then. It's a bit difficult to explain, but what I'm trying to say is that the scene and the people within it have a knack of being able to adapt to the challenges put in front of them. 
Cast your mind back to the legshield protector scandal of the 1990s, the banning of leaded fuel, factory production of two-stroke engines stopping, and so on. The list is endless of the threats both past and present that were going to kill scooters off. It still exists with Greta and her mob wanting us to all go back to the days of horse and cart but no matter how much they try, the scene will survive because we are all determined to keep it going.
The truth is the biggest threat to the scene's survival is that we try to recreate the past. At the beginning of this article, I mentioned looking back at old pictures wishing it was like that again but it never will be. Just as today's Vespa is far removed from what it once was, rallies are not going to be the mass invasions of seaside towns. Few of us would even consider camping on disused council wasteland and no one in their right mind would hacksaw the back end off an SX200 and paint it matt black.
Instead of constantly looking backwards, take things for what they are now. We currently enjoy a vibrant scene that is made up from a huge variety of different influences. With the possible exceptions of the VW and Mini scenes, scootering is far more diverse than any other vehicle-centred culture. There may be things some of us don't like, but don't try to deter or discard them as they are critical to the scene's survival.
While there may be veiled threats from outside the scootering circle, those of us inside it should grasp what we have with both hands. Only by accepting that things have changed and will continue to change can we make sure the scene stays strong for future generations.
Words by: Stu Owen

Enjoy more Scootering reading in the monthly magazine. Click here to subscribe.