Sena tells us that its Bluetooth Action Camera Prism is the first on the market that provides authentic Bluetooth technology. The main use of this is with its intercom units (which I've been using for a while now), although there is also a smartphone app to change settings and offer a handbook; the latter is essential for there are so many features with this little camera that it's easy to forget stuff!
So firstly, yes it is a little camera; both in weight and dimensions, and you hardly notice it (quick release) mounted to either the side or top of your crash helmet. These, along with the waterproof casing, are the extras that come with the Lite kit. If you opt for the 'full' Prism kit, you'll get loads of other mounts too such as handlebars (and potentially crash bars I suppose?) and suction cups, the latter good for flat panel work. By the way the Prism has a 'flip image' mode should you decide to mount the camera upside down (just remember to turn it off when finished!).
Now while the Prism itself has buttons to scroll through the menus and operate the functions, with a combination of a LCD screen on the side and different coloured lights on the top telling you what mode you are in, you can do all this at the press of a button on the Sena intercom via Bluetooth.
Switch the camera on, press and turn the dial and through the intercom speakers you hear 'video mode'. Press it again to hear 'recording' and you're filming the action. Press once more to hear 'recording stopped'. It really is as simple as that. You can even turn the camera on and off via the intercom, and because the intercom unit is connected to the left side of your helmet (the QR camera mount attaches to the right), you operate it without taking your hand from the throttle, the big round dial button very easy to use indeed, even with thick gloves on.
Your next option while riding is to take photographs, for which you can select single shot, burst or time-lapse modes. Single takes one photo at a time when you press the button, burst will take three, five or 10 shots in a burst depending on what you've set it at, while time-lapse captures an image at preset intervals from one to 60 seconds, which again you can set. So if for example you were riding along an amazing road, then you could set it to take a photo every 10 seconds.
Clarity is good too, as you can see from the photos here, and the video on our website. If mounted well image stability is impressive, although while it coped well with riding into and out of tunnels during the day, at night time it isn't so good.
The field of view has two options (90° or 137°, I shot in the latter) and quality of both film (480 to 1080) and photos (3 to 5 MP) can be changed too, depending of course on how much you'd want to fill your memory card up. That's extra by the way, I bought a Class 10 (for HD recording) 32 GB card, the biggest it will take.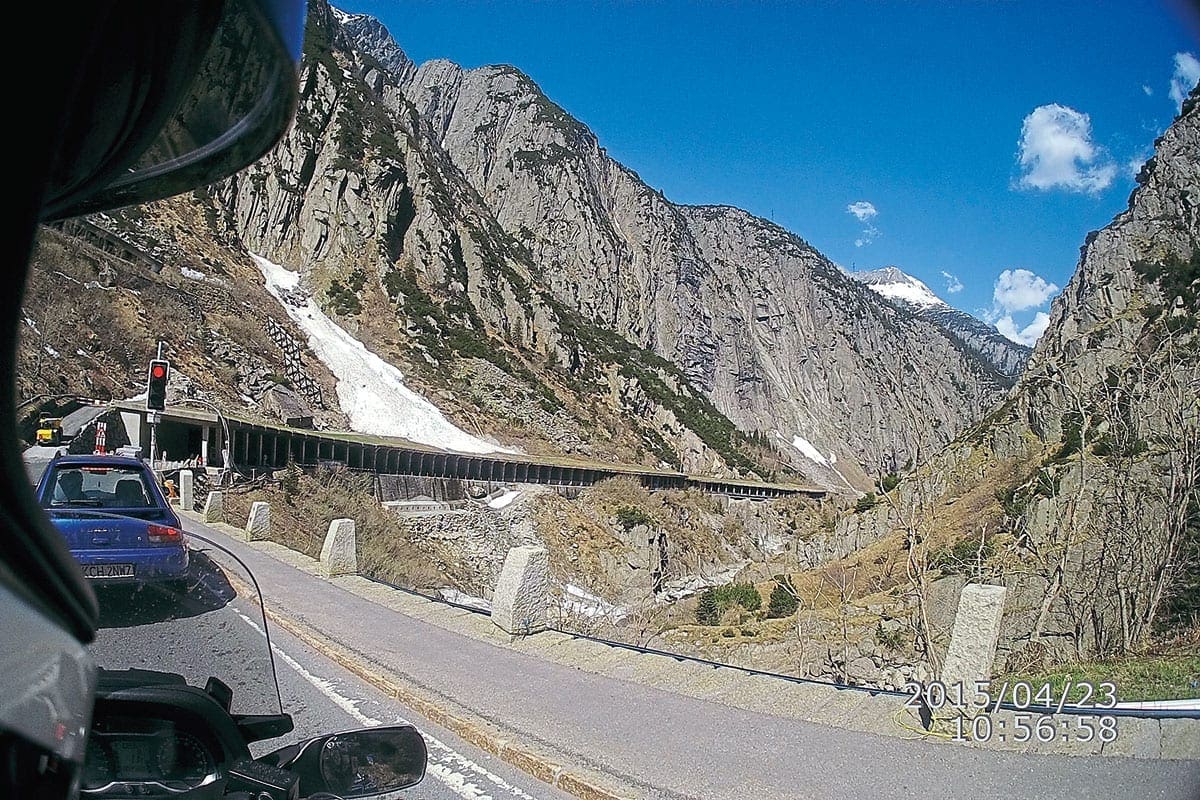 How much will the card hold? Well once the novelty of the camera wore off, I realised that I wouldn't be filming every single mile of a journey. As such, although I planned to empty the card or carry a spare, the reality was I shot less footage than I expected. As an example a two minute high-resolution video took about 170 MB of space, and the photos reprinted here come out at 1-2 MB each in size, so that's a lot of photos on a 32 GB card.
As for the battery, Sena claims it has a life of about two hours (spare batteries are available), but you can set it to automatically turn off after five minutes to conserve this.
Finally, the intercom unit gives you the option of using them to record a commentary along with the film as you ride.
As intercoms my impression of them has increased over time. The clarity of rider-to-rider conversation is good as is the 'noise reduction' option when not talking.
Sticky has a Sena too and we've spoken to each other via mobile phone using the Sena's Bluetooth, both marvelling at how clear the conversation is despite riding and being countries apart at the time.
The Prism Lite package (camera, battery, waterproof housing, lens cap, USB cable, helmet clamp mount and helmet surface mount) retails at €219, while the full Prism package comes with the above plus more mounts than you'll probably need at €269. The Sena SM H10 intercom I've got here retails at €219 for a single unit, or €399 for a dual pack. For more details visit Sena's European online store, visit: eu.buysena.com
Photos here were taken over the last few months with the Prism helmet mounted while riding either a Lambretta Li 225 or Suzuki Burgman 650.
https://www.youtube.com/watch?v=S4ZxwnbWz-E

Enjoy more Scootering reading in the monthly magazine. Click here to subscribe.