Alpinestars Bogota Drystar Range
Jacket RRP £249.99
Trousers RRP £189.99
www.alpinestars.com
I've had these new all-weather riding/adventure touring garments here, from Italian clothing specialist Alpinestars, since April. The Bogota Jacket is constructed from an abrasion and tear-resistant poly-fabric and features a Drystar membrane for guaranteed waterproofing.
This jacket also features superb levels of protection thanks to its integrated CE-certified elbow and shoulder protectors. Nice touches include large red tags on the zips meaning you can easily open or close pockets and efficient ventilation system with your gloves on in all weathers, a feature which is repeated on the trousers too. They also incorporate a Drystar membrane, and a removable thermal full-leg liner, making the Bogota Pant 100% waterproof, as well as boasting s CE-certified protection too.
Now the big thing here is how does it perform in extreme weather? Well to the summer sun first, and the trousers without the liner and vents open are still warm once you stop, but on the move at Lambretta speeds they've proved fine and comfortable so far. My only niggle being that the braces attach via Velcro and if not secured correctly before you set off, they can come undone along the way. A small but noticeable point.
As for the jacket, for me even warmer than the trousers, but liners can be removed and the long vents on the lower arms are pretty cool, the fastening on the cuff keeping it all in place, just in case. The chest vents help too, just don't forget to close them if it rains.
Ah yes, the rain… Until July, I was impressed by the way Bogota kept me dry in the fairly heavy showers I've worn it through, both in the UK and Europe. To be honest, the reason I keep going back to Alpinestars is that their clothing works and lasts very well. And I do clock up a lot of miles in a year.
And then came Llandudno; about seven hours of rain on the way up, and more than eight hours of torrential rain on the return trip. And do you know what? I love Alpinestars, except for that small area that because of the way we sit on scooters compared to motorcycle riders, rainwater eventually flows up our lap to our waist, and in the gap between trousers and jacket, your T-shirt starts to get a little wet around your midrift.
Yes, despite the weather I managed most of the journey home with just a long-sleeved T-shirt for warmth, and only a wet belly to complain about. My secret tip here by the way, is not to wear a neck tube, hoodie or any other garment that could allow rain in via capillary action.
Available in various sizes and colour options, the Bogota Drystar jacket and trousers are not cheap, but they work. Proof? Friends with cheaper clothing and less far to ride got soaked to the skin coming home from the same rally.
Alpinestars Gunner WP boots
RRP £149.99
www.alpinestars.com
Down below, keeping my feet dry were Alpinestars' CE certified Gunner boots. A dual Velcro closure system makes them quick and easy to fasten once on, and they are comfortable from the off, fitting snugly in no more than a reassuring way.
The Gunners feature all sorts of mouldings and reinforced areas according to the press blurb, for protection, from heel to toe with dual density here and TPU bits there, and their plain design suits everything from normal jeans to riding trousers. They also have reflective insert on the rear for night time visibility, and the all important waterproof membrane layer between upper and lining "for proven performance in difficult weather conditions".
Again I refer back to Llandudno and report that on the floor of a Lambretta they kept my feet dry all day until the point we stopped for coffee and I realised about 10 minutes later that the way I was sitting allowed water to pour off my trousers and jacket into my boots, and from then on I had wet feet. Self inflicted!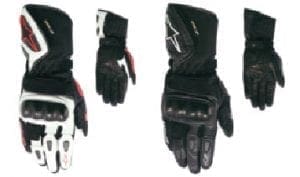 Alpinestars GT-S Xtra-Fit Gore-Tex gloves
RRP £129.99
www.alpinestars.com
After the initial Yukon gloves in the main picture here not only failed me in Italy by letting in quite dramatically but also taking forever to dry out, I was sent these by Alpinestars to try. Their first outing was Llandudno, 600 or so miles of constant rain, and you know what? They impressed me.
With a durable leather and stretch poly-textile main structure these gloves apparently feature "the innovative X-TraFit material technology, which incorporates a Gore-Tex membrane for excellent waterproofing and breathability". They also boast "superb dexterity, grip and sensitivity of bike controls afforded by X-TraFit's sealed triple layer construction for a significantly reduced material construction".
To keep your hands in one piece there are over moulded, advanced PU knuckle protection together with Alpinestars' patented third and fourth finger-bridge to prevent contortion and separation of the fingers in the event of impact slide and shock absorbing EVA foam padding inserts on palm, fingers, thumb and wrist. They're fastened by a dual Velcro wrist closure system and also boast a nifty soft and flexible TPR visor wipe on left hand to clean away dirt and grime. I love that!
But more importantly I love the fact they kept my hands dry. Granted they weren't warm. In fact they were bloody cold, but still dry. The secret here is to have a credit card or cash in an outside pocket, and if you have to take your glove off, make sure you thoroughly dry your hand before putting it back inside.
I would maybe try these gloves with a thermal liner next time, and it will be interesting to see how dry they remain, but until then, on a warm day these are very good indeed.
Again not cheap, but worth it I reckon.

Enjoy more Scootering reading in the monthly magazine. Click here to subscribe.