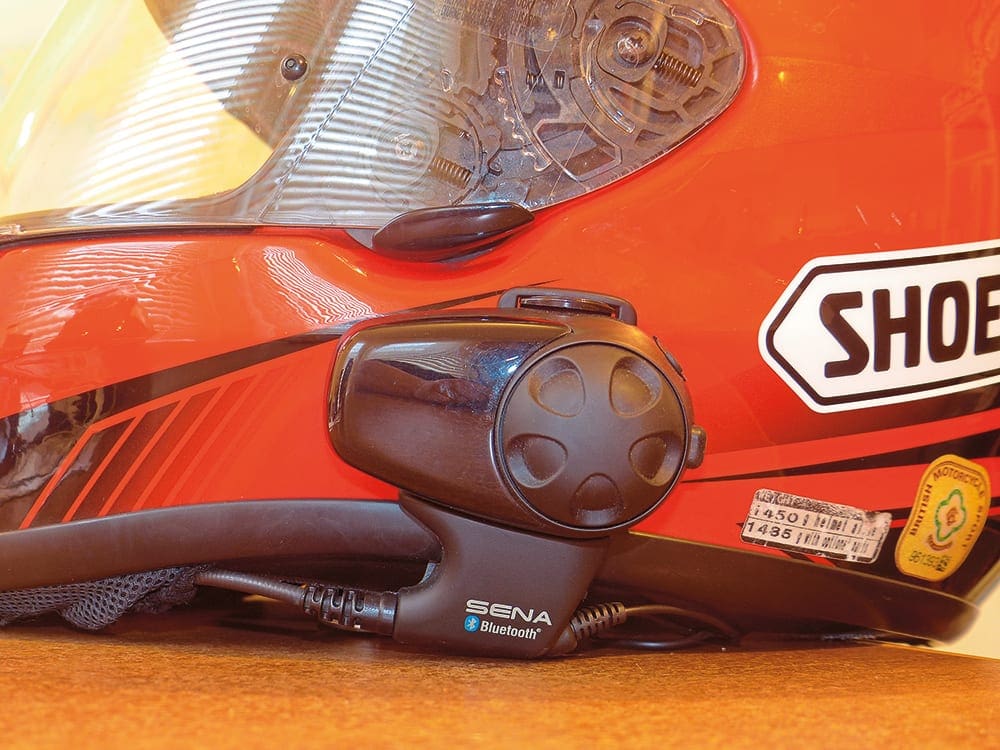 Sena SMH 10 & Interphone F5MC
Over the last year or so, we've been testing a couple of intercoms while scootering around Europe. They're useful pieces of kit, especially when touring into uncharted territory as riders can discuss directional options. They can also be used to inform of any required petrol stops.
The range on both these units means that you can have one rider at either end of a group of half a dozen or so riders and keep track on them all like some kind of mechanical sheepdog.
We've had the Sena SMH10 Bluetooth kit for around a year now, which also features hands-free calling on your Bluetooth mobile phone, listening to stereo music or voice instructions of GPS navigations by Bluetooth wirelessly and have intercom conversations in full duplex with a passenger or other motor cycle riders.
Available as single or dual kit, the latter is supplied with two main units, so you can use as a rider to pillion system or bike to bike out of the box. The units attach to the outside of your helmet with a boom microphone that reaches inside, and a pair of speakers which Velcro inside your helmet, Once paired, the intercom is operated simply by a jog wheel which controls on and off as well as volume, and to be honest is simply intuitive and easy to use. This does make it a little more bulky on your helmet, but that's a small price to pay.
The quality of conversation is good; the only criticism being a general low level background hiss. We tried a second pair of units in case it was faulty, but it does seem to be a feature of the model and while less noticeable at speed, it's still there in the background. On classic scooters (e.g. Lambrettas with noisy exhausts) conversation is still possible at high speeds, albeit some words do get lost as you'd expect. Slow it down a bit and all is good however, Sena's 'advanced noise control' no doubt helping to limit wind noise.
Sena claims the range is up to 900m, which I'd say is the absolute maximum on a good day; more likely is about 600-700m although that's more than enough for two people riding together. The claimed talk time is 12 hours, with eight to 10 being more realistic, claimed standby is 10 days and recharge time about three hours.
While not having streamed music into the system, I've used the MP3 jack and listened to music as I ride, which is far less distracting than trying to take a phone call. It also features voice prompts, which to be honest for conversation and music I didn't need, plus individual volume control for each audio source which is good. The SMH 10 intercom has the potential for a four-way conference with three other Sena users, and a recent firmware update apparently opens this up to non-Sena units too, which I'll try next time I plug it into my laptop.
All in all a good piece of kit, useful and efficient. Expect to pay around £185 for a single unit, or around £325 for a pair.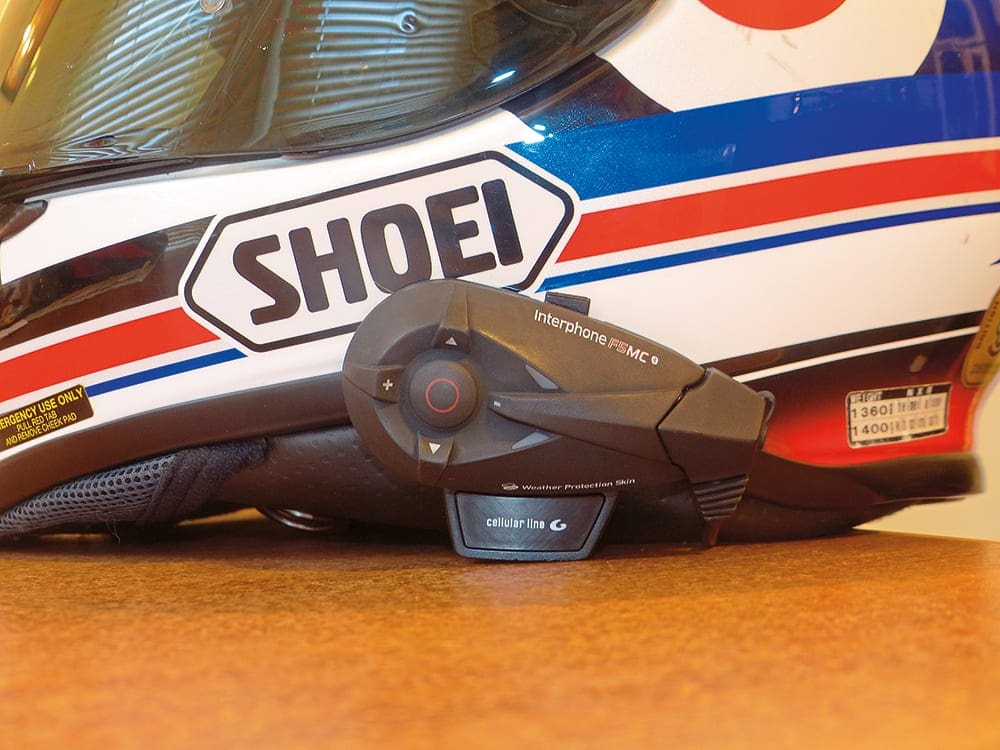 The Interphone F5MC is a replacement for an earlier Interphone unit I had for a number of years and got on well with. The new F5MC units however are much improved, both physically and regarding features too. The one for my full face Shoei again either clips or sticks onto the outside of the helmet, with speakers fitting nicely into the ear pockets, and a remote microphone attaching inside the chin piece.
Unlike the Sena, where the wiring is integral to the mounting unit, the Interphone plugs in and you're supplied with some silicone to waterproof the join, which I did find in torrential rain, is essential.
The F5MC has a claimed range of up to 1.3km with up to four riders, although I'd say for everyday conditions you'll probably find that 1km is closer to the truth (your surroundings affect how efficiently Bluetooth works). Aside from the intercom, other features include A2DP Bluetooth stereo, RDS FM radio, wire connectivity to iPod/MP3 player, telephone, which together with other features are accompanied by full vocal menu help which you can set to 'full nagging' or 'brief description' depending on how familiar you are with the unit.
Everything is operated via buttons on the helmet mounted unit, which don't take too long to get used to— reading the manual makes it much easier too. For simple intercom use however, I still prefer the Sena's jog wheel. However Interphone does also offer an optional handlebar mounted remote control unit, which I think is easier than the buttons on the helmet mounted unit.
Once paired, the intercom is easy to use and conversation generally clear. There are plenty of features to tweak the quality, whether you have a full or open face lid for example, and again you really need to read the handbook to fully appreciate things. Occasionally strange noises come through, such as a passing vehicle reverberating via the speakers, so again placing the mic in the right place makes a difference. Digital signal processor (DSP) did suppress most of background noise though.
The RDS radio is a nice feature, although in some remote areas you can ride faster than the unit can retune, especially if you're listening to a small station. Again the MP3 input is perfect and a nice feature. The phone option relates to an individual unit being paired to a phone, so if you accidentally swap units you may find your partner answering your calls! While I only used it briefly (pull over to talk as it's less distracting), the calls are clear enough, should you wish to speak to others without removing your helmet.
From the off the Interphone boasted Anycom which allows other brands of Bluetooth intercom to be paired, and we tried a three-way coming back from Switzerland in the summer with great success— presuming you can put up with two women cursing like dockers at every car driver who cuts them up! Intercom claims that the F5MC allows up to 12 hours of use, again I'd say more like 10 hours if left on constantly, reduced a little further by pairing with a third device. Standby is claimed as 700 hours and charging time is about three hours, with both able to be charged from one dual lead if left attached to the helmets.
The official RRP of the F5MC is £219.19 fora single unit and £379.99 fora pair, with a handlebar mounted remote control available for £99.99. However it's worth shopping around online, I've seen single units from £167.99 and a pair from £303.99.
Verdict: Both intercoms need careful setting up to get the absolute best out of each, from reducing background noise to keeping vocal volume to a minimum. The quality of your crash helmet will affect things too, my Shoei being very quiet indeed and complete with recesses for speakers. A cheaper, noisier helmet will result in poorer quality communications. Take the time to set it up right though and you'll enjoy either. Sena for simplicity, Interphone for functions.

Enjoy more Scootering reading in the monthly magazine. Click here to subscribe.