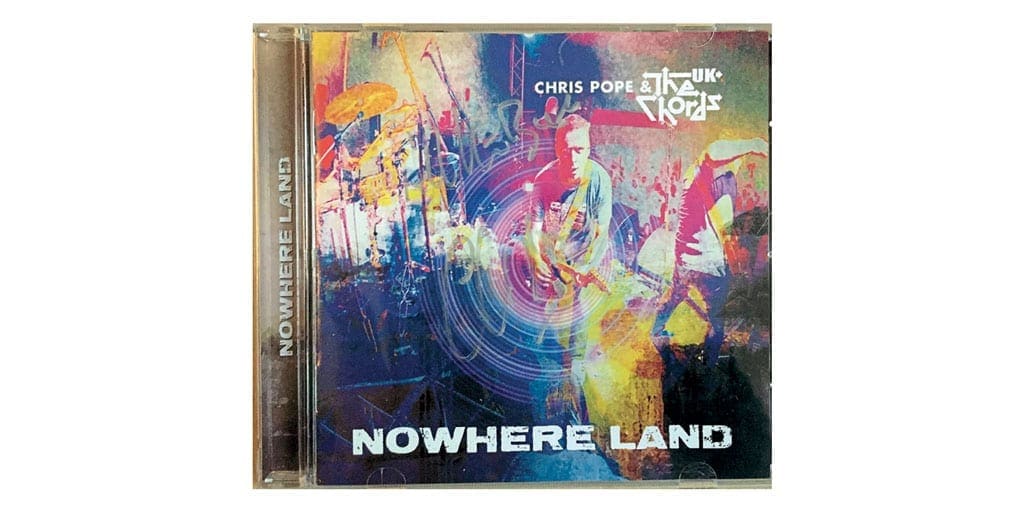 Words and photography: Rik
Our man Rik Bardsley lands an interview with 'the democratic dictator' Chris Pope of The Chords UK at The Waterloo in Blackpool.
The Waterloo bar is an establishment that is fast gaining a reputation for live events, not the least of which is the scooter or Mod lilt to them. The reason for my visit there was to see none other than the legendary Chris Pope & The Chords UK (with new material to boot).
For those of you of too tender years to have been around at the time, The Chords were well up there with the likes of Secret Affair, The Lambrettas and the like during the Mod revival back in the pre-history of the late 1970s.
The Chords, courtesy of Mr Pope's imaginings, were the grittier 'street' side of things, not only in lyrical content, but in their whole sound. Now this isn't a review of the gig, at which a great time was had by all, ably supported by The Reaction, and more than amply DJ'd by Gaz Heckman and the northerner in exile, Mark Bailey.
It's not a review of his new material Nowhere Land (we've already done that in a past issue)… so you've either already read it, or you should order a back copy online! His new stuff still has his DNA, but it also feels to me where the likes of The Clash and Spear Of Destiny would have been had they stayed the course too… enough!
This isn't a review. So what is it? Well, I was lucky enough to sit with the man, and after he'd been given no option other than to sign my moth-eaten copy of the seven-inch vinyl Maybe Tomorrow (bought when I was 15) the interview rolled out thus…
Rik: The Chords… What happened?
Chris: We officially split up in '81. Our first gig was '79 and by September '81 we were gone. We'd done seven singles and an album, along with about six full tours in that heady period. It sounds full on now, but you just did what you do, we were 18-19 and at that age, you do what you can, when you can.

Rik: Was there any management interference when you split up?
Chris: We didn't have any manager, which was a point with The Chords. We signed to a label by default, because we were on a subsidiary of that through Jimmy Pursey. That didn't end well. We'd just done a John Peel session and a couple of labels were about, then Polydor looked at the Ts&Cs and saw that because we were on a certain subsidiary, they could take us on for 'x' amount of time or for very little of anything.
Obviously we signed to the major label, but there was no one there who took us on 'personally' – because we'd been signed by default. That way we ended up with no manager and no one in A&R looking after us, so anything that happened we had to do ourselves. I'm not being bitter, it's just the way it was.
Rik: That must have been really difficult being teens or early 20s, writers, musicians, publicists and business guys all in one?
Chris: I was 17 when The Chords signed to Polydor itself. One guy at Polydor took us under his wing, but he wasn't really an A&R man. Basically all we knew what to do was go into the rehearsal rooms, go and write some songs, rehearse them and then go out and play them on tour. That was it. There was no one there to guide us or take the long-term point of view. You can only do what you are capable of doing.

Rik: What inspired to you come back into the bear pit?
Chris: We've been doing one-offs, here and there, about 20 years ago. In 2010 we did a tour that I didn't really like, probably because I wanted to do a lot more solo stuff. Then we got offered a tour of Australia and Japan with the original singer, so we did that – and I kind of got into it a bit more and I said to Billy:
"I don't really want to wait two or three years for you to come back to England and do two gigs in Birmingham and London – I want to write some songs and get them out there," and that's where we've been for the last four or five years, along with two albums and a couple of singles.

Rik: There's been a whole resurgence in the theme of 'Mod'. What are your feelings on that?
Chris: I think there has, but we're now just doing what we want to do and if people want to call it what they want to call it, then that's fine. If we're on a list of two or three bands on a night and people decide that they want to buy into 'that thing' or want to 're-buy into that thing' coz they loved it, then that's fine. No matter what I do I'll always be tied to it.
After you've been in the wilderness for 15-20 years, to be recognised again is a nice thing. During those years I made three solo albums, which were, in hindsight, leading on to this. I think that it's brilliant that people will turn up and sing along to a song that was written 40 years ago, then you play some new stuff. Playing new work is important to me – and it's great that people are buying into that too. No creative person ever wants to stand still.
Growing up, my influences were T-Rex and stuff like that, I got The Who from my brother, then I dug back into the 60s stuff, like The Kinks and The Beatles. Then punk came along – so you put the 60s and the punk stuff together and that's where we were. Obviously, you pick up stuff you like, but you get more choosy about who you like and who you don't as you get older.

Rik: Who would you choose then?
Chris: Some Britpop stuff you can hear the 60s and 70s right there and I can stick on a Tom Waits 70s album and enjoy that too. To be honest, I don't care what the genre is, as long as the 'tune' is there. I just like a good tune. That'll do me. I'm not too keen on the modern Top 40.
I grew up listening to Radio Caroline and Radio Luxembourg, John Peel. That to me is radio. Not this stuff that's written and produced by some computer or other with the evil people behind them. You see, a song to me is a melody and a lyric, you write that – and it's your song. You've got to be really careful that people try to blag in on things.
Real bands and artists are a headache for a label these days, because it's hard to manipulate a real band, the whole point of a band is to be a democracy… or a subtle dictatorship, I'll say no more.

Rik: What's the pitfall that a young band should avoid?
Chris: Phew… Too many… Way too many. Rule one. If you're unhappy in the band you are in – and you are genuinely unhappy – get out of it. Don't hang about thinking that it'll work out, get out. Be positive and be true to yourself and keep hold of your copyright. If I went on about things that could have been, would have been and should have been – I could take all day with it, but that won't change anything.
Learn and move on. On the flip side, l'll say this about playing gigs now – at times you feel physically old and sometimes you feel mentally old, but when you're up there performing, you don't. I come off the stage feeling like I did when I was 18, in fact even better, coz you appreciate more now.

I believe him, because I saw the grin on his face as he left the stage that night.

Enjoy more Scootering reading in the monthly magazine. Click here to subscribe.