Transport for London have already created an Ultra-Low Emissions Zone (ULEZ) in the Capital. The Dept. headed by Sadiq Khan have taken what was initially the area of London subjected to the Congestion charge and via their current proposals, aim for that area to become London's ULEZ. Which, over a course of a few years, is intended to extend to encompass the entire area within the confines of both the North and South Circular roads as an ULEZ zone.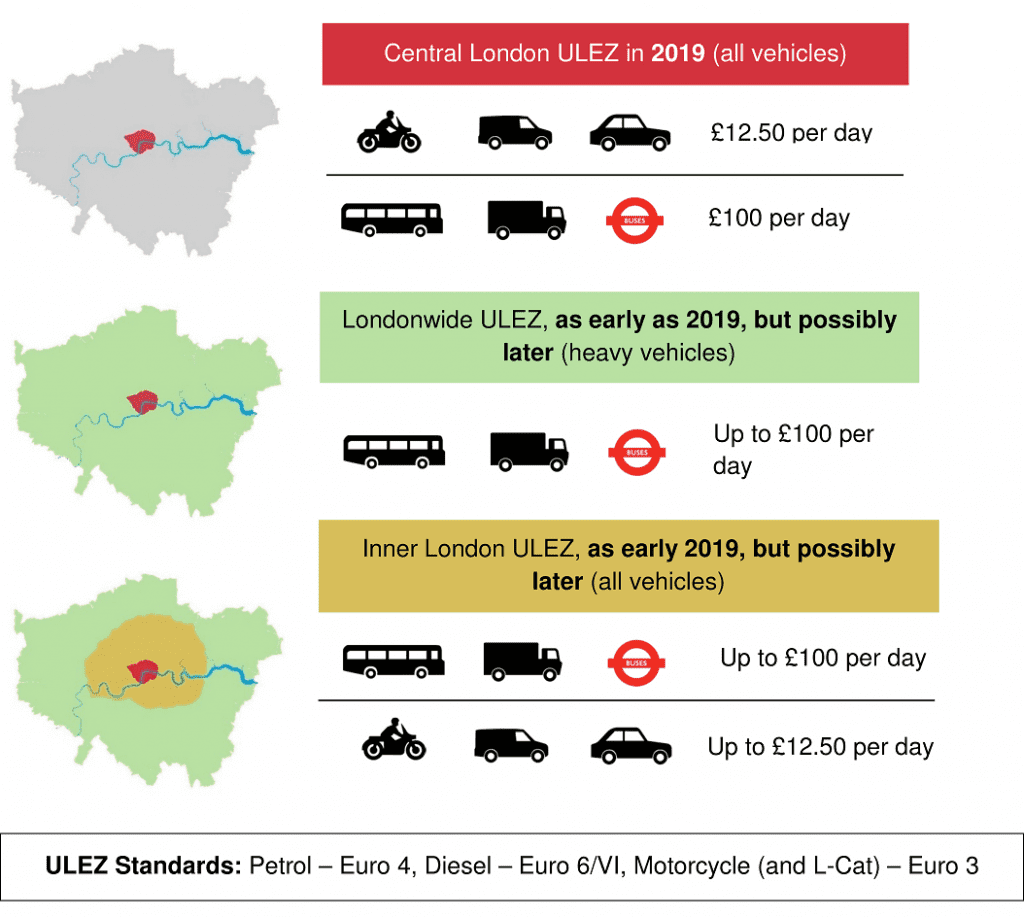 October 2017 saw the introduction of Transport for London new Toxicity charge, aimed at predominantly charging pre-2006 registered four (and more) wheeled vehicles. Smaller vehicles, vans and the like have to meet a minimum Euro 3 standard, while larger vehicles including HGVs, coaches and buses must meet the more stringent Euro 6 standards. Which means that cars, light 4-wheeled vehicles and small vans visiting the old Congestion charge area, are now subjected to a daily fee the combination of which, totals £21.50. T-Zone opens the door for the proposed ULEZ, which, if implemented in its fullest will have a devastating effect on motorcyclists and scooterists riding in London. Information regarding the proposed introduction of ULEZ in London has been available for some time now. However, as with similar proposed charges aimed at fleecing the public, said proposals have neither been widely publicised or reported on in the media. On the back of the Transport for London proposed introduction of ULEZ, up to 30 local authorities in the UK are seriously looking at introducing 'Clean Air' zones, based around Transport for London ideas. Granted, cleaner air in our inner cities is admirably desirable to have. Maybe being overly sceptical here, but, with austerity in full flow, introducing Clean Air zones are perhaps an easy way for cash-strapped local authorities to target the least well off thus increasing their income by what could well be a form of stealth tax.
The consultation period for Transport for London ULEZ has been running from November 30th 2017, until 28th February 2018 (link to consultation document below). Which leaves very little time to voice an opinion on the proposed ULEZ in London should you wish to voice yours. Which, after the following brief synopsis of just how the proposals, if implemented in full, may affect riders of certain classic scooters. This is very probably the only opportunity to challenge elements of Transport for London ULEZ proposals, with a view to exempting ALL two-wheeled vehicles from the incoming legislation. Consultation document does read as if ULEZ proposal are happening in full, leading and loaded multi-choice questions hint that ULAZ is a Coup De Gras! There are, however, large sections to voice opinions and comments. Pointing out motorised two-wheeled vehicles, Scooters are probably the most efficient way to travel in London, likewise, Scooters are one of the least contributory motor vehicles in terms of causing pollutants. Traffic lights and pedestrian crossings excepted, unlike four (or more) wheeled motor vehicles, on two wheels the rider and machine tend to not be sat stationary with engines running for very long. Should two-wheeled machines be exempted from proposed ULEZ charges instead of as currently proposed included, there would be significantly less demand for public transport, especially at peak times, within London. Anyone with a Big Brother complex when responding to online consultations such as this, has no need to worry as the consultation does not require any personal information. It's worth stating the benefits of riding Scooters such as the little if any impact on both emissions and congestion in comparison to cars, vans and similar. If introduced ULEZ charge will be £12.50 per day, with a large fine if not paid, the same charge proposed to be levied on Scooters and motorcycles also applies to cars, light vans, and other smaller four-wheel plus vehicles. At least Dick Turpin had the decency to wear a mask when carrying out highway robbery! ULAZ if introduced in full as the proposal stands will be in operation 24 hours a day, 7 days a week.
Introduction of ULEZ is set for April 2019, with ULEZ set to expand to the North and South Circular roads by October 2021. As with just about every local government proposal, the is, Transport for London ULEZ is not straightforward, it is contrastingly to say the least confusing!. Which classic scooters would be affected should the ULEZ proposal be introduced in full? Classic Scooters registered in the UK pre-1973 and registered as Historic vehicles in the tax class are exempted from ULEZ current proposals. Scooters registered in the UK prior to July 2007, that do not comply with Euro 3 standards will be subjected to the daily ULAZ charges. Classic scooters models that are set to be required to be liable for a daily £12.50 fee are as follows: Lambretta- ALL SIL Lambretta models, Jet 200 Serveta, later Spanish LI150, Spanish Lambretta Lynx, API Lamby. Vespa- Rally 200, 150 Super, Primevera, various Small -frame Vespas including 50 Special, Pre 2007 P Range models, All T5 125, Cosa.
Motorcycle Action Group (MAG) have arranged an Awareness Ride in London for April 21st this year, full details via this link: https://www.facebook.com/events/334119960424154/
Article continues below...
Advert
The future of riding Classic `Scooters in London, and, possibly, over time, other major UK cities too, should they choose to adopt some of Transport for London's ULEZ proposals, is on a knife-edge. Get involved in opposing this stealth tax, this blatant attack on two-wheeled riders, if you feel strongly about it. Voice your opinion on the consultation form. Join the Awareness Ride in April, it may be one of the last times to be able to ride with fellow Scooter and Motorcyclists in London!
Sarge
TfL ULEZ consultation link: https://consultations.tfl.gov.uk/environment/air-quality-consultation-phase-3b/consultation/subpage.2017-11-29.7192468685/
Article continues below...
Advert

Enjoy more Scootering reading in the monthly magazine. Click here to subscribe.