When is a classic not a classic? When it's Paul Green's original specification racer from the 1990s, back on track.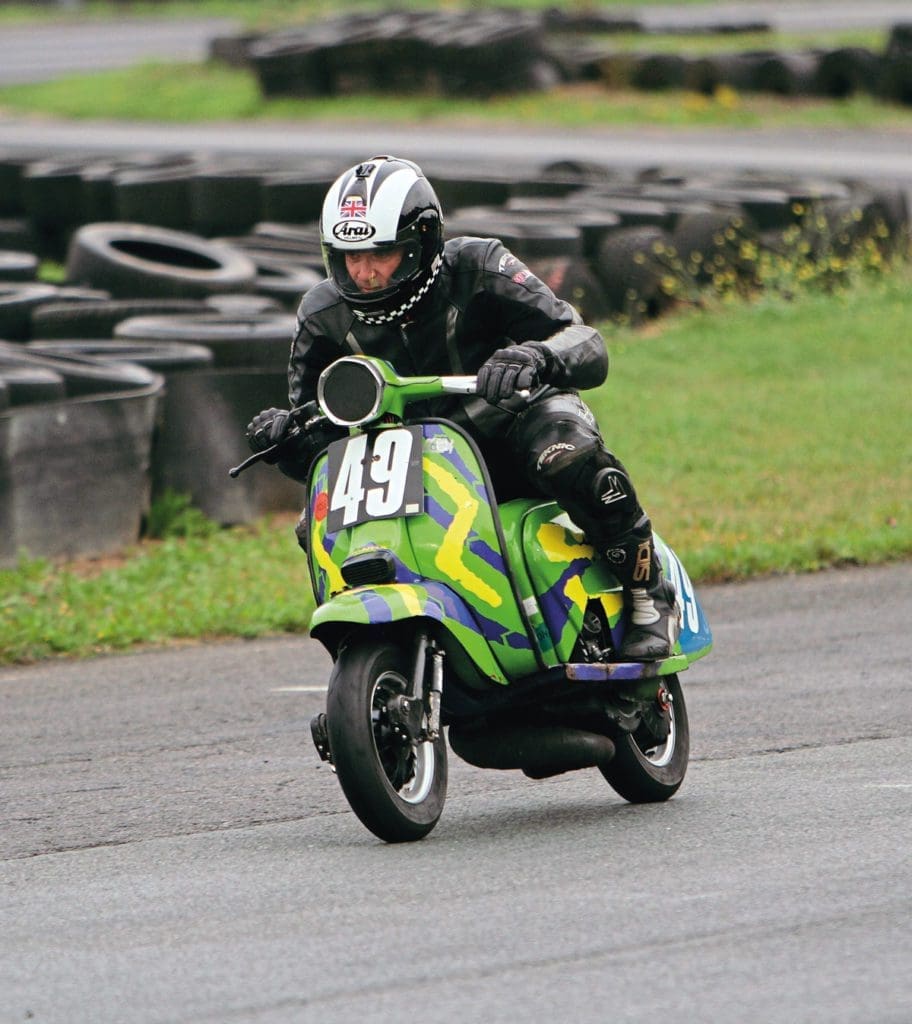 For the last eight years my old 1990s, totally original spec Group 4 race Lambretta has been sitting on a bench in my garage. Many will know the story of how it found its way back to me after I'd sold it 18 years previously. It was virtually untouched and remains possibly the only totally original 1990s Group 4 bike still in one piece.
That aside, she's an incredibly sentimental possession for me, as my dad did some of the engineering and was always with me when I raced. He has passed away now but '#old49' will always be something we did together so is very precious to me.
But in a way #old49 is kind of useless, with outdated tuning and components; a cast iron barrel Honda 205, Amal carb and Motoplat ignition. Having said that she is still producing good power (more than 23hp on the JG dyno). I don't (currently) fancy BSSO racing again, but when I realised I had the chance to give her a blast during practice sessions for the recent BSEC Teesside Endurance race I wheeled her out and gave her a bit of TLC. With a splash of fresh fuel and a spray of starter into the carb she bump-started okay and crackled into life, much to the pleasure of my neighbours!
After a strip and clean of the carb, attention to the front suspension – and sorting out the clutch, which didn't really want to play ball after standing for eight years – plus a few tidying up jobs, she was good to go.
My good friend Darren Scott kindly offered some current race tyres, my 1990s Dunlop TT60s being less than desirable.
So on a Friday evening at Teesside Autodrome I was in my leathers (I forgot how heavy they are) and with rain in the air I headed out on track for the first time in six years. It felt so good and she sounded awesome. The crack of a cast iron race tune and induction from an Amal carb, all mixed with the smell of Rock Oil, is something I never tire of. It was a joyous moment.
But, as is the thing with scooters, it was short lived. Two laps in and she was misfiring and cutting out; three laps and she'd cut out totally, meaning a walk of shame back into the pits!
Fortunately it was only a minor issue with the Motoplat coil coming loose so after an easy fix I was back out again, but now there was water on the visor and it was definitely raining. After four or five laps to build up I felt confident enough to go for full beans on the straight. That bike is quick and I found myself gaining rather too quickly on a group of four just before the 180-degree bend. I rapidly realised this was going to need application of full anchors but wait, it's very wet, Teesside is like ice in the wet. Shit. Was I gonna lock up and bin it already?   
Bugger it, l decided to brake less and go off line around the outside of the upcoming bend; the manoeuvre saw me pass all four. It was an awesome feeling, albeit slightly heart in mouth. I was chanting to myself: "I'm the rainmeister. I'm invincible."
Still grinning like the proverbial Cheshire Cat on the next lap I ran out of track/ability and couldn't make the hairpin so found myself skipping across gravel, coming to a stop upright with the floorboards resting handily on the tyrewall.
But I felt great.
I thought of my dad who back in the day would have been watching, stopwatch in hand, and no doubt be calling me a 'bloody idiot' for that failed move. The warm feeling of happy memories flooded around me and I don't mind admitting my eyes may have watered a little.
A couple of small reasons to tinker with her followed over the next two hours as I went on and off the track to my heart's content. The Amal carb is past its best and it seems like there may be a blockage in the pilot circuit which revealed itself more as the engine was hot, so I still have something to tinker with over winter.
I know that #old49 will never leave me. I've wrestled with respraying her, changing the engine, getting her registered for the road, but that would destroy her originality, her uniqueness. Totally 'period', tatty in places when you look closely, but the battle scars give her character and hearing her running at speed is a joy. In the right hands she would give current Production Class bikes a good run, but she is a classic.
I never tire of looking at her and she is the everlasting link to happy memories of my dad.
Taking her out for a playtime has made me realise I need to do it again, and also just how much I miss the adrenaline rush of the racetrack with your mates.
What have I (re)started!
Words by: Paul Green

Enjoy more Scootering reading in the monthly magazine. Click here to subscribe.