Lush landscapes, rich culture, great food, and an endless supply of  scooter-friendly roads… the stuff dreams are made of.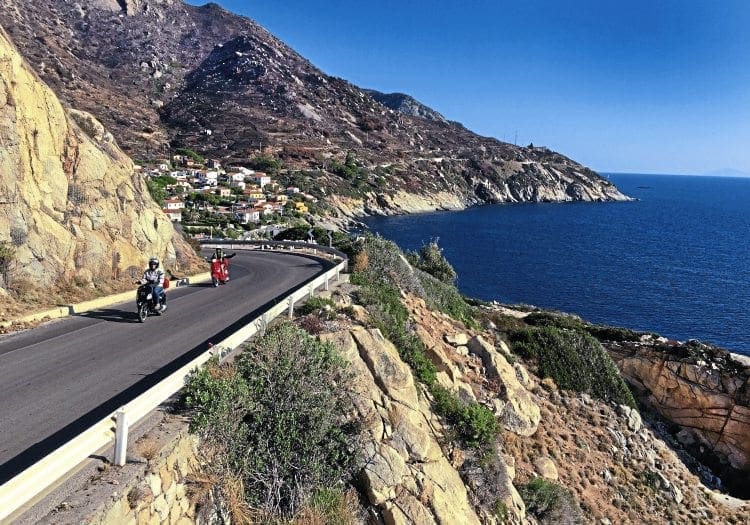 I rode with the Vespa Club del Mediterraneo for two exhilarating autumn weeks in the lush countryside and hilltop villages of northwestern Italy. I had hesitated to go as I'd been to Italy before. What changed my mind was the encouragement of several of my club mates from the San Francisco Scooter Girls who had been on earlier tours. The club was founded in 2009 by two Seattle-based scooterists, Al Fragola and his wife Ardy Waldon Fragola, who moved to the Greek island of Paros. It was there they started getting requests from the Modern Vespa forum asking if they would organise scooter tours. The club is not a business or tour agency; the members decide the next location, providing scooters are available. A professional travel agent books the itinerary for an average of 25 riders per trip, providing hotel bookings, and other logistical requirements. Participants are free to find their own way between hotels, most of which are located a few hours' ride apart.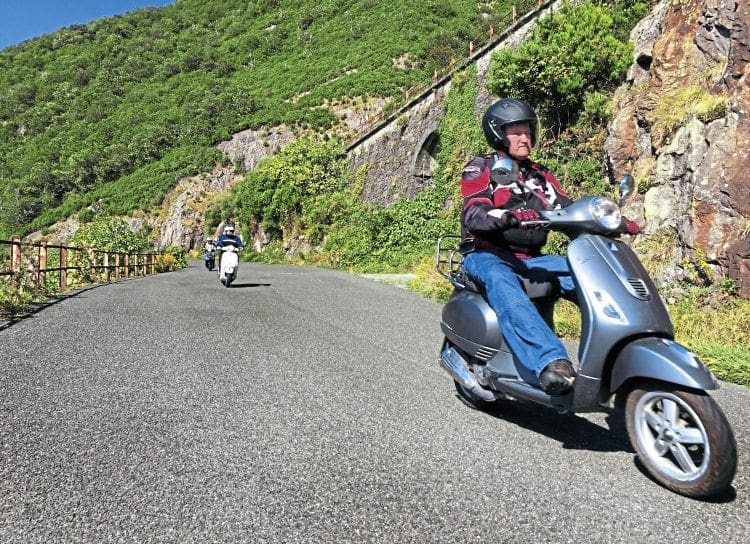 Pontedera — the Vespa mecca
We began our odyssey in Pontedera, home of Piaggio, Vespa's parent company. There we toured the manufacturer's museum. Knowing what vintage models sell for these days, there had to be millions of pounds worth of classic Vespas dating back to the 1940s, accompanied by old advertisements and other two-wheel artifacts.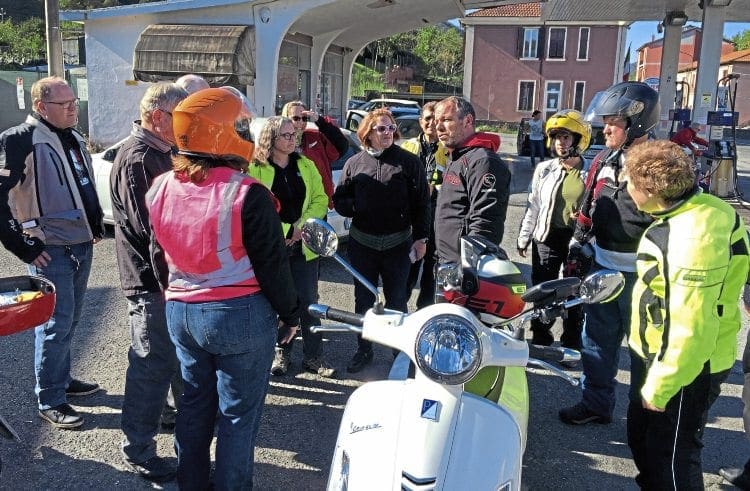 Our Vespa rental scooters were mostly end-of-season disappointments. Some of them should have been used for parts. They were mostly 125cc models with too many clicks on the clock. People riding two up got slightly more powerful models. Back home I ride a 300 Super so to me these bikes were severely underpowered at times. There were stalls, rattles, whizzing, and several stopped working altogether. To those who ride Lammies this was par for the course (editor's note — depends who has built your Lammy, and not all Vespas are bulletproof!). Not that this spoiled our fun; despite drawing one of the worst bikes, scooter-girl Michelle Buggy pushed her metal beast to its limit, and was able to keep up. Another scooter came back to life after two days when it wouldn't start; another had to be abandoned in Lucca.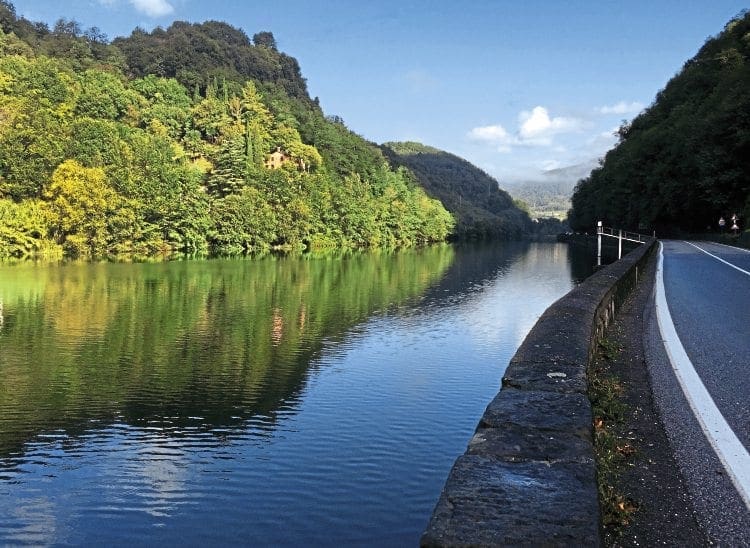 On the last day of the tour, Scooter Girl Lauren Harp, who always herded the stragglers and brought up the rear wearing her orange helmet, had a terminal engine failure… so we left the scooter under a blessed Virgin statue. The rental company, unaffiliated with Vespa, seemed unresponsive and uncaring. We were assured that this vendor will not be used again if the club goes back to Tuscany. This wouldn't stop me from going again with this group of adventurers though. I was told frequently that scooters on other tours had been reliable.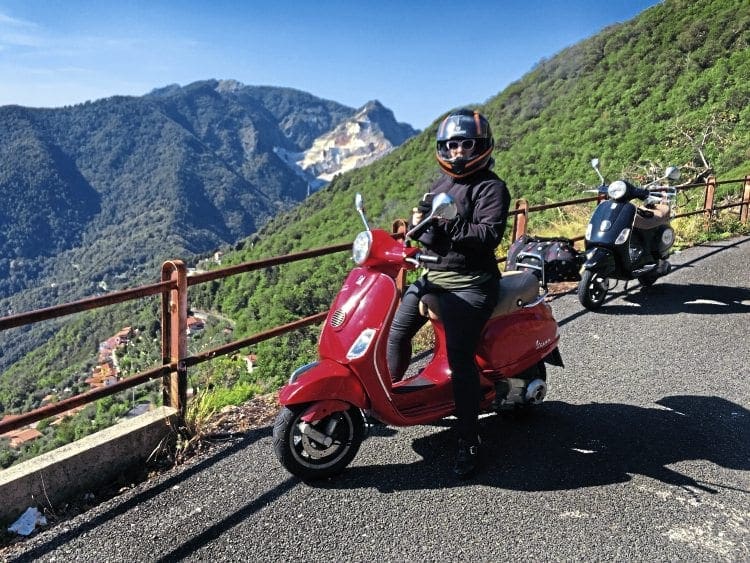 Road adventures
Every day we hit the road with the slogan FTEB: Full Tank, Empty Bladder. We'd often ride four to six hours simply because we wanted to. You set your own pace and were encouraged to map your own course: different people, different riding styles. You find a group of peeps that fit you. When we changed hotels, we had the option to follow our capable group leaders Al Fragola and Irishman Doug Lothian. My little black scoot did the best it could, given it had a 125cc cylinder with 41,000km on it.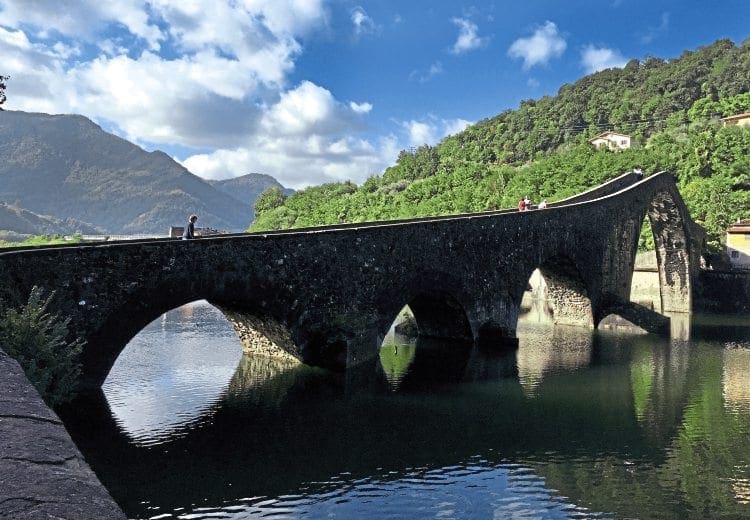 Several times I twisted full tilt just to get around the hills, which are plentiful, curvy, and can be steep. My bike whined at 40kph but smoothed out at cruising speeds. Soon we all managed to find a comfort zone on our scoots, and no one took a tumble. Sometimes I imagined Jeremy Irons riding next to me on his adventure bike, or Liev Schreiber on his Vespa. Travelling always makes me feel as though I could lead a simpler life, with just a duffle, and unlimited time to explore.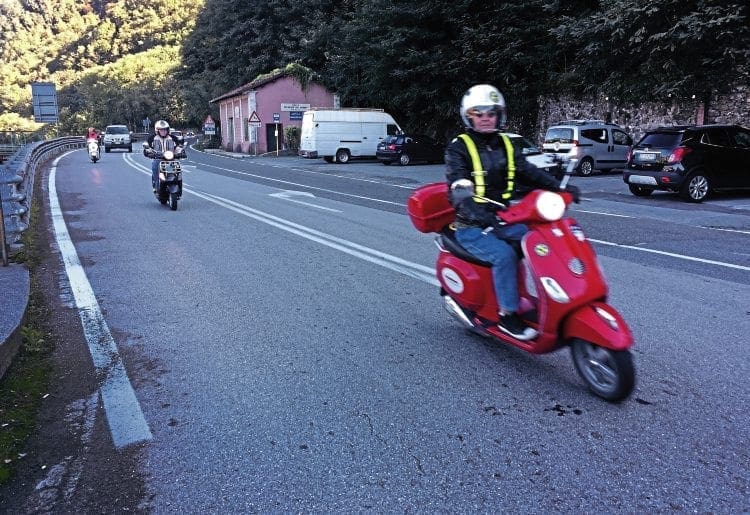 While the trip was touted as leisurely, for the small core group I rode with, it was anything but as we rode at a brisk clip between ancient hill towns. Every day we plunged into endless bliss as we carved through mountain passes, along rivers and fields. I averaged seven hours of sleep to give my body recovery time from the vigorous sprints despite all the eating and drinking. I'll admit that my body did ache at times but once I was back on the scooter, and encountered the next cinematic town, I was feeling good again.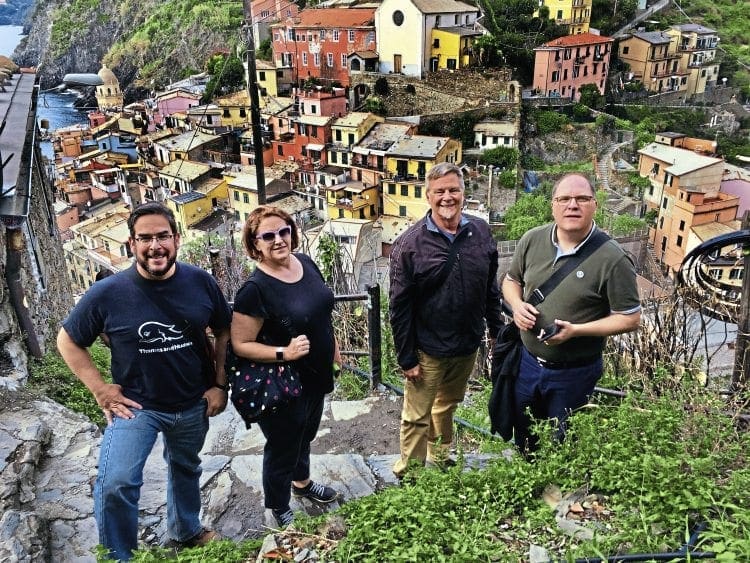 We took a car ferry to the beautiful Mediterranean island of Elba, best known as the site of Napoleon's exile. Now it's a popular vacation spot and I can see why. It's the largest island in the Tuscan archipelago with dramatic ocean views of turquoise water, similar to the coastal 'Highway 1' in Marin County, California. We spent two nights there, circumnavigating the island by day, relaxing in the evenings with drinks around the hotel's large pool.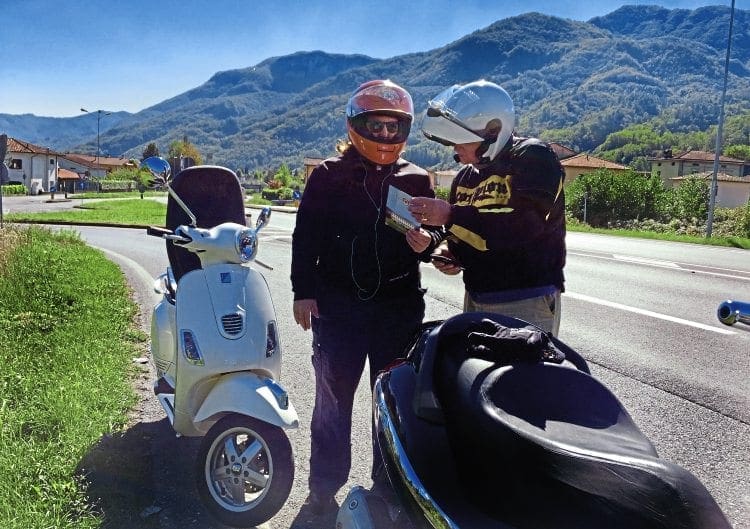 We passed wind farms and thermal springs, and were captivated by art and architecture in the many villages and towns such as Lucca, and Siena. An unexpected delight was stopping for lunch at a former hunting lodge warmed by a large fireplace. The walls were decorated with game trophies and photographs of celebrities. The roadways were mostly smooth but when we crossed over the mountains into the province of Massa and Carrara we had a few harrowing experiences. One horrifying moment was when we entered a long dark tunnel. The only illumination in that cavernous space was our headlights. Suddenly our scooters started plunging into gaping potholes, jarring our bodies. Another challenging spot came when we decided to stop for lunch in a village with honey-coloured stone walls. We made our way to the hilltop town via a very steep rock alleyway barely 4ft wide. It was crazy riding on in this tight space full of well-worn, slippery cobblestones.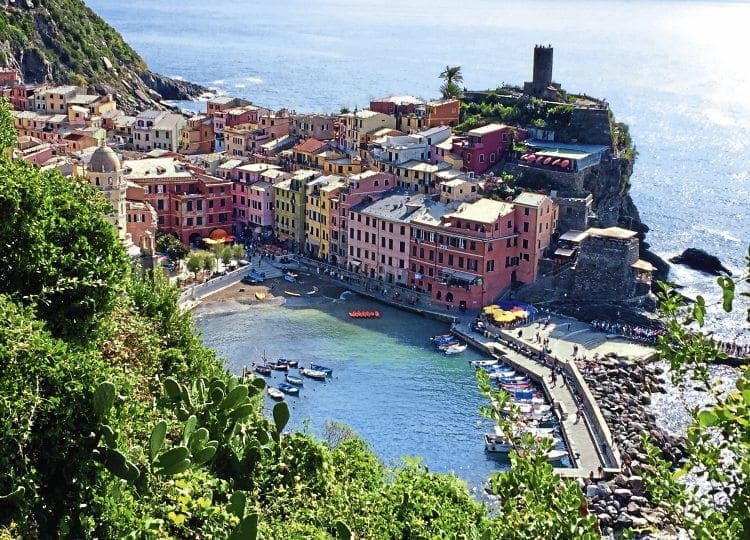 Italian drivers can be reckless as they speed down the narrow roads. It's freestyle driving Italian style: trucks and buses own the right-of-way. We tried to be polite and move over if we saw a car wanting to pass, but frequently you never saw them coming they were gunning so fast. We learned quickly to hold our personal space, and not let drivers push us off the road, but more than once they came harrowingly close.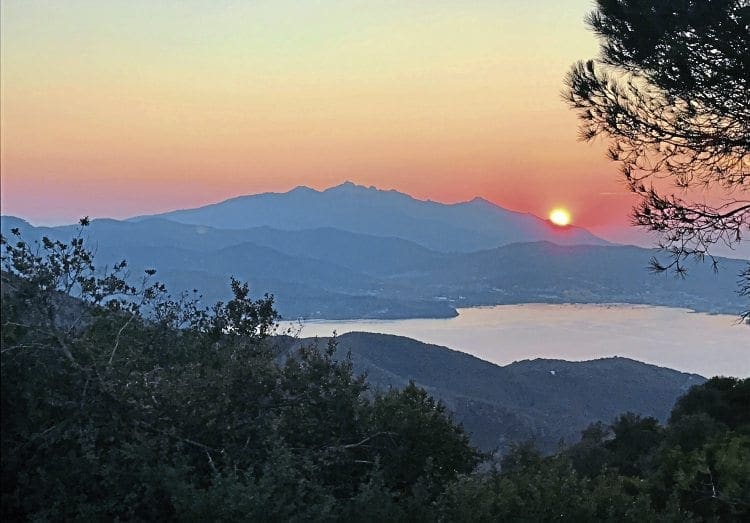 Later on we encountered medieval castles, sleepy hilltop villages, and the beautiful vineyards of Chianti. We stayed a few days at the Terme Bagni di Lucca, a thermal resort with a spring-fed hot pool. The area has been enjoyed since the Etruscan and Romans times. We found a pamphlet at our hotel about the Grotta del Vento, and decided to reach the cave by riding through the protected area of Alpi Apuane Natural Park. The grotto was an underground world filled with amazing stalactites and stalagmites. In the town of Massa Marittima, below a 13th century church, we serendipitously met a group of Vespisti, Italian hardcore riders travelling the Giro d'Italia. We made our way to La Spezia the jumping off point to Cinque Terra. There we took the train to Monterosso, and walked the well-worn paths to Vernazza, and Corniglia. We celebrated that evening at a cliff side bar with an Aperol Spritz, an Italian traditional aperitif.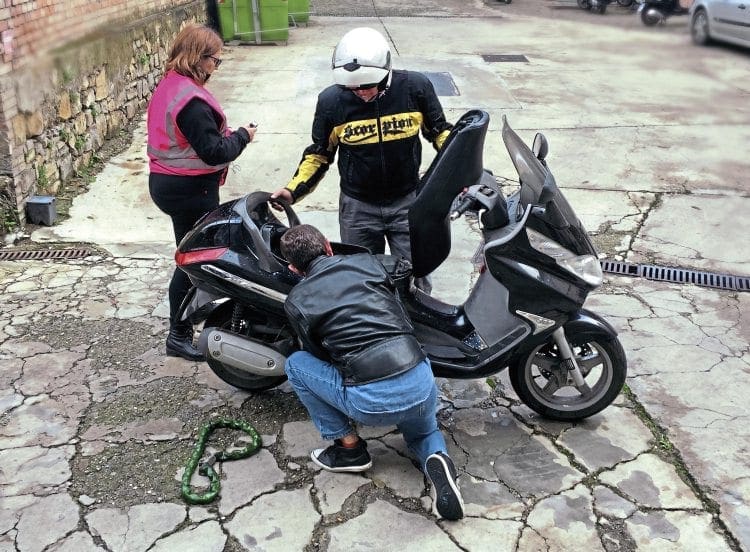 Lost and found
Keeping up with the group through the cities and villages was not a problem because we practiced 'stop and mark'. The person behind the leader would stop at a turn, wait for the others, and point in the direction we were moving. No one was supposed to be left behind but on the first day, an inexperienced turn marker left after deciding there couldn't be any more riders coming. He never waited for our orange helmeted wrangler. I also got left behind with two friends when we spread out and another rider forgot to stop and mark. We were on the side of the road checking our GPS when suddenly the group came charging back on the opposite side of the road. In a comedy of errors, they had ridden the wrong way, and still didn't realise we were left behind.
Having a reliable phone with map capabilities is a must; which brings me to say, my mobile provider sucks because they charge quite a bit for their data plan and profit from common mistakes subscribers make. I unknowingly went way over on data by leaving it switched on to check maps, and got a stiff penalty. I then purchased an additional plan at a higher rate. But there was no way to tell how much data I was using unless I called them. Smarter travellers had T-Mobile's One plan which offers unlimited service abroad.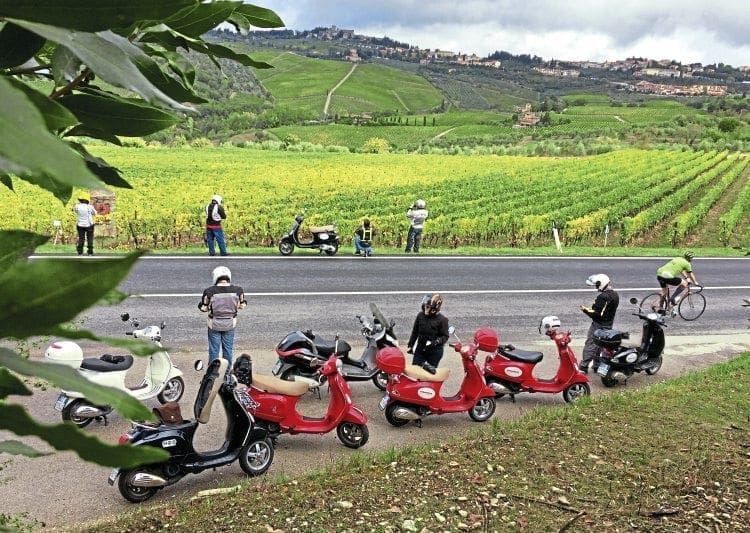 Some bought an inexpensive phone from a vendor with a 3GB card, or switched out their SIM card for significant savings. Other tools I found invaluable include a paper map of Tuscany (by Michelin), and a great find is the Lonely Planet's Tuscany Road Trips book.
Foodies
The evenings were filled with talk of our adventurous days over the ever-present al dente pasta, or Caprese salad. Some people couldn't get enough of cinghiale, wild boar, or wild mushrooms. But the truffles were a delicious surprise in our pastas. I'm a foodie spoiled by San Francisco chefs and the food revolution has not reached many villages of Tuscany. While they were authentic, I found dishes under spiced or not imaginative enough for me. When we had Wi-Fi, the most reliable source of information about restaurants came from Trip Advisor or Rick Steves. Most larger towns have a food coop, which was a saviour as we were eating far too much pasta. Here we found it convenient to duck in for veggies, fruit, and prepared food.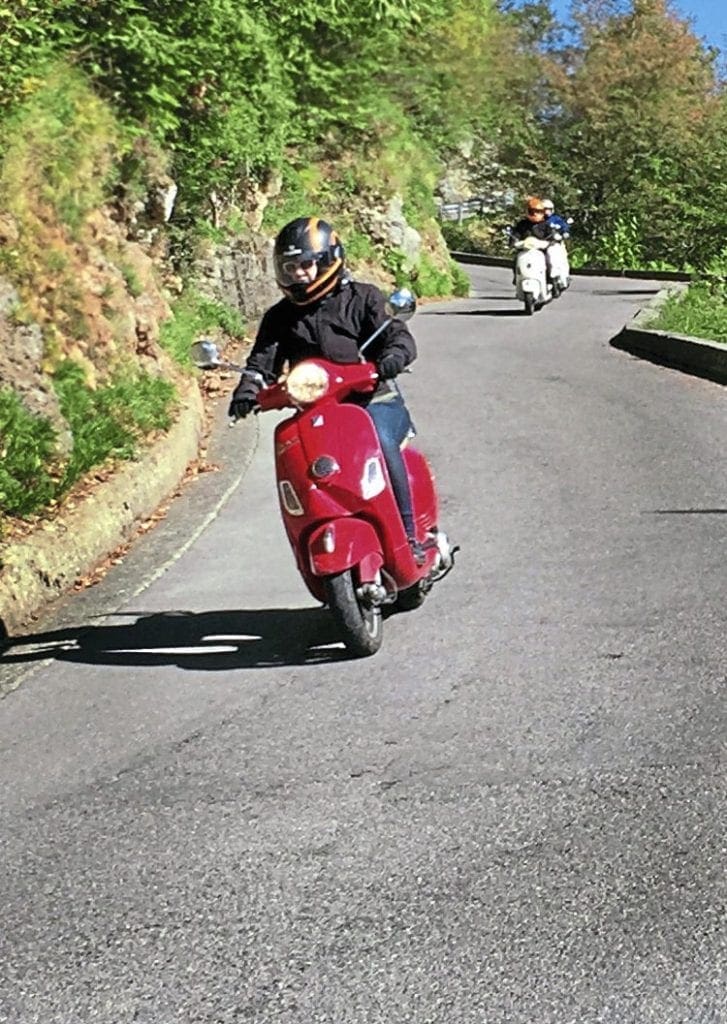 In the end time caught up with us, the bubble popped and we said our goodbyes. The retirees went back home to plan their next holiday, the philosopher, teacher, nurse, computer techies, lawyer, and editor went back to their homes towns, while the Scooter Girls returned to our delicious eateries in San Francisco to ride the Bay Area back roads. I look forward to hearing about next year's tour, which will either be in Spain or Greece. Anyone can sign up but space is limited.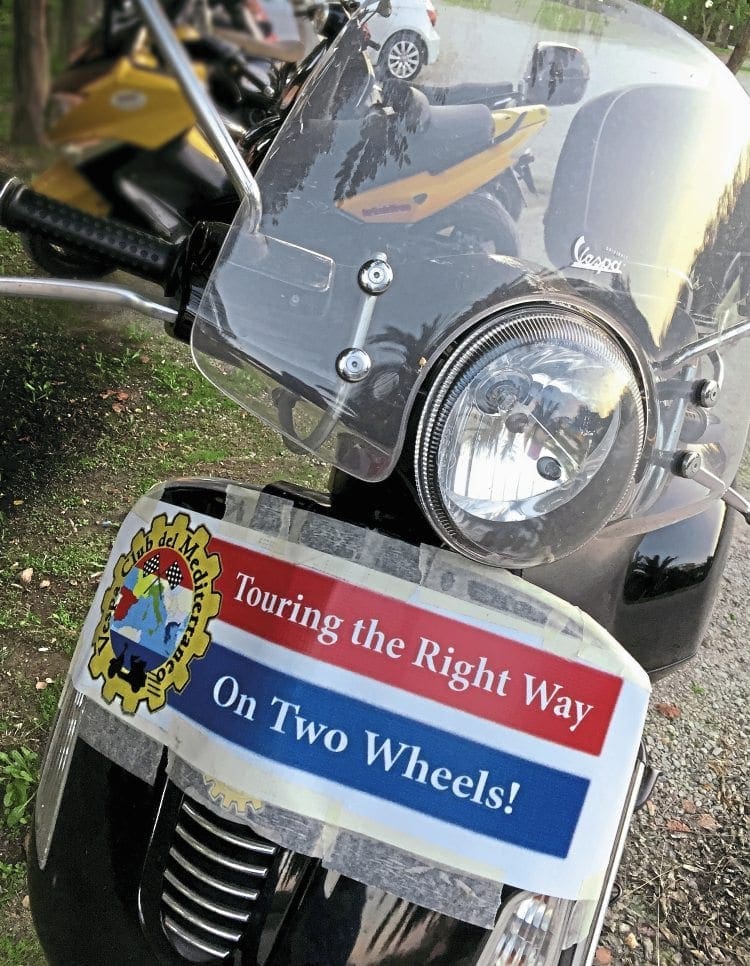 Current members get first choice to attend but you'll have to cut someone's brakes to fill their space. There are good  people behind this organisation, knowledgeable and hands-on. They're not in it for the money. Anyone on two wheels would love riding with us.
Words & Photographs: Penni Gladstone — San Francisco Scooter Girls (President)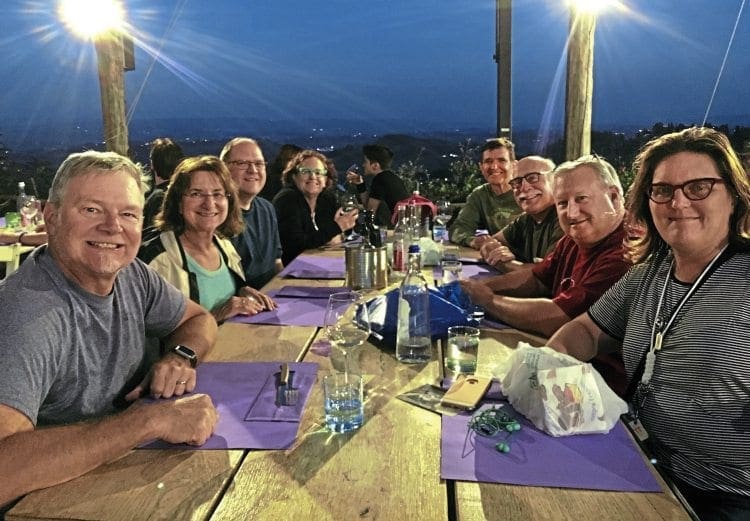 TRAVELLERS' GUIDE
These are the hotels and restaurants utilized in Sept/Oct 2016 during our tour.
Hotels
Pontedera: Hotel Armonia, Via Ranieri Gotti Pontedera PI,
Tel +39 0587 278511,
Elba Island: Residence Villa San Giovanni, Isola d'Elba 57037 Portoferraio (LI),
Tel +39 0565 914460,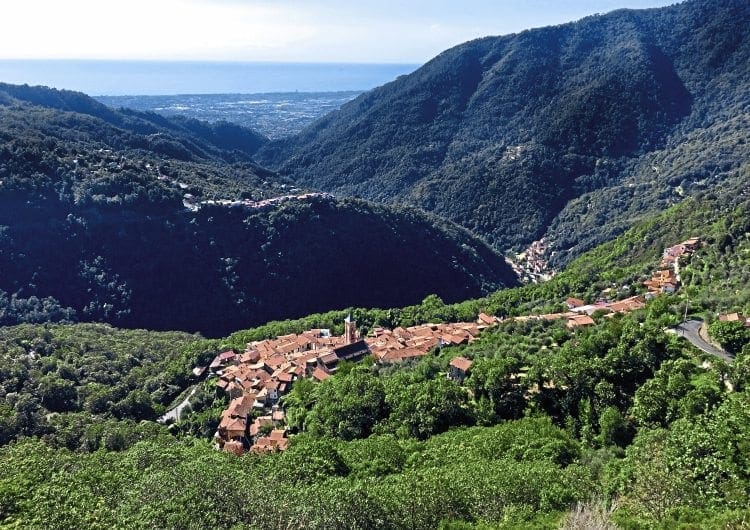 Poggibonsi: Hotel Alcedi, Viale Marconi, 67/A, 53036-Poggibonsi (SI),
Tel (+39) 0577 937501,
Bagni di Lucca: Terme Bagni di Lucca, Piazza San Martino, 11, 55021 Bagni di Lucca,
Tel: +39 0583 86034,
La Spezia: CDH Hotel La Spezia, Via XX Settembre, 81, 19122 La Spezia,
Tel: +39 1087 738848,
www.compagniedeshotelslaspezia.it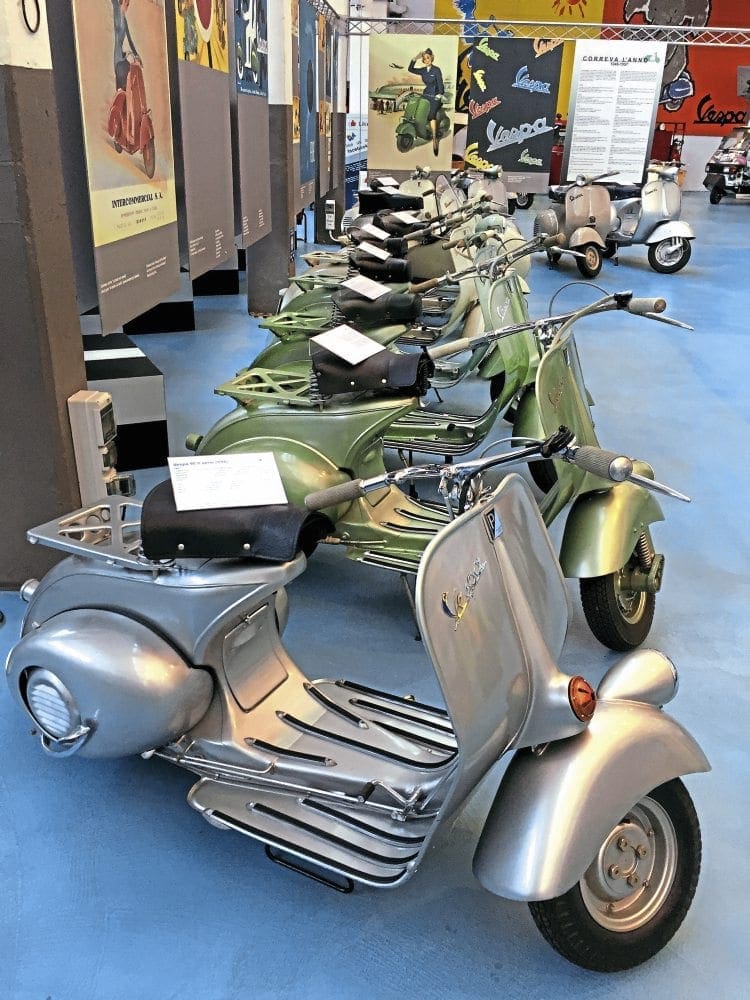 Restaurants
Greve in Chianti: Ristorante Bottega del Moro, Piazza Trieste, 14,
Tel 055 853753
La Tana dei Brilli: Vicolo Ciambellano 4, 58024 Massa Marittima, Italy
+39 0566 901274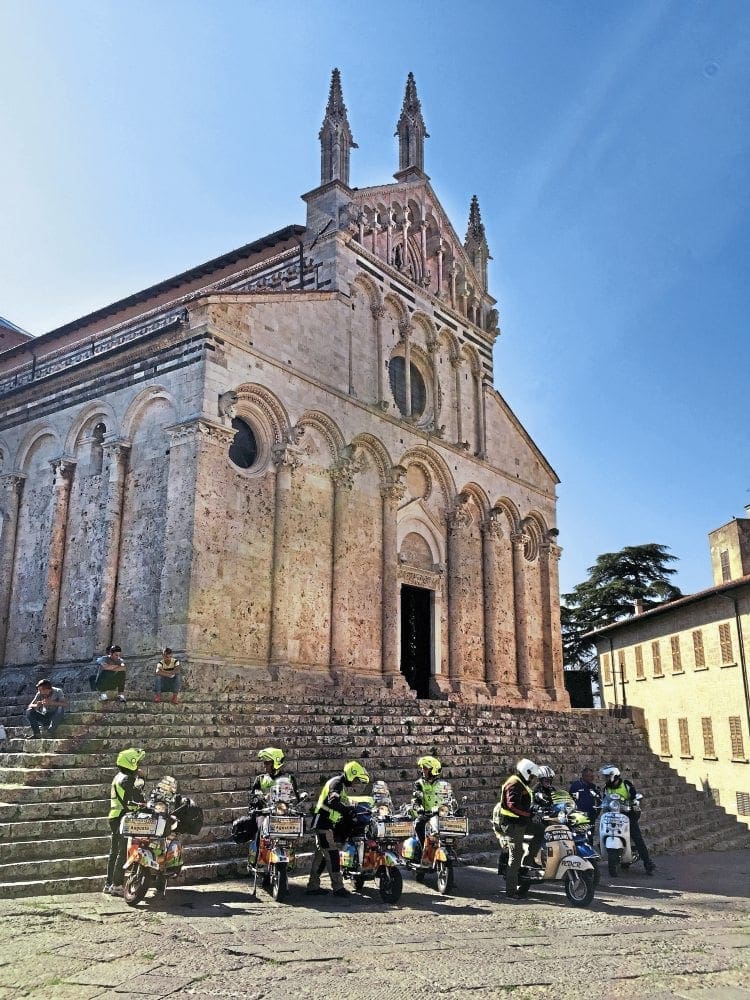 Belforte: Via Gerolamo Guidoni 42 I La Spezia, 19018 Vernazza, Italy
+39 0187 812222
Tingel Tangel Caffe: Via della Repubblica, 119, 53036 Poggibonsi SI, Italy
Ristorante Guidoriccio: Via Giovanni Dupre' 2 I A 7 Metri Da Piazza Del Campo, 53100, Siena, Italy +39 0577 44350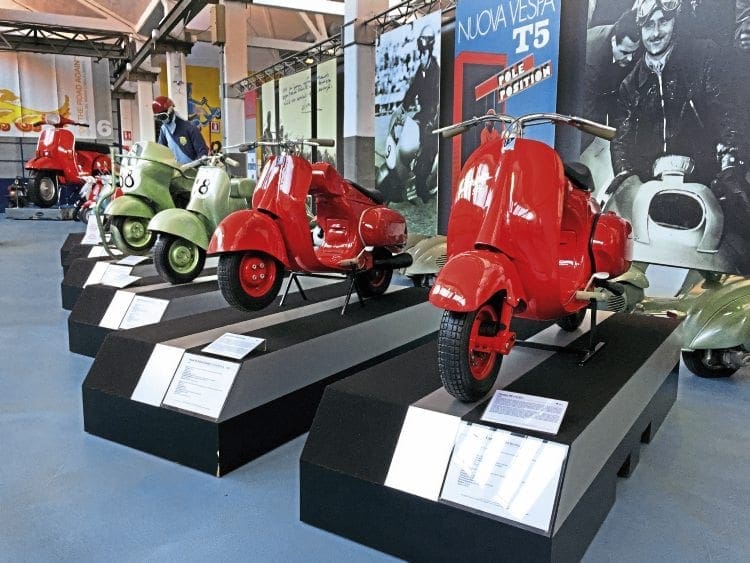 Roads highlights:
SR429 from Poggibonsi to Castellina in Chianti, then SP35 from Collodi to Bagni di Lucca (changes number to SP55 and SP12). Best of all is SP13 between Castelnuovo di Garfagnana to Massa. It's best if ridden east to west in morning or mid-day to see the ocean
ALTERNATE ROUTES & ROADS
A beautiful ride near Poggibonsi is SP49 and SP70. If heading to Certaldo from the east to Barberino Val D'Elsa
Island of Elba
Explore the coastal routes. If you're getting off the ferry at Portoferraio, take SP24 which turns into SP25
Greve in Chianti
Two lovely regional roads SP118 and SR222.

Enjoy more Scootering reading in the monthly magazine. Click here to subscribe.