A passion for scooters, a willingness to learn and try different restoration techniques, combined with great ideas pull together this lovely ride… ready to be mercilessly thrashed!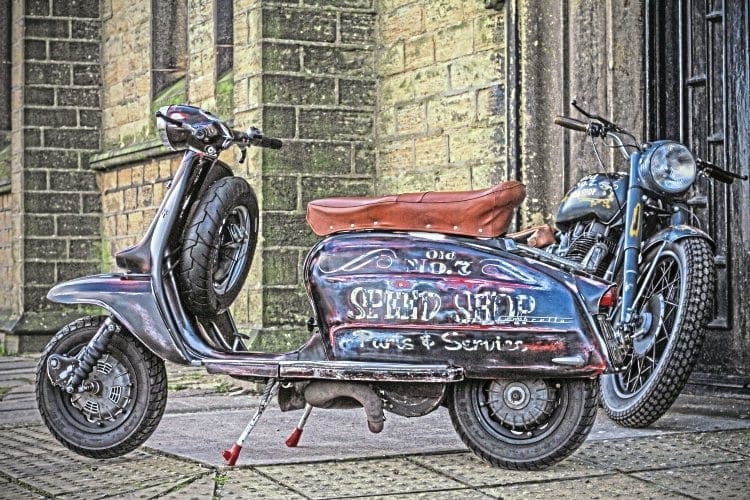 In deepest darkest Duckinfield, Greater Manchester, nestled in the shadows of the village church, resides the modern suburban residence of Barrie Woodcock – aka 'Dangerous Baz' – a tongue in cheek nickname affectionately gifted to him by his club-mates in the Nite Owls SC. The unassuming domestic garage door at DB's house shields the two-wheeled treats inside from prying eyes…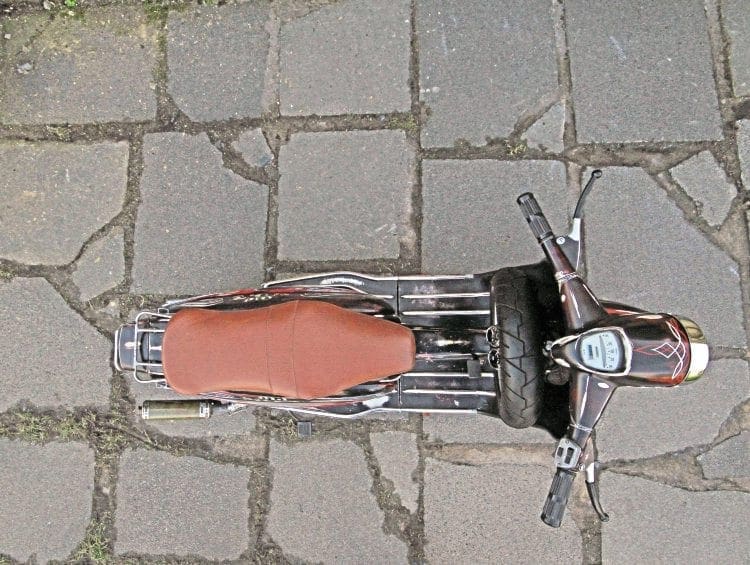 Gorgeous patina
The 'preserved patina' (or fake patina) paint-style has been around on the RatRod and VW scene for well over two decades, and its influence has been more popular in the scooter scene over the past five years or so. For me, the benchmark of the style in recent years has been the gorgeous Series 1 and Series 2 Lambretta scooters lovingly produced by Dave at Madspeed. Dave really set the bar high with those two scooters, the Series 1 being very high up in my personal top 10 list of favourite all-time scooters. But whether you love or hate the style, the fact is it's here to stay for now, and is gaining more and more fans who wish to create a similar look on their own rides.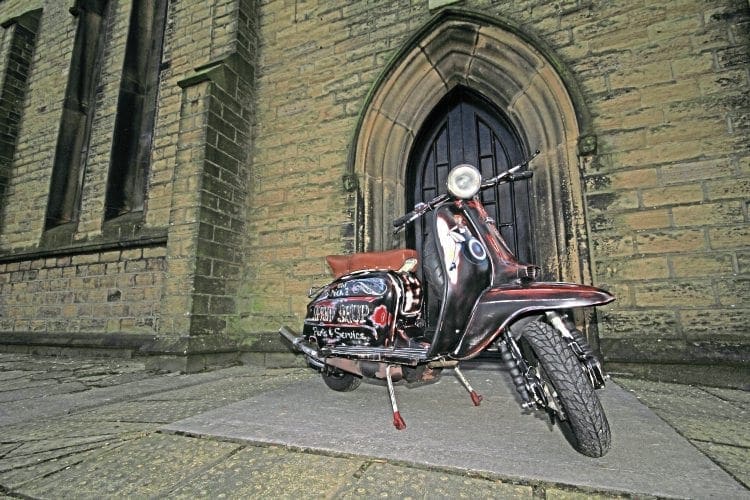 Catching Baz's eye
Barrie has owned quite a few scooters over the years, and his choices of paint have always been very traditional, ranging from classic/sympathetic restorations of the era, and then on to what at the time seemed much more bright and brash… race paint. So when the patina style finally caught his eye, he knew he had to produce a scooter in it.
A 1963 Lambretta Li Series 3 import was purchased, which was in lovely straight condition. Once this donor machine was ensconced in Barrie's garage the Lambretta was quickly dismantled to its component parts, ready for cleaning, inspection and prep. The whole concept was to do the entire build on a tight budget (isn't that we all think?). Barrie intended to do as much of the work as he could with his own fair hands, and the bits he didn't know how to do… he would try and learn!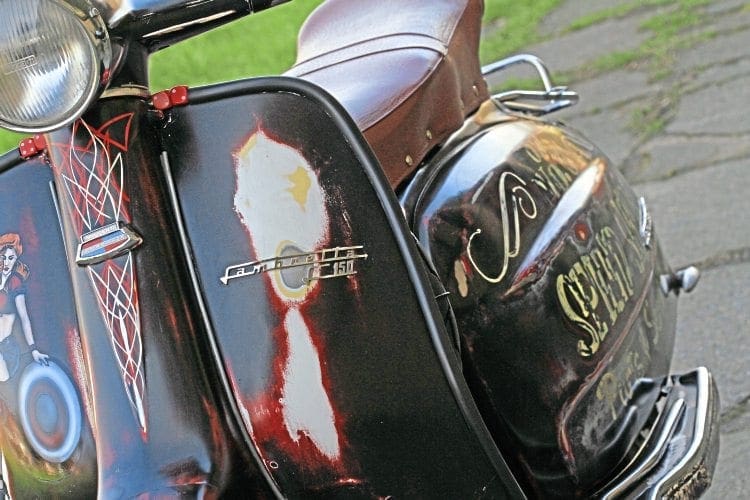 Bring on the rattle cans
The project started in September 2014 and the scooter was on the road only three months later. Barrie taught himself the basics of panel beating and fettling bodywork, and managed to gently and carefully rework all the panels and frame until they were as good as he could get. Next he hand-flatted all of the original paint so that he could use it as a 'bleed through' base for his eventual patina style finish. At this point Barrie paused to just plan where he felt the natural patina and weathering should show through and mapped it out carefully, and once confirmed he eagerly set about the paintwork armed with rattle cans!
Paint was layered in patches and blocks, with a final satin black top coat layered over the whole thing. Next it was the 'graft and elbow grease' stage, and by using varying grades of wet and dry sandpaper, the paint was rubbed through by hand until the patina and fade were to his satisfaction. Once done, the whole bodywork set was despatched to Damian Wyatt for signwriting and then to Phil Appleyard at The Monster Forge for artwork and pin-striping. The look was complete.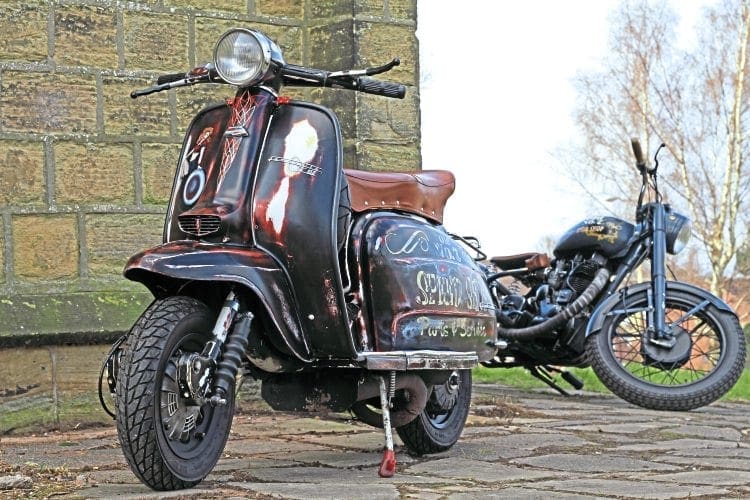 His final stage now was to turn his attention to the motor, and being lucky enough to have the lion's share of parts already stashed in his garage the construction of the motor was reasonably straightforward (as ever a scooter build can be!). It was based on a 200 case, a 60mm crank and a TS1 cylinder kit, giving a capacity of 230cc. The old faithful 30mm Dellorto feeds the engine and a JL3 pipe lets it breath, and for the drive train 18/47 GP gearing was used. The space where the old air box sat was filled with a stainless 13.5 litre long-range fuel tank, as Barrie wanted a touring setup which could munch miles effectively.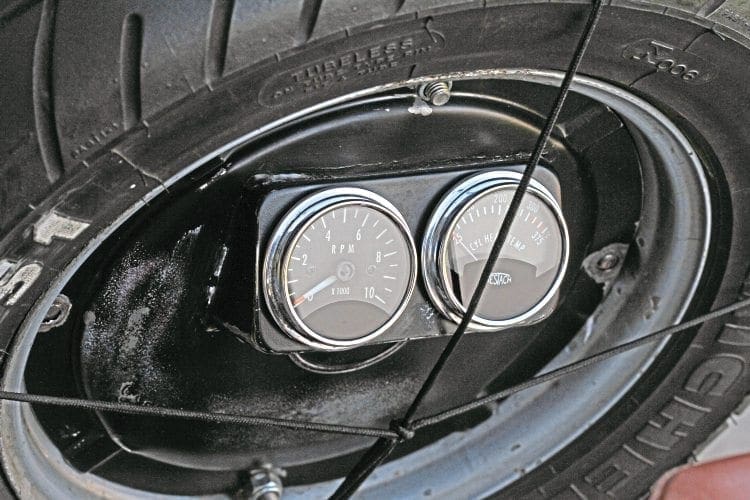 With the engine finished and the bodywork back from the painters, the build came together nicely, and was topped off with the addition of a few trick parts, including saddle, mirrors, WestTech gauges, Italian cable disc and a Hungarian Second World War army water bottle as a two-stroke oil carrier. The final 'accessory' to complement Barrie's vision of the overall build was a totally different machine which Barrie also had a passion for, a Royal Enfield Bobber!
Thrashed all day long
After a few local rallies to shake down and test the scooter and its engine, in the confines of local safety, all necessary tweaks were made and adjustments carried out, now it was time to get out and cover some miles. The scooter was then mercilessly thrashed to Ireland first, then to Holland, and then to ride after ride and has proved it to be exactly what Barrie wanted: a good looking, self-built, reliable touring hack, which he can thrash all day long and that was constructed to please no one else but the owner. The whole thing, including the cost of the scooter was £2700 which is a true testimony to what can be achieved with careful planning, a tight budget and a lot of hard work and elbow grease. So if you're not already in your shed messing with a build, then you should be!
Words: Kris Green
Photography: George Ellis
This article was taken from the May 2016 edition of Scootering, back issues available here: www.classicmagazines.co.uk/issue/SCO/year/2016

Enjoy more Scootering reading in the monthly magazine. Click here to subscribe.