Mohair Sweets An Introduction to Mohair Sweets (self-published)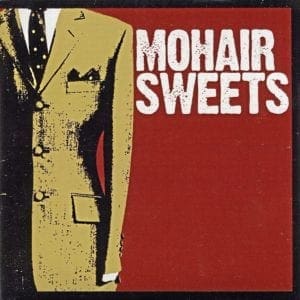 During the 90s Canadian singer, musician, songwriter and scooterist Colin Bryce ran a fanzine by the name of Mohair Sweets. His fanzine ran its course over nearly a decade, after which Colin took the decision to return to gigging himself. Five years ago he took his gigging forward another stage by putting together a band with a view to writing and recording, as well as performing. Mohair Sweets the band were born. Since forming in 2013 a quartet of limited edition EPs have been released, which more or less brings us up to the present.
An Introduction to Mohair Sweets is a seven-track (including a bonus) best of, so far, a musical snapshot of what Colin and Mohair Sweets are all about.
It consists of five interestingly selected covers, (of less obvious choices), including a Ronnie Lane-penned Slim Chance tune (Good 'Ol Boys Boogie), Steve Marriott/Ronnie Lane composition for Small Faces (There's Something I Want To Tell You), Motorhead's Black Leather Jacket, an obscure Jody Harris album track from '82, (You Better Read Before You Sign) and a Cliff Crawford-penned Skeets McDonald Detroit Rockabilly number (What a Lonesome Life It's Been).
Instead of being generic copies of the originals they are represented and reimagined, with Mohair Sweets putting their own stamp on each. Colin has a wide and eclectic taste in music, reflected in the aforementioned covers as well as his own composition, elements of hard-edged blues, raw rhythm and blues, punk, rockabilly and art rock, and it's all punctuated at times with mod revival-era power chords. Exemplified by The Green Light, a Colin Bryce original that takes no prisoners, the other Colin-penned track on An Introduction, Dream Filled Nights, displays another dimension to Mohair Sweets.
Sarge
Mail order details: www.mohairsweets.ca
Alfa 9 My Sweet Movida (Blow Up)
Blow Up Records' Alfa 9 return with their third long player, which is a perfect soundscape for the summer months. With a flavour of America's West Coast running through the entire 11 tracks, the four-piece with vocal harmonies, cascading guitar chords and an aura of psyche-pop evoke references to The Byrds. Other comparisons, to lesser or greater degrees, to The Coral and Teenage Fanclub rise on occasion. Elements of alternative pop with a hint of country are in there too. Paying homage to classic spaghetti westerns yet retaining an infectious edge is Movida, 60s pop-inspired Different Corner along with the psyche-pop of When The Lights Go Out are the most instant, radio-friendly and accessible. All three are strong contenders to be singles lifted from this package. While tracks such as opening number Smile Dog, which mixes 60s West Coast with 90s indie guitar pop, the laid back, tripped-out vibe of Rise plus the psyche-meets-country Coincidence Files and the cosmic-tinged Fly each brings something extra. When I Think Of You is more of a grower — after several plays its understated class encapsulates the heart and soul of this album.
Superbly crafted and delivered original songs, ideal for balmy long summer evening listening.
Sarge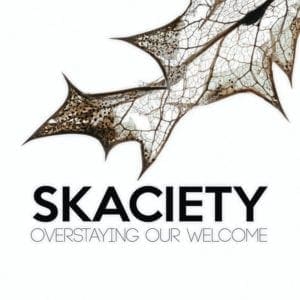 Skaciety Overstaying Our Welcome (Bad Granola)
One of the most talked-about of the current crop of ska bands, Skaciety are rapidly and quite rightly gaining a reputation as a band to pay attention to. Powerhouse drums hold down a tight but powerful brass section, the guitars and keys giving that familiar 2-Tone influenced sound a refreshing new set of skanking legs. Although British, there is a slight American skater ska feel to the whole album, with occasional breakdowns that leave the beat behind for a few bars before tearing it up again. No bad thing as it makes a welcome change from the heavy punk-laden sound that is popular with many bands these days and it gives a very commercial edge, one that could take them to greater things. Overstaying your welcome? Not at all… please come again.
Nik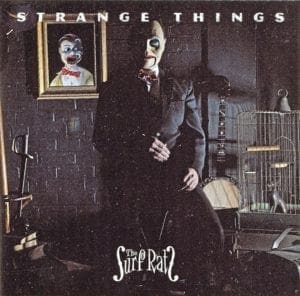 The Surf Rats Strange Things (Greystone)
During the 80s psychobilly, with its fast, frenetic unrelenting sound, fusing punk, rockabilly and 60s garage punk, was arguably the biggest underground alternative music scene, not only in the UK but also across mainland Europe and beyond. Centred at The Clarendon Hotel, aka The Klubfoot in London, psychobilly found favour with disaffected music lovers and party animals alike, including on the Scooter Scene. Morphing from The Wharf Rats to become the Surf Rats, the trio, fronted by Gaz Marson, released one of the most iconic albums of the genre, Trouble, in 1988, on Lost Moment records 30 years ago!
In the interim there's been Straight Between The Eyes (1989), Welcome To Killafornia (2009), and now to mark the 30th anniversary of Trouble, comes Strange Things. Something of a taster or teaser for this album came out on the Spanish Just For Fun imprint in the shape of a three-track EP in 2017, which featured (album) title track Strange Things (Happen After Midnight) as the lead track.
Ten tracks in all on vinyl, plus the CD-only bonus cuts Big Fat Cadillac, Fireball and Low, see The Surf Rats collaborating with a vast array of guest musicians, including The Long Section (horns) on Big Fat Cadillac, Smash It Up, Smash It Up and Low, also Scott Milsom (Coffin Nails, The Hawkmen) upright bass on Murder In The Tub and Erin Bardwell (Skanxsters, Erin Bardwell Collective) keyboards on Big Fat Cadillac.
Primal beats underpinned by slap bass riffs abound throughout, infectious rockin' rhythms that give off a clarion call to the dancefloor. The Surf Rats are touring the album throughout 2018 and beyond, catch them at a venue near you if you can.
Sarge
Mail order details contact:- www.greystone-records.com
Reissue round-up 2
Before heading into the world of classic releases, it's worth a quick note that Riskee & The Ridicule's truly brilliant Blame Culture CD from last year is now available on lovely, old-fashioned vinyl. Featuring Hipster, We'll Never Belong and Daddy's Boots, this really should be in everyone's collection in some form.
Meanwhile there's another batch of classic material hitting the shops this month, with reggae label Dr Bird leading the way. A couple of reissues of Desmond Dekker material, in the shape of a double-header — Action and Intensified — a reissue of The Maytals' Monkey Man and From The Roots albums, along with what looks like an expanded version of You Can Get It If You Really Want, and a reissue of two very collectable Trojan releases – Here
Comes The Duke along with Soul Of Jamaica — in a single two-disc package. We're promised plenty of bonus material on this too, so it sounds like a good value package.
On the soul side, RPM are putting out a retrospective of Ruby And The Romantics, titled Our Day Will Come, which pulls together all the Kapp recordings of this legendary vocal band, and Soul Time are issuing a 'best of' from one of the most fondly remembered labels of the early UK soul scene, Contempo. Pulling in the various strands of soul, funk and early disco on to a three disc, 64-track compilation, this looks like a winner.
The 4-Skins surface with a box set of all their material in the years up to 1983, including the rare From Chaos To 1984 live set, and are joined by a second Cock Sparrer set, this time covering the comeback years and onwards.
For fans of the obscure and rare side of American garage, rockabilly, strange teen pop and much more, there's yet another two-disc set culled from the collection of The Cramps' Lux and Ivy.
Destination Crampsville is – I think – the fifth in this series of wonderfully strange releases. Finally, there's a welcome reissue of Bad Manners' first five albums in a single set. Taking in all the early material from Ska 'N' B to Mental Notes, with a mass of bonus material, its's an overdue look back at this enduring band.
Nik

Enjoy more Scootering reading in the monthly magazine. Click here to subscribe.