Revenge Of The Psychotronic Man That Was Just A Noise (TNS)
After 14 years of playing fast, short, abrasive punk rock, Manchester's widely respected Revenge Of The Psychotronic Man wind up their career with this largely retrospective album. Taking tracks from across their three albums, a selection of singles and EPs, alternate mixes (including the brilliant Tim G remix of Beer For Breakfast) and a couple of new cuts, it gives a great overview of one of the best bands that the scene has thrown up this millennium. Hard edged, loud and shouty, with a healthy obsession with alcohol and Alan Partridge, ROTPM cover a lot of songs in not a lot of time, managing to cram 27 tracks into a busy 45 minutes or so, giving an impression of the ferocity of one of their gigs.
A machine gun of an album, the rapid fire approach to their music doesn't give you chance to sit back and relax, tearing out of the speakers at a high velocity, accompanied by vocals that at first seem a meaningless blur, Repeated plays show this is far from the case though, and many songs carry some sort of meaning, whether it's political, humorous or just slightly strange. They'll never be considered easy listening, in any meaning of the term, but sometimes a band are worth hearing just to try to understand the fuss about them. This is most certainly one of those times. Available in all formats, including cassette, exclusively from TNS Records website, www.TNSRecords.co.uk where all sorts of other related goodies, including tickets to the band's last ever gig in December, can be found.
Nik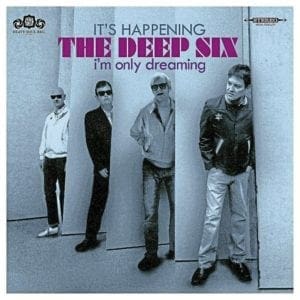 The Deep Six It's Happening/I'm Only Dreaming (Heavy Soul Records)
A Mod supergroup, consisting of former members of two early 80s second wave revival bands (Makin' Time and The Threads), The Deep Six have been busy. Not only have they been out and about gigging, they've also been back in the studio recording their third single. Lead track It's Happening is reminiscent of mid-60s British guitar pop, as would've been heard via pirate radio some 50 years ago. Hints of Peter and Gordon (World Without Love), Freddie and The Dreamers, The Searchers, The Hollies and the Merseybeat 60s sound run throughout the jangly, feelgood, uplifting pop ditty. On the flipside is I'm Only Dreaming, which although sharing its title, is not the timeless Small Faces classic — it's another original number from The Deep Six. It does reference Small Faces in a roundabout way, as its psychedelic pop-leaning certainly nods in the direction of their iconic concept album Ogden's Nut Gone Flake. Set for release in September, I've a feeling that this single from The Deep Six will echo the totally sold out status of the band's two previous singles!
Sarge
Wonk Unit Terror (Plasterer)
Article continues below...
Advert
If you're already familiar with the wonderful Wonk Unit then you'll know what to expect here. Three chord punk thrash tracks rub shoulders with more introspective and laid back pieces while Alex Wonk shares slices of his life with the outside world with a complete lack of pretension. There's no political agenda at work here. What you get is observations on his experiences, all healthily salted with a dry sense of humour that keeps you listening to the lyrics. In short, they're not a typical punk band, they're much more than that, a shot in the arm for the genre. If you're not already familiar with them, then you really should be. You could well discover your next favourite band.
Nik

Enjoy more Scootering reading in the monthly magazine. Click here to subscribe.

Article continues below...
Advert