Christopher Venter How I Became The Blind Scooter Guy
Back in 2013, Christopher Venter assembled a team of four including himself. Their mission being an expedition that would take eight months and cover 30,000km. On four brand new LML two-stroke scooters, the plan was to start their epic journey in Cape Town, South Africa, ride north, before taking on Mediterranean Europe, and then to the final destination of Dublin, Ireland. The goal for the gang of four was to raise money, as well as a wider awareness, for much-needed health care provision for vulnerable children in South Africa.
It goes without saying that any such endeavour would provide a number of unforgettable experiences for the participants. For organiser Christopher, some of his encounters turned out to be life changing! As the title of his book suggests, a series of circumstances early into the trip resulted in Christopher losing his sight. This is a situation which, for many people would be insurmountable, but not Christopher. Despite having to deal with a multitude of changes which obviously affected his everyday life, he learned and honed a plethora of skills, which include the writing and publishing of a book documenting his eventful eight month long intercontinental journey.
While some travelogues often cannot be much more than glorified holiday stories, How I Became The Blind Scooter Guy, without question, captivates right from the start. Christopher's book begins part way into his quest, where, due to an illness picked up en-route, his companions had continued onwards sticking to their planned schedule.
You become captivated as Christopher recollects the debilitating symptoms of his illness and how he, albeit, temporarily, recovers his health enough to get back on his scooter to continue with what he initially set out to achieve. And, in the process cover many more miles than his compatriots as he attempts to catch up with them. Of course the scooters, how they behave, and how they cope with vastly different roads, terrains and conditions features heavily.
There are even surprising experiences of being on the receiving end of racism when travelling through Africa – where the Hippocratic oath has no meaning to some doctors when aid was very much required by a white South African. Contrastingly the welcomes, generosity and helpfulness experienced by the four scooter riders while travelling through Europe restores faith in human kindness. From fellow scooterists, clubs and individuals as well as fellow travellers sharing the empathy of covering vast distances as their paths cross on respective journeys. It's a thorough and in-depth travelogue, that also samples on occasion local recipes. Some, which particularly appealed to Christopher, are relayed in the pages of his book. Covering a host of happenings that touch on comradeship, unity, adversity and overcoming seemingly impossible obstacles. From being surrounded by a herd of wild elephants to being surrounded by thousands of Scooterists at the Isle of Wight rally.
Well written, captivating, humorous and poignant, How I Became The Blind Scooter Guy is an excellent read.
Sarge
The book is available to buy direct from Christopher himself at www.blindscooterguy.com or alternatively through Amazon. RRP is under £20 for the paperback, or the Kindle edition is around £5.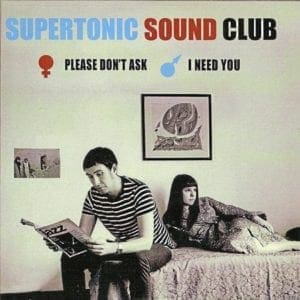 Supertonic Sound Club Please Don't Ask/I Need You
Big and brassy, with its feet squarely on the soul sound of yesterday, Supertonic Sound Club's new single has all the hallmarks of a Mod and rally classic of the future. Side A — Please Don't Ask — sounds how Dexy's Midnight Runners would have sounded if Mark Ronson had produced them and got a young Amy Winehouse to guest on vocals. Powerful and driving, insanely catchy and instantly memorable, it's a contrast to the flip side, I Need You. Very much in the mould of H B Barnum's classic song The Record, this is a laid back slab of southern sounding soul.
If you pick the CD release up, things get even better. Included are three previously released singles. Truly Something Special riffs on the traditional Motown four-on-the-floor sound and gives it a pop twist, while Secret Du Collier De Perles harks back to Dexy's The Teams That Meet In Caffs with its massive brass sound erupting from the speakers. Final track Scheherazade heads off on a tangent to everything that's gone before. A solid Eighties ska track in the style of Maroon Town, with a traditional reggae vocal of a similar style to Dave & Ansel Collins classic Double Barrel. Contact the band via Facebook to grab a copy… now.
Nik                  

Enjoy more Scootering reading in the monthly magazine. Click here to subscribe.