Based on a small Nottinghamshire industrial estate VE(UK) is one of the unsung heroes of British scootering and we sent Stan to see what lies ahead for them in 2017.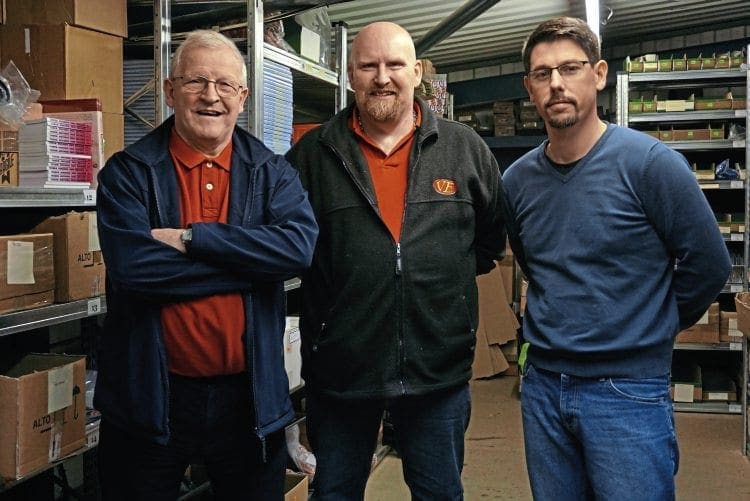 Big names
To most scooter enthusiasts VE is possibly best known through its managing director and Vespa racing legend Norrie Kerr. Although he'd be the first to admit that there's much more to VE than his involvement, there's no-one better to explain its past, present and future. "I'd been involved in the Midland Scooter Centre with the late Dave Webster for several years but decided to strike out on my own when the Malossi UK franchise became available," said Norrie. "At that time Malossi intended to create a network of dedicated national dealers across Europe but eventually decided there were more efficient ways to operate. I retained the Malossi franchise and ultimately their decision enabled VE to offer a much wider range of products."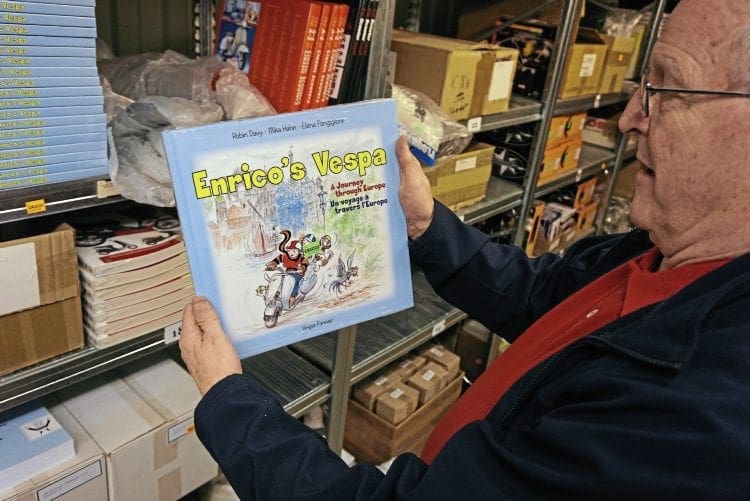 It was only when I visited the Milan Motorcycle Show that I realised the extent of VE's international reach. In addition to Malossi, its product range reads like a who's who of scootering — Polini, Leo-Vince, Scorpion, Gianelli, Mazzucchelli, Faco, Dellorto, Pinasco, Corazzo, NGK and Newfren are just some of the brands falling under the VE banner. Less well known is the fact that the company also stocks SIP products and produces items of its own design — namely NFK exhausts and the VE Actif range of accessories.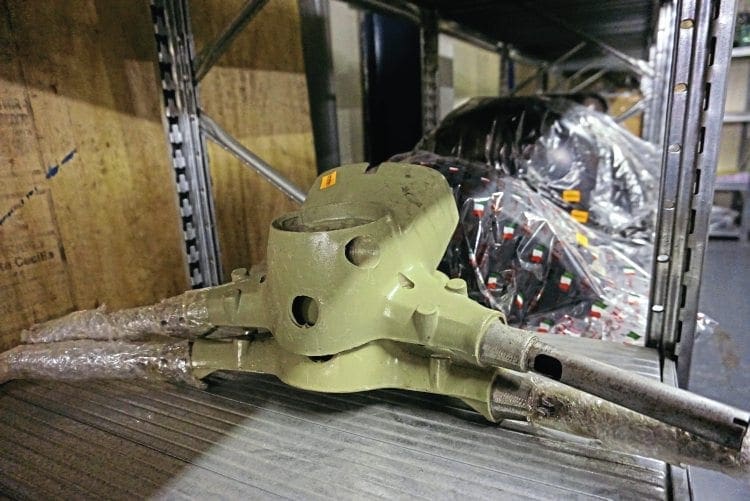 Home grown produce
Although best known for his racing exploits, Norrie is also a keen road going scooterist and he's applied his experience to the Actif range. "I looked at the accessories available and thought we could do better. When designing rear racks for the Vespa we realised that most manufacturers seemed to have misunderstood the difference between 'square tail' T5s and standard PXs. Although the seat bolt was in a different position the tank bolts and numberplate holes align on both models, there was no need to produce separate pieces. By avoiding the seat bolt and using the tank fastenings we created a system that's not only stronger but also fits the LML four-strokes without modification."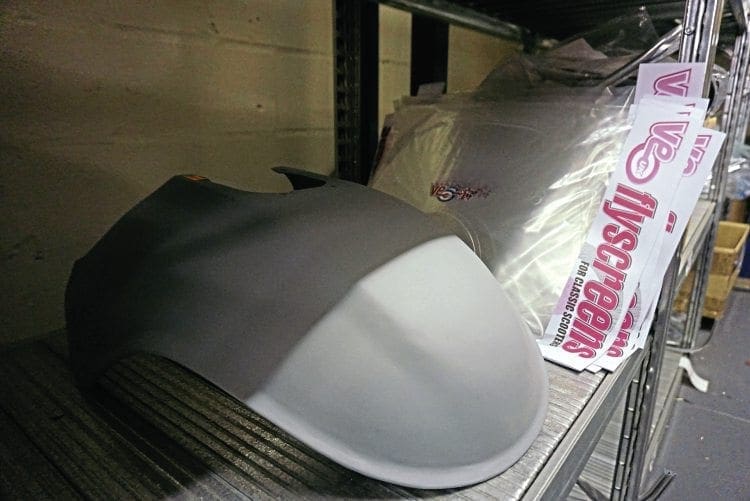 Miss it, miss out
With thousands of lines in stock at VE(UK) it's easy to miss some of their hidden gems. This is particularly the case for Vespa GTS owners as Norrie explained: "The Malossi 282 kit delivers an increase of around 4bhp over the standard 272cc unit. At £650 it's a cost effective way of delivering extra power. Why the 282 kit hasn't been adopted more widely is a mystery to us and a loss to GTS riders." Scorpion exhausts are definitely flavour of the month, with a new system just released for the Scomadi 125 and 200 models. VE stocks those and the Vespa GTS versions, with a very important lifetime guarantee on all 4T exhaust cans.
The range of products stocked by VE changes weekly with recent additions including classic Vespa speedo faces and Leo Vince standard Vespa exhausts. Keeping track of new products and offers is straightforward by visiting the company's website and subscribing to the regular free newsletter.
All change
Since its foundation, VE has dealt almost exclusively with the trade. Private buyers have been able to order from their catalogue but had to collect their purchases from a nominated local dealer. In 2017, VE will move towards full retail operation as explained by Robert, Norrie's son and sales director: "Although we'll continue to service the trade it's the right time for us to open our range directly to retail customers. We've already started to take orders and it's worth checking the web for offers on postage. A redesigned website will be launched in 2017 that's both mobile and tablet compatible." As VE is the factory appointed, official sole UK importer for many brands, its prices are always highly competitive. With UK mainland postage charged at a flat rate of £7.50 it's often cheaper to buy products from VE than from European sources.
With a scootering heritage that is the envy of most dealers and a wealth of retail experience VE is one of the cornerstones of UK scootering. The chances are that if you've purchased aftermarket Vespa spares over the past few decades they've passed through the hands of VE at some point. In 2017 it will finally be possible for retail customers to purchase direct from the source, not just for Vespa but for many other marques, both classic and current. Home maintenance might just have become less expensive.
ALL IN THE NAME
One question that Norrie is often asked is why is the company called VE (UK). "I was searching for a name and doodled 'Vespa Spares'," explained Norrie. "This could have been shortened to 'Vespares' but it may have implied that we'd never sell anything else so I shortened it further to 'VE' and added UK. The aim was to make it memorable and easy to search for online."

MORE THAN A RACER
It's said that people should never meet their heroes but whoever coined that phrase can't have been thinking of Norrie Kerr. An afternoon in his company flew by and we'll be profiling him and his contributions to British scootering in a future edition.
Although Norrie is best known for his contribution to Vespa racing, his interests range far and wide. One of his lesser known claims to fame is that he's an aficionado of the Vespa models produced in porcelain by Spanish manufacturer Lladro. Applying the same level of commitment he does to tuning or restorations Norrie is able to talk about variations, discontinued moulds and rarity values. If one of these beautifully sculpted models takes your fancy the good news is that the first new moulding for many years was announced late in 2016 but you have to be prepared to pay for the pleasure. Ever the businessman, Norrie has funded his collection by buying and selling examples of the distinctive porcelain or in his own words: "At least that's what I tell my wife!"
ON THE FLY
Among VE(UK)'s product range are traditional flyscreens that are available in multiple colour combinations and suit a wide variety of machines. At a time when it seems all production is outsourced to the Far East, Norrie is proud to say that these aren't only produced in the UK, they're actually produced on site. "Feridax were the big name in scooter screens for decades but as demand decreased production became less attractive to them and over time we became their main customer. When Feridax made the decision to cease production entirely we obtained the tooling and every screen we stock is handmade on site by Graham or Ryan"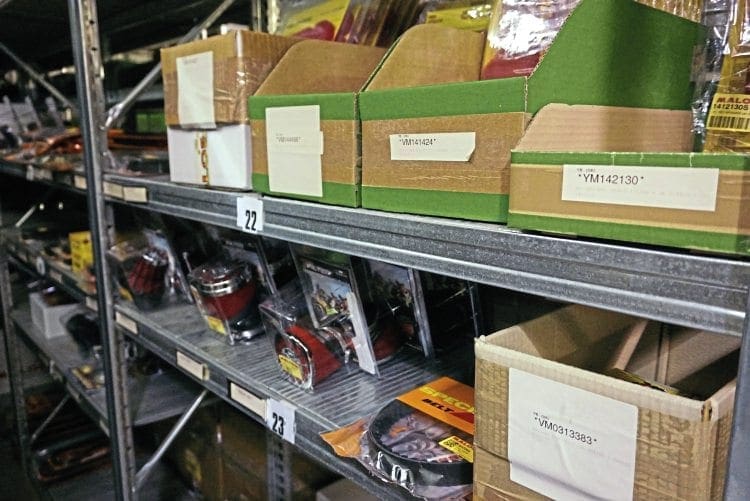 In addition to the heritage range VE have recently begun production of bubble screens and are also increasing the variety of machines covered to include automatic scooters.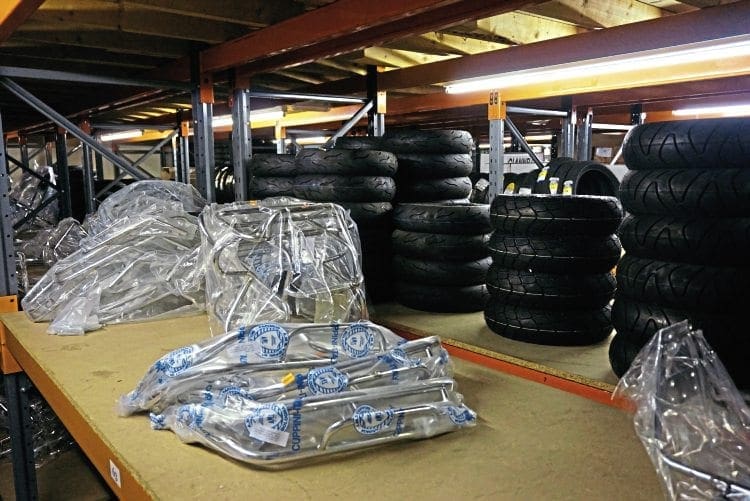 Words & Photographs: Stan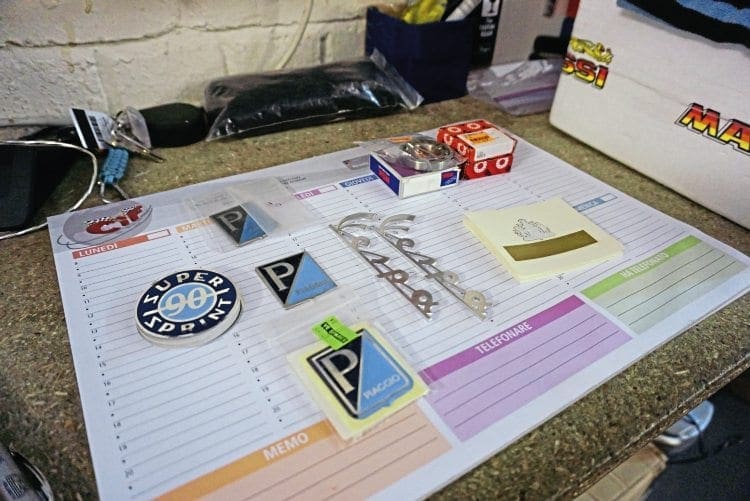 Enjoy more Scootering reading in the monthly magazine. Click here to subscribe.