One man, his Vespa, and an epic journey round Scotland's whisky distilleries. A standard Vespa 50 may not be everyone's first choice for a 1000 mile trip but for author and artist Ben Birdsall it was the logical choice for his highly focused tour of Scotland.
If only we'd thought of the idea first…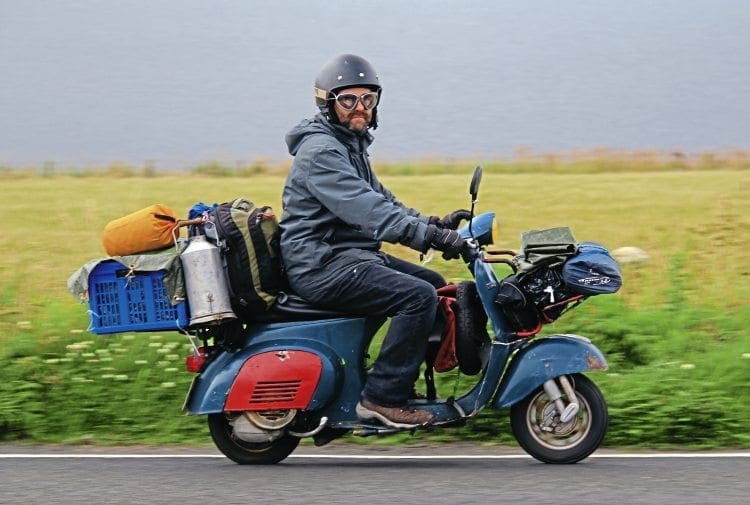 Whisky Burn is the record of Ben's journey, being part travelogue, part distillery guide and part art work. Like a good Scotch it's not something to rush but rather savour and return to time and time again. We spoke to Ben, firstly to establish his scootering credentials and secondly to get advice for anyone planning a similar trip. I'm packing my hangover cures and toothbrush as you read this…
SC: How does an Englishman find himself riding a Swiss Vespa 50 on a whisky tour of Scotland?
BB: My wife is Swiss and I moved there in 2005. Growing up in an Anglo-Irish family, I didn't know as much about Scotch whisky compared to Irish and the idea of a trip by Vespa came to mind. I thought that on a three-week trip I'd manage about 40 paintings and perhaps visit a dozen distilleries along the way. It turned into 40-odd distilleries and 12 paintings!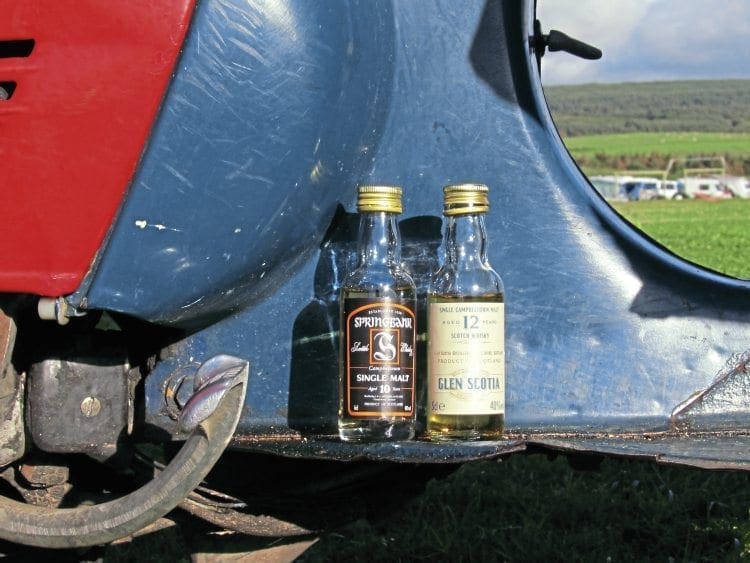 SC: Is the Vespa a travel writer's 'prop' or do you have a history with scooters?
BB: My Vespa is the only motorised transport I've owned for the past decade or so. It props me up, I prop it up. I bought it second-hand as a runaround when I went to Italy in the mid-90s. When my brother-in-law visited I lent him the Vespa while I was at work and one evening I asked where he'd been. He pointed to the top of Monte Pisano (3000ft). I'd no idea that a 50 was even capable of it.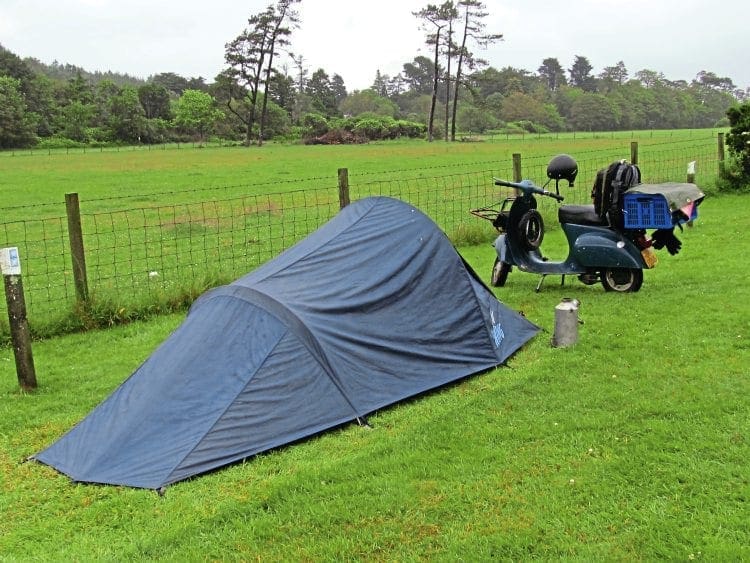 The next bit of time off I had, I rode the 400 miles down to Rome and back, wondering why I hadn't thought of it before. I decided to explore Tuscany, and spent a few weeks touring, painting landscapes, camping and writing. It's a formula I've used for various trips since. I wrote a travelogue that was published as Tuscany by Vespa and a sequel about Umbria.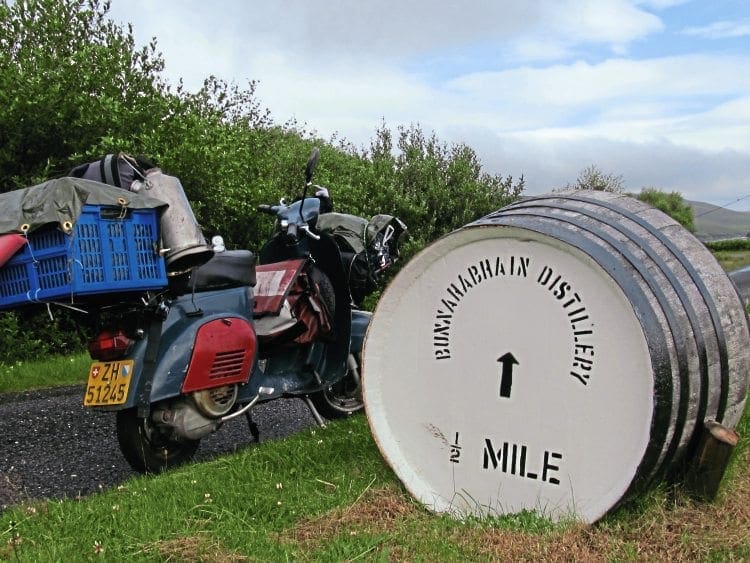 SC: Are you a scooter club member?
BB: I was in the Vespa Club of Pontedera while I lived there and now I'm a member of the Vespa Club in Winterthur, near Zurich. There are some rallies but I tend to trail behind in ride-outs. I once won a trophy for 'La Vespa più caratteristica' — which I think translates as the 'scruffiest Vespa'.
SC: The Vespa 50 isn't the fastest machine so why choose it for the trip?
BB: It's the only one I own! At an average distance of 50-60 miles a day it's fine. Besides obvious drawbacks the Vespa 50 is perfect for a painter as I don't miss anything. If a scene takes my eye, I just stop and sit down to paint. After all this time I'd feel odd making the trip on anything else. I think most Vespa owners know the feeling.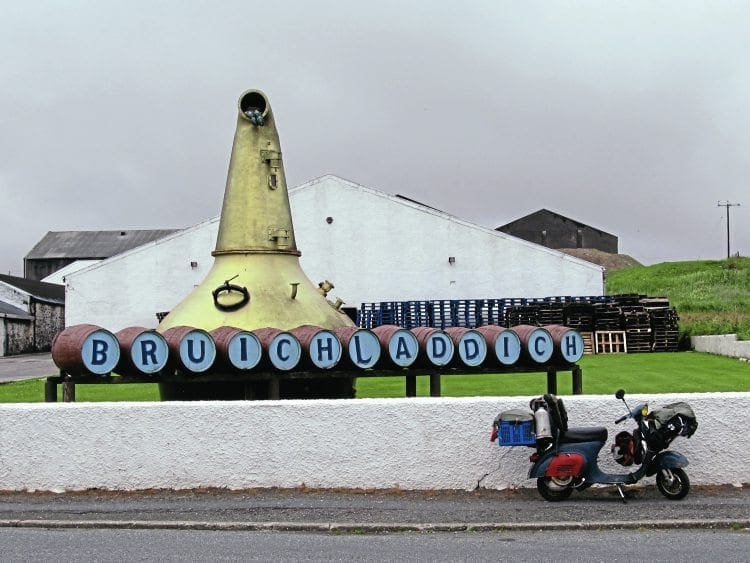 SC: What's your 'must have' piece of touring equipment?
BB: Except for the Vespa? Has to be my Kelly Kettle — a wood-burning kettle designed by Irish fishermen — it can make tea even in a howling gale. There's a kind of water jacket and you light a fire of paper and sticks in the middle. A hole in the bottom actually uses the wind to get a fire going and it boils in a jiffy compared to a normal camping gas stove.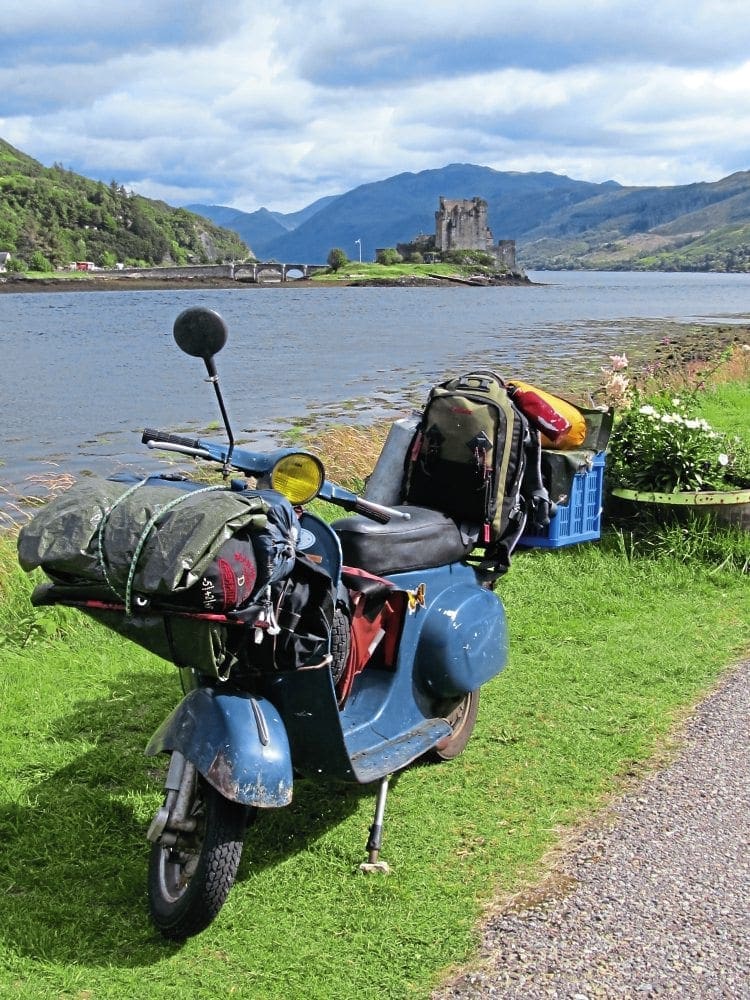 SC: The trip combines three passions, scooters, whisky and painting. Which one most influenced your route?
BB: My Vespa journeys all start out as painting trips, this one was no exception. As a landscape painter I was more enticed by the dramatic Highlands and Islands scenery rather than the Lowlands and decided to head north. Then I planned visits to the best-known distilleries, so Islay, Skye, and Speyside were in my sights from the off. Having a 50, I made sure I didn't have to travel too far in one day and the tent made me far more flexible on that account.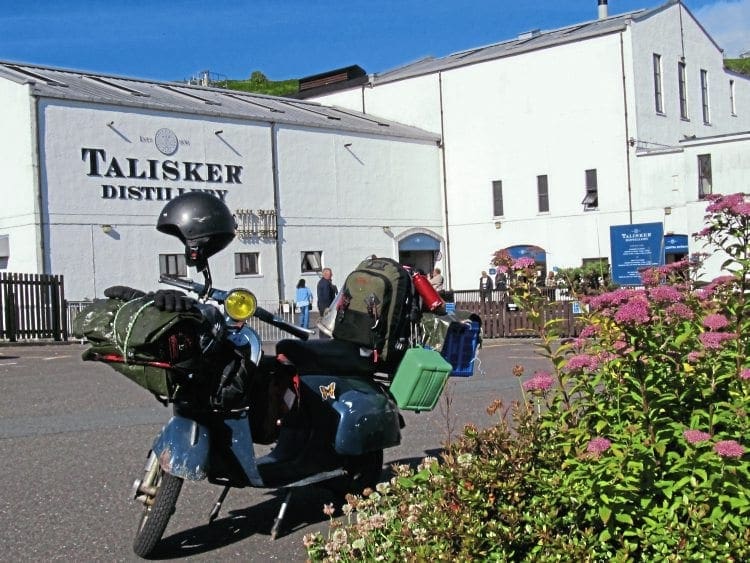 SC: Were there any interesting incidents with the Vespa?
BB: While I was being shown around the Tobermory distillery on the Isle of Mull, the Vespa fell over on the quay where I had parked it. I don't know why, it wasn't windy or anything, but I was lucky it had fallen quay-side and not into the sea as that wouldn't have been an easy fix! It had a few starting problems in Speyside. I couldn't get it going after I visited the Glenfarclas distillery and seeing me pushing it around the yard the stillman shouted: "Give it a dram!" Fortunately I'd camped next to a German motorcyclist who overhauled the carb, probably saving the trip.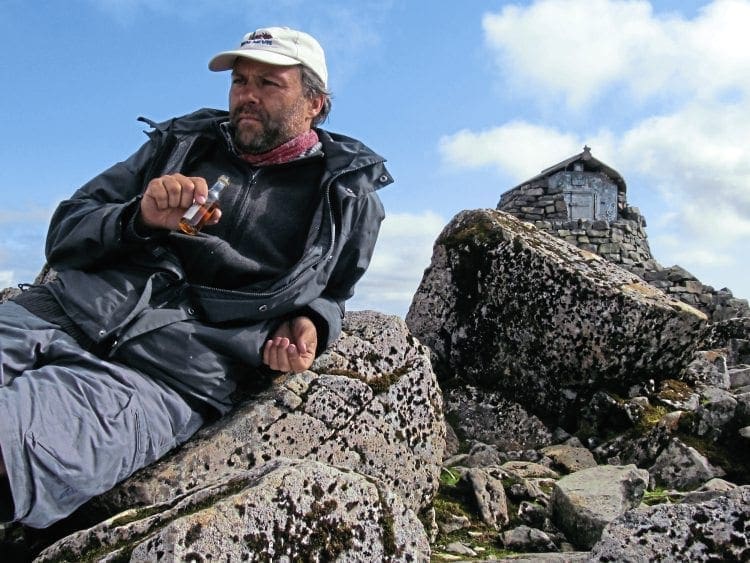 SC: If you had to recommend one leg of the trip which would it be and why?
BB: Some sections can be ridden comfortably in a weekend. I would go to Islay any day for the atmospheric landscape, the hospitality and their no-nonsense whiskies. It boasts eight of the world's most famous distilleries and three of them are down the same country lane. If there's a whisky lover's paradise island, Islay is probably it.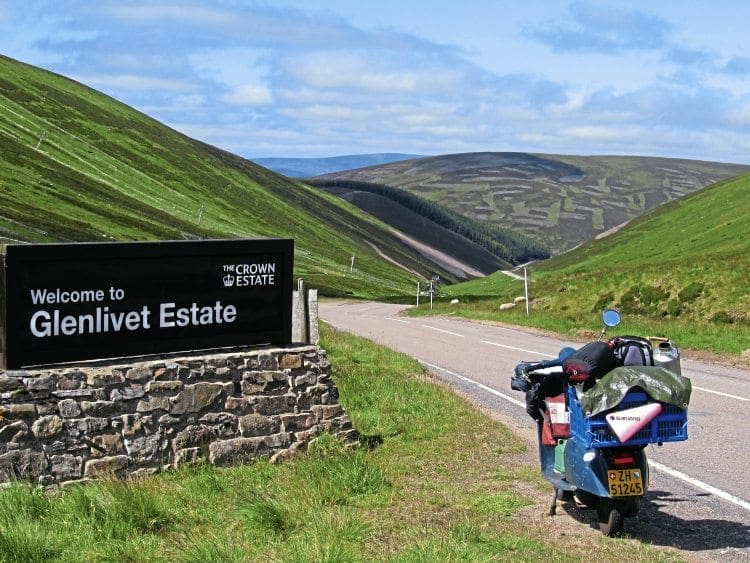 SC: From the trip choose one whisky and the perfect spot to enjoy it.
BB: I choose Ben Nevis single malt. I visited Ben Nevis (the distillery) in the morning, got a miniature to sample, and then took it to the top of Ben Nevis (the mountain) in the evening to drink up there. It was the highest tipple in the UK at the time. It's a memorable experience to drink any single malt at the distillery where it was made. I had to avoid that but I nosed a few. Drinking and riding is out of the question so I made a rule to try the whiskies of the day back at the campsite. It also meant I was never alone outside my tent!
SC: What advice would you give to someone thinking of a distillery tour?
BB: Go to more than one. Combine a small one such as Edradour and one of the larger concerns, like Glenlivet, or a newer distillery like Isle of Arran and a century's old one like Strathisla. Though the process is basically the same, each distillery is unique. To get a good overview visit one of the distilleries that does all the processes from malting the barley through to warehousing the casks, such as Highland Park or Springbank.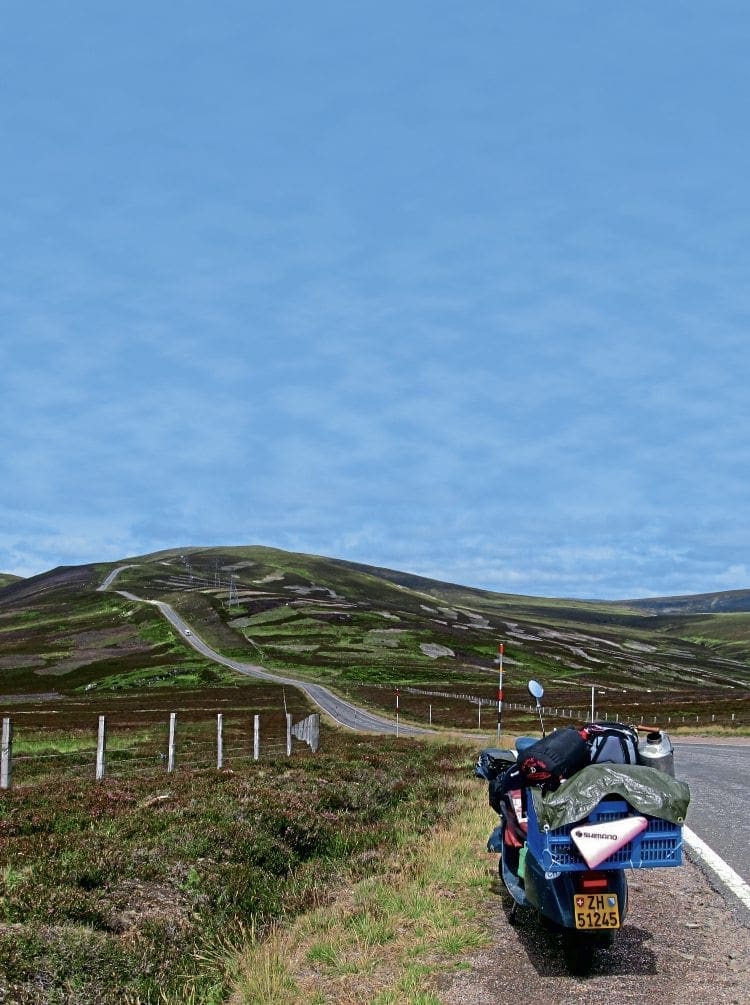 Some distilleries shut down production for maintenance, traditionally in the summer months, so contact them beforehand to avoid that. You can still visit in the 'silent season' but miss out on the sights, sounds and smells of a distillery in production. If you haven't got a designated driver, take along a hip flask for the inevitable sample they offer at the end of a tour.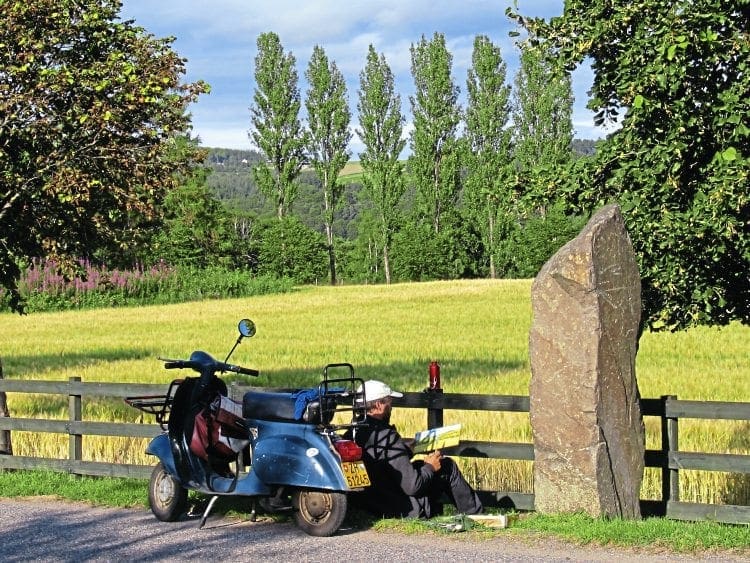 SC: What other adventures do you have planned?
BB: I'm already contacting Irish distilleries for a similar trip this summer. It's an interesting time there because several 'micro' distilleries are opening up. A few years ago there were just four or five working distilleries in Ireland and at the last count there were 28. After that, well, there are a few distilleries in Japan, and there's always Kentucky and Tennessee. So long as I can get the Vespa there I'll have a go!
Interview: Stan
Images: Courtesy of Ben Birdsall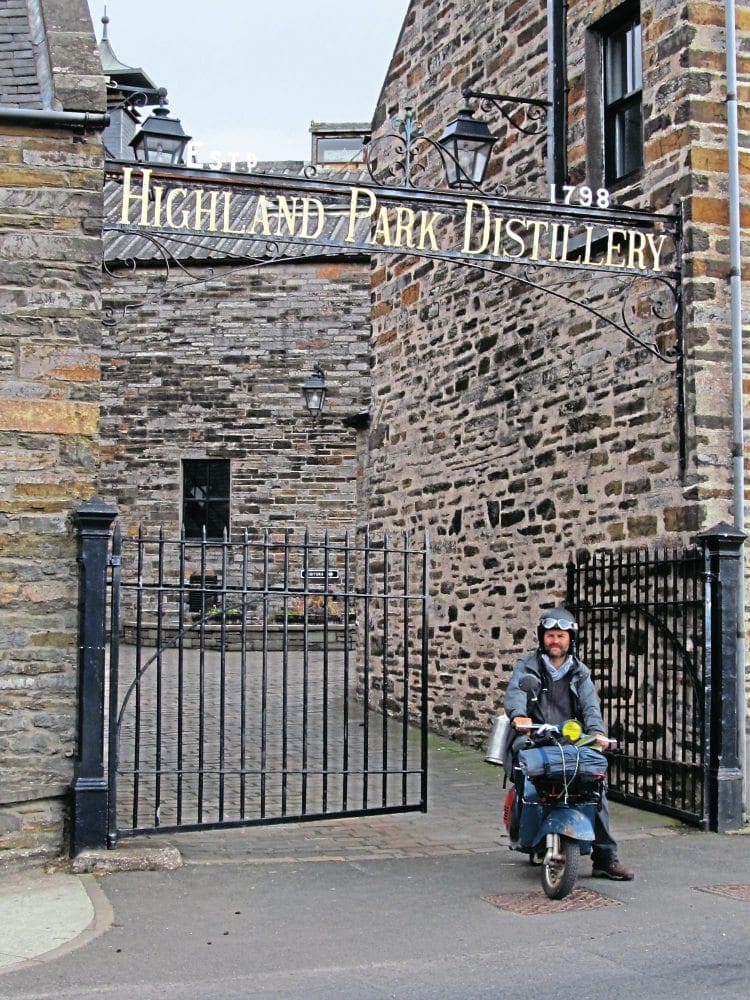 Whisky Burn is available from www.lomondbooks.com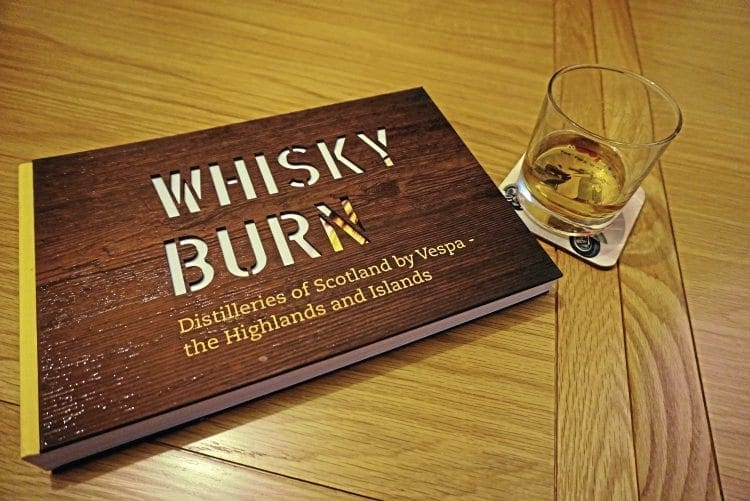 Enjoy more Scootering reading in the monthly magazine. Click here to subscribe.