When was the last time you visited a scooter showroom with over 60 classic machines on display? Stan visited Buzzsolomoto in Halifax, a shrine to Spanish scootering and so much more…
Entrada
The man behind the name is Antony Beaumont, his initials gave him the nickname 'Buzz' — just think about it for a moment.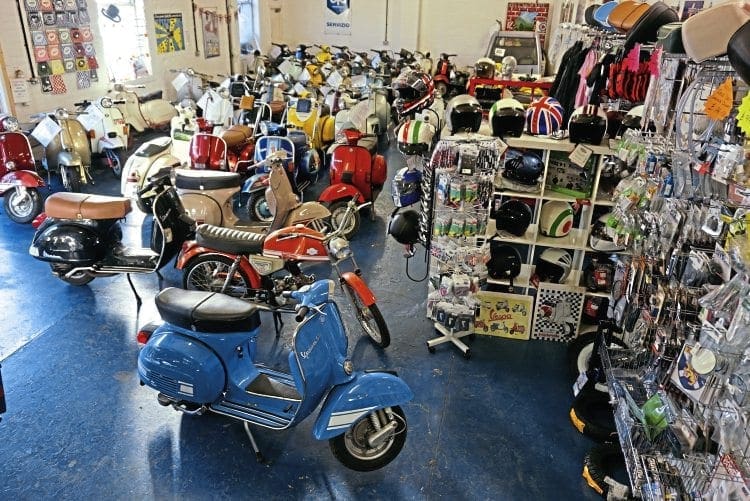 During the 1990s, Buzz travelled regularly to Italy with fellow members of Bradford and Pudsey SC, Fig and John. In common with many others, he'd been buying classic scooters that were regarded by the Italians as scrap. "Once they worked out what was going on prices began to rise and buying in bulk became the way to do business. I couldn't compete but realised that no-one was buying up scooters in Spain so I gave that a go," explained Buzz. "In the early days, we could buy a Jet 200 in Spain, van it back to the UK, get it running, sell it for £350 and still make a profit!"
As a trained engineer working in a dying industry, Buzz managed to avoid the spectre of redundancy by moving from company to company but in 2000 he ran out of options.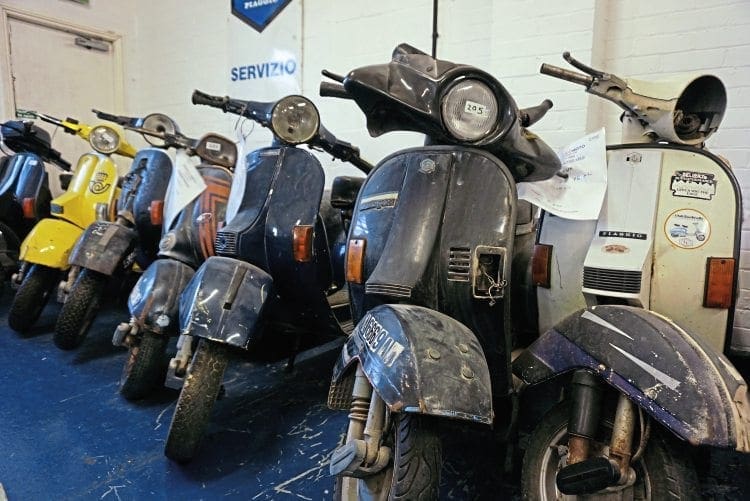 After taking redundancy Buzz finally had the money to start buying in bulk. Because he'd been among the first to operate in Spain, he'd formed a network of contacts which gave him access to quality parts and machines. "There were a couple false starts working out of mates' garages which the local council really disapproved of! Although I've always ridden scooters I worked at one of the large motorcycle dealers in Bradford for a while," he explained. "That gave me an insight into how the business worked. In 2007 I took the plunge, went 'legal' and rented a small unit.
Prima Plato
Today Buzzsolomoto has outgrown that small unit and occupies a large retail and storage space on the same site. There are over 60 scooters on the sales floor but that's only half of the machines that Buzz has in stock, a figure which doesn't include the scrap machines bought to break for spares. Add to that a mail order department, which on a busy day can deal with 200 packages, and it's clear that Buzzsolomoto plays a major part in UK scootering.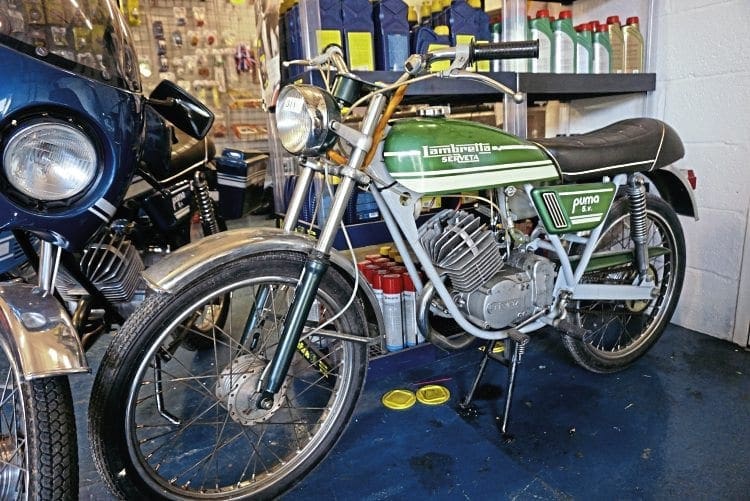 Although they have a large eBay shop, the items listed on the site barely scratch the surface of the estimated 5000 individual items they hold in stock at any one time. "We work hard to keep both eBay and the main site up to date. I'd say that 99% of the time if we say something's in stock, it is," explained Tracey who, with Julie, manages the mail order department. "On the very rare occasion an item is out of stock, refunds are always issued quickly as we know how frustrating waiting can be."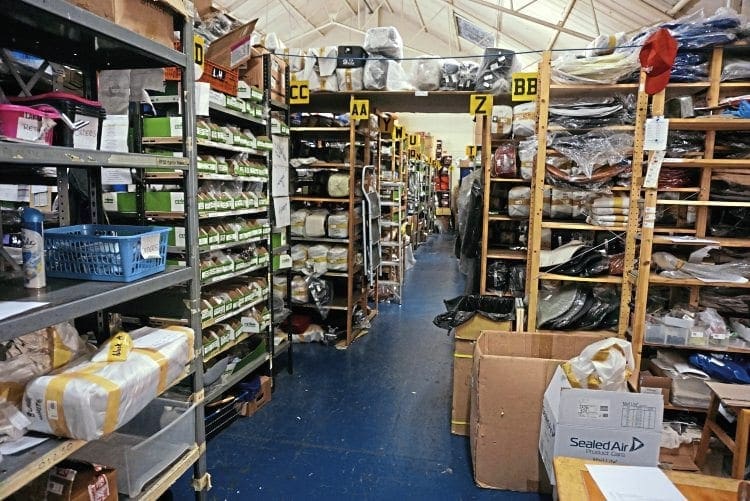 At the heart of any scooter dealership is the workshop and at Buzzsolomoto there's always a mixture of routine servicing, tuning and restoration work under way. Although Buzz is still very active on this side of the business most of the mechanical work is undertaken by his partners from those early buying trips, Fig and John, showing that business and friendship can be mixed.
Restorations are a speciality of the team and they are justifiably proud of the results. Buzz uses his contacts in local engineering to ensure any work carried out by contractors is to the highest standards. Floor replacements in Vespas are routine and the quality of paintwork is outstanding. Both Vespas and Lambrettas routinely emerge from the workbenches and in both cases the attention to detail is painstaking, with a large number of New Old Stock parts being held in stock exclusively for use in restorations.
"We strive for absolute accuracy," said Buzz. "The only exceptions are the engines we use in Vespa restorations. Over the years we've acquired a large stock of PX125 engines and spares availability is much better for these than the original Spanish units." All machines sold by Buzzsolomoto are complete with dating certificate and NOVA registration ¬Buzz's sister Julie taking care of the all-important paperwork.
Segundo Plato
In recent years, Buzz has noticed a gradual change in attitude towards Spanish-built machines and among the branded names held in stock are an increasing number of specially commissioned items.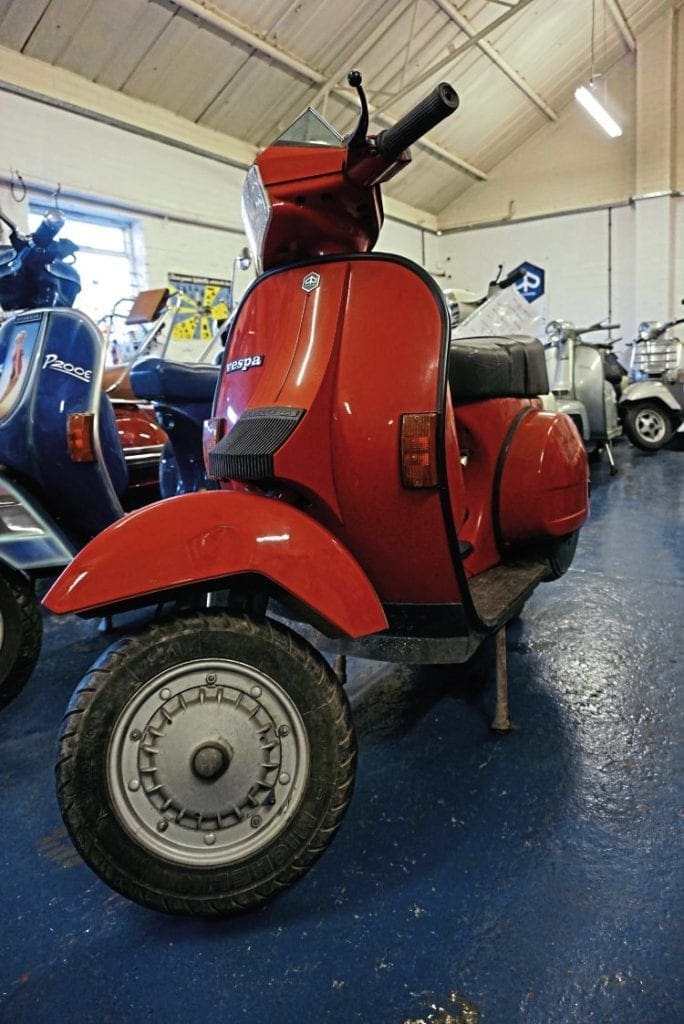 "Originally we sold Spanish scooters as a good basis for conversion to Italian specification but that situation's now reversed," explained Buzz. "Our winter model headset is finding its way onto Italian Lls and there's a lot of interest in restoring Spanish machines to factory specifications. We're seeing an increasing demand for scarce Spanish parts such as badges, indicators, reflectors and light units, basically all the things we pulled off them in the 80s and 90s!
"Because of our restoration work I've a very good idea of which spares are scarce or unobtainable. I always try to track down the original Spanish manufacturers and commission them to produce replacements. Where that's not possible we keep a very close eye on quality. I'm very pleased with the range of metal panel-work we've recently started to stock and people are always welcome to bring a frame along and try them on for fit!"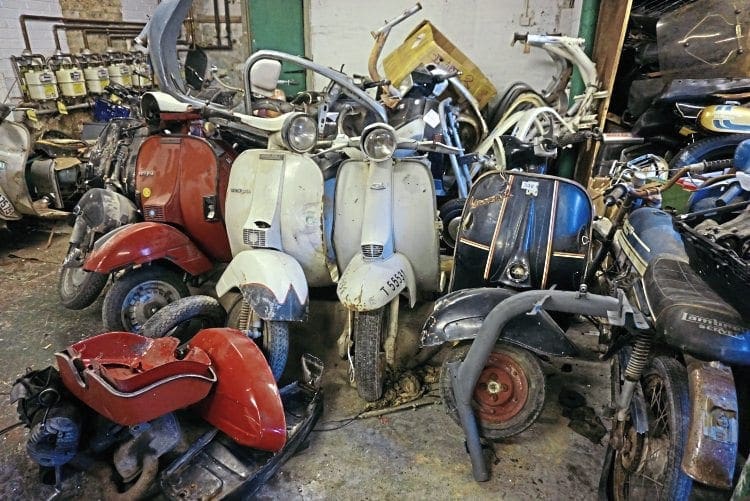 With such a large number of scooters on display, the shop is always worth a visit. When we called in there were Vespas ready to ride away, including a T5 Mk1 and no fewer than six PX200 Disc models (one with only 1300km on the clock!). Lambrettas aren't ignored either, and there were three very scarce early Jet 200s ready to go with another two in the wings. These early Jets are almost indistinguishable from the SX and with a production run of around 1900 that's a healthy concentration of survivors. If 'Winter Model' Series 2s are your thing there were two available, a whole host of Lls and an assortment of classic Vespas awaiting restoration stood alongside ex-Spanish Post Office PXs.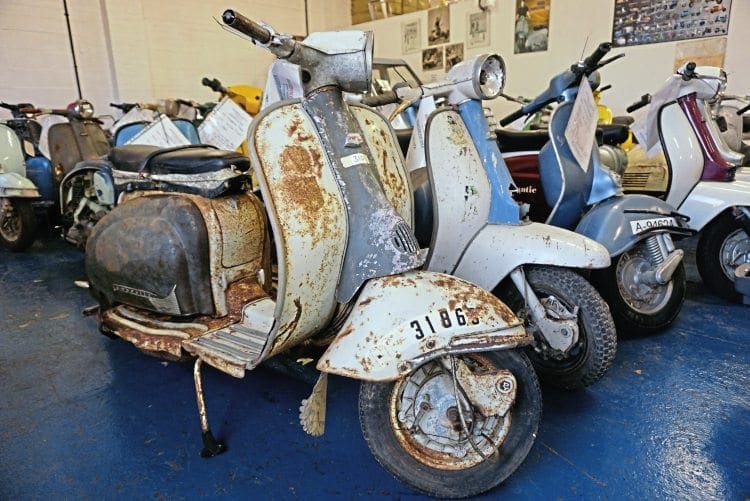 There's a wide range of spares and memorabilia on display and the whole atmosphere is that of a shop run by enthusiasts for enthusiasts. It's a truly unique experience and one well worth going out of the way for.
WINTER WONDER
Selecting a favourite from among Buzz's stock is difficult but this TV175 is an unusual survivor.
Much has been written about the 'winter model' — a Spanish oddity that blends a Series 2 TV175 with an SX style headset. With an estimated production run of 900, survivors are highly prized. This example is unusual as it has every sign of retaining the factory applied paint, but there are no records of green ever being offered as a standard option.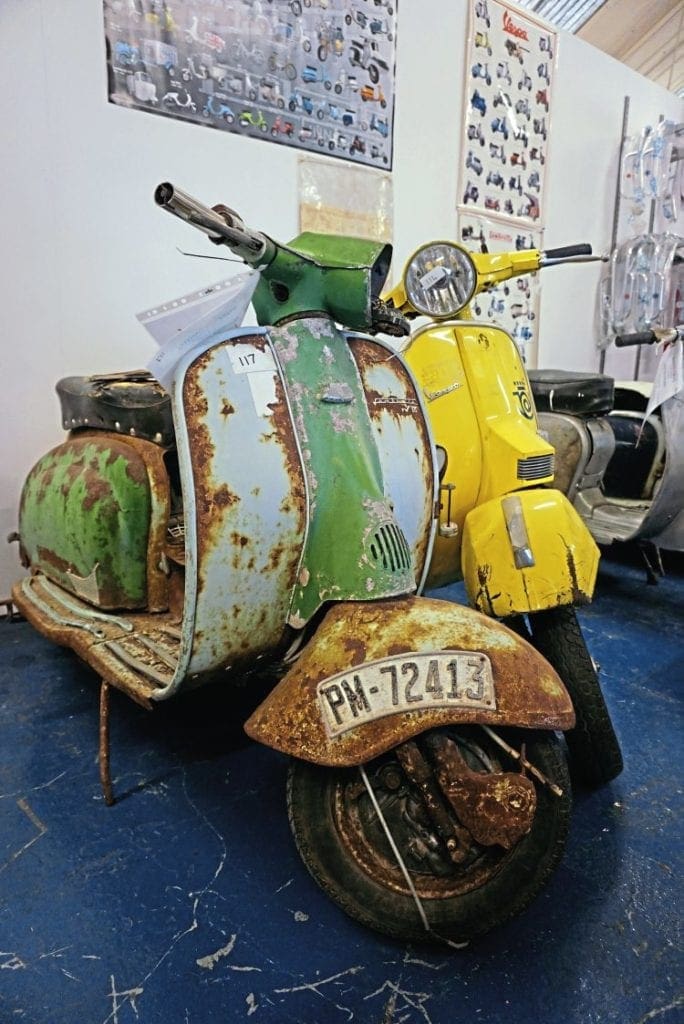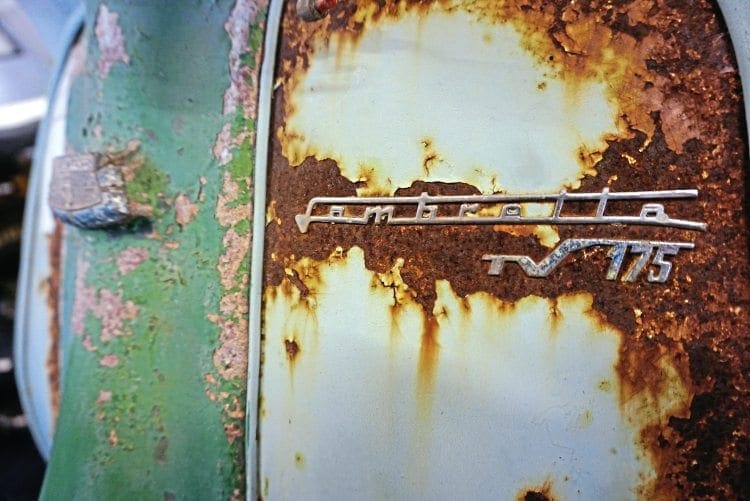 Original paperwork is present too, though water-damaged. As part of the 'winter' promotion purchasers were given a booklet of tokens that granted them free camping at sites across Spain. What's not often appreciated is that the serial number on the tokens matched the frame number of the machine they were issued to, This booklet together with an original instruction manual was discovered in the toolbox of this barn find example, and as a complete matching set could well be unique.
BATTERY OPERATED
It may look like a Lince 200 but this is believed to be the only surviving prototype of the electric start Serveta Lince — making it exceptionally rare. Never intended for road use, it was a development model that somehow survived when the factory closed.
It features quality switchgear and the starter motor is mounted crossways under the engine casing, linked to a toothed flywheel.
Although lovingly restored in-house, Buzz explained that authenticity was a problem: "This is a unique machine that evolved in the factory over time. Certain components are at odds with the frame year but when I acquired the scooter it was almost complete but very tatty. I'm satisfied that this is as it appeared towards the final stages of its development."
WASPS' NEST
The one remaining gap in Buzzsolomoto's product line is now being filled, namely the dealer special. "When the Spanish Post Office disposed of its PXs we secured a large number from the final batch," explained Buzz. "They're in surprisingly good condition but obviously in need of an overhaul. I wanted to restore them in a way that acknowledged their previous history but the market for post office restorations is a small one!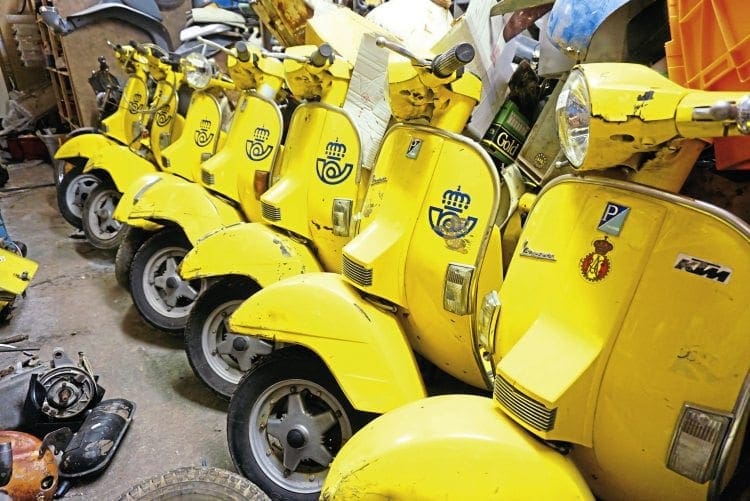 "This year we're creating 10 yellow and black Pinasco specials which a mixture of the post office and Pinasco colours. Each will be stripped to bare metal and any damaged plastic or metal repaired or replaced and finished in a chequered colour scheme. I've also found a beautiful FA Italia race seat, and we'll fit Pinasco suspension too.
"We're finalising the engine specification but it's likely to be based on the Pinasco 177 kit with a MecEur race crank and Pinasco touring exhaust."
The specials are likely to be available from Easter with a price of around £3500-£4000 depending on specification.
DREAM MACHINES
This year has seen tow of the early Jets roll off the workbench at Buzzsolomoto including one for a customer in New York and one that's currently for sale in the showroom. Both have been finished to a high specification and having seen them as works in progress I can vouch for the painstaking care that's gone into their resurrection. Buzz has a number of machines, both Vespa and Lambretta, set aside in a planned programme of work. Some of these are for his own collection with a plan to have some very rare machinery on display at Eurolambretta 2018 in Spain.
SPANISH PRODUCTION
With its large population, poor infrastructure and relatively high levels of poverty, 1950s Spain was an obvious market for both Innocenti and Piaggio but due to the policies of General Franco's government, it was also something of an international pariah. With imports effectively banned by the fascist regime, the only option for the Italian giants was licensing production to local companies.
Piaggio was first off the blocks, establishing Motovespa in Madrid early in 1952. Shortly afterwards Innocenti made an unlikely production agreement with Atlas, Spain's largest producer of sewing machines!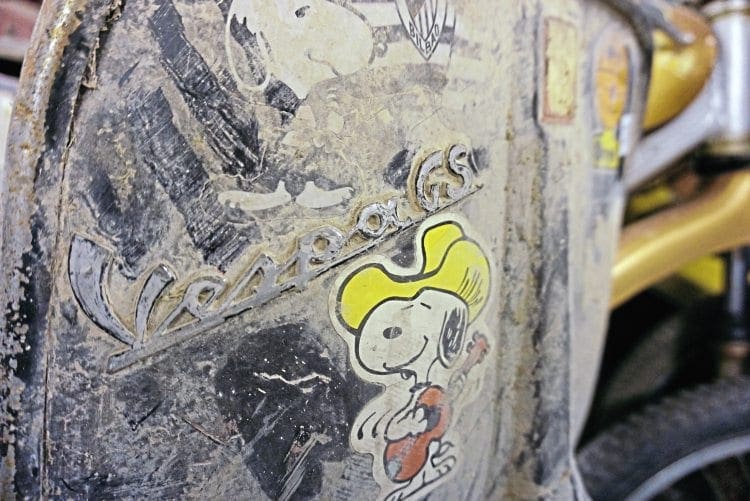 The designers of both marques were a long way, both geographically and politically, from their Italian masters and as a result there were many local variations, some questionable, some innovative. For Motovespa the decision to combine PX bodywork with the headset and suspension of a Rally arguably fused together the worst of both worlds yet they were also pioneers of electronic ignition.
Ironically both companies ceased to exist at around the same time. Reform began following Franca's death in 1975 and after Spain joined the European Union in 1986 Motovespa was fully absorbed into the Piaggio group.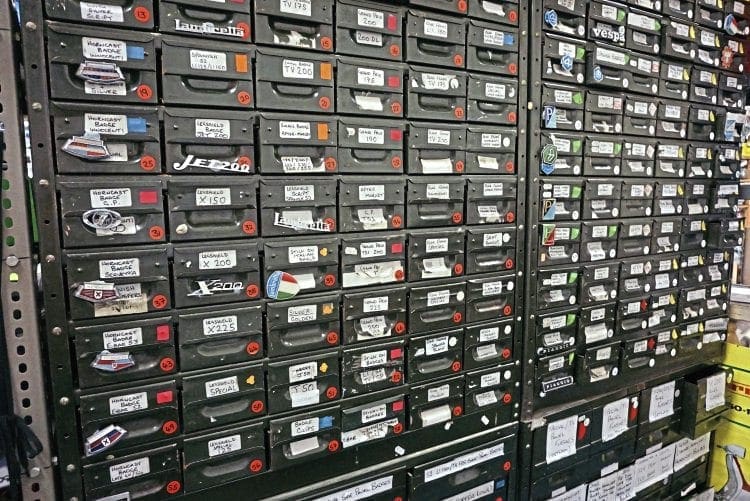 In 1989, despite a brief reprieve following the Italian factory's closure, Spanish Lambretta production ended. Market forces and what were ultimately only cosmetic upgrades to an outdated product finally sealed the brand's fate.
Unlike production facilities elsewhere in the world both factories produced highly regarded machines. Spanish engine cases are more robust than their Italian counterparts and adaptable to tuning while the combination of high-quality materials and a temperate climate means that frames have also survived in very good condition.
Further information on Lambretta production may be found in Lambretta Locomotiones, a limited edition book published by the Lambretta Club Espagne while there is an excellent Spanish language history of Motovespa at www.solovespa.com
Words & Photographs: Stan

Enjoy more Scootering reading in the monthly magazine. Click here to subscribe.