For more than four decades Spain was home to both Vespa and Lambretta production. Recambios Motos Clásicas are now key to keeping the surviving machines roadworthy.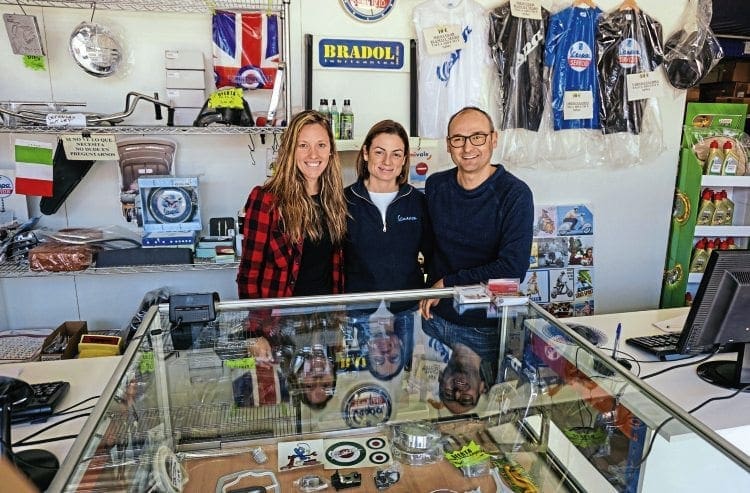 Many British scooterists are familiar with a handful of continental dealers, most of them based in Germany. Over in Europe things are very different and from small beginnings Alicante-based Recambios Motos Clásicas (RMC) has grown to be one of the largest suppliers of classic scooter spares in Spain. We sent Stan to meet its owners Israel and Charo.
Classic love affair
Unusually Recambios Motos Clásicas  was born out of a love for motorcycles. In the UK scooter and motorcycle enthusiasts rarely cross paths, however in Spain the two are closely linked, as Israel explained: "There are some large scooter clubs in the big cities but the Spanish scooter scene is more like that of classic motorcycles in Britain. There are very few 'lifestyle' scooterists over here. I started my first business around 18 years ago and the early restorations were all motorcycles. My brother now runs that business but my real passion has always been for scooters so around 10 years ago Charo and I started Recambios Motos Clásicas ."
My introduction to RMC was through Israel's close friends at Buzzsolomoto in Halifax, as the two companies have a close working relationship. Buzz had warned me that there was a lot to see but nothing could have prepared me for the scale and enthusiasm of RMC's operation. Ask Israel about a part and he instantly knows its applications; ask Charo about another and she knows its provenance in detail. Although RMC are distributors for products from many big name suppliers a large proportion of their stock is exclusive to their catalogue. "Around 80% of our spares come from Italy," said Israel. "Other parts are manufactured for us in Spain, but wherever our parts come from, we only stock the best available and have very robust quality control systems."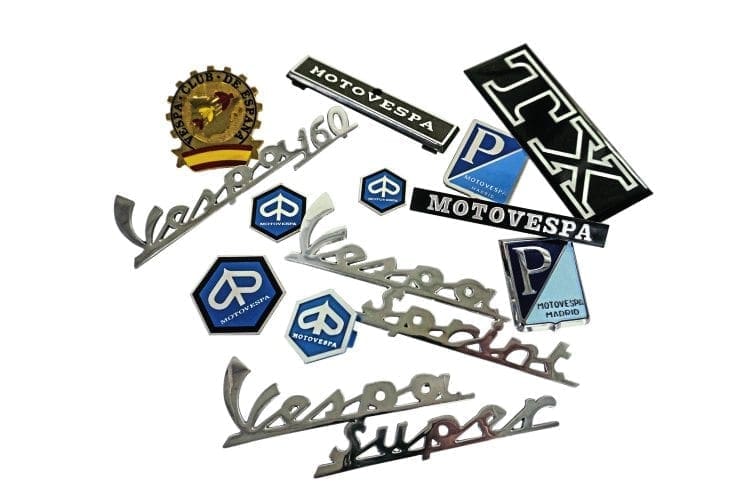 Mail order is RMC's main business and although they offer combined postage across mainland Spain they will ship to any country. It's their proud boast that if an item is ordered and paid for by lunchtime it will be dispatched before they close for business that day. Considerable effort goes into maintaining the accuracy of their website, ensuring everything they have listed is in stock. Assisting Israel and Charo to maintain this level of service are Alberto, Dani and Alvaro.
Piston ported perfection
Although both Vespa and Lambretta production was licensed by the parent companies in Italy, the Spanish factories weren't afraid to go their own way. Probably the most notable example of this was Motovespa's loyalty to piston induction engines long after Italian production had changed to rotary valves. In the belief that spares are difficult to obtain, many owners of Spanish Vespas replace the original engine with a more modern PX unit. However RMC carry a wide range of spares for piston induction motors, enabling restorers to retain original features at prices that also make economic sense.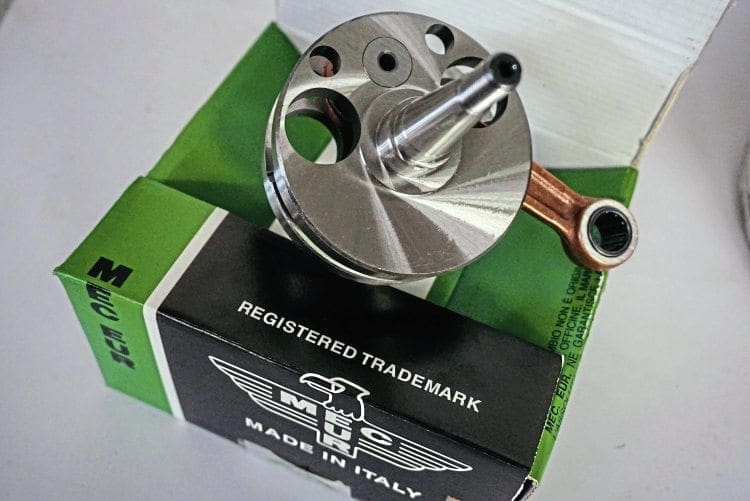 Among the consumable spares held for these engines, RMC has devised a conversion for the often troublesome carburettor. "The carburettor mounting is a weak point of the Motovespa design," said Israel. "The carburettor guillotine wears out causing the body to deform, creating air leaks which of course leads to all kinds of problems, I was convinced that this design could be improved and the end product is a kit including manifold, carburettor and air box.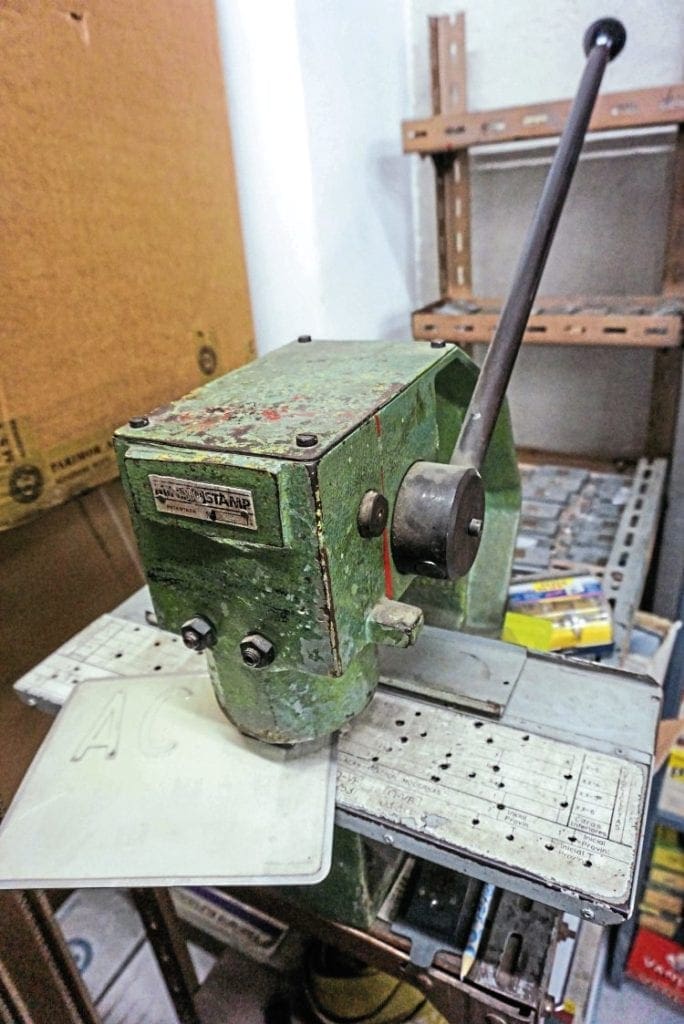 "The result is an engine that starts easily and runs much more smoothly. This kit is exclusively designed for Motorvespa engines and fits various models including the 150S, 150 Sprint, 150GS, 160 and 160GT. We also modify exhausts to suit the unique exhaust stub and mounting bolt found on the early Motovespas."
Artisan seating and more
Among the company's extensive range of reproduction trim, Charo's favourites are a range of seats manufactured exclusively for RMC in Italy.
"It's impossible to appreciate how beautiful these seats are by looking at them on the internet," she said. "When people hold one they always buy it, the quality is superb." Manufactured to RMC's specifications by a small family company the selection includes both sports seats and reproductions of standard factory items. The shark nose seat peculiar to Spanish Vespas has been faithfully reproduced as has the slightly green tinge to the vinyl on Lambretta seats. Priced in the €200 range they aren't the cheapest seats on the market but having handled one in person I have to agree with Charo that they are of the highest quality.
In addition to their wide range of spares RMC also has a small stock of original machines for sale but as Israel explained these are becoming harder to find: "I have a network of contacts across Spain but I'm competing with buyers from Germany, Switzerland and Italy as well as the UK. I've seen what happened in Italy when they sold many classic machines overseas without thinking of the future. If I find a good example I always try to find a Spanish buyer first. It's important that we preserve our heritage."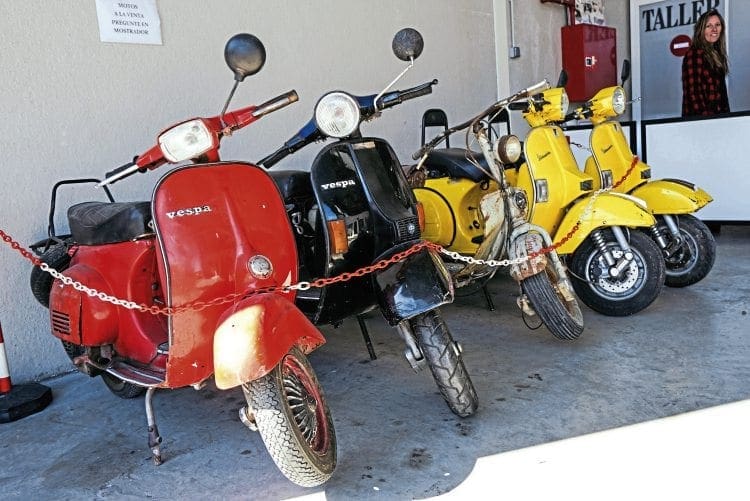 Exceptions to this rule are machines without Spanish papers. British readers may find it hard to believe but registering a classic scooter is fairly straightforward in the UK. In Spain and other European countries the process is very bureaucratic, making the task almost impossible.
Spanish machines have proven to be popular imports to the UK and across Europe yet many are modified for no other reason than ease of maintenance. Recambios Motos Clásicas  deserve to be more widely known, not just for their extensive range of spares but also for the passion and enthusiasm that drives them to keep historic Spanish scooters serviceable. www.recambiosmotosclasicas.es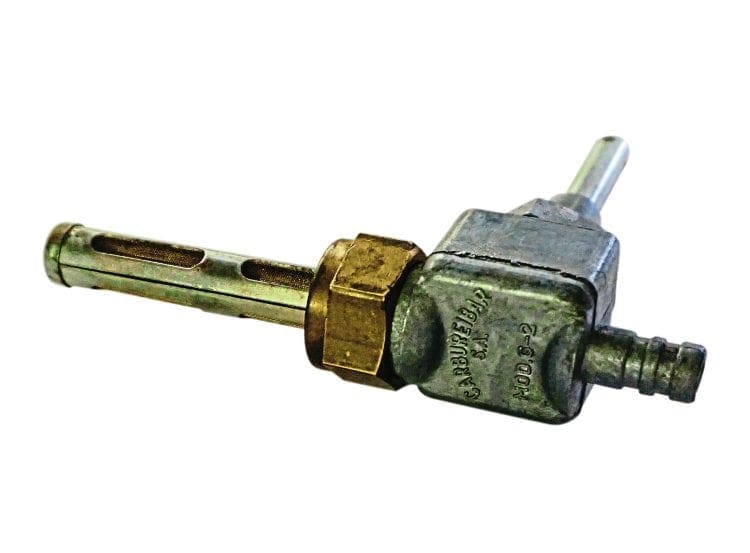 OLD STYLE DEALER
In addition to their range of new parts, RMC also hold a wide range of New Old Stock items. Israel explained these principally came from one source: "Several years ago a large dealership closed and I was fortunate to secure their entire stock. The owner had been in business since the early days of scootering and was only closing due to old age. The spares holding was huge and every day we still sell something from his stock." In a corner of the warehouse Israel has set out a mockup of the dealer's office with original fittings. The cabinets are genuine Serveta items but the wine and nibbles were set out for my visit!
POST HASTE
Among RMC's current stock are the last remaining Spanish Post Office PXs. Israel laughed while explaining that he'd secured a larger inventory of these than he'd originally intended. "These were disposed of in regional auctions. I placed bids in Castellon, Murcia and Alicante in the hope that I'd win one of them. It was a surprise to find that I was successful at them all and had become the owner of 132 PX125s!"
The machines have sold well for RMC with preparation being limited to general tidying of the chassis and only 20 or so remain. Another unexpected outcome at these auctions was Israel's bid on a lot described as 'Vespa PX Disc front ends'. Expecting forks and headsets, Israel arrived at the depot to find the remains of scrap frames that had simply been severed with a cutting disc. If you've ever wondered which machines have been sacrificed to produce the Vespa office chairs here's your answer!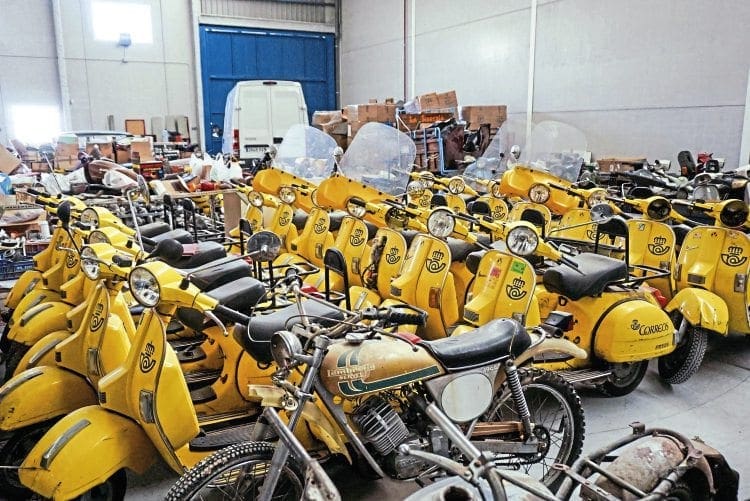 TAXING TIMES
For many years Spanish vehicles were required to display details of the owner and machine. RMC stock reproductions of the early metal plates and later tube types. The clamshell horn is one of RC's best sellers as Israel explained "It's an Indian copy but for €10 it transforms the front of a Vespa."
GO ON LAURA, EXPLAIN THAT!
Scootering would like to say a special thank you to Israel's friend Laura who took the day off work to act as interpreter. Without her assistance this article would not have been possible.
Words & Photographs: Stan

Enjoy more Scootering reading in the monthly magazine. Click here to subscribe.