The epic feature continues. With last month's Polini kit feature behind us, it's time to take a look at how adding the matching Polini exhaust alters performance.
THE EXHAUST
Last month we did a simple 'bolt on' job, moving from a completely standard P2 lump and fitting a Polini 210 kit. This resulted in a 37% power increase, which is not to be sniffed at! This gain in power is even more surprising, given that it was achieved using the standard exhaust. So it seemed an obvious 'next move' to have a look at upgrading the exhaust system.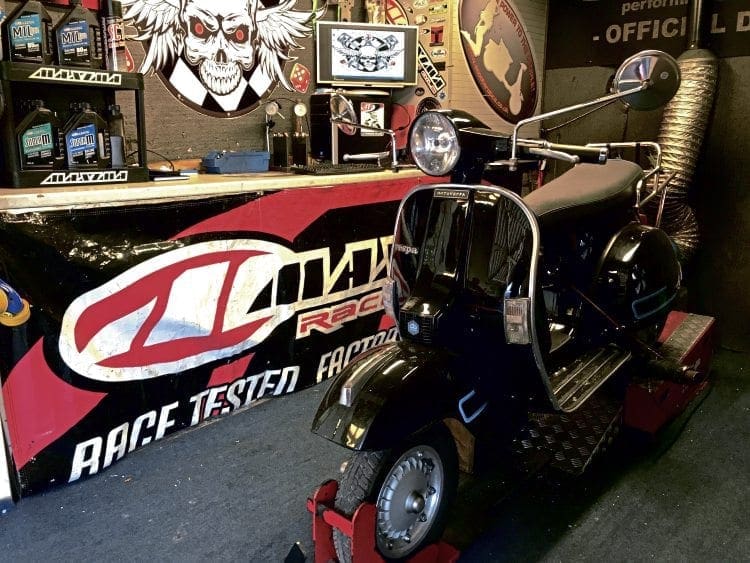 Wanting to retain standard looks, and curious as to what Polini's very own matching pipe would bring to the party, we opted for that particular unit. These pipes are readily available on the marketplace, have good build quality, and are reasonably priced at around £120.
FITTING
It's a simple process; in fact it couldn't be any simpler, which I guess is why fitting exhausts is the first power upgrade most scooter owners undertake. The harder part is actually choosing the right exhaust! Too often, people will buy an exhaust not fully understanding what its power benefits will (or will not) be, and can often end up with a gutless engine if the pipe proves to be a mismatch for the cylinder and carb.
This then gives lacklustre performance throughout the mid-range, often leading to problems when riding up hills or into headwinds, and never realising a significantly increased top-speed to compensate. In this case however, the exhaust is of the original 'box pipe' style and made to match this very setup, so should provide a nice increase in power, while retaining the original low down and mid-range grunt of the original… as well as standard looks. Fitting is also a cinch.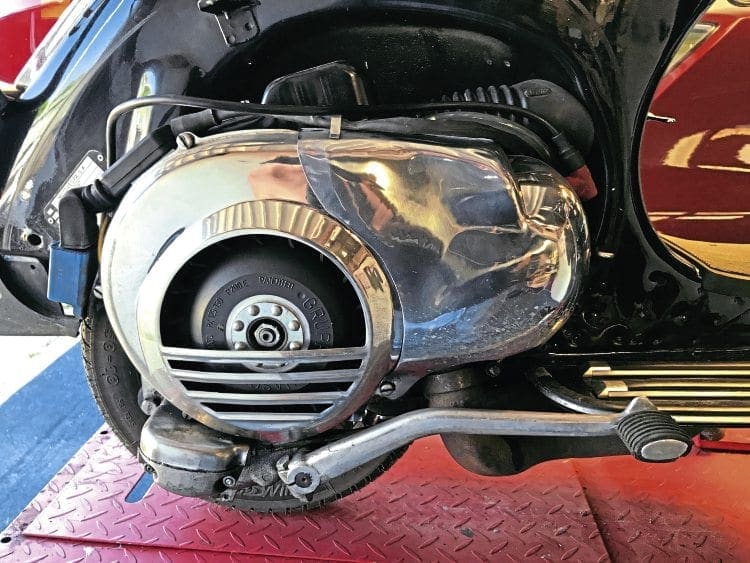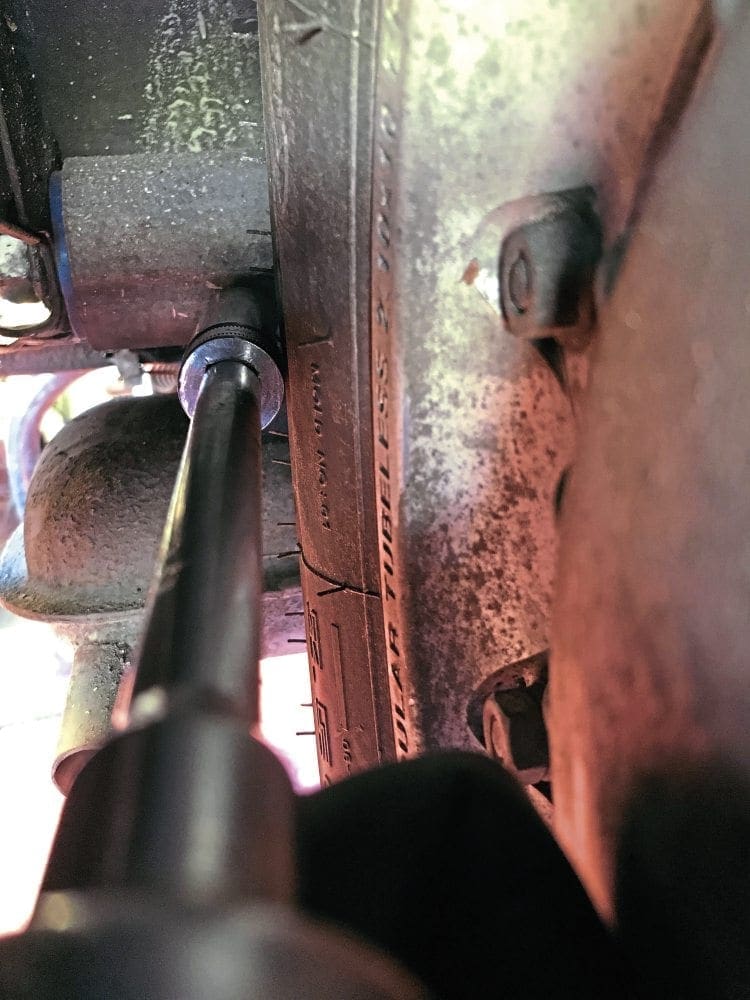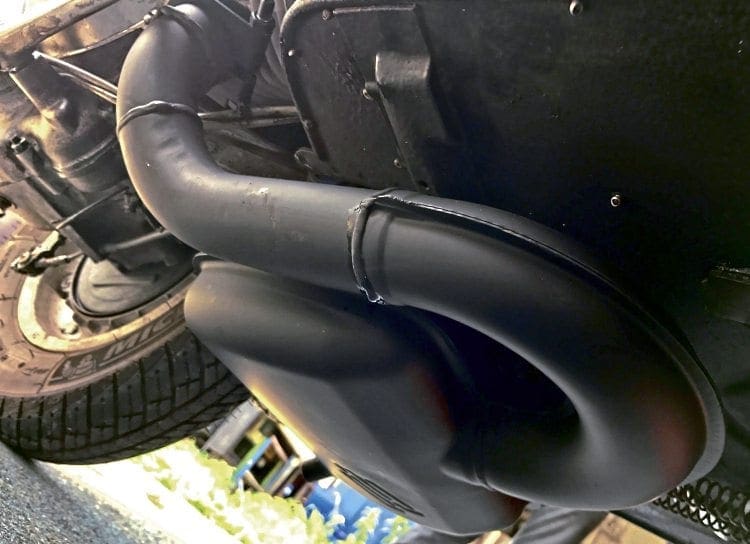 DYNO TIME
Well I must say, I'm very impressed with the results. This pipe has given the Vespa a significant and very usable power gain. The stock Vespa arrived with us showing a very predictable 9.5hp in standard trim. The additional of the Polini kit gave a 37% power increase, taking it to 13hp when still using the standard Piaggio pipe. With the Polini pipe now being fitted, the engine was showing a further 23% gain and peaking at 16hp. This shows how two simple to fit items can result in an overall 6.5hp (nearly 70%) power increase, and will make for quite a formidable touring engine, especially in conjunction with the P200 gearing. It's all too easy to get carried away, and say to yourself 'just one more tweak'… or 'I really wanted X-bhp'.
But chasing numbers on a chart, or fiddling with something which is doing just fine, is often the issue which leads to roadside problems. If I were to suggest just one more tweak to this engine though, based on what I've seen on other setups, it would be to add the 26mm 'fast flow' carb which is currently very popular. Not only does it retain standard fittings (and autolube if using), but resolves common fuel flow issues associated with Vespas, AND gives a nice little performance boost. Now THAT would make for quite the canny touring unit. That's all for now, see you next month, stay tuned.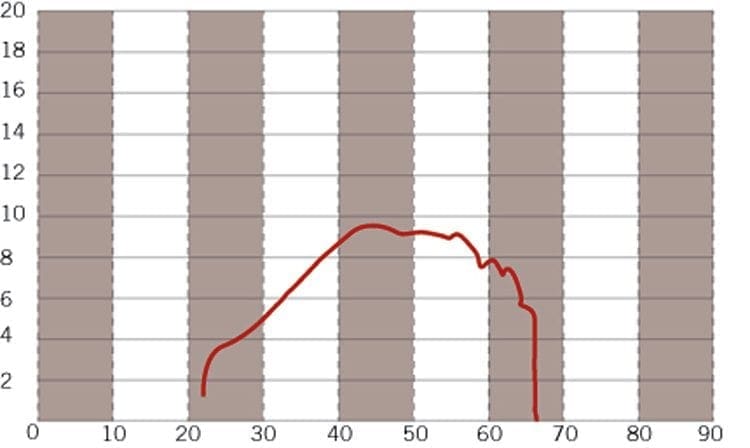 Thanks to: VE for supply of the pipe
Words & Photographs: Dan Clare

Enjoy more Scootering reading in the monthly magazine. Click here to subscribe.