In the scheme of things, I suppose six years isn't too long a time scale to produce a machine like this. The design, the fabrication of the liquid cooling, the engine build, the frame modifications, the paint and graphics — not to mention actually finding the money needed — all take time.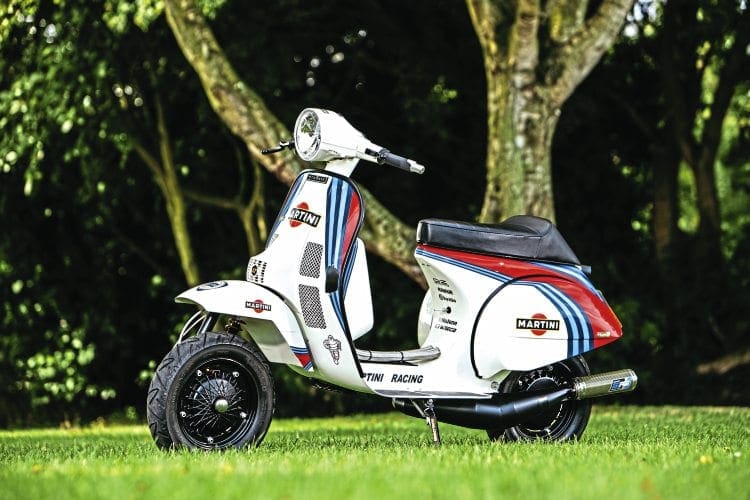 What you don't often see is a machine that's almost finished, and then left to sit for four years under a sheet in the garage. That's what happened here though. Started in 2006, it was a return to the scene for Rich after a few years playing on road bikes and more, revisiting something that he'd done previously, and trying out some tuning ideas that he'd picked up along the way. It was always going to be an LC, having history with them (a previous Vespa, a similarly cooled Malossi 166 was featured in Scootering many moons ago) and wanting to improve the power available with more modern components.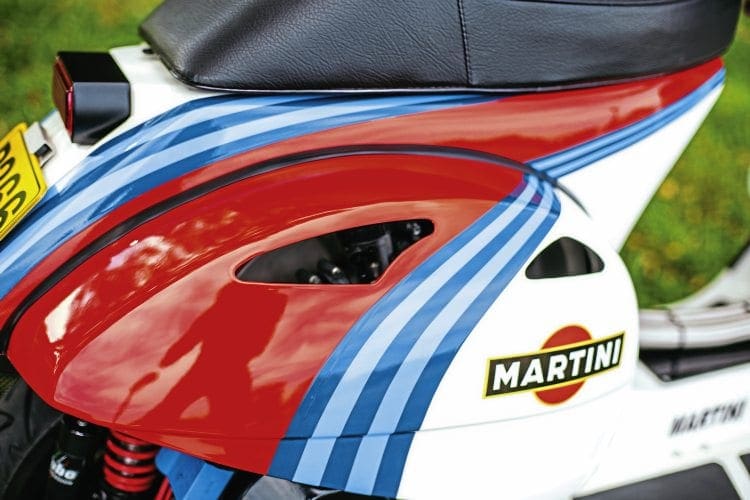 With this in mind, an extensively modified Malossi 210 kit was mated to a 60mm Series Pro bell crank, with the owner using his knowledge of porting to make sure the fuel mix supplied by the Keihin 35mm AS carb via BGM reeds (in a home-made block) could flow freely. The water cooling jacket was designed and fabricated by Rich, although he entrusted the actual welding to Didge at Mecworld. Ignition is supplied by a Keytronic 16 box of sparks, and the resulting explosion drives a 37-tooth clutch onto a standard P2 gearbox, making the 22bhp and, more importantly, 15lb-ft of torque very usable on the road.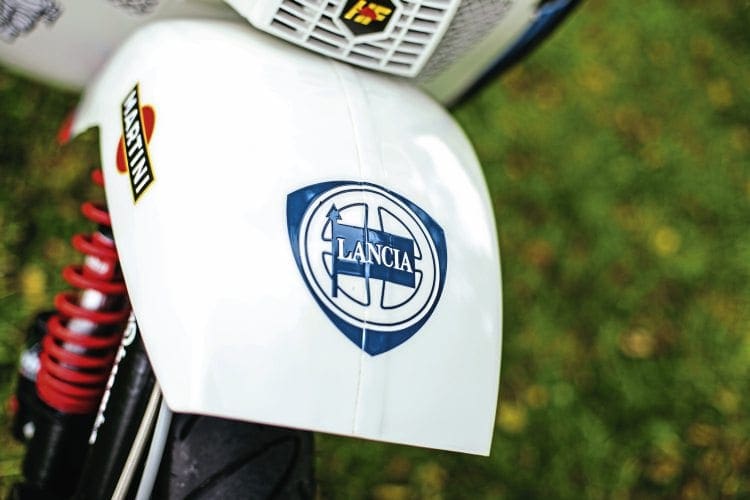 The more observant of you may notice that I've not touched on the exhaust, and for good reason. By the time this gets published, it may well be on its fourth one. Nothing special about that, other than each is made to a different specification by Rich himself, using a mixture of experience, knowledge and theory, in that order of importance. As he says, it's great reading all the theory, but when you actually build something, it won't always work as the book suggests. Over the years, he's realised that one thing that can hugely affect the performance is the temperature of the pipe, with liquid cooling possibly causing it to run cooler than ideal, and with this in mind, the water pump is adjustable to allow increases or decreases in temperature. At the moment though, Rich is struggling to get rid of a dip in the power graph, presumably caused by resonance, which gives the engine a dip in power before a second small peak in performance occurs. Other than this though, he's happy with the way it runs, and can't speak highly enough of Shiny Red Tuning who let him use their dyno to set up the motor.
All this work and it's still not finished yet. There are mutterings about starting again using Pinasco casings and more modern components… It's not just the engine that catches the eye though, the radical street racer styling is helped by well throught-out paint and frame modifications. Based on the legendary Lancia Delta Integrale rally car, the lines have been restyled to suit the scooter using a CAD (Computer Aided Design) package. The white and red paint was laid down by local painter Banger before the graphic from Vital Signs were applied. The lines inside the legshields proved to be something of a challenge, having to be drawn out by hand on the scooter before being transferred to the computer. Event then they didn't come out quite as planned, with one side not quite matching the other and having to be redone.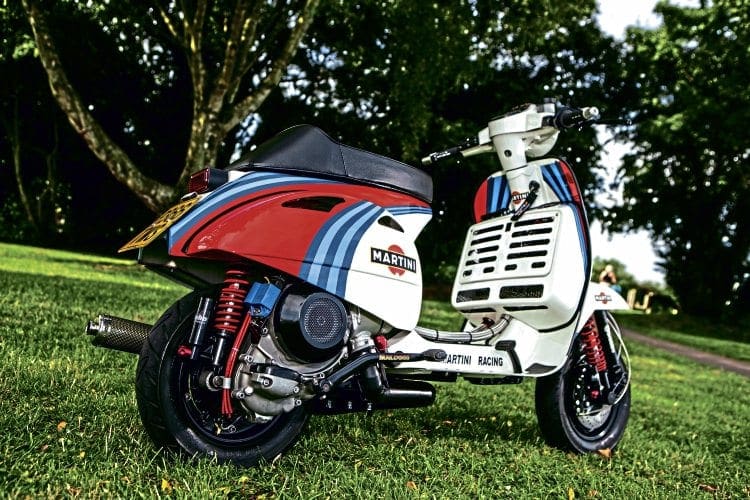 Before all this work was done though, the CAD app was used to help to redesign the physical lines of the scooter, allowing Rich to mess around before picking up the grinder. A long way from spending hours with masking tape and marker pens trying to imagine what the finished machine would be like! The major bodywork changes are supplemented by a good number of more subtle modifications. In particular, the handlebars are nice and subtle, with modifications to take the Aprilia master cylinder and reservoir, along with the Stage Six display, and the light switches have been relocated to the left hand side to clear the fast action throttle. Similar thought has gone into the design of the toolbox which is home to the pair of CR250 radiators. The slits allow for plenty of airflow, while the top has been drilled to allow access to the filler, with the rev counter sitting on the other side, a piece of kit that's probably essential on this beast of an engine, with 8000rpm being 'normal', and topping out at 8500 given a long enough run. On the dyno, the scooter hit 10k… Thankfully that sort of power doesn't transfer to the road, or you'd be looking at a 90mph+ scooter, one that Rich happily admits is 'a bit light when it's windy'.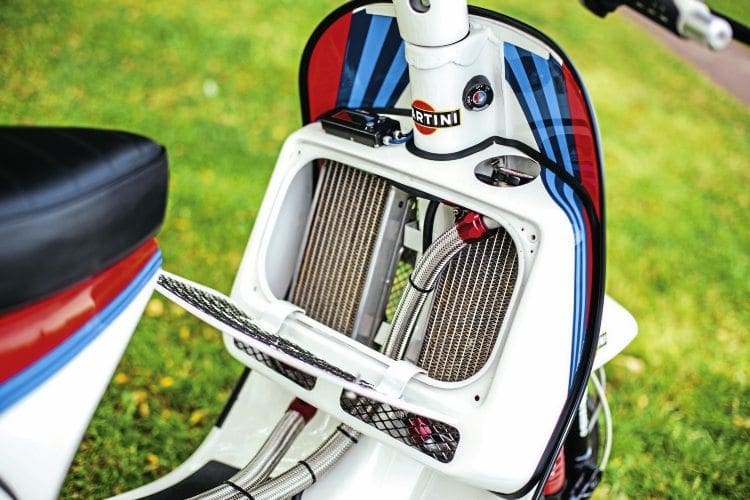 So apart from the new casings, internals and inevitable other minor changes, what's next in the pipeline? Well, another P2 has made an appearance and there are interesting plans afoot for it. Whether we'll see it before 2025 is another question though!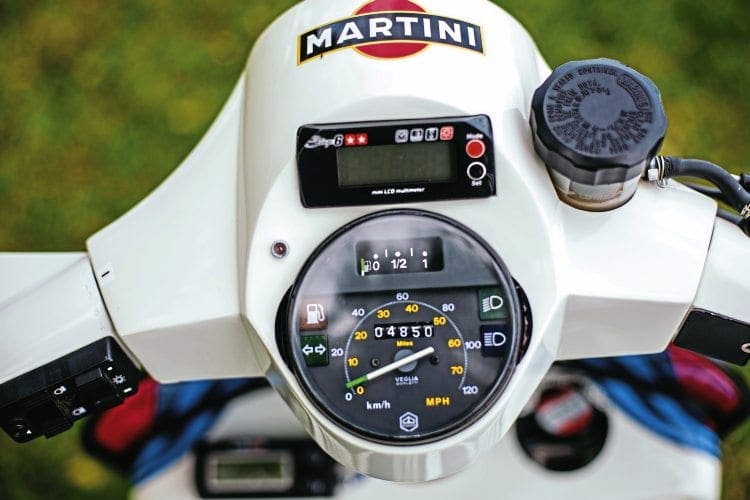 SCOOTER DETAILS
Name of scooter: PX220LC Martini Racing
Scooter model: PX200.
Date purchased: About 10 years ago for £100.
Inspiration for project: The paint was inspired by the one of the most iconic rally car ever, the Lancia Delta Integrale in Martini colours.
Time to build: Ten years, most of it by myself apart from the ally welding and the paint.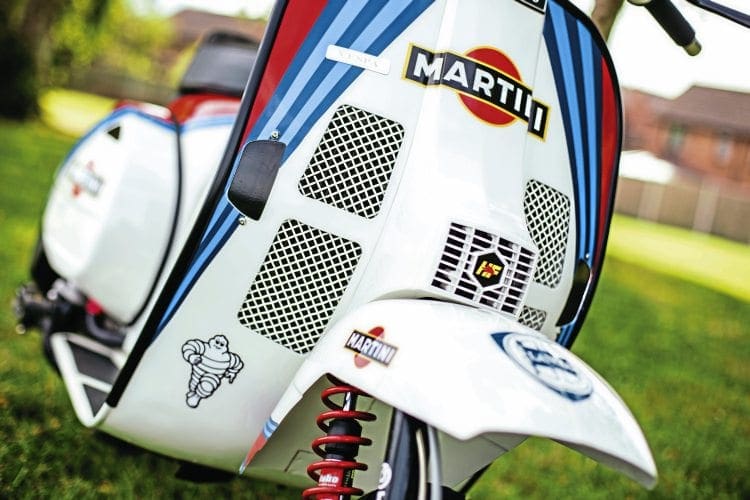 Frame modifications: Cut and reshaped panels, trimmed rear frame section with sunken rear light. Twin CR250 radiators fitted in toolbox, cooling holes for radiators, holes for cooling hoses. Frame and fuel tank cut away for increased carb and filter clearance, spare wheel brackets removed and electrics relocated. Cutdown front mudguard. Headset modified to suit Aprilia brake master cylinder, fluid reservoir and stage 6 display. All done by myself.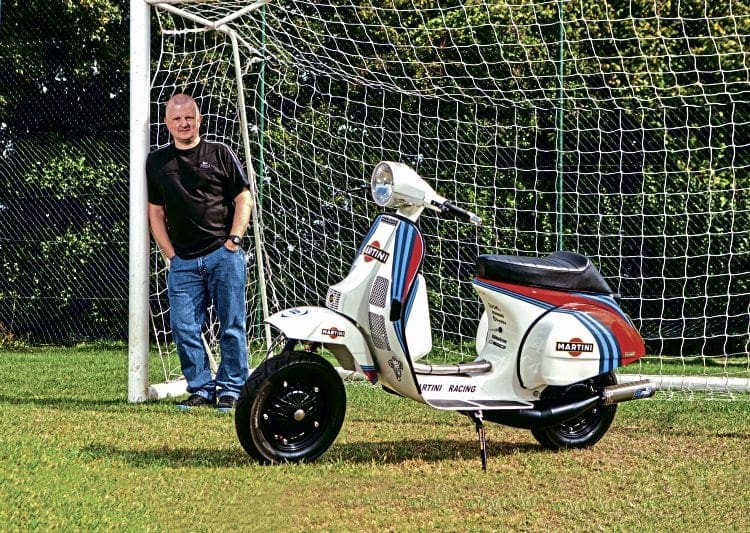 Specialised parts: Water-cooled Malossi barrel and water-cooled standard head, all the ally fabrication was by myself with the welding done by Didge at Mecweld. Self-made reed block and inlet manifold, self-made exhaust, one off flywheel cover, VW water pump with adjustable water pump control, Strengthened side stand to prevent floorboards bending.
Engine: Malossi 210 original.
Crank: Series Pro 60mm Bell Crank
Carb: Keihin 35mm AS, SIP fast flow fuel tap, BGM reed valve, Flywheel machined down to 1500g.
Ignition: Kytronic 16 map.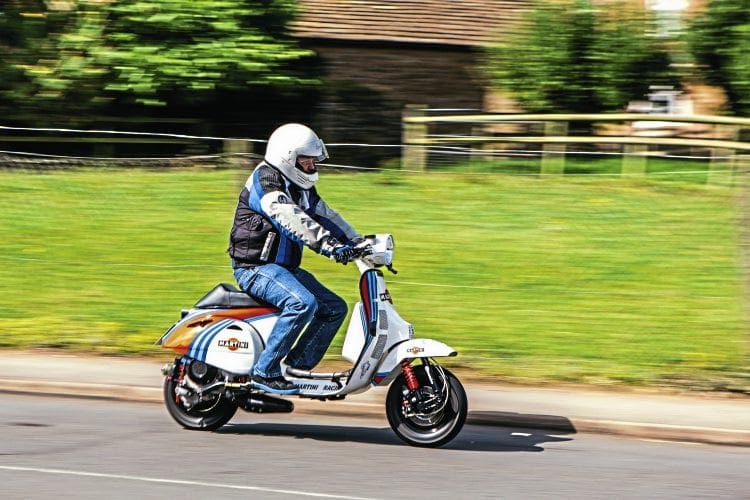 Exhaust: Self-made expansion with SIP silencer.
Clutch: BGM superstrong with SIP springs and XL circlip,
Gearbox: P200 with 37T DRT 4th.
Porting work by: myself.
Dyno done by: Shiny Red Tuning in Stroud. It's currently producing 22bhp and 15lb-ft.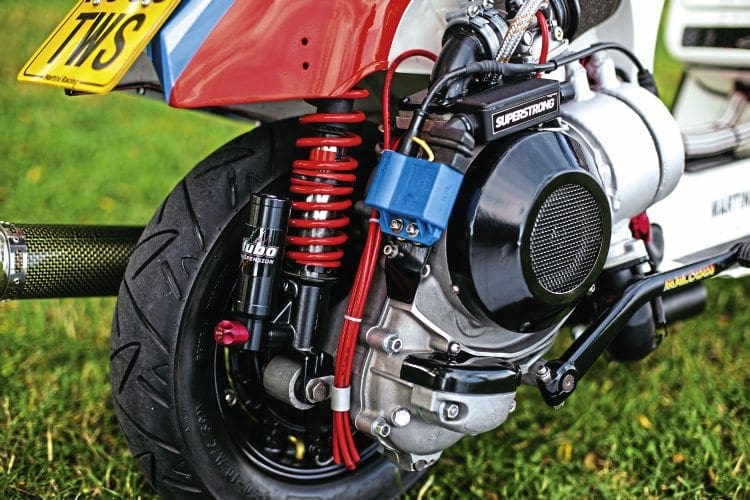 Other unique details: The barrel base was skimmed by 0.5mm to give timings of 118/178 with a 60mm crank. The barrel top was also extended by 4mm to allow the head to sit into the bore to centralize it. The exhaust port was widened, lowered and a one off bolt-on exhaust flange fabricated. The bore was then ceramic plated at Aptec in Gloucester. CR is 10.5:1 with a squish of 1.3mm. The cylinder head needed to be put through vacuum impregnation to seal it, works well so far.
Top speed: On current gearing it's about 75mph.
Paintwork: Banger at PRH, Stroud, prep and paint, Vital Signs in Stonehouse, graphics. Powder coating: Pete Marks in Stroud.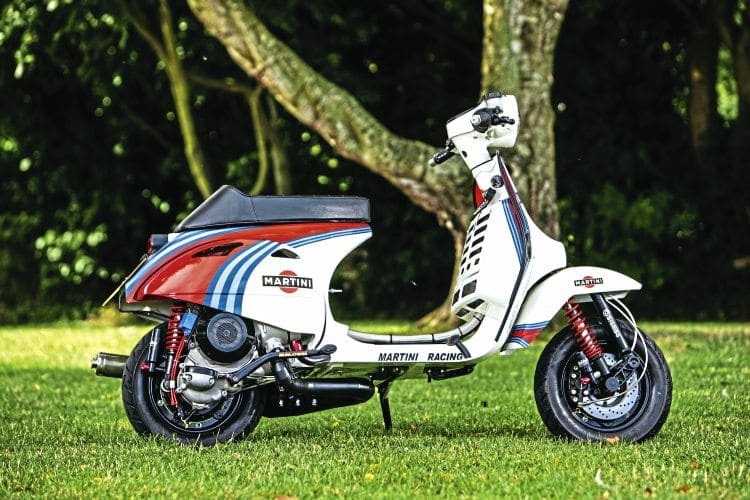 Overall cost: These things are never cheap.
Hardest bit: Probably keeping going with something that's taken so long to complete.
Any advice or tech tips: When it's freezing cold in the garage and all going wrong just remember it's a hobby and you're supposed to enjoy it!
Anything still to add: Pinasco casings, SIP speedo, new gear ratios, maybe another exhaust. Anything you would have done differently: The shocks, tyres, exhaust, carb, clutch, crank, ignition, seat, grips, battery, were all different when it was first built.
Favourite dealers: SCK, SIP, SRT.
Thanks: Banger at PRH. Gary at Shiny Red Tuning. Gus for the barrel and many others who have helped over the years.
LANCIA DELTA INTERGRALE
Between 1987 and 1992, Lancia dominated the World Rally Championship Group A with the legendary Delta Integrate. Winning a record-setting six consecutive constructors' championships, taking in 46 victories along the way. This enabled Finnish driver Juha Kankkunen and Italian Mild Biasion to take four individual titles along the way, Kankkunen winning in '87,with Biasion taking the title for the next two years before the Finn took the title again in '91.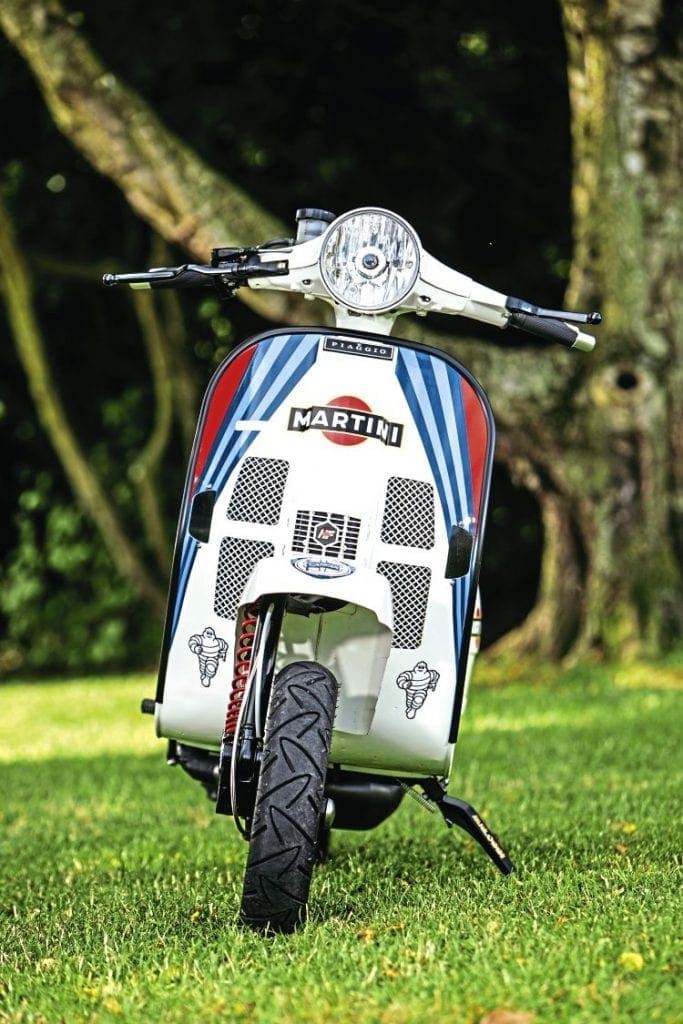 It wasn't only on the World circuit that they dominated. The European circuit also gave them an unprecedented amount of success, winning the overall title every year between 1987 and 1991, before a last success in 1993 gave the model a worthy send off. Sadly, this was the last time the company had any real success on the circuit, leaving rallying for the last time in 93, but statistically they remain the most successful company to ever compete in rallying.
Words: Nik
Photography: Gary Chapman

Enjoy more Scootering reading in the monthly magazine. Click here to subscribe.