Cambridge Lambretta Workshop or 'Cam Lam' as it's better known, has a well-earned reputation for quality restorations and tuning. Scootering paid them a visit to see exactly what's behind this well-known name.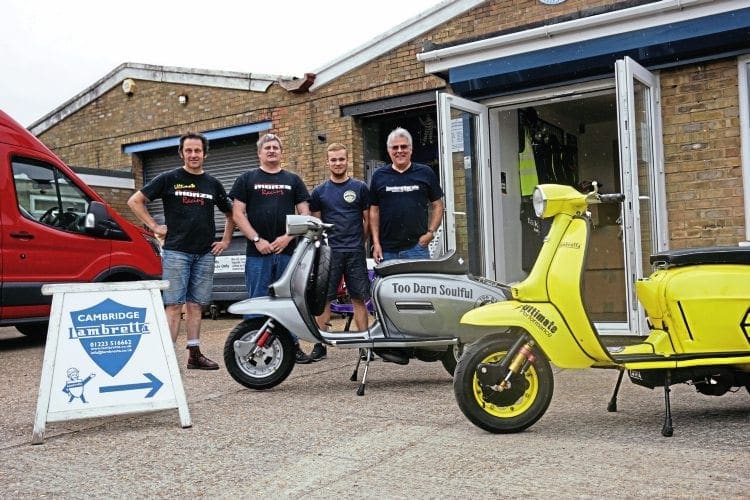 From humble beginnings
"It all started in a caravan outside a council fiat in Cambridge," explains owner Trevor Peat. "With 'Crazy' Chris O'Connor I'd been attending rallies for a few years but in 1989 no-one down south was really that interested in scooters, it was mainly a northern thing. If you wanted to repair or rebuild a machine you had to do it yourself. After a few years I'd got a small business running and in 1995 I decided to try and make a go of it.
"In honesty I was in a very small market and it was more of a paying hobby. Over the years Jason Heard, Ben Frost and Ian Todd have all helped me to build up the business. I'm grateful to them all and particularly my lovely wife Susey who keeps the office side of things in order."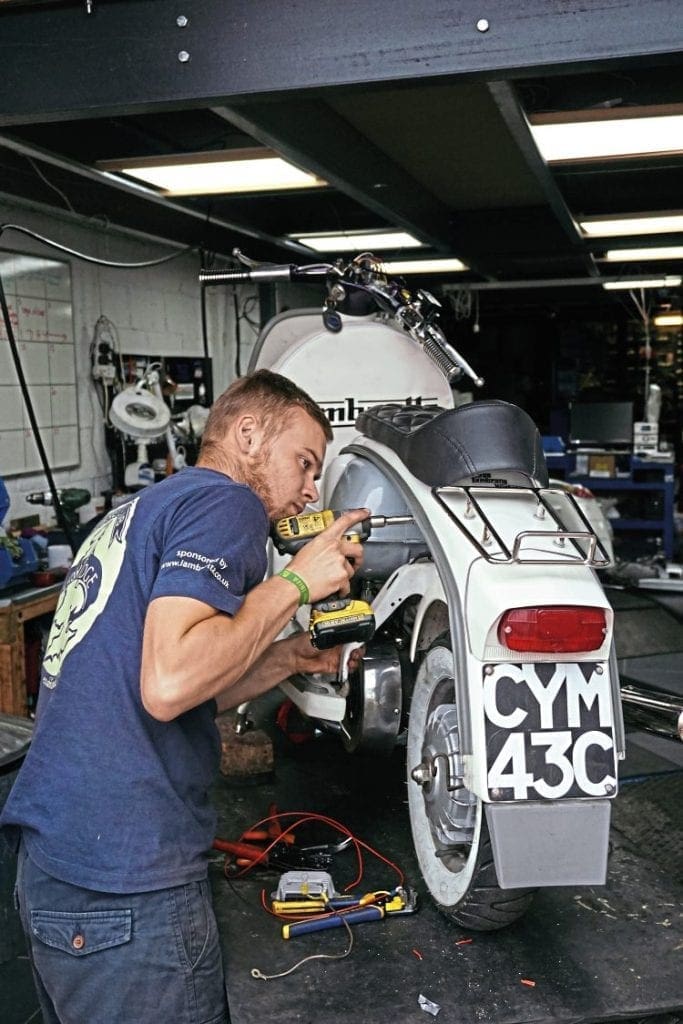 Although Trevor is a man who exudes enthusiasm for his work (when telling stories he repeatedly uses the phrase 'that was fun') he's quite modest with regards to Cam Lam's success. Earlier this year the company bought its own unit in St Ives, just outside Cambridge. Although Trevor describes it as a work in progress it would be the envy of many scooter shops around the world. From the tiled floor workshop through to an extensive spares holding and a well-stocked showroom there's no doubt this is an operation that takes itself seriously.
Going online
Having established itself Cam Lam could have easily settled into a steady routine with a ready market for its restorations, examples of which can be found as far afield as the United States and Australia, but Trevor's not that kind of person. "We'd been running as a professional business for a couple of years when a good friend told me that if we didn't sell spares we weren't really in the game. They were right and I'm proud to say that we were one of the very first to offer a 24/7 mail order spares online service."
The spares side of Cam Lam illustrates Trevor's approach to business. Most would recruit a scooterist and take it from there but Cambridge Lambretta approached it from the opposite direction. "Our spares department is a big part of what we do and that's due to the guys I have working in there," says Trevor.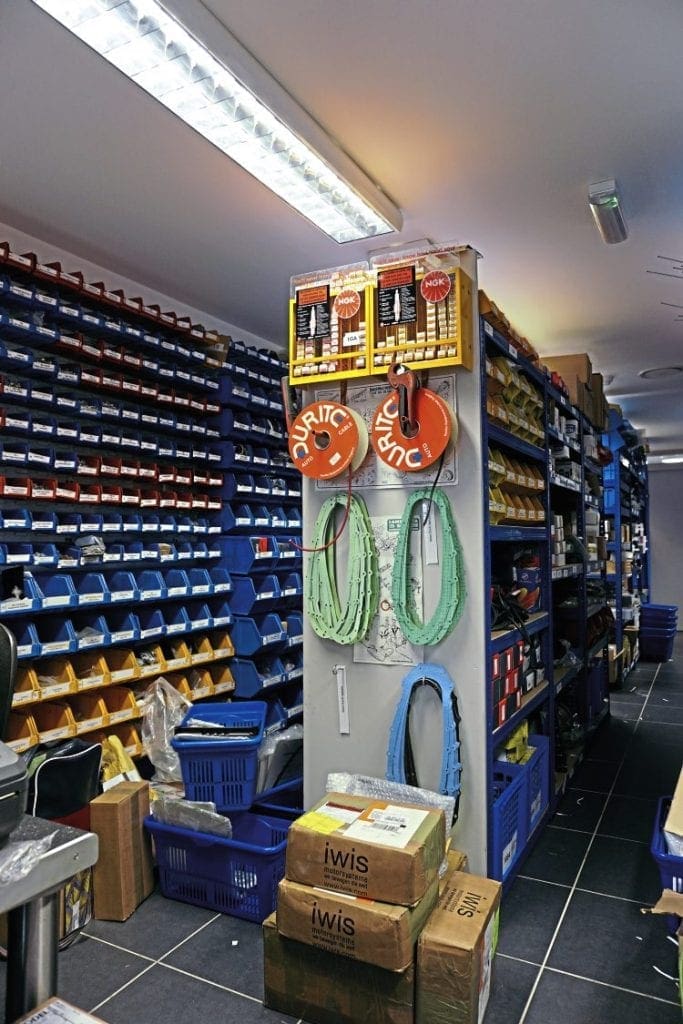 "Peter Bowden was the first to join us, he'd got a background in the motor trade and he was later joined by Ian Brighty, who'd worked at Lucas parts for over 20 years. They both know their way around a scooter but more importantly they understand how to manage stock. The two sides of the business complement one another as by using the parts we supply I understand what the quality's like and the workshop can always advise on any technical queries."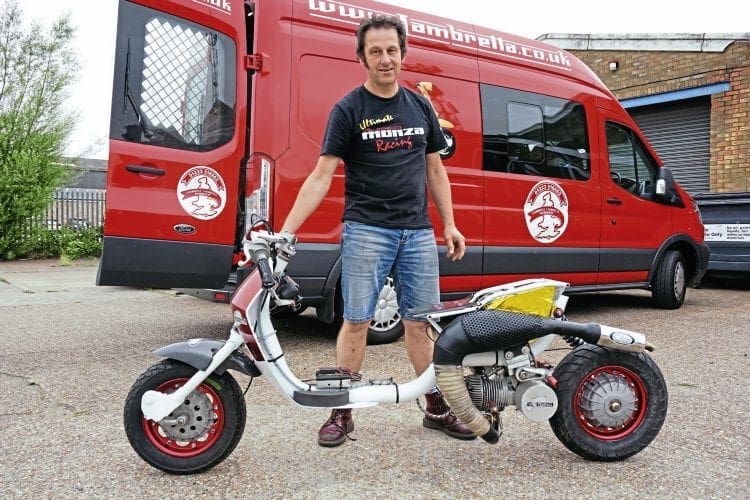 If anyone hasn't looked at their website for a while it's certainly worth exploring. It's so much more than a mail order catalogue, containing a wealth of information and sources of reference.
Bringing in the big guns
However well managed, all businesses depend on an element of luck. Trevor explains that the business owes a great deal to the involvement of two people, both influential but one much better known than the other. "Things were going well but all I could offer was stage 4 tuning and it wasn't really my area of expertise. Our first break was at Euro Lambretta in around 1999. There I met Tino Sacchi, we got on and I became an agent for his products. We've become well known for supplying his range of performance equipment – Imola, Mugello, Monza, Super Monza and of course the Targa Twin. We've got a lot of experience with these now and although it's possible to fit them straight out of the box, I'm proud to say that we know how to get the best out of them." Cam Lam is the main distributor for the new Targa Twin 275 engine and Targaline products.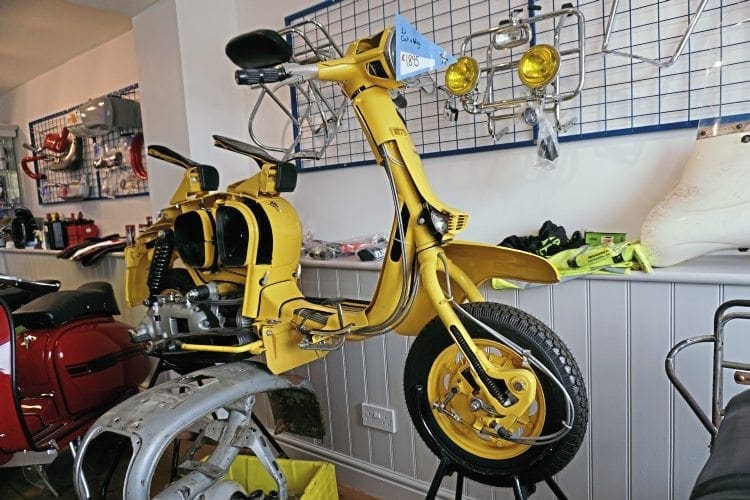 The second major development came as the result of Trevor's interest in scooter sprinting. "Sprinting is good fun but it also acts as a proving ground for us – if something can survive that then it's good for road use. We were having a good laugh but not really achieving the bhp needed. I had heard Charlie Edmonds' name being spoken about and thought he was some old guy working in his shed. When I met him I found a young, focused racer who not only understood tuning but who was able to explain it in terms that I could understand. We've established a very productive relationship with Charlie's Performance Tuning business and there's no doubt he moved us on to the next level. He made riding Lambrettas and coming to work fun again."
Charlie's involvement has converted Trevor to the need for power jets, which he believes are vital to maintaining a tuned engine, particularly when combined with their varitronic ignition system, which had been developed by Charlie for Cam Lam.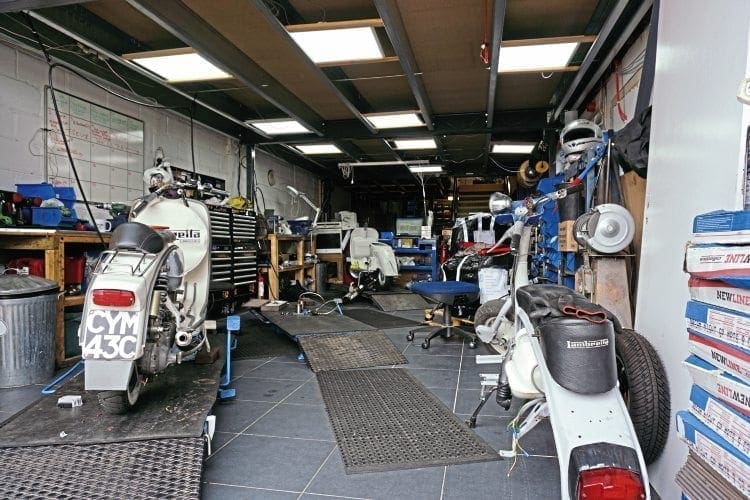 "People will quite happily pay for performance kits but seem to be reluctant to spend money on ignition or fuel management," says Trevor. "Developments in fuel technology aren't always compatible with old two-stroke engines, meaning that it's more important than ever to monitor fuel burn. It's often more cost effective to invest in these areas than to keep on rebuilding."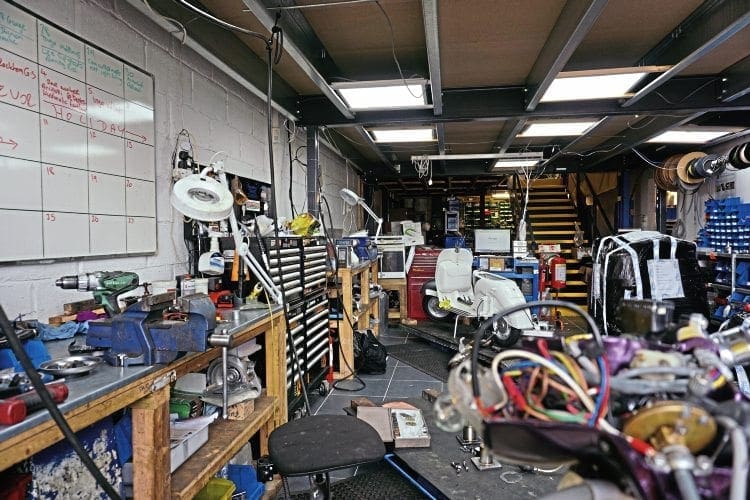 Trevor also thanks Charlie for introducing a practice he believes sets Cam Lam apart from the competition. "Every engine that we rebuild, standard or tuned, leaves our workshops having been pressure tested. Unless the crankcase and cylinder are air tight, any assumptions made about jetting, exhaust and performance are flawed. A leak proof engine operates consistently and can be fine-tuned with greater accuracy. We believe in this so strongly that we've manufactured specific tools for use on both large and small blocks that enable us to do this accurately."
The Ultimate touch
As Cambridge Lambretta has grown it's developed its own branding. "Anything that we or Charlie Edmonds have specifically developed or applied our expertise to we brand as 'Ultimate' and I think there's a lot of scope for us to develop that concept" explains Trevor. "At the moment there's a lot of investment in high end performance but the majority of customers come to us with the same basic request — it needs to cruise around 60-65 all day with power on hand to overtake, look standard and be affordable'. That's where most Lambretta engines live and it's an area we're seriously working on to improve. I'm not going to say too much at the moment but I'm quite excited about the future."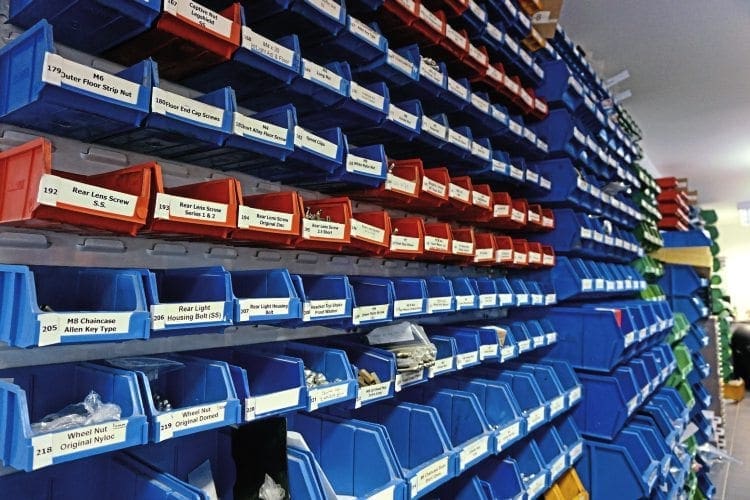 One thing that came through strongly during our visit was that Cambridge Lambretta is staffed by people who are professional, enjoy their work and have real passion for scootering. Despite the name Cambridge Lambretta, they also work with Vespas and offer routine servicing. With an MoT station next door, they cater to scooterists' everyday needs as well as supplying more exotic products.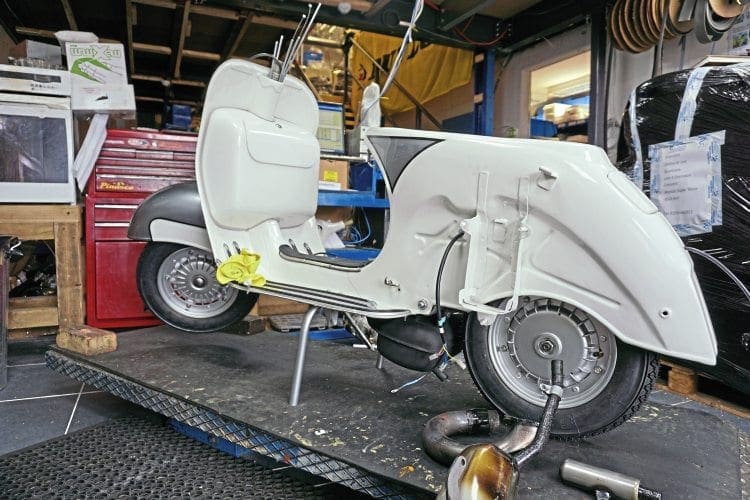 Have we seen the Ultimate incarnation of the Cambridge Lambretta brand? Most certainly not. Keep an eye on Cam Lam; interesting things are on the horizon.
POWER JETS FOR DUMMIES
The first thing to understand about power jets is that they're badly named as when fitted they can actually reduce bhp very slightly, yet anyone with a tuned engine should consider fitting one. Why? Because they'd be better known as safety jets and add an extra dimension to keeping a tuned engine running well.
One thing that occupies more discussion on forums and in pubs across the country is jet-sizes as however well a carb may be set up its jetting is inevitably a compromise. This is why most modern vehicles are fitted with computer controlled fuel injection systems that are capable of instantly adjusting the fuel/air mixture as required.
Anyone who's been around scooters for a while, particularly in pre dyno days, has at least been present when a piston has holed. Many have suffered it themselves and know the cost of putting things right. In almost all cases the piston failed because of an overly lean mixture. This may well be down to incorrect jetting but even the best prepared engine is at risk when the throttle is closed suddenly. For the short time it takes for engine braking to set in, the mixture is far too lean and particularly in tuned engines running at high rpm, it's very possible for the burn temperature to reach a critical point with terminal results for the piston.
A power jet is a self-contained fuel feed that responds to a vacuum which is created when the throttle has been closed but the engine is demanding more fuel. Without increasing rpm, it creates a richer mixture, cooling the burn temperature until the vacuum settles and the mixture returns to normal — leaving the piston surviving to fight another day.
Words & Photographs: Stan
This article was taken from the October 2016 edition of Scootering, back issues available here: www.classicmagazines.co.uk/issue/SCO/year/2016

Enjoy more Scootering reading in the monthly magazine. Click here to subscribe.