A trio of tasty Lambretta Li's: Two bespoke customs with plenty of trick aftermarket items and one-off parts plus a rare street-custom Series 4… Gary's lucky man.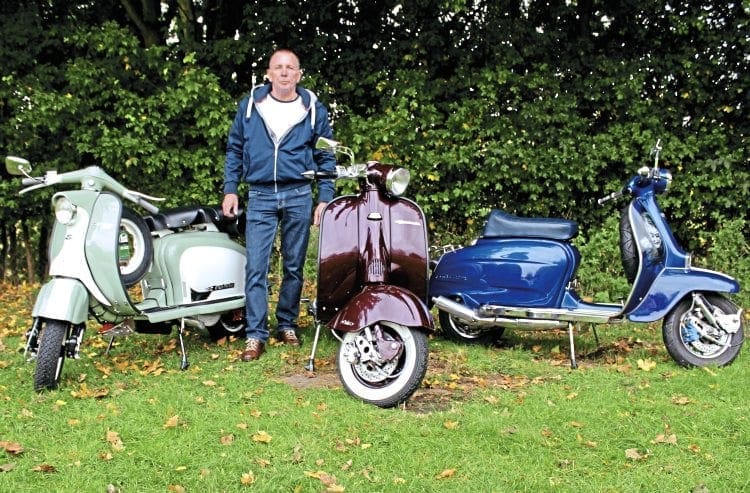 About the owner
Gary Richmond has only recently experienced long distance riding, despite a long involvement with scooters. His initial interest came via his older brother.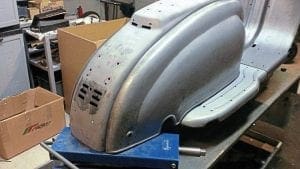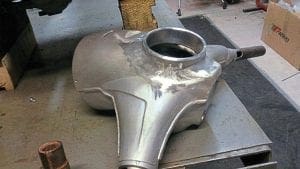 "My brother had an Li 150 when were in our teens; once he passed his car test and bought a Triumph Herald I sort of inherited the Li," he says. "Though it was always owned by him, I used it for getting about. I remember waking up one morning in the 70s looking out the window and the Li wasn't where it had been parked up.
"It had been nicked! I rang my brother to let him know Andy his reply was 'it looks like you'll be getting the bus to work then'. Like many others, Quadrophenia was a big influence on my. Though I'd been riding my brother's Li before then, it's still one of my all-time favourite films. I've always been into the scene, but getting hitched, having kids and buying a house make it hard.
"Six or se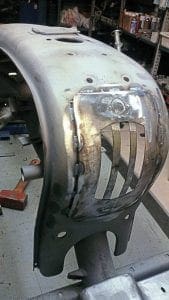 ven years ago I was done in Camden and a load of scooters went past, that was when I decided it was time I got one. I was initially expecting to pay around £1500, but after looking for a while I decided I definitely wouldn't go over £2000, and then later perhaps £2500. In the end I pad £2800 for a green Li 125 Series 3. I bought it off a lad from Leeds Crusaders Scooter Club about five years ago now. It was absolutely spot on, never missed a beat the whole time I had it. My very first rally was Santa Pod 2013, then the Isle of Wight the same year.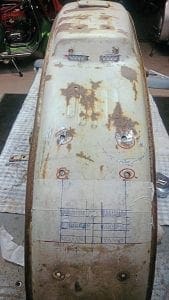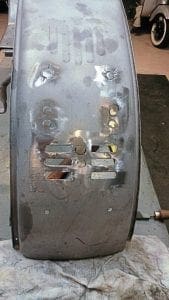 "I've ridden to that rally every year since. I did the Guernsey rally early(ish) 2016, which was the first time out on my Custom Lambretta (Milan) Series 2. I'd say for certain, without any question it's vintage Italian Lambrettas that are my passion. I got the Series 4 from off someone in Manchester via eBay and I had both my Series 2 and Series 1 built in Italy. I'm currently working on a deal that should result in me getting another Series 3 as well, then I'll have a full set of Li Lammies to choose from – Series 1, 2, 3 and 4!"
OWNERS DETAILS
Name: Gary Richmond
Scooter club & town: Oxford Road Runners
How and when did you first become interested in scooters: 39 years ago when I was just 15, I liked the Mod and ska scene.
What was your first scooter: Li 150 – 1964 – it was my older brother's which I used every day to get to work and back.
What is your favourite scooter model: SX 200
What is your favourite style of custom scooter: Vintage custom.
First rally or event: Santa Pod 2013.
How did you get there: On my Series 4.
Favourite event: My favourite so far, which I have attended three times, is the Isle of Wight.
Furthest you've ever ridden on a scooter: Oxford to Guernsey Rall 2016.
What do you like about rallies/events: Meeting new people with the same interests along with the good atmosphere at each and every event, whether it's a rally or just a ride out.
Your favourite Scootering magazine feature: The main features and rally reports/reviews.
Your favourite customer/featured scooter of all time: Legends of Man, I love the Isle of Man TT racing.
If you had to recommend one scooter part of one item of riding kit what would it be: A good full face helmet.
Custom Lambretta (Milan) Series 2: Bergano
For his custom Series 2, Gary opted to commission a (at the time) relatively new company based in Italy, Custom Lambretta (Milan).
"I was looking on the internet with a vague idea of getting myself a Series 2, I saw a customised Series 2 on a social media site and really liked it. After a bit of researching I found out it had been built by Custom Lambretta in Milan, the price was around six grand. I decided I'd got to Milan for a long weekend and call in on them. I got in touch with Alberto, the man to contact and arranged to visit Custom Lambretta, booked a flight from Stanstead. It was January 16, 2016, and it was an absolute nightmare at Stanstead that day – I was delayed.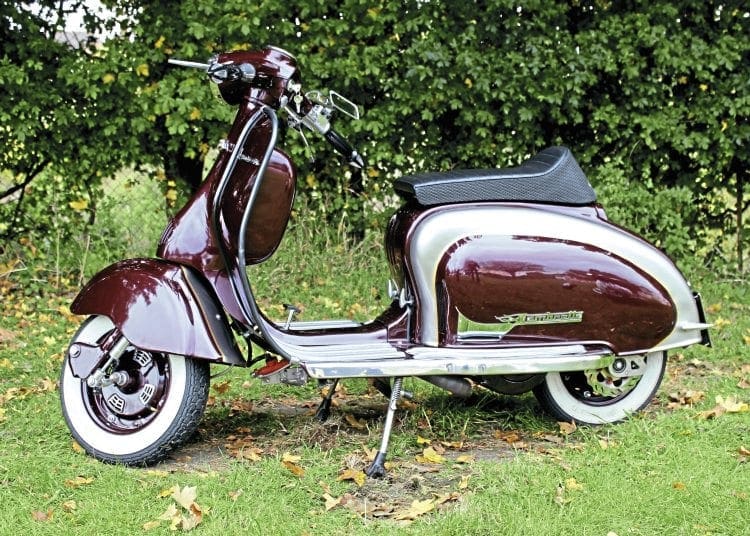 "I called Alberto to say the flight had been delayed and I think he thought I was messing him about, I rescheduled to call at his house early on the Saturday morning. Next, the car I'd hired in advance was hired to someone else. Finally on Sunday I got to Alberto's place, from there he took me to meet Claudio, who is the hands on builder of their custom Lambrettas, he didn't speak a word of English, and I don't speak Italian!
"Over in the corner was a rusty Series 2 frame, which, via Alberto acting as part interpreter, Claudio agreed would be the one that would become my Series 2. Engine wise it's a 196 Stratos top end, with a Pacemaker box running a 16 tooth front sprocket. It's also running a Stratos exhaust, the original twin tailpipe had to be replaced with a stinger, basically because it was too noisy as it was.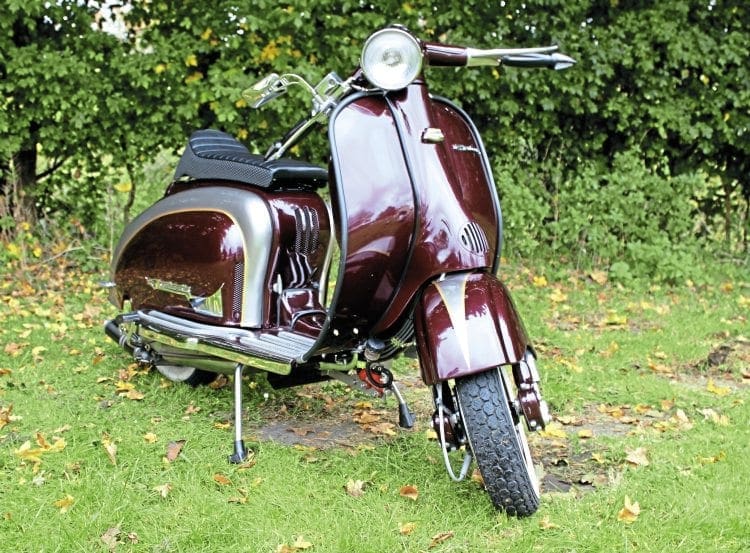 "Alberto and Claudio kept me updated on progress via pictures. Hardest part of the build was awaiting the Brembo hydraulic outboard rear disc brake to be tested, approved and given the okay. That took what seemed like a never ending 50 days. The burgundy and silver paintwork, with gold pin striping wasn't what I had in mind to start with, but they sent me a picture of a motorbike using a similar combination of colours. I'm over the moon about the colour and the scooter."
SCOOTER DETAILS
Name of scooter: Bergamo (the name of the province where it was rescued from)
Model: Li 125 S2 1960 Italian.
Date purchased and cost: May 2016, around £6500.
Inspiration for project: Always liked the S2 but wanted it to look a bit different and have my own mark on it.
Time to build and by who: Eight months by Custom Lambretta Milan.
Any farm modifications: LD front mudguard modified with hidden fixings lugs. Welded tool box door with vents inserted. Vented side panels. Rear brake lights set into under seat vent.
Are there any specialised parts: Harley-Davidson handle rgrips with side lights on tips. Rear Brembo Disc Brake.
Engine kit: 196cc Stratos with GP Race Head.
Crank: GP200.
Carb: 25mm Dellorto.
Exhaust: Stratos.
Clutch: 5-plate.
Gearbox: Pacemaker.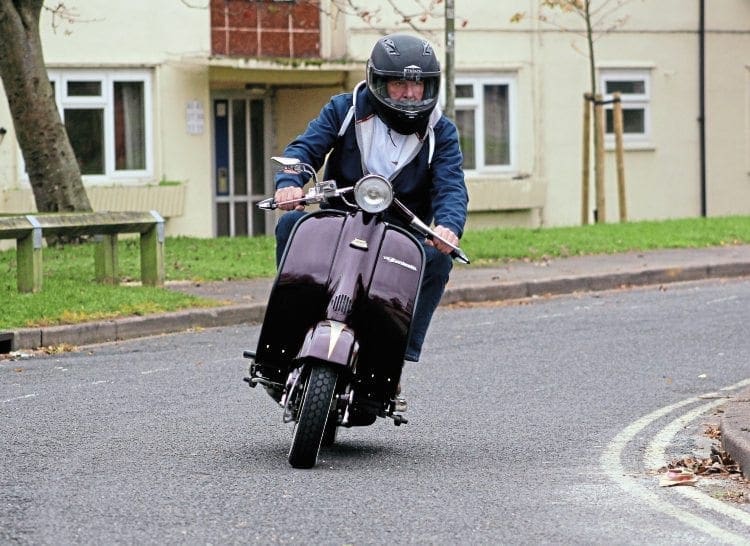 Other items: Front disc brake, custom-made badges, long range fuel tank, Smith's speedo, dropped front bars, Ducati ignition.
Top and cruising speed: 60-70mph.
Is the scooter reliable: It has been very reliable (so far).
Paintwork and murals: Vintage burgundy and silver with gold pin stripe piping. By Custom Lambretta.
What was the hardest part of the project: The 50 day wait for the rear disc brake to be tested.
Do you have any advice or tech tips fo anyone starting a project: Get Custom Lambretta to build it.
With hindsight, is there anything you would have done differently: Nothing.
Is there anyone you wish to thank: Claudio and Alberto from Custom Lambretta , Milan for putting up with me.
Custom Lambretta (Milan) Series 1: Bergamo 2
"By the time I collected the Series 2, I'd built up quite a friendship with Alberto and Claudio, I liked the quality of their work, their customer service and by then the missus had been pestering me to get a scooter she could go on the back of. When I collected the Series 2, I placed an order with Custom Lambretta for a Series 1 with twin seats – strict instructions from the missus the twin seats was!
"I liked the slightly dropped handlebars on my Series 2 and discussed having dropped handlebars on the Series 1 with Claudio, via Google Translate. We decided to have dropped handlebars, which do look good, however, in practical terms, with single seats it turned out not to be so clever. I may be having the handlebars changed in the near future. Specifications on my Series 1 differ from the Series 2 – we opted for a Casa 185 top end running a standard 150 gearbox, with an Ancillotti exhaust. Claudio calls the engine setup a workhorse engine. I liked the handmade twin chrome tailpipes as were originally fitted to me Series 2, although they were too loud on the Stratos exhaust they are fine on the Ancillotti, and add to the look of the Series 1.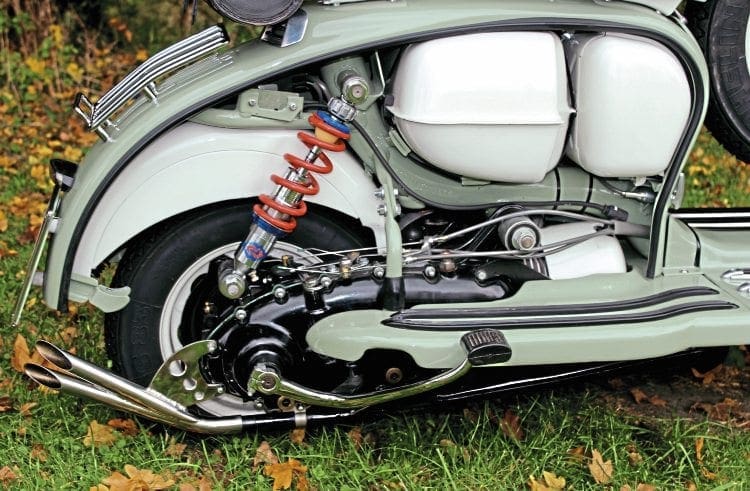 "Rear disc brakes setup is a Mk 2 Brembo, which looks really nice all black. To start with I went for a leg shield spare wheel carrier, which didn't fit as well as I'd liked, especially with the riding position caused by the single seat/drop handlebar combination. I changed the carrier for one that goes in the middle between leg shield and toolbox door, which is much more practical as well as giving me more legroom.
"Choosing the colour combination was a bit of a mission as I had to keep my good lady happy, the green and white combination we settled on looks spot on. One delay in getting the Series 1 properly on the road was getting tied up in official red tape, registering the scooter with DVLA took a while, as this time they sent a chap round to check frame and engine numbers before they'd issue me a UK number plate. Over the last few years I've registered four or five scooters, all barring the Series 1 went smoothly."
SCOOTER DETAILS
Name of scooter: Bergamo 2 (the same province as my S2 came from).
Scooter model: Li 150 S1 1959 Italian.
Date purchased and cost: May 2016/£6800.
Inspiration for project: Was very impressed with my first one and wanted to be able to take a passenger.
Time to build and by who: Five months by Custom Lambretta, Milan.
Any frame modifications: Vented side panels. Dropped handlebars. Single LED small back light. All by Custom Lambretta, Milan.
Are there any specialised parts: Dropped handlebars. Handmade chrome tail pipes.
Engine kit: Casa 185.
Crank: GP200.
Carb: Scootopia.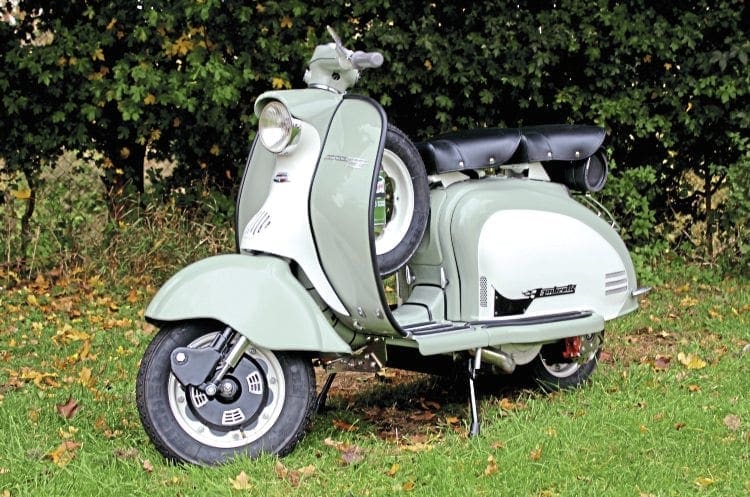 Exhaust: Ancillotti.
Gearbox: Standard 150.
Other items: Custom made badges.
Is the scooter reliable: Fingers crossed!
Paintwork and murals: Custom Lambretta, Milan.
Is there any chrome: Handmade chrome tail pipes also done by Custom Lambretta, Milan.
What was the hardest part of the project: Picking the colour and keeping the good lady happy.
With hindsight, is there anything you would have done differently: Probably not have dropped handlebars with single seats.
Series 4 Li150 – The Joker
"I bought my Li Series 4 off eBay for £3200. I went up to Manchester to collect it one evening. It looked good in the pictures with a dark blue paint job offset with chrome fitting under the panels. Shortly after getting it back home I discovered that the paintwork was lifting off the flooboards, pretty much lifting as a sheet!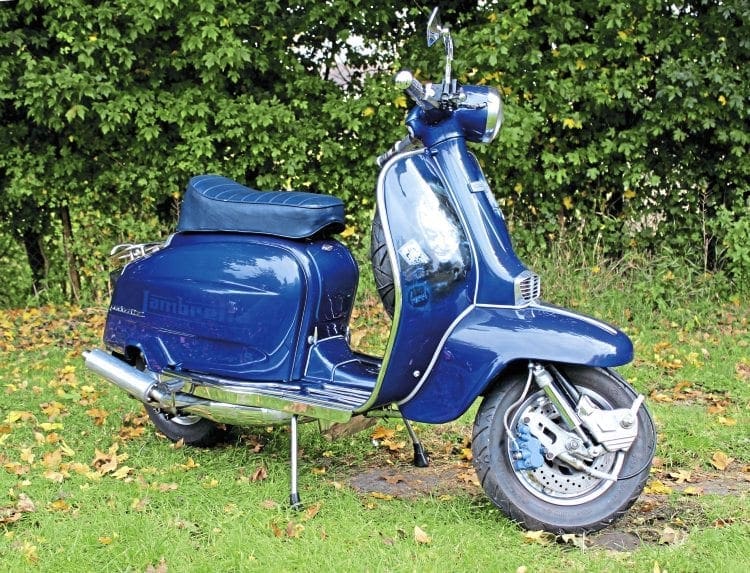 "I took the Li to a local business; Sean's Paint shop in Wallingford, where it had the paintwork stripped and a total respiratory in blue candy apple with Lambretta logos and insignia ghosted onto the bodywork. I wanted a Lambretta badge ghosted onto the legshields, which was duly supplied, but on the inside of the legshields instead of the front of them. Which means that a bit of artwork is hidden by the inside legshield spare wheel carrier!
"I suppose the sprayer misinterpreted what it was I wanted! I then took the scooter to Darren at Liquidblack who airbrushed the Joker and England flag murals on the front of the legshields. when I first got my Series 4 I didn't realise that it was a very rare Innocenti production model. Researching it, I soon found out as much as I could about it. Apparently there were only around 1400 of them made. It was only made as a Li 125. It's got the later, GP type push-in fork buffers which are in keeping with the frame number.
"While the respiratory was being done I had the engine stripped, checked and rebuilt. It has a Mugello 186 top end, tuned by Mike Mezz Moto, it's been set up to run a 28mm Dellorto carb and a Sterling exhaust system. Once all back together I took my Series 4 to be set up on a dyno, it puts out 18bhp, on a good day it'll touch 75mph top speed. It's very reliable, never missed a beat. I've clocked up more miles on the Series 4 than I have, so far, on my other scooters."
SCOOTER DETAILS
Name of scooter: The Joker
Scooter model: Li 125 S4 1969 Italian
Date purchased and cost: 2013/£3200.
Any modifications: Completely stripped of paint and resprayed by Sean's Paint Shop, Wallingford.
Engine kit: 186 Mugello.
Crank: GP200.
Carb: 28mm Dellorto.
Exhaust: Sterling.
Porting work by: Mike Mezz Moto.
Dyno done by: Diablo Moto (18bhp).
Top & cruising speed: 65-74mph.
Is the scooter reliable: Yes.
Paintwork & murals: The Joker's face has been airbrushed onto the leg shield by Darren Liquidblack.
Is there anything still to add to the scoot: A side stand.
LAMBRETTA LI 125 SERIES 4
There really doesn't appear to be any real logic or straightforward explanation as to why the Li 125 Series 4 existed, never mind went into production. An abundance of speculation, but very little in the way of solid facts, surround it.
Going on visuals alone the S4 looked very similar to the S3, but there were differences – it had the later type horncasting and the side panels, while being of the Li pressing type, were secured with clip fixings, which were used on later SX models. Both the S4 horncasting badge as well as the rear frame badge differed from the S3 model. Former was the oblong Innocenti badge which had raised ridges, something that was apparently unique to the S4, while the latter was of the SX type.
S4 Li was only available with a 125cc engine and only in one colour scheme: a light blue. Fork buffers are initially the bolt in type, and then later they were push-in rubber type. Engine internals consisted of the same gearbox as the Li 125 Special, GP 125/200 with 15 x 46 sprockets and the top end was identical to that of the Li 125 Special. Some Li 125 S4 scooters had a metal toolbox, others had a grey plastic one fitted, which supports speculation that the Li 125 Series 4 was a parts-bin creation, as production lines changed between models. Production run was from late 1967 til mid-1968, apart from the Li 125 S4 stamping and frame number, without side panels the Series 4 looked very much like a Series 3 Li.
There appears to be no evidence of any publicity or advertising for the S4. It was believed that only 1400 were made.
Words & photographs: Sarge

Enjoy more Scootering reading in the monthly magazine. Click here to subscribe.