For those around during the late 1970s Mod revival and the scooter rally scene that followed, those memories never fade. Four decades on, Paul Le Brocq has produced a stunning Vespa as a tribute. Twisted Soul is not only a reflection of those past times but also a personal story of his youth…
Headline news
Paul Le Brocq is a member of the Purple Hearts Scooter Club, a name which instantly suggests that one way or another he has an association with the Mod scene. He does, and it goes all the way back to 1980 at the height of post-Quadrophenia revival. However, Paul's story is slightly different as it didn't happen on mainland UK but in Jersey where he grew up. Being such a small place it was inevitable that scooters and motorcycles would oppose each other on the open road, often leading to trouble. Jersey, though a beautiful island, doesn't get much coverage in the press and neither did the skirmishes between rival Mods and rockers which occurred. Thankfully the local press on the island did report about the trouble and Paul saved many of the period papers that covered those events.
Almost 40 years on, his love affair with anything scooters, certainly the Vespa, still lives on. This is what has spurred Paul to produce such a stunning creation and tribute to those memorable times. Youth is something all our memories continually look back to more often than not in a nostalgic sort of way. More and more custom scooters seem to be based on this idea; the problem is though it's not always easy to interpret it on to a scooter. Thankfully this is the exception and not only does it capture the time and spirit but it does so in an unorthodox kind of way.
Not what you expect
Often when you see a Mod-themed scooter you can guarantee several things. It will be fairly plain in colour choice, covered in mirrors and lights and devoid of any type of engraving or airbrush work. That's what makes Twisted Soul so unique it's a Mod-themed scooter but completely the opposite to what is expected.
The basis for Paul's scooter is a Vespa Rally 200 electronic, a barn find from the 1990s costing a mere £200. This was a perfect choice, certainly for basing it around the 1979 Mod revival. Here is where conventionality gets thrown out of the window though, starting with the paint scheme. That task was left in the hands of Dave Dickinson. After preparing and prepping the frame it was sprayed in silver white pearl which acted as the base. The whole scooter was then masked in preparation for the swirling artwork to be drawn freehand by pencil. If that wasn't demanding enough, what followed next definitely was. Every edge was painstakingly cut out with a craft knife and scalpel to reveal each line that would be the next stage of the painting process. That required everything to be spayed in a Magenta Kandy followed by a cyan overlay. Once complete what was left of the masking was removed to reveal the most amazing psychedelic swirling facade. From here, airbrushing work was carried out to produce a match deeper and 3D looking effect along the edge of the lines. The newspaper articles were then added before spaying in several coats of lacquer to get the perfect smooth finish. Finally, everything was baked and then polished to a show finish revealing in full the spectacular work Dave had created.
When looking at the paint scheme and the exemplary workmanship that has gone into creating it, there is something that like many paint jobs of this calibre goes unnoticed. Paul had an idea in his mind of how he wanted it to look, certainly the ideas and story he wanted to be told. The problem is though, how do you go about interpreting it? Having a dream in your head is one thing but explaining that to the painter is another. That's where the skill of Dave Dickinson came in. He's not just talented at what he does with the airbrush but also has the ability to take an idea or vision and create it in the real world.
Standard, well almost…
It's usually at this point that the engine specification is explained in fine detail. Quite often with most custom scooters that would mean a long list of performance extras, details of the tuning work and impressive figures from extensive dyno testing. Not in this case, as the engine is totally standard and Paul is happy for it to stay that way. The only slight note of change, the twin tailpipe sports exhaust, is more for looks than performance though. As he explained, the Rally 200 is powerful enough in the first place and the need to go fast on this type of scooter is totally unnecessary. It's more about it being seen rather than how fast it can go.
To complement the amazing paint scheme and slightly offset it is some subtle chrome work which works well on this style of scooter. The side panels take up the majority of the chrome with a small hint of the name surrounded by purple hearts. The wheels are also chromed but this is where this scooter takes a real twist. The hubs are engraved and probably as far away as you can get from what you would expect on a Mod theme, an idea usually associated with custom scooters. To finish the chrome work off, again, something different — a custom brake pedal, choke and fuel tap.
There was the opportunity to emblazon the front end in mirrors and lights, something that Paul overindulged on with his scooters in the 1980s. This time though they would overshadow the paintwork so the idea of fitting any was never going to happen.
Instead, there's a set of bump bars on the front mudguard and double leg shield trim just in case you needed a reminder that this is a Mod scooter. The final piece of the jigsaw is the seat which bears the name of the scooter, beautifully upholstered by Corky in rather flamboyant silver and purple — the perfect finishing touch.
The difficult challenge of putting it all together was left to Jimmy Worboys. It was a daunting challenge to say the least as any scratches made to the paintwork would be a costly affair to put right. Jimmy, who is no stranger the world of customisation and has previously had two of his own scooters featured in Scootering magazine, pulled it off in style. Though he was under pressure, Jimmy proved that he is a perfectionist and the results of his work speak for themselves.
Upon reflection
Each year it becomes more and more difficult to build a custom scooter the ideas of which have never been seen before. Twisted Soul is different though but not how we perceive it to be. It uses great artwork on the paint, chroming, engraving and even bespoke parts, which are normal for any custom scooter. The overall defining fact though is its theme is Mod-influenced. Paul has been clever in building a Mod scooter but using ideas we normally associate with the custom scene. This could have resulted in a rather confused look but instead it has led to the creation of something magnificent. Perhaps this could be the future, mixing different influences we already know to create something totally new. Asked whether anything else would be added to the scooter in the future the answer was a blunt no, the simple reason being that Twisted Soul is already perfection.
OWNER DETAILS
Name: Paul Le Brocq
Job: Chef/patron at The Green Olive Restaurant, Jersey.
Scooter club & town: Purple Hearts Scooter Club, Jersey.
How and when did you first become interested in scooters: In the Eighties. Quadrophenia was a big influence; the Mod scene hit Jersey and there were great times that I will never forget. I made some good friends.
What was your first scooter: My first scooter was a Lambretta Li 150 I bought for £15, but the panels used to fall off. Then I bought a Vespa Rally 200, and have not looked back.
What is your favourite scooter model: Vespa Rally 200 and Vespa GS 150.
Favourite and worst rally/event: My favourite rally – Isle of Wight 2010. My good friend Jimmy Worboys' scooter Infactuation won in best accessories.
Funniest experience with a scooter: Had my Rally seat re-covered. Then I left the house to go to the shop and my boxer god tore it to shreds and greeted me on my return with seat fabric in its mouth, wagging its tail.
What's the furthest you've ever ridden on a scooter: Breast in France.
What do you like about rallies/events: Being with your close friends, who all have the same thing in common – a good laugh. Music and scooters what more could you want.
What you do dislike about rallies/events: People who think they're something they're not.
Your favourite custom/featured scooter of all time: Baldet Deluxe-GS150 and for paintwork Memphis Belle, plus Jim's Infactuation.
What's the most useless part you've ever bought for one of your scooters: Indian copied parts, get original. They cost more but they are worth it in the long run.
SCOOTER DETAILS
Name of scooter & reason: Twisted Soul. It's a reflection of my youth.
Scooter model: Vespa Rally 200 Electronic.
Date purchased & cost: £200 barn find in '96.
Inspiration for project: The Mods Scene in Jersey, of which I was part, and all our clashes with the rockers on our island, articles that featured in our local island paper.
Time to build & by who: By my good friend Jimmy Worboys, a real perfectionist. I owe him.
Any specialised parts or frame mods: Our local iron works Steve Rylance Ltd, for duplicating all the plastic trim in brass, to enable it to be gold plated. Thank you Jason, Keith at K2 for my custom brake pedal and petrol and choke taps.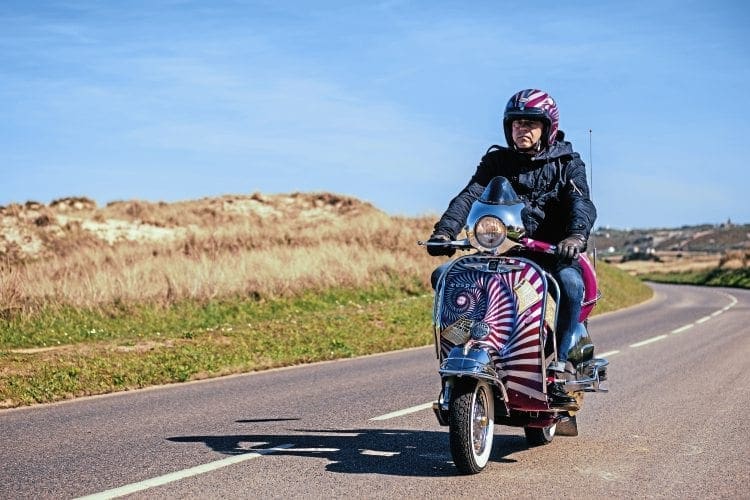 Describe engine performance, power delivery and scooter handling: It's a Mod machine, for cruising, not speed.
Are there any other unique details we have missed: Brake pedal in the shape of our island, custom made by Keith at K2, also contorted target taps (choke and petrol). Melvsweld made me a fork link cover, flyscreen dipped in plastic chrome by Dual Metallising.
Is the scooter reliable: Yes. Very.
Paintwork and murals by: Dave Dickinson, who not only has spent many hours on my bike, but who has now become a friend, he could not help anymore and his enthusiasm is shown in his work. Thank you.
Engraving done by: Adi Clarke.
Is there any chrome: Yes, all done by the lads at Quality Chrome.
Overall cost: Lost count, but worth it.
Is there anyone you wish to thank: Jimmy Worboys for total rebuild – he knows how to rebuild scooters as he rebuilt and owned two show bikes, Helpless Dancer and Infactuation. Dave Dickinson for a fantastic job, but also being a top bloke – thank you. Corky – for my seat, backrest and spare wheel cover. Keith K2 for specialised custom parts. Quality Chrome – chrome and gold plating. Adi Clarke for engraving. Jason [Steve Rylance Ltd]. My wife Anna and my son Noah for their understanding of the time spent on Twisted Soul. Love them both.
PAINTNG BY NUMBERS…
These four images in sequence show the painstaking lengths it took to create the swirl effect on the paintwork. Firstly the mainframe and additional bodywork were sprayed with a coat of silver pearl paint. Thereafter the total surface area was completely masked off and the lines of each swirl were then sketched on by freehand using a pencil. Happy with the lines a small craft knife and in some parts a scalpel was used to cut each line it. Once each cut-out was removed this left the area that would be painted in Magenta Kandy. The final process was to remove what was left of the masking revealing the true effect of the amazing swirl patterns.
Words: Stu Owen
Photographs: Studio M

Enjoy more Scootering reading in the monthly magazine. Click here to subscribe.