When the tip-off came and the chance finally arose to own the scooter of his dreams, Alun Pagett didn't hang about…
The Lambretta TV was one of the first 'motorcycles' to use a front disc brake system, which was pretty ground breaking at the time. If you have ever tried to take evasive action on a standard Lambretta drum set up you'll know what leap forward disc brakes are. I know from personal experience that evasive action with a drum brake can end up very messy! Although the TV body style was broadly based on the standard series 3 Li , it had many subtle changes that make it not only more collectable and desirable, but also significantly more expensive than basic models.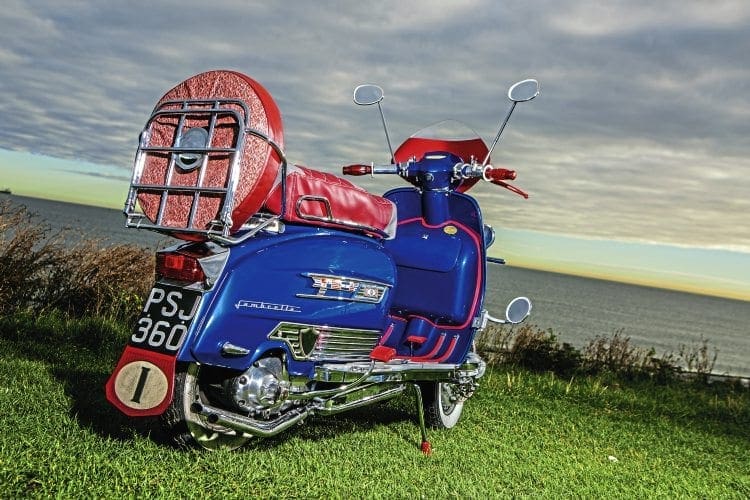 I have seen some 'eBay examples' priced up at over £15,000! Along with the styling, both the ride and the power had come a long way in the short time since the appearance of its older relative – the original series 1 TV in 1957. First appearing in 1962, it can be distinguished from the rest of the Lambretta family at a distance (that is if you can't see the badges!) by the following – a more angular front mudguard/horncasting than previous models, and a headset that housed an octagonal rimmed headlight, and had a key where predecessors had a simple kill button. Engine-wise it was pretty much the same, giving an output of 8.75bhp at 530rpm which on the road equated to good acceleration and a top speed of around 60mph. Ovre four years – 1962 to 1965 – some 37,794 were produced.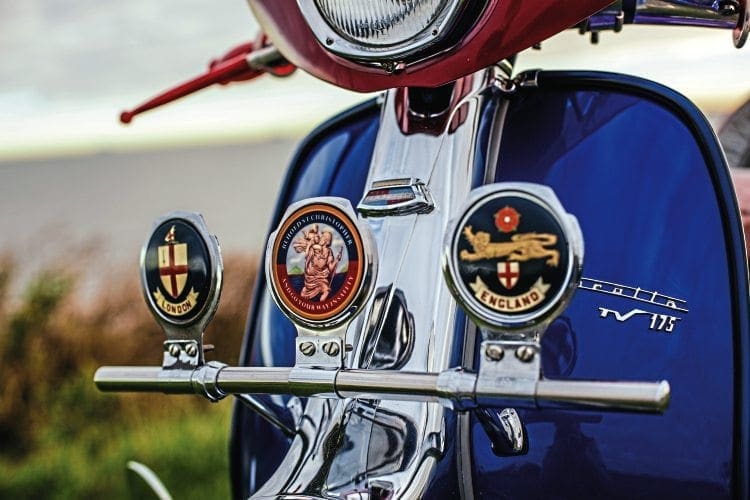 Now after that 'scooter spotters' lesson you might have thought, 'here we go with another pristine restoration project', but as you can see this scooter has not only been tastefully customised but also has just about every 'period' accessory available fitted to it! The machine you see here is now owned by Alun Pagett, after he was tipped off about its availability from previous owner/creator Sean Jefferies by his mates at Gran Sport. Gran Sport was originally commissioned by Sean some 10 years ago to build a S3 TV to very high standards. After a ground-up rebuild and respray it was put together with total attention to detail. Parts were polished and plated to show standard.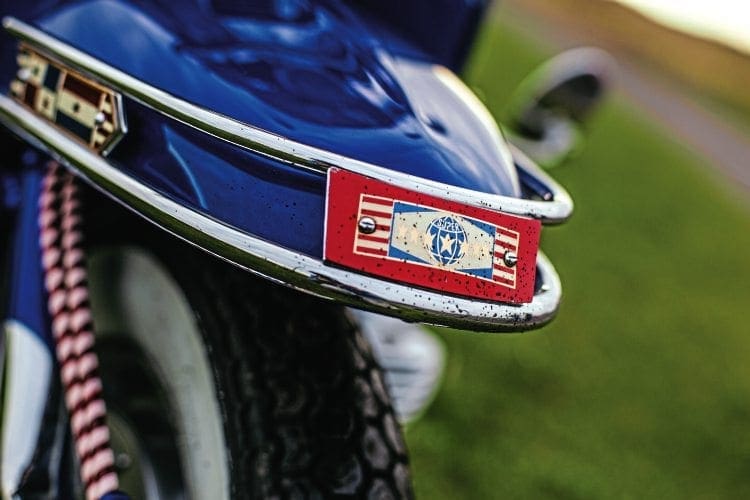 To break the regal blue candy paint up, so were the horn-casting, couples, grilles, toolbox door, bridge and rear light. The standard engine was upgraded with the addition of at GT186 kit helped by a 25mm Dellorto carburettor and fitted with a one-off Ralph Saxelby twin power pipe 'fishtail' exhaust. The accessories are what makes this scooter stand out though – colour-coded lever covers, barrel grips, floorboard extensions, panel flashes, seat, legshield toolbox, spare wheel cover, mudflap, carrier and badge bar, mudguard nudge bar, mirrors, fork covers, flyscreen, candy stripe cable cover, whitewalls and even two-tone air horn. Nearly all of these are original items and come from the emporium that is Rimini Lambretta Centre. So how much does it cost to bring together such a fine example with so many goodies? Let's just say quality costs and Alun's ride is just that: Quality!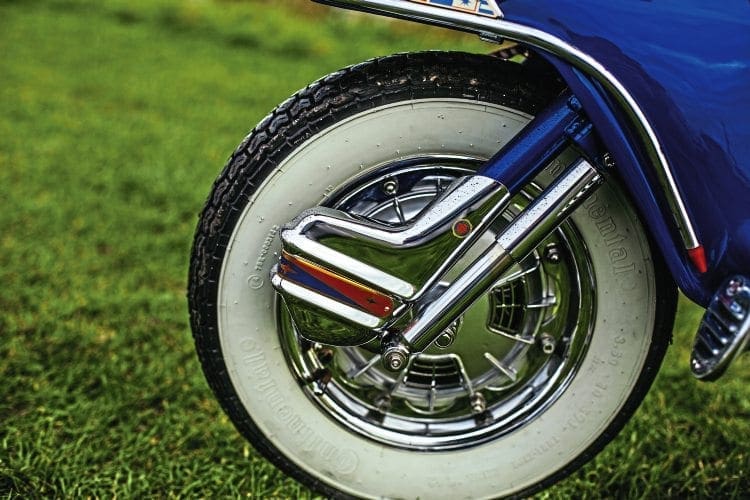 MAN & MACHINE
Name: Alun Pagett
From: Kidderminster
Job: Director ADP Construction.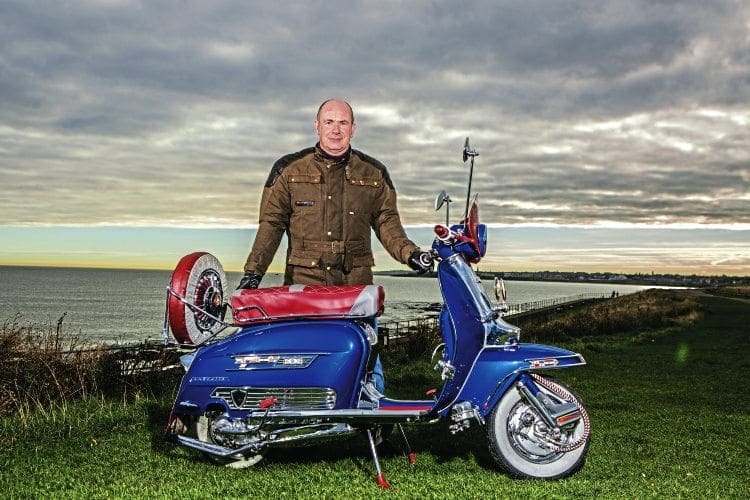 Scooter club: Solo.
First scooter: Scrapyard Li150.
Favourite scooter: SX200.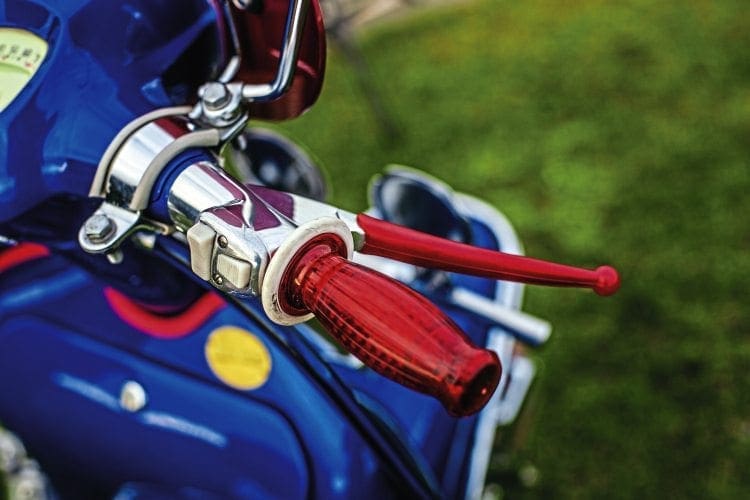 Favourite style: Mod.
Other scooters owned: GP125 fitted with GT186 kit.
Furthest ridden: Kidderminster to IoW – 164 miles.
Model: Series 3 TV175 1963.
Purchased: Last year from Sean Jefferies (original owner).
Original build time: Five months.
Builders: Gran Sport – Disco Dez, Nathan & John.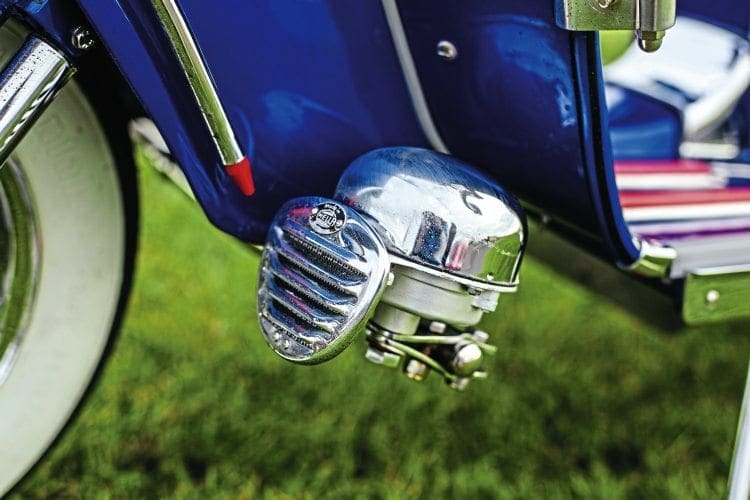 Engine: Standard polished casings, GT186 kits, 25mm carb, RS Exhaust.
Paint: Gran Sport.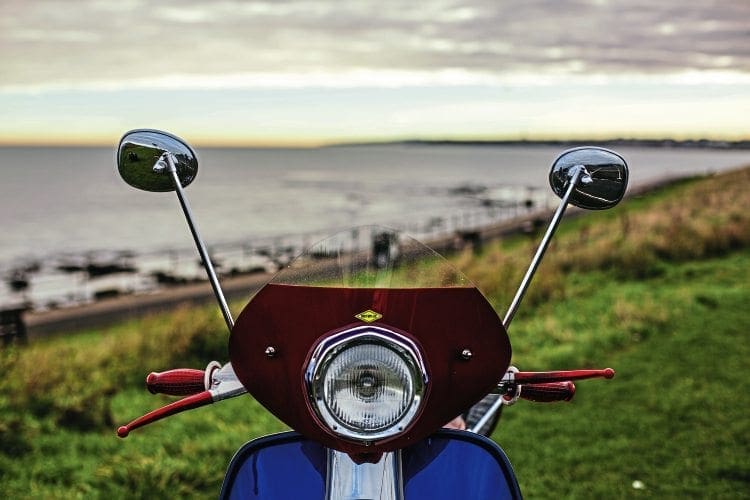 Top speed: 65/70mph.
Reliable: Very!
Cost: Originally £9000, I'm now up to about £12,000 (that's a misprint if the wife's looking!).
Words: Dave O
Photographs: Gary Chapman

Enjoy more Scootering reading in the monthly magazine. Click here to subscribe.