There are some times in life when the odds seem firmly stacked against you and only those with a strong personalityand character can overcome them…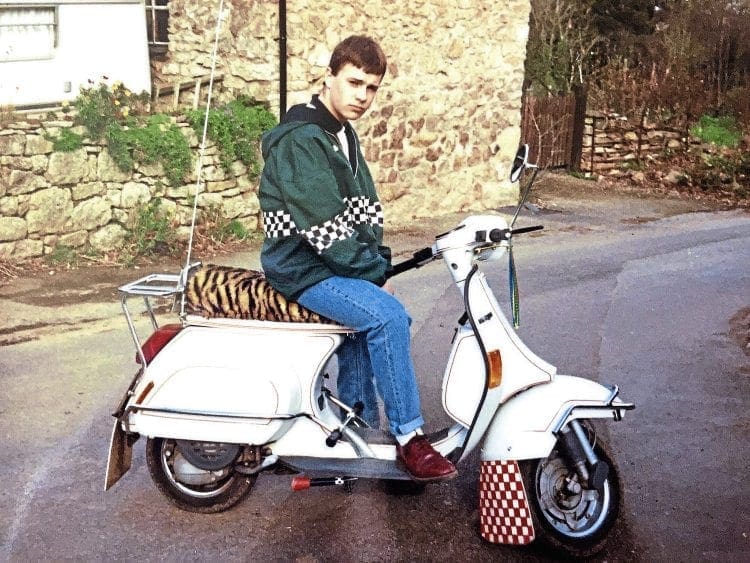 For the majority of owners, riding a scooter is a pleasure that lasts for many years. However, at times, certain circumstances intervene, and that pleasure is taken away… perhaps due to an accident for example. Whose fault it actually was is of little consequence after the damage has been done. Those left with injuries are the ones who must battle against uncertainty to get their life back to normal. They do it through strength and determination, and sometimes tackling the demons that caused it in the first place is the only way to fully overcome what's happened.
The modern world
At 16 years old John Cartwright was just like any other normal teenager who had just left school, trying to establish his identity in the adult world. He did so by way of fashion, joining the ranks of the modernist movement. Quickly immersed with all it had to offer the inevitable idea of getting a scooter beckoned on the horizon. His father was an avid motorbike enthusiast so there would be no challenge from him to John becoming a two-wheeled owner. It was 1988 and the scooter boom of that decade was producing some real bargains in the second-hand market. No sooner than John had enquired about getting one than he actually became an owner of a PK50 XL. It was not the most revered scooter back then and probably still isn't today but never the less it was a start.
John was keen to move on to what he referred to as "a better class of scooter" once funds would allow a purchase of something more credible. Before long he was the owner of an Li 150 Series 3 and it thrust him head-first into the world of Lambretta ownership. The fact it didn't run was irrelevant, in all honesty, it needed fully restoring. That was no problem with his father at hand who was not only keen to help but already a skilled motorcycle restorer. Between them they quickly got it sorted and John soon made the natural transition from owning a Lambretta because of fashion to owning one because he was an enthusiast.
TV times
Anyone who has bought a Lambretta knows that over time you inevitably tend to buy several more and John was no exception. In the summer of 1990, he purchased a TV 200 – one of the most revered and sought after Lambrettas ever made. It quickly became John's pride and joy and all but made the Li redundant. It was never going to be sold as it was the Lambretta that John and his father had lovingly restored together but from now on it would be the TV 200 that would clock up the miles.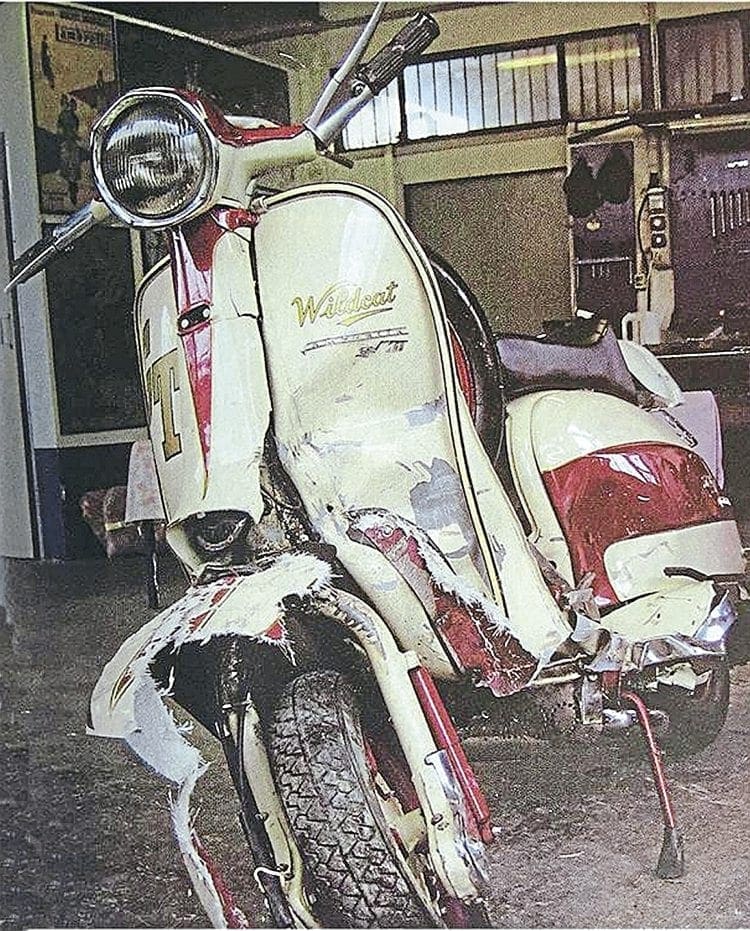 That is exactly what happened, as John attended as many rallies as he could all over the country. Still keen to keep hold of his Mod roots, a chance came about to attend a Mod event in Italy. His father lovingly rebuilt the engine of the TV 200 for the epic journey to be made by scooter. All went well with the trip until the final stage where a rogue bearing failed, abruptly cutting the journey short just before its conclusion. Though saddened and frustrated by what had happened he vowed to one day to make amends and see the journey through to completion. For now, though just general scooter riding and rallies would prevail as he became a seasoned scooter rider and owner.
Life changing events
There are times when you look back at a certain event in your life and think, just how the hell did that happen? Was it my fault? Am I to blame or could it have been prevented? Regardless of how many times you think it over it won't change things and the only way forward is to try and move on from what occurred. April 27, 2004, was one such day and one that would change John's life permanently…
Keen to go back to Italy he had made the journey by plane and was meeting up with friends who along with their own had shipped John's scooter over. The destination was the Isle of Elba and it would involve a much shorter riding time than it would have done had they been starting out from the UK.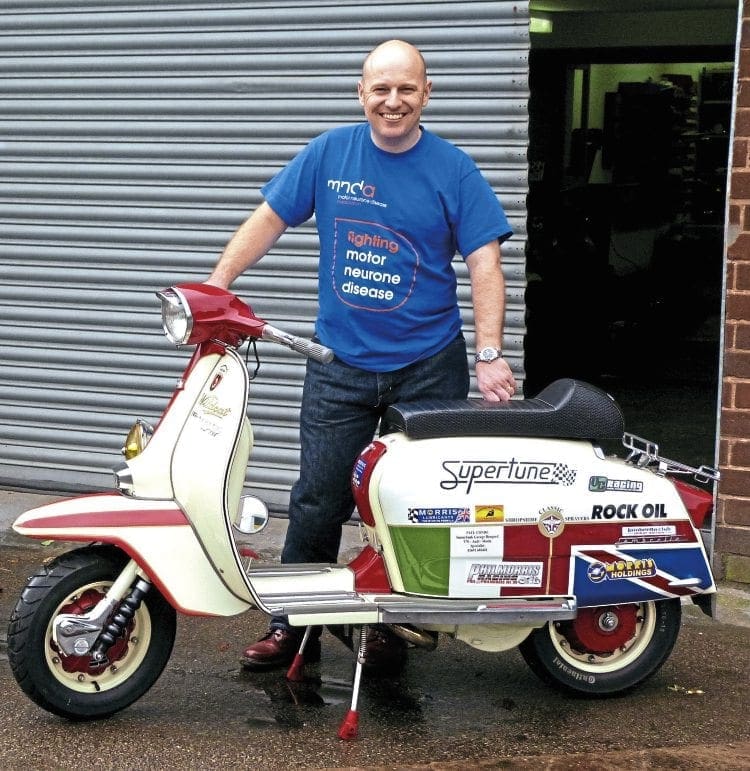 Though his trusty TV 200 had been checked over before setting off, it soon became apparent that there was a problem with one of the control cables. As they were not far from Rimini Lambretta Centre the idea was to make the short trip there, get it repaired, and head straight to the rally at Elba. John had driven on the Continent before so was accustomed to driving on the right-hand side of the road, but for whatever reasons that day, he is still unsure, a blank moment in his mind made him still think he was in the UK. Setting off on the wrong side of the road and still oblivious to what he was doing, up ahead was a blind corner and coming the other way was a car. The result was catastrophic. Both car and scooter hit each other head-on, horrifically injuring John.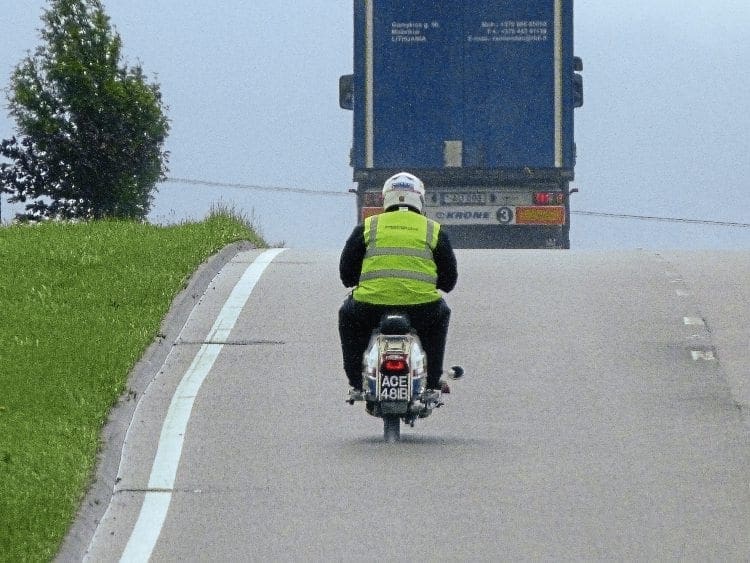 He was thrown quite a distance from his scooter and lay injured in the road. His travelling companions rushed over to help as best they could. Both of his legs were broken and the left one almost severed off. He was haemorrhaging blood at a significant rate it quickly became a matter of life and death. The accident had happened in a fairly remote area but by chance, an off-duty doctor was driving along the same road and immediately came to John's assistance. Doing all he could to stabilise him before an ambulance arrived more than likely saved John's life. Emergency surgery was quickly undertaken as the outcome of the battle to save John's left leg hung in the balance. Though his life was no longer in danger the injuries were going to take months if not years to get over.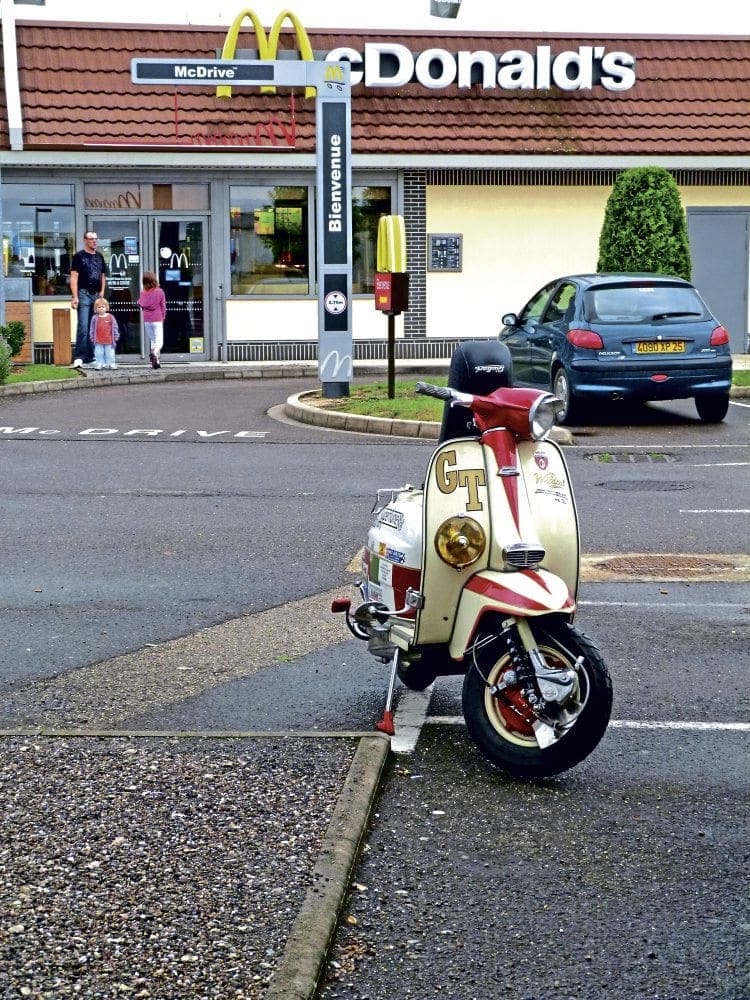 After a four week stay in an Italian hospital, doctors were happy that John could now be transported back to the UK to continue his recovery there. That was where he was told the devastating news that more than likely his left leg would indeed need amputating. However, one doctor using the latest advances in technology believed he had the answer. Using an external leg fixator he was confident that the leg could be saved even though it would mean a long process to do so. Even then John was told there would be long-term effects regarding his mobility. After four months in a hospital and several operations he was finally allowed home, even though months and months of rehabilitation lay ahead. Eventually, John was able to walk again even though he would have a slight limp and a certain degree of discomfort. It was a small price to pay for freedom of mobility and his sole intention was to look forward to what life had to offer in the future.
Road to redemption
Anyone who had suffered the type of injury that John had would more than likely quit riding on two wheels. But not returning to his passion would to him be like giving up. From now on though, things would be different: a full array of protective clothing including extra support around the injured leg. Not forgetting a high visibility jacket. It wasn't that he was careless or complacent before the accident, just that now there was always that fear in the back of his mind. Regardless, John was determined to overcome those fears not by just putting on a brave face but perhaps returning to the scene of the crime.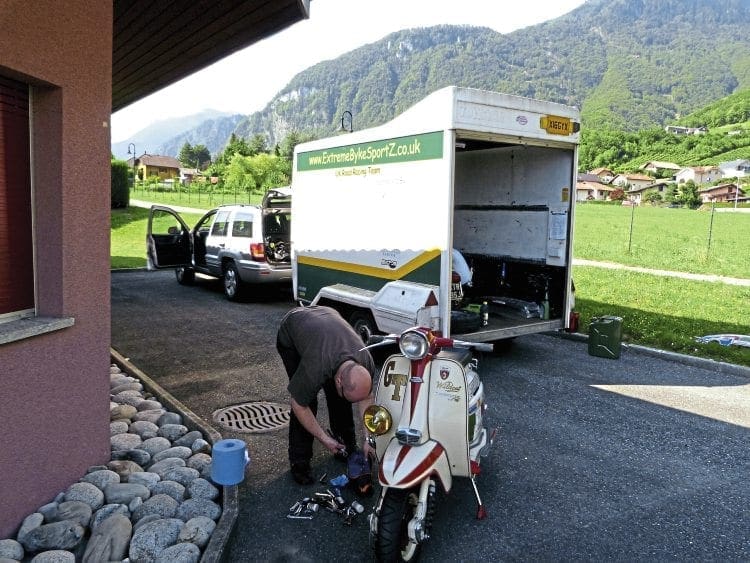 Several years had passed and with confidence back it was time to do something positive. His father, who had always supported John's scooter exploits, had sadly passed away from motor neurone disease. An idea was conceived to ride the TV 200 which incidentally had generously been restored by friends to its former glory back to Milan. There were several reasons behind it all and if completed would lay to rest many demons that still played on his mind. Firstly he would be doing the journey that had ended in failure, something that he felt he owed to his father to complete. Secondly, the idea was to raise money for the charity which funded research into motor neurone disease. Lastly and most importantly riding the scooter back to the scene of the accident to prove what had happened hadn't got the better of him.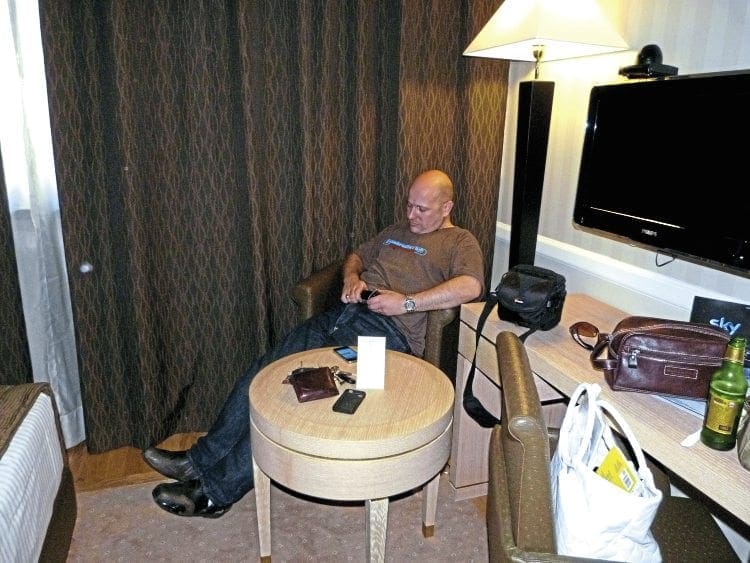 It was an audacious plan and anyone attempting it would require great determination and stamina. For John though, it was an extra difficult challenge as his injuries would hamper him somewhat. Regardless of the obstacles it all went ahead with full support from both his family and friends. As news spread of what was happening, offers of help came in from all directions and gave a much needed financial boost. Though the idea was to raise money for charity, just doing the event was going to cost a significant amount of money. A backup van was required not just for a spare scooter but also if the long tedious journey should get the better of him. Fuel and accommodation were another expense as the resources needed mounted up. John always knew it was going to cost him money to do the journey but that was irrelevant, it was doing it what counted most. Even so, every offer of help was duly accepted and greatly appreciated.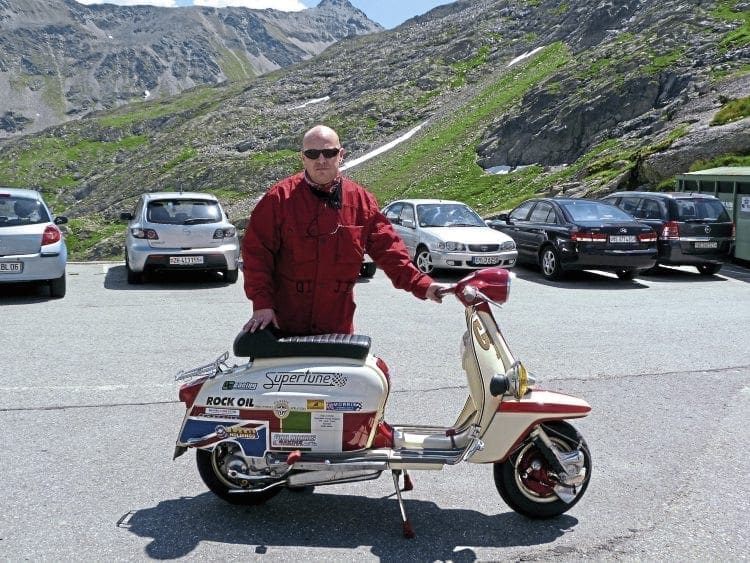 With everything in place in the spring of 2010, John set off on the long road to Italy. Following behind were his wife Paula and son Lewis in the backup vehicle with all the spares required in the event of a breakdown. The idea was to do it over four days giving him time to rest between each leg of the journey. If more time was needed then that would be made available, John saying "it was a marathon, not a race".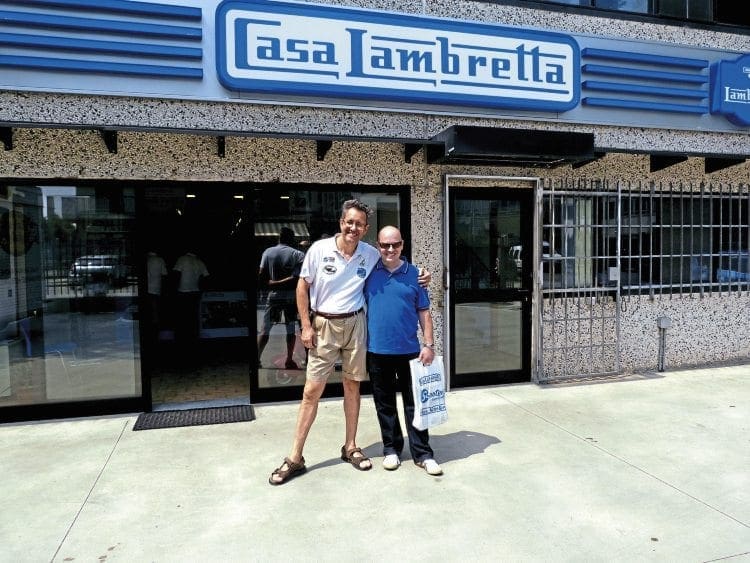 The first day was the rather boring and uneventful 200 odd miles from the start point in the Midlands to the ferry port on the south coast. It was day two before any real excitement would begin through France heading to the Swiss Alps. This is where both John and the Lambretta would be tested as the mileage rose. By the end of the second day, his leg was beginning to ache which was no surprise, but was a slight worry as the next two days were the long stretches in the saddle. At the end of the third day, the whole encounter was beginning to take its toll both physically and mentally. Not only was the leg in constant pain but the thought achieving the goal he set out to do began to swirl round in his head. There was no going back now, the point of no return was passed and it was a case of soldiering on.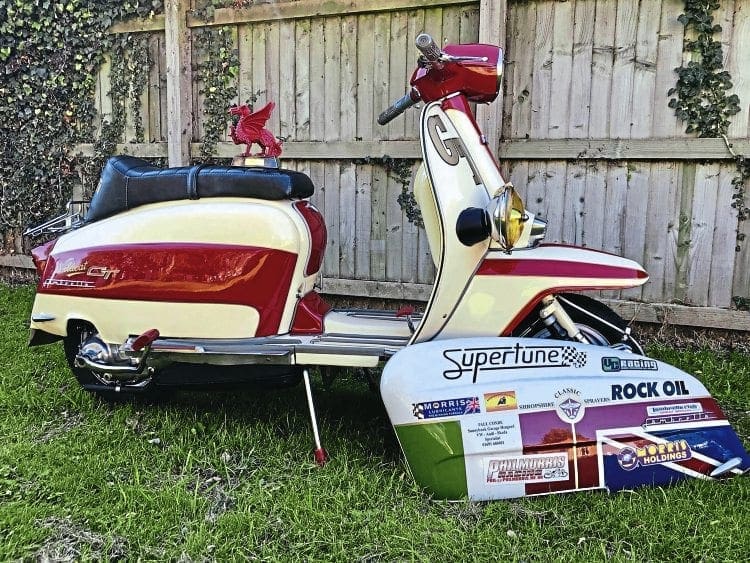 It was at breakfast on the final morning when everything really began to hit home. The entire trauma that had gone on in John's life over the past few years would be extinguished mentally in a few hours' time if all went well. Not forgetting his immediate family who had also supported him through those dark times. ACE 481B, the Lambretta TV 200 that had also played a major part in what has happened, was prepared for one final time. Having performed flawlessly so far apart from one spark plug change, both man and machine set off in search of redemption. It was late afternoon when Milan was finally reached in a cascade of traffic. It didn't matter anymore though – John had achieved what he set out to do, finally laying the past to rest. It was too much to take in for a while as he broke down in tears on the side of the road… reflecting on a time when he had almost lost his life. By doing this, he had proved to himself that you can get over anything life throws at you.
A new beginning
After the event was over in an odd sort of way it was a bit of an anti-climax. Several thousand pounds had been raised for the charity, so that in itself was a proud achievement. What would happen next though as the challenge was now over? The answer was to return back to daily life but with what happened in the past removed. Several years later and it's true to say John's life has returned to normal. What has remained is the scooters and though he isn't out on them as much, he's just as passionate about them as ever.
These days he is an avid member of the Shropshire Lambretta Owners Club and regularly attends ride outs and the occasional rally. For the foreseeable future, he wants to carry on riding his Lambretta, health permitting. Though the injuries will never go away, thankfully they don't prevent him from doing what he loves most. It could be argued that scooters and the scene that goes with them are responsible for getting him in this predicament in the first place. That may be so but they are also what got him out of it and allowed him to continue a normal life.
Words: Stu Owen

Enjoy more Scootering reading in the monthly magazine. Click here to subscribe.