JB TUning has recently become JB Tuning's Classic Scooter Shop. Stan went to see what's changed at this Essex centre of excellence.
Look at the great, and I mean truly great, scooters from the last 20 years and chances are that JB Tuning will have been involved at some point. That includes racers, road bikes and customs. "We're best known for tuning Lambrettas," began John Balcomb (the 'JB' of JB Tuning) "but we do so much more." To prove his point John indicates a part built Vespa GS occupying the workshop's central bench. "We've restored this from the ground up and fitted a Malossi 210 kitted PX engine. The difference with this build is that the customer's forbidden any frame modifications. It's been quite a challenge but we're almost there now."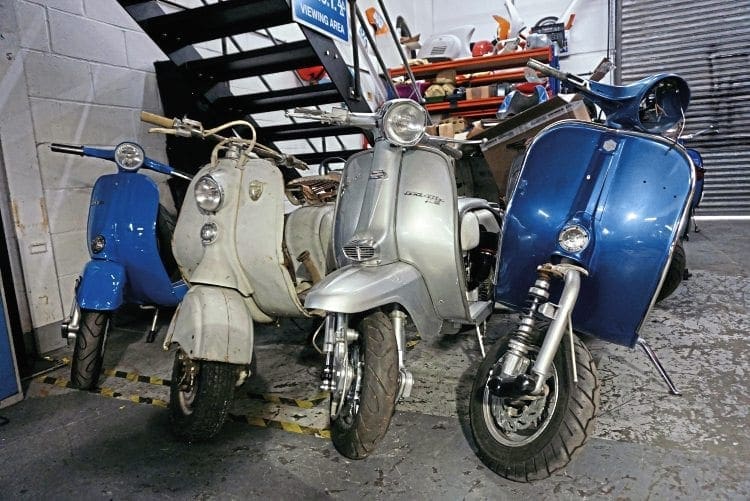 With a lifetime in scootering there are few people better qualified to tackle challenging builds than John. Between 1985 and 1992 he attended every National rally, dealing with all the trials and tribulations that high mileage and enthusiastic partying involves. Having learned his trade working in the workshops of various car main dealers, he transitioned to Kegra in the late 1990s, going solo around 15 years ago.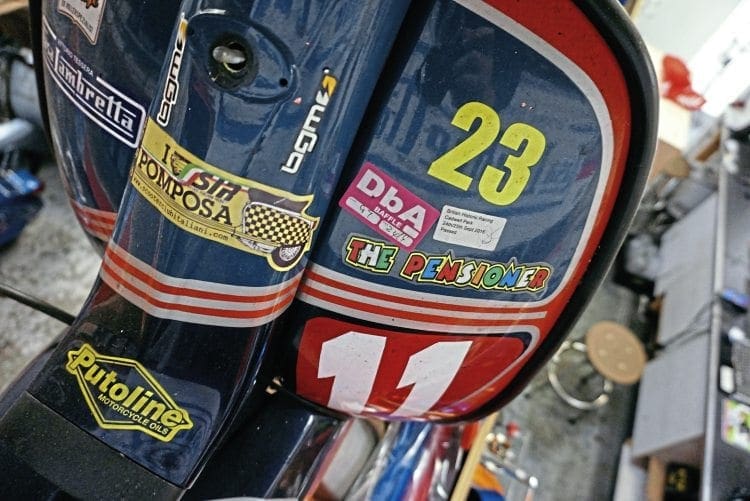 Expansion chamber
There are two ways to deal with setbacks – surrender or fight back. When the shop was burgled several years ago it would have been tempting to throw in the towel. "It wasn't just the things they took, it was the mess they made," explained John. They set off every foam fire extinguisher. I couldn't begin to think how we'd clean everything down; there was literally no clean space to work in". It's said that fortune favours the brave and when the owner of a neighbouring unit announced he was closing down John seized the opportunity. "I took on the larger unit, made a few alterations and then cleaned things down as we moved them over". The result is a well laid out workshop that enables John to offer a much wider range of services that had not been possible in the old premises. "We've now got a showroom, three work benches, a dyno facility and are an accredited MOT testing station."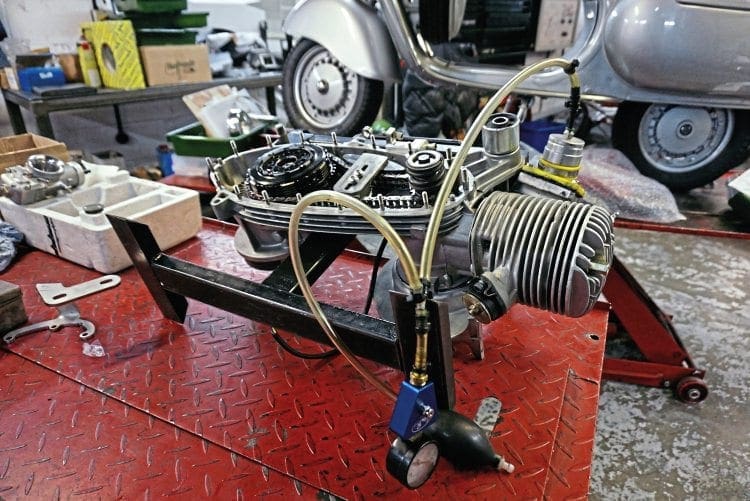 International affair
Although JB have experience of working with a wide range of performance kits they are perhaps best known for their relationship with Casa Performance. "We'd known Dean and the team through racing for many years and were very pleased to be appointed as their first agent in the UK," said John. "Since then our relationship's grown from strength to strength and we're now Casa Performance's concessionaire for the United Kingdom." When speaking to John he underplays his role in the development of Casa's SS kit, despite having been involved with the project from the outset. After assisting to develop the inlet manifolds and exhaust, JB are currently the only deafer to offer parts of their own design that squeeze even more power from the SS.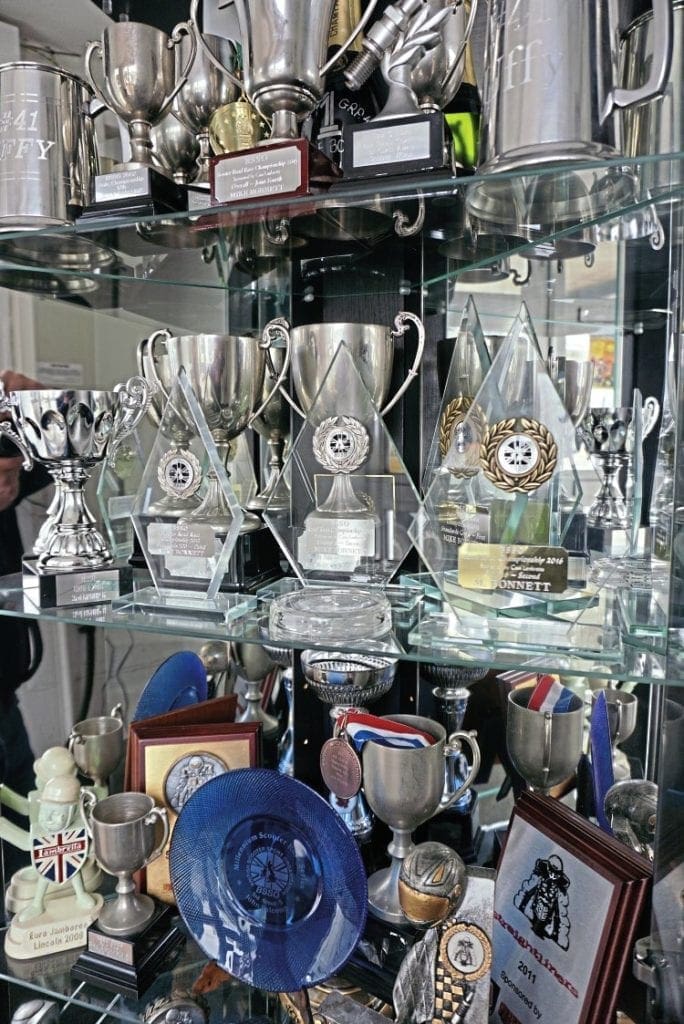 All change, no change
With their rebranding, JB are simply reinforcing the fact that there's so much more to them than their undoubted tuning expertise. Whether it's routine servicing, a full restoration or ordering competitively priced spares from their extensive catalogue, John and Mike are there to help, and with experience like that on hand there really is no need to change anything but the name.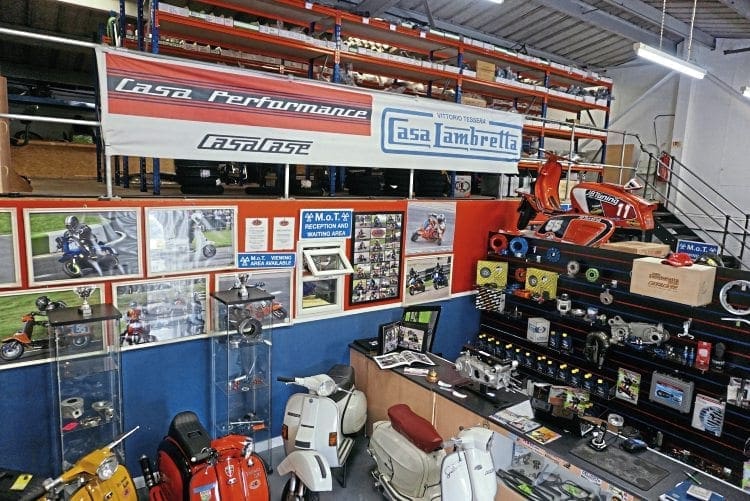 CHAMPION GRADUATE
Assisting John at JB Tuning is another Kegra 'graduate' and former BSSO Champion Mike Bonett. Starting his riding career on Gilera Runners he quickly moved on to classic scooters, or as John puts it: "He's a reformed chav!"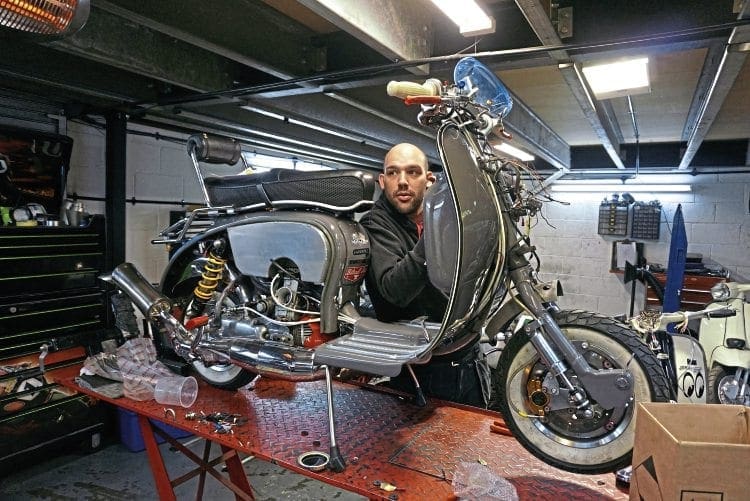 Although he has an array of race titles to his name it's another achievement of which Mike's particularly proud: "I'm one of the few Piaggio trained apprentices left in the business." In a little known scheme during the 90s, Piaggio UK sponsored a small number of four-year apprenticeships. The participants all worked at one of their main dealers and were required to attend technical college. Probably due to the cost of its demanding syllabus there were a limited number of participants and Mike is one of the very few still working in the business.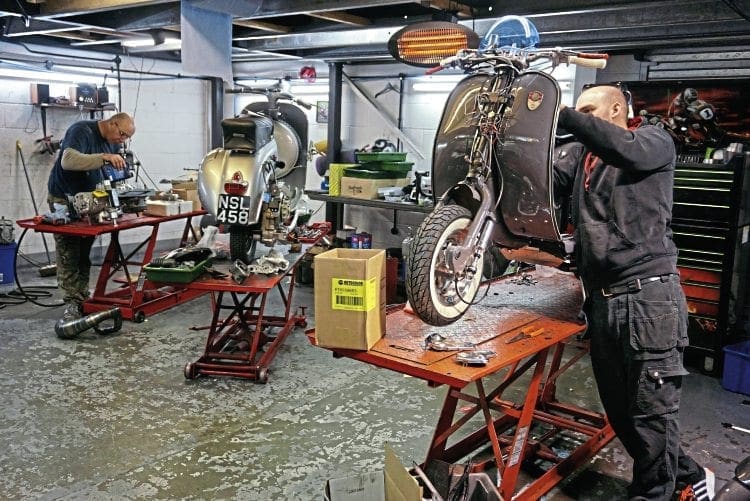 He began his racing career with Kega although he admits that under their colours he was little more than a 'pack rider'. In 2012 he began racing for JB, securing podium positions for the next four years including a championship win in 2013. Transitioning to Group 6 for the 2015 season, JB became the first British race team to use the SS 225 kit on the track, achieving 11 wins and 22 podiums with Mike ending the season as runner up to the exceptional Luca Zani.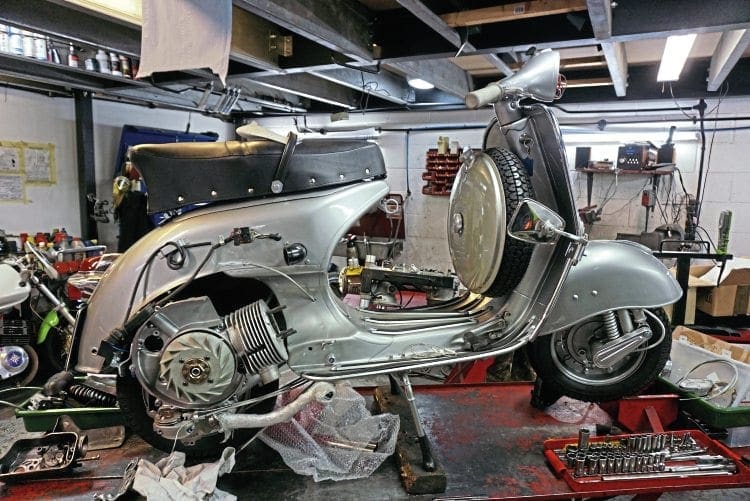 THE ORIGINAL AND GENUINE
Nestled away in the showroom and probably overlooked by many visitors is that rarest of beasts, an unmolested PX200E. "I'd known of the scooter from my time working at a car dealership" explained John. "One of the old boys there used it for his short commute and when I opened the shop he offered it to me but we couldn't agree on price. A few years later I was asked if I could source a good, original PX. I went back to the owner and struck a deal but as I loaded it onto the van I knew that I'd never sell it! It's covered 1400 miles from new and I've put around half of those on it. The exhaust's been replaced with a BGM Big Box as the original had rotted inside but other than that it's as it left the factory, including its tool kit and paperwork.
RESTORATION MAN
Incredibly it's now more than five years since John restored this SX200. "People probably don't realise it but we do a lot of restorations here," explained John. "This was built to order but shortly after completion the owner moved overseas and had to downsize his collection. It's so close to factory specification that I couldn't pass up an opportunity to buy it back."
As Casa's main UK agent, the shop has an excellent relationship with Rimini Lambretta Centre, giving JB access to both parts and expertise. As an example of John's work the SX is exemplary and visitors should also keep an eye out for the gorgeous Series 2 TV and lovely little Vespa 90 which prove that the restorations emerging from the workshop are of a consistently high quality.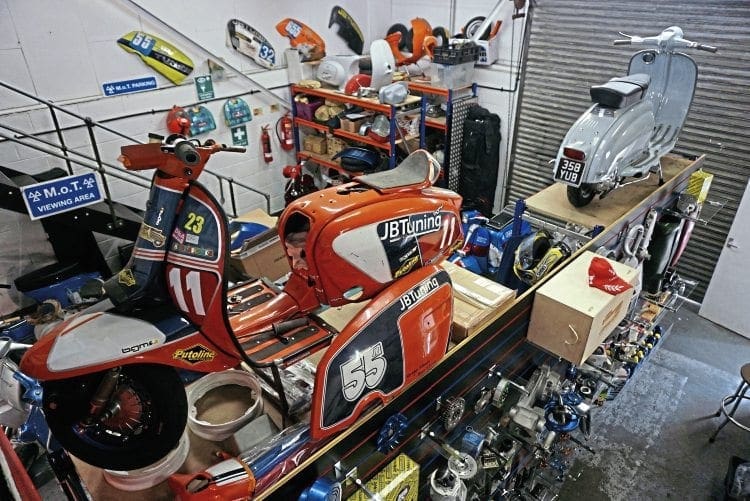 RALLY, TRACK AND WORKSHOP
"I enjoyed the rally scene but when my children came along I couldn't justify the time and money involved," explained John. "I thought racing was a better option." Using a ready-built Group 6 bike, John's career got off to an inauspicious start "For two years I got nowhere," he admitted. "I had more success moving to Group 4 but I'd far more enthusiasm than talent. I also discovered that I don't bounce very well!" Evidence of John's enthusiastic riding in the form of various 'retired' race scooters, all in JB's distinctive 'Daisy Duke' scheme. "I had a few crashes and even took time out for a while. In 2003 I was leading the Championship at Cadwell Park. I'd set good times on the Saturday and went into the Sunday slightly over confident. I was riding behind Chris Gayton, who was setting a cracking pace when I saw him lean over into Charlie's Gooseneck. I knew instantly that I'd misjudged the approach and resigned myself to the inevitable. The result was a broken clavicle and the realisation that I was probably safer wielding spanners!"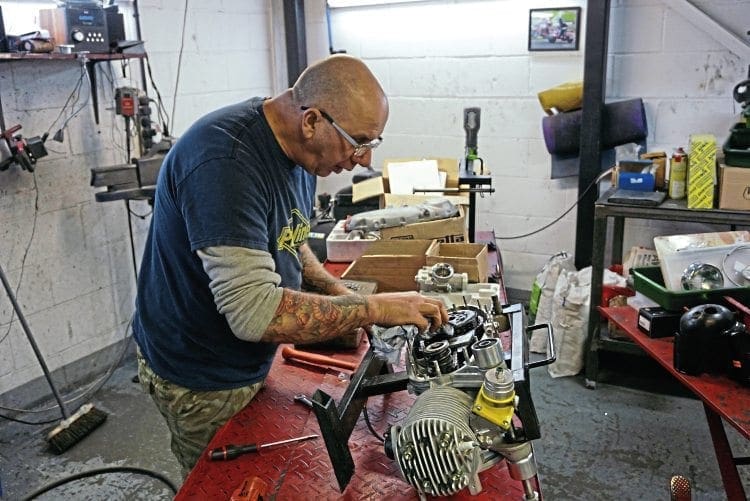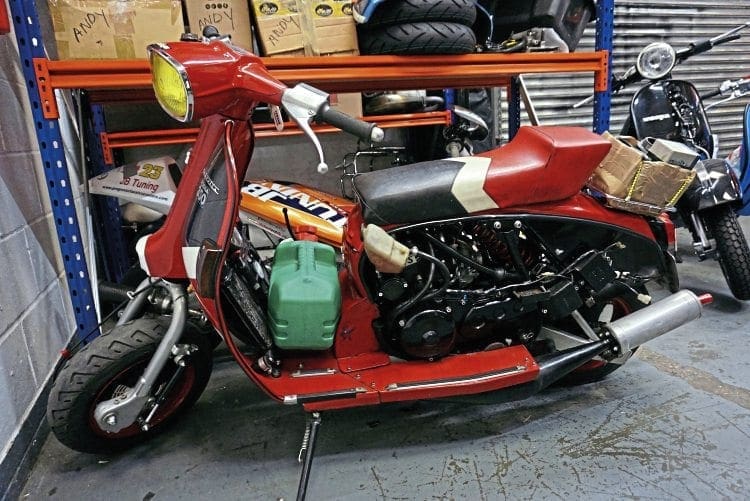 Words: Stan
Photographs: Gary Chapman

Enjoy more Scootering reading in the monthly magazine. Click here to subscribe.