Garagistes. Originally a term of contempt, 'Garageste' has become synonymous with small scale, innovative production. Custom Lambretta of Milan follows this tradition.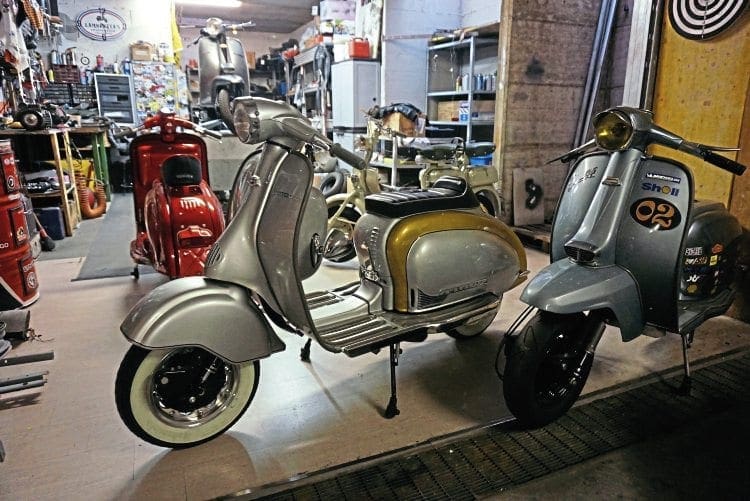 WHO WERE THE GARAGISTES?
In the late 1950s Enzo Ferrari was scathing of the young, talented British Formula One teams such as Lotus and Cooper who were operating on comparative shoestring budgets. His full quote is 'Garagiste Assembliatore', basically assembly workers in a garage. The British teams went on to achieve notable success in the early 60s, proving Ferrari wrong and setting a template for others to follow. Ultimately the term became a badge of pride for any underdog challenging conventional thought.
Formed four years ago in the shadow of the old Innocenti factory, Custom Lambretta is the vision of Alberto and Claudio. "I grew up in Segrate," explains Alberto "This was the home of Lambretta and even though the factory had closed, its memory was everywhere. I fell in love with this dead scooter at a very early age." The two men came together around four years ago when Claudio advertised a Lambretta for sale. "I met Claudio and saw the quality of his workmanship, I thought it would be wonderful to work with him and fortunately for me he agreed."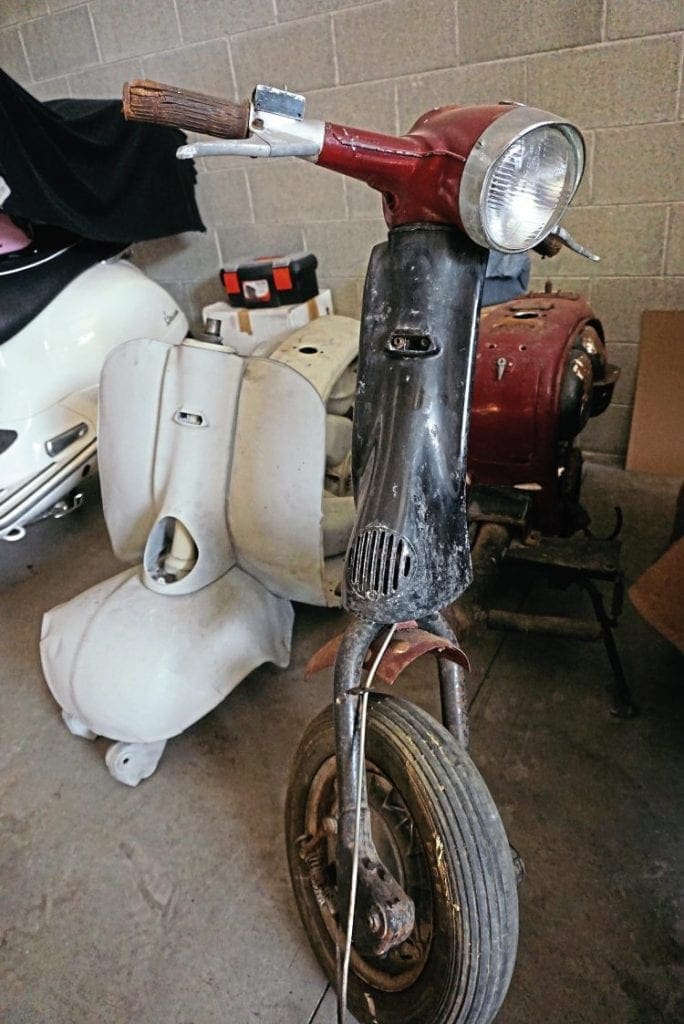 When asked about their relationship Alberto uses an unexpected cultural reference: "It's like Wheeler Dealers. I'm Mike Brewer, finding the projects and making the design. Claudio is Ed China who brings the project to life." Although Claudio doesn't speak English he's heard this explanation often enough to laugh and nod in agreement.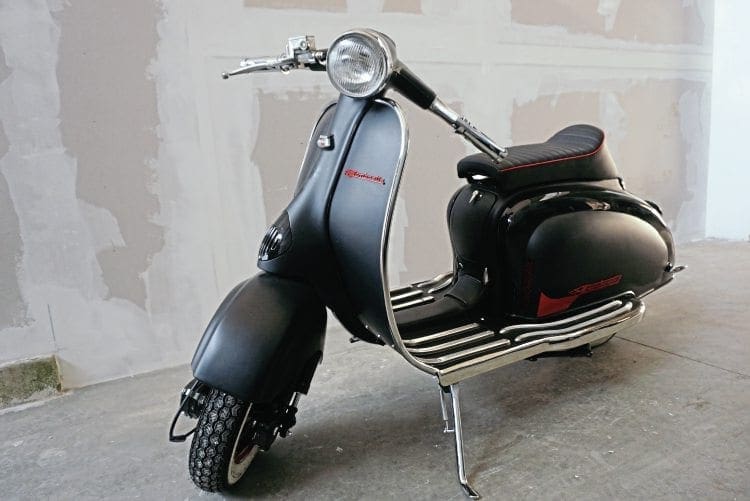 The duo first came to the attention of Scootering magazine at last year's Guernsey Rally where Gary Richmond's beautiful Series 2 made its debut. Since then another two of the duo's machines have arrived in the UK — Dave Gibb's GP and Garry Edmunds' Series 2 which was awaiting delivery at the time of our visit.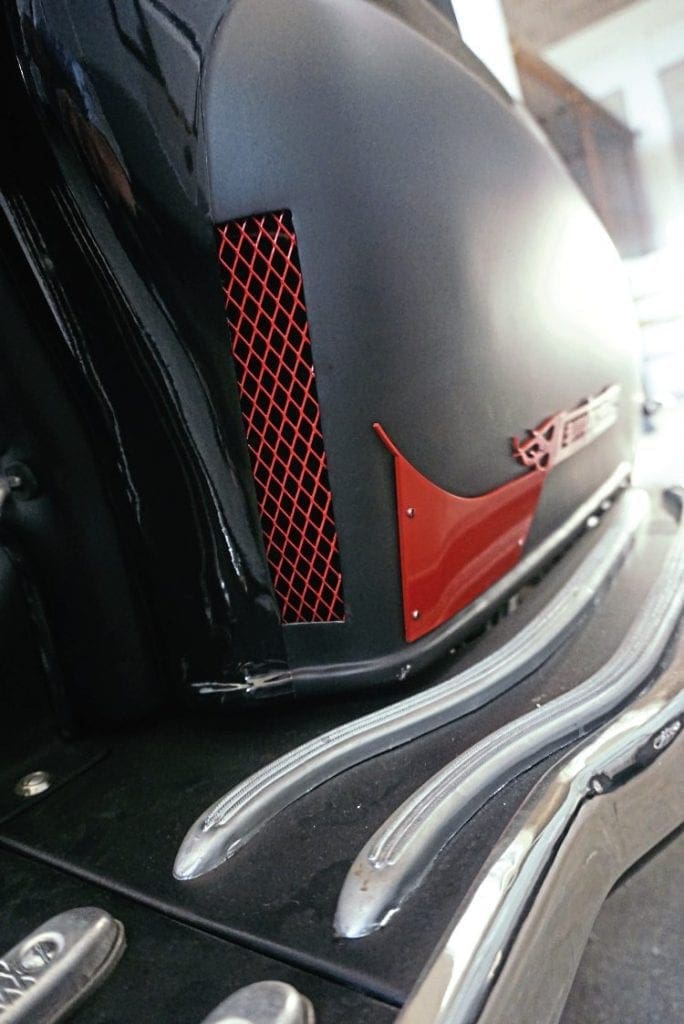 Hunting trips
For Alberto, the joy is in discovering the machine and tracing its history: "I prefer to find a machine that's neglected as bringing it back to life is part of the joy. We live in a beautiful country and by travelling to collect the machine I see parts of Italy that I wouldn't normally visit. The purchase is more than a simple transaction. I like to discover the countryside and sample the cuisine of that region. It's also important to document the machine's history, who used it where it was first registered and why it fell into disuse."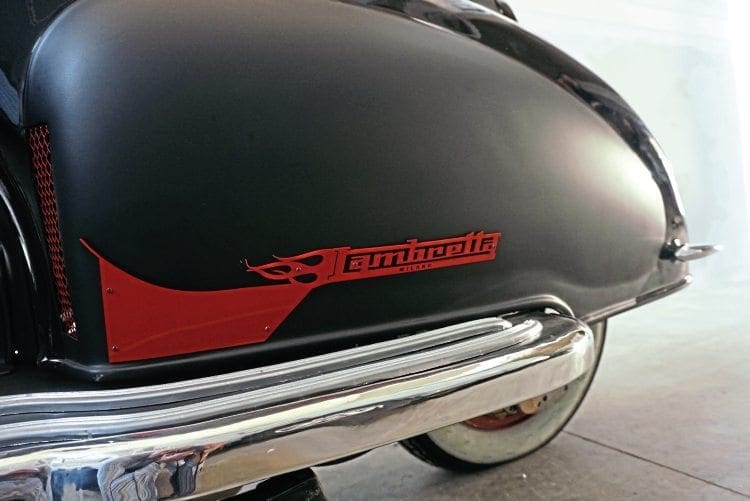 Each of the duo's projects are identified by the region in which they were first registered. To date, three machines have originated in Bergamo, becoming Bergamo 1, 2 and 3 respectively. "From the next project we'll be airbrushing the machine's history inside the leg-shields and supplying a bottle of wine from the region for the purchaser to toast his new machine."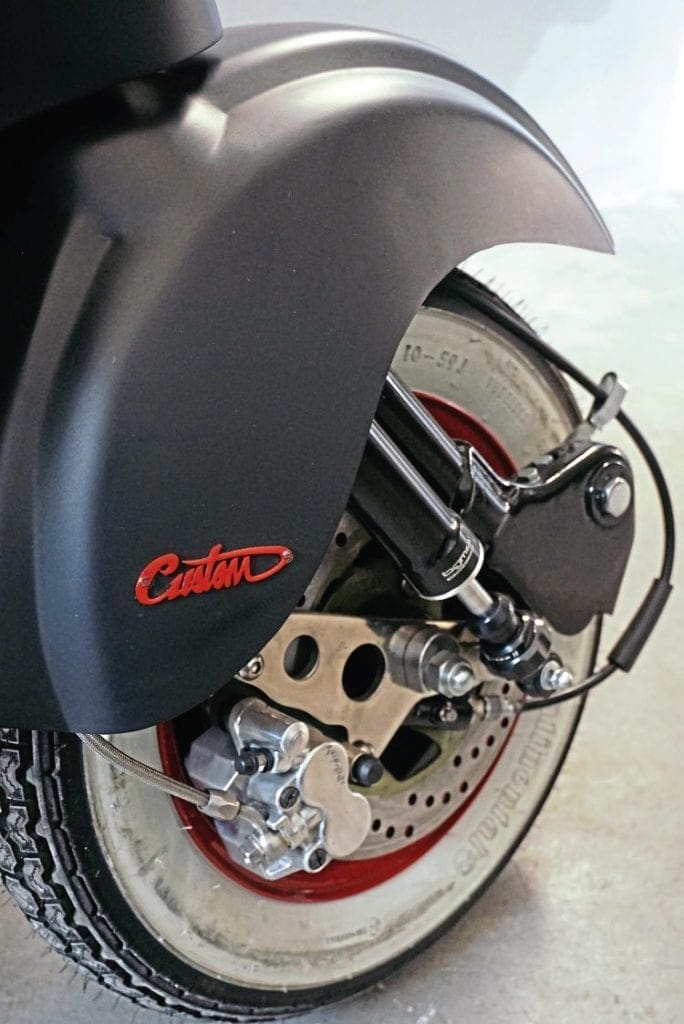 Neither Alberto or Claudio try to claim that Custom Lambretta is currently a viable commercial operation as both have successful careers, but that shouldn't be confused with an amateur approach. Each project is meticulously planned, including producing a 3D computer model on which they experiment with modifications before finally committing to them in metal. Taking responsibility for the design process is Alberto: "Our aim is to take inspiration from American hot rods and transfer those principles in an Italian style. No two machines should be the same. If a customer sees something in our work that they like we can incorporate it but we won't duplicate a project. The design process takes time but can't be rushed. We currently have a Series 1 that will be completed in a 'bobber' style but I can't find the right colour so it's been put to one side until I do."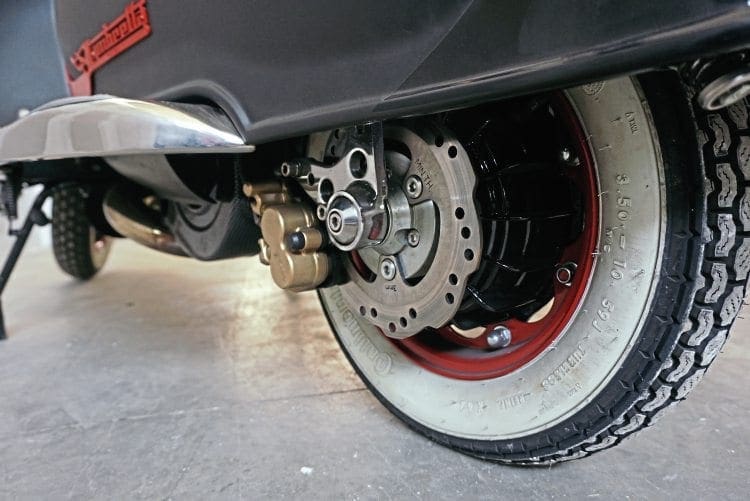 Achieving the vision
Once the design is finalised it's Claudio's responsibility to turn ideas into reality. A relative newcomer to scooters his love affair with Lambrettas started 10 years ago with an SX150. Looking at the quality of his work it's difficult to believe that he's entirely self-taught. Although each machine is individual there are certain trademark Custom Lambretta touches on each one. Drop handlebars and Smiths speedos are among the most noticeable. The former are produced by Claudio in his own workshop and the quality of finish is outstanding. Another popular modification to Series 2 machines has been an LD mudguard conversion. In addition to slightly re-profiling the mudguard, Claudio is also responsible for the concealed fastening brackets and extended horn casting 'blades' that so neatly finish this conversion. Hot rod influences are apparent in the various louvres and grilles that are cut into the panel work. Last, but not least, are Custom Lambretta's own laser cut badges. The panel flashes are a modern interpretation of the original Series 1/2 examples and are rapidly becoming Custom Lambretta's hallmark.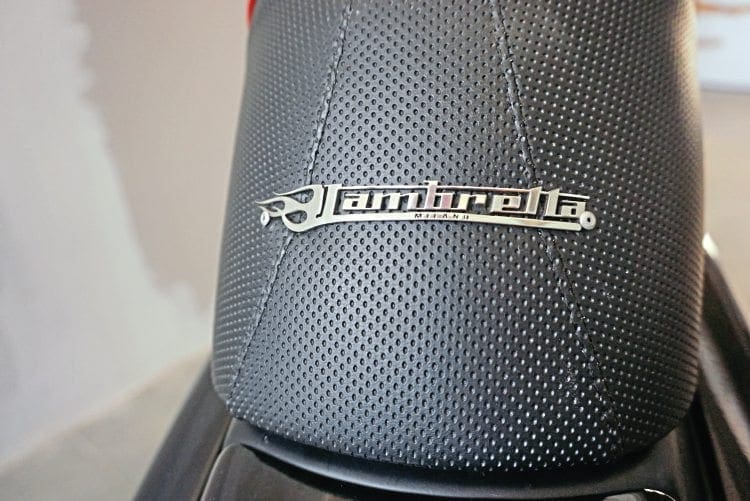 An illustration of the passion felt for each project is the amount of detail posted on Custom Lambretta's web page. Throughout the build photographs are posted creating a record of the machine's discovery and rebirth.
Spreading the load
Although Custom Lambretta's emphasis is on aesthetics, the team's engines are also built to the highest standards. The two men have formed a good relationship with Casa Lambretta and their builds typically mate the original small block with Casa performance kits. Most of the work is carried out in-house, the exception being the paint which is applied locally by Coloured Motos.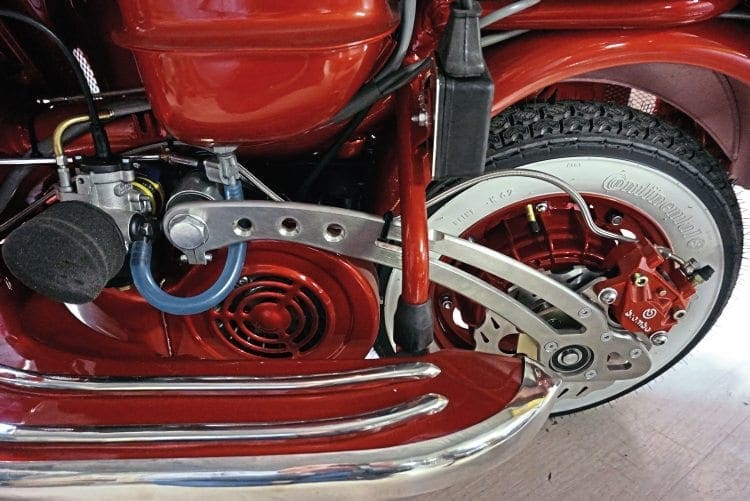 "Claudio can produce most things but when items need to be found elsewhere we always try to use Italian products," says Alberto. "For example, yes, we can buy the seats cheaply over the internet but I have found someone who produces them by hand and to order. It costs more but the quality is so much better and it's important to keep these skills alive."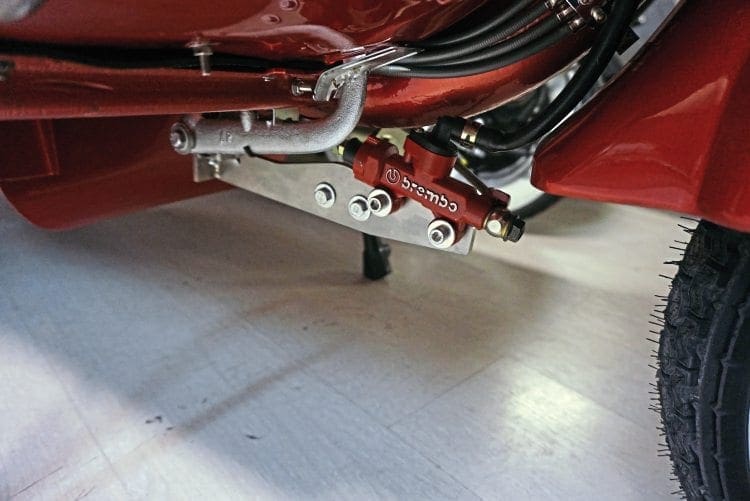 Future prospects
With their current production selling pretty much from the drawing board, how do the men see Custom Lambretta evolving? "I think we will always remain a small producer of finished machines" says Alberto. But there are opportunities to source and sell components. Designing something only for it to be produced in Asia is not something that appeals right now. I'm talking to small scale producers, artisans who can supply high quality items. I see a time in the future when we can supply components either from stock or made to order."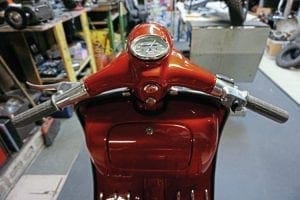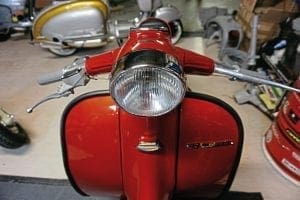 Alberto is currently converting an industrial unit into a combined workshop, store and retail space. Avoiding the tuning route to concentrate on bespoke builds is a strategy that's already paying off. Particularly pleasing for Alberto and Claudio was winning the first ever Custom Scooter category at the Verona Show. The passion both men hold for their work is clear and the quality of work speaks for itself. They are Garagistes to the core.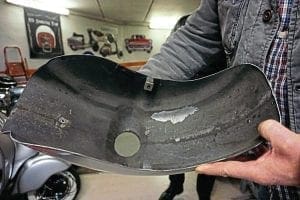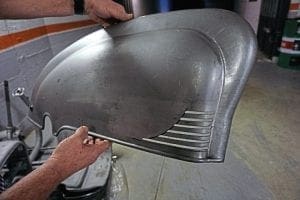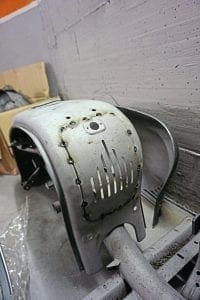 BOND MEETS BERGAMO
A staple of Bond films is the boat chase, usually featuring the beautifully crafted, classic Italian Riva power boat. One of Claudio's friends works for Riva and helped adapt the mechanism from the Riva's engine cover to create Bergamo 1's unusual rear end.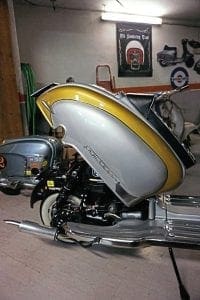 Words & Photographs: Stan

Enjoy more Scootering reading in the monthly magazine. Click here to subscribe.