Britain over the past six decades has produced some of the greatest bands and music in the world. The Spitfires are in the vanguard of the current crop…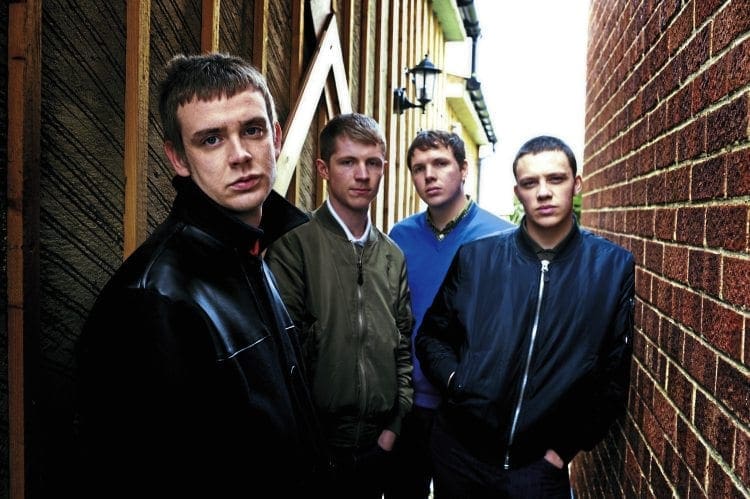 Classic British guitar pop, born during the 1960s, evolving over ensuing years, continues to be the true soundtrack of each generation. Powerful, hard-hitting observational lyrics driven by driving rhythms, power chords and thumping backbeats is the basic formula. Added to which the vast majority of that musical genre are often cited as the spokesmen for each generation. Torchbearers of that timeless legacy and spearheading the current crop are Watford's The Spitfires. Starting life as a trio, the group became a four-piece in the run-up to the release of their debut album. The current lineup is: Billy Sullivan – guitar, lead vocals and songwriter, Sam Long – bass, Matt Johnson – drums, and newest member George Moorhouse – keyboards. George joined the line-up after the departure of Chris Chanell.
Despite gaining little if any recognition from mainstream music media, as is all too frequent for any guitar bands playing original songs, the four-piece have enjoyed, because of sheer hard work, a brace of acclaimed albums and have toured the UK and mainland Europe, serving up incendiary, and invariably sold out live shows, deservedly establishing themselves as a force to be reckoned with.
The Spitfires' third studio album Year Zero is set for release at the end of July, following on from Response (2015) and A Thousand Times (2016), both critically acclaimed long players and both reaching the number six slot in the UK independent album chart. Mixing elements of punk and soul with ska and reggae, and combining strong, hard-hitting, original songs, contributes to The Spitfires unique sound.
Very recently they performed their live favourite Stand Down on The Andrew Marr Show, broadcast on BBC on a Sunday morning. On the face of it an unlikely combination of a political chat show with The Spitfires appearing, though given the observational lyrical content of many of the band's songs, perhaps not such a strange platform after all.
Year Zero sees The Spitfires set to propel themselves to even greater heights of success.
We caught up with The Spitfires' Billy Sullivan in his hometown for an exclusive interview.
It's been two years since A Thousand Times. What's your overview of your third album, Year Zero?
Obviously, it's our best so far! It was a conscious decision moving on from A Thousand Times, some of which was hard to reproduce live. Move On, the taster for Year Zero, paved the way.
We've got better as musicians. Year Zero sees us trying a few different things, certainly in comparison to A Thousand Times. All of Year Zero is easier to re-create live. George is an absolute wizard on keyboards and this has allowed us to add a few more things to the songs, bringing in extra dimensions.
With A Thousand Times we had a fixed plan for what we were aiming for. With Year Zero, to start with there was no real plan, it grew more organically. To start with it was a case of 'f*ck it, let's go in the studio', with nothing more than a few ideas, and no preconceptions of what was going to come out of the sessions.
Four sessions on we had three or four songs with the other tracks well on the way. By the end of last year (2017) Year Zero had come together. There's a wide range of influences on there that have been drawn on. We're moving forward as well as not forgetting where we came from when we started.
We've worked with the same producer on all three albums. He shares a liking for The Clash and The Ruts, but more importantly, he puts up with me!
What are some of your personal favourite songs from Year Zero and why?
There's something special about every track on Year Zero. Frontline is the only track we cut as rehearsed, right there and then. It's got a great bass riff as well as being a great pop song. Remains the Same has been out as a single. It was first cut at the same session as Over and Over Again. We weren't 100% happy with the result, so after a re-think we recut it. It's benefited from added brass, to become a really good song with strong lyrics.
With Dreamland I suppose I started off wanting to capture an atmosphere, worked in a few effects, noises and layers, with almost speaking, low vocals. Dreamland is different from a lot of our songs. I really do like that track.
New single, The New Age, kind of harks back to what we wanted to do when we first started. We're better musicians now. It reflects how we wanted to sound back then, even if we weren't quite there at the time. On the records it captures our live great melodies and lyrics.
After Chris left and we got George in, the first song written was Over and Over Again. I had that keyboard riff in mind, and he nailed it to perfection.
I only write from my own personal experiences. No slogans, no hidden agendas. I can only talk about and write about things that I know about, things I've experienced, things I've seen.
It's been stated The Spitfires are fiercely Independent, partially down to the fact you've chosen to do things your way. Would you agree?
For any band it is hard, and hard work to achieve anything, but putting in the graft for us it works. It's seriously harder and harder for a band like us to exist.
Youngsters don't appreciate proper music like in the past. It's almost like they've been alienated. For many it's like music comes second or lower; it's as if a whole generation has been lost.
By keeping ourselves independent we follow our own agenda and have a say as well as a controlling input.
The Spitfires have had some high-profile support slots as well your own headline tours. Any stories?
Met Paul Weller in a cafe. We did a couple of dates with him. He was very nice to us. We supported The Specials too around the same time. Those support slots were before Response came out. It would be different now — it was all new to us then.
Our first taste of selling out tour dates was on the Response tour. We did two consecutive nights at The Prince Albert in Brighton over the August Bank Holiday weekend, which coincided with Brighton Mod rally. We sold out both dates in advance and had hordes of people without tickets outside both nights.
Touring in Germany was an amazing experience. Really good audiences and lots of positive press; we're looking forward to going back over there with Year Zero.
Camber Sands scooter rally from a few years back sticks out, though I'd say my favourite and worst festivals were the same one. Y Not in Derbyshire 2016 was great, the tent was full and everything went as it should. We went back last year, the weather was terrible, it was an absolute mud-pit, there was barely anyone there when we played, and I think the festival shut a day early due to the conditions on site. It was awful, especially compared to the year before.
Tell us about your Lambretta…
When I was in my teens I wanted a Lambretta for some time. I got a Series 3 LI125 for my 21st birthday, around four years back now. With playing, rehearsing, recording and writing and going out on the p*ss when I get a bit of rare time off at weekends, I don't have as much time as I'd like to ride it. Truth be told I hadn't started it up for a while. I started her up yesterday; fired up third kick. Needs a bit of a mini-service, after being stood for a while.
Finally, what's happening in the near future for The Spitfires?
I'm working on a few bits for the fourth album. We've got the Year Zero record launch party at the end of July at The Horns, where we first started out. Hope to make a bit of time to get out on my Lambretta. Then there's a one-off show in Milton Keynes, a few Rough Trade in-store and signing sessions, and we're playing Beautiful Days festival in Devon. It's all go, I wouldn't want it any other way.
For more info: www.facebook.com/TheSpitfiresUk
Words: Sarge
Photographs: Sarge & Tony Briggs

Enjoy more Scootering reading in the monthly magazine. Click here to subscribe.