It's been a while since the launch of Maca's New Breed colour scheme. With two stunning examples available and access to the man himself, we thought it was time to catch up with all things Down Town Custom.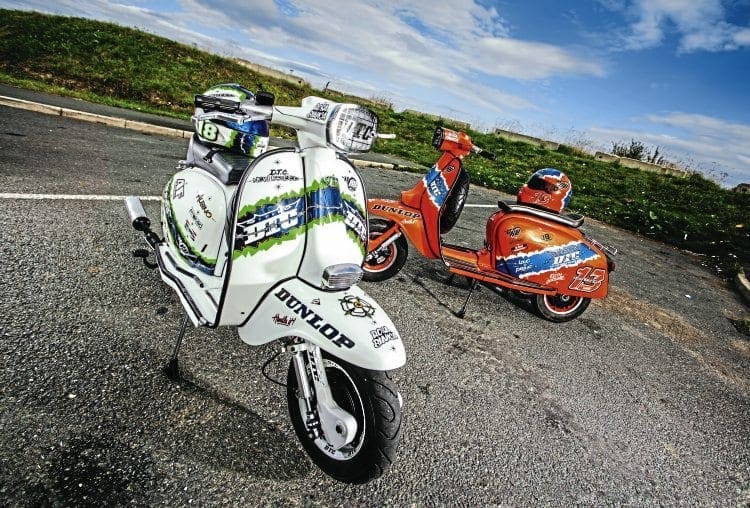 Brendan 'Maca' McNally is one of the great names of modern British scootering yet he's someone who manages to keep a low profile (we published a full interview with him in our May 2010 edition – back issues are available!). Based in Yorkshire, Maca has never lost touch with his roots, even when he took a break from scooters and the machines featured here are the result of those close ties. But before moving on to the machines themselves, what's Maca himself been up to?
"I'm enjoying life!" says Maca. "One of the reasons I left scooters behind for a while was that I stopped enjoying them. I had a good career in digital media but that also stopped being fun. I'm older now, more mature and seem able to strike a better balance between work and family life. If the number of commissions start to take over, or it's something that doesn't appeal, I've now go the confidence to say no. I've enjoyed everything I've produced recently and that's very important to me."
This doesn't mean that Maca's taking things easy. His workshop is lined with projects and there's certainly no reduction in demand for his distinctive schemes, which brings us neatly onto our feature scooters. First seen on Peter Rutterford's black example back in 2012, there are now 18 New Breeds out there, with our feature bikes wearing very different colour schemes.
Loud n Proud
When talking to Keith Goddard, owner of Loud n Proud, I realise that over the years we'd been in various pubs, clubs and shops at the same time, often with the same people but had never actually spoken. As far as scootering experiences go Keith has ticked just about everything off the list: from under age field scooters, through the usual rallies, a credible racing career (including sponsorship), then time out from scootering spend on fast motorcycles and motocross before returning to the fold. Keith's keen to point out that he never gave up on scooters, "they just got pushed to the back of the garage for a while".
With such a broad range of experiences, it's not surprising that Keith is well connected, "I've known Maca for years. Fortunately he decided to get the original Rosa Bianca back on the road at the same time I was looking to refurbish this scooter after a spill. We came to a deal that involved me building Rosa's engine as part payment for the spray job."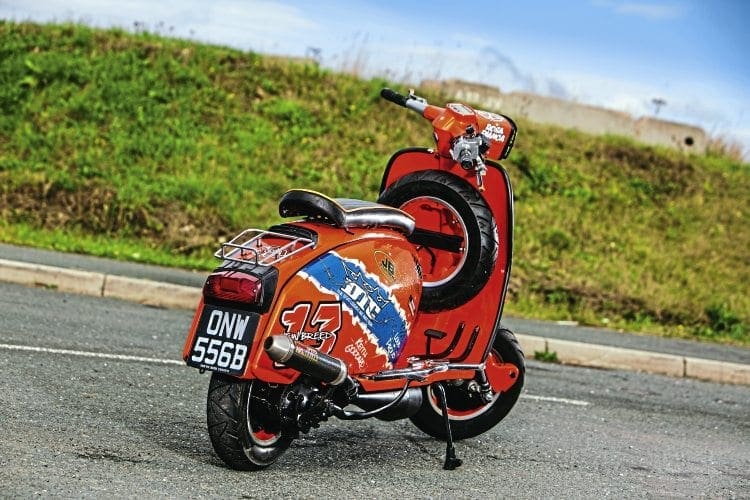 When choosing a colour scheme Keith was quite relaxed. "Maca knows his business. I was very impressed when I saw the New Breeds. Both Pete's prototype in black and then 'Mellow Yellow' really stood out. I told Maca I wanted Loud n Proud to be bright then left it to him."
SCOOTER DETAILS
Name: Keith Goddard
Town: Wakefield
Club: Wakefield Outlaws and Gemini SC.
Job: Groundworker.
First interest in scooters: Around 1977/78, my older brother had a scooter he kept in the shed. When I was about 12 my parents went out and I took the opportunity to have a ride about on it!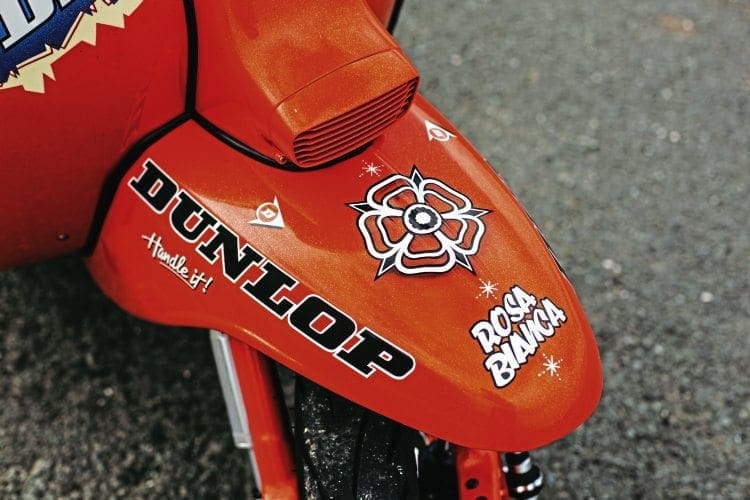 First scooter: GP200.
Furthest ridden: Isle of Wight.
Favourite model: Lambretta GP.
Favourite style: Street racer.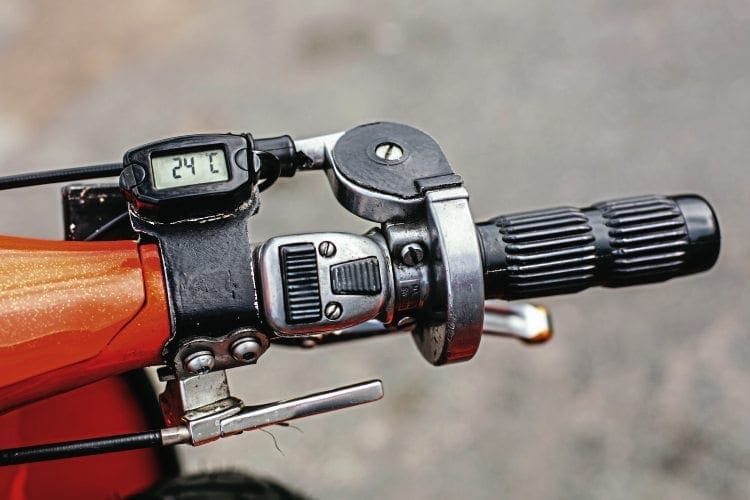 Recommend one part: Engine temp sensor, more important than a speedometer.
What you dislike about rallies and events: Street racers that arrive in vans for the custom show.
Best memory/story: Some of my happiest times were racing for Pete Richardson's Competition Scooters after he split from Ron Harvey's.
Name: Loud n Proud
Model: It's an LI frame, reworked after an accident in which the headset was smashed.
How long owned: A long time, at least 25 years.
Condition when bought: I bought a garage full of scooters to use for parts when I was racing, this was among that lot.
Inspiration for the project: I got some PPI money!
Time to build and who buy: Built by Mick Howard (Sign of the Snake) and myself about three years ago.
Engine: RB225 but with a 60mm crank and 110mm con rod, AF six-plate clutch, Li150 gearbox, 46/17 tooth drive, Dellorto 34mm carb, ADS6 exhaust. It was one of the first RBs. John Balcome tuned, it put out around 30bhp.
Paint: By Maca.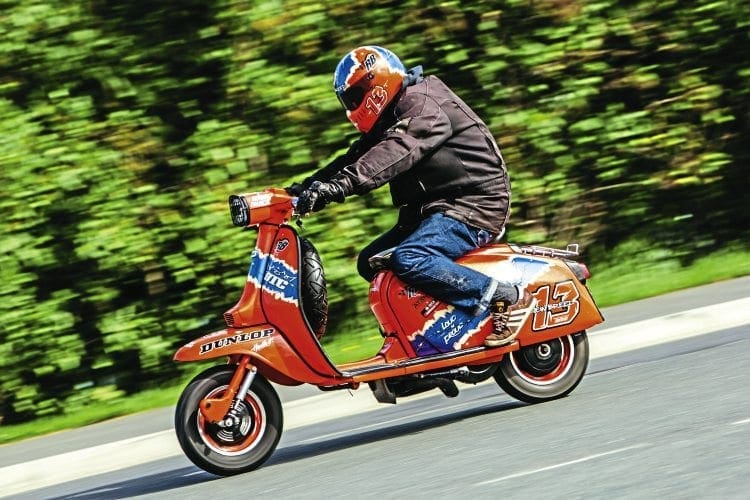 Specialist parts/accessories: Atomic shocks.
Powder coating: Midas Touch.
Cost: I'll never get back what I put in but that's not the point. This is my creation.
Thanks to: John Balcome, Maca, Martin at Chiselspeed and our lass for her patience.
The Albino
Demonstrating the New Breeds' versatility is the Albino scheme, which is owned by lifelong scooterist Mel Hart. Once again Maca was entrusted to decide on the colour scheme. "I really wasn't convinced when he suggested white, which was the last colour I wanted," said Mel. "The paint effect is incredible though. It changes depending how you look at it and the blue spindrift appears almost liquid."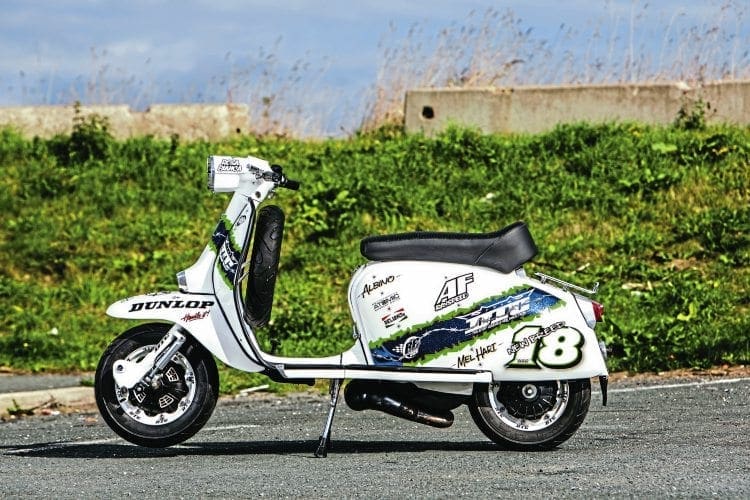 Mel's New Breed has benefited from Keith's engine building skills but the main build on both Albino and Loud n Proud was by Mick Howard, better known for his well-ridden custom 'Sign of the Snake'. By his own admission Mick is something of a perfectionist and his attention to detail is evident in both scooters, classing them as home builds simply doesn't do either machine justice.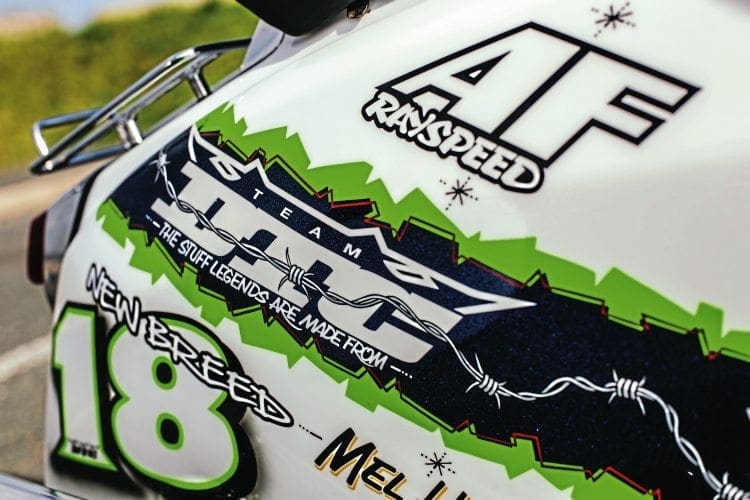 The hardest part of the whole process for Mel has been patience: "Maca is known for his rather flexible timescales but Keith and Mick kept telling me that the worst thing to do was rush it. They were right and I'm very pleased with the end result."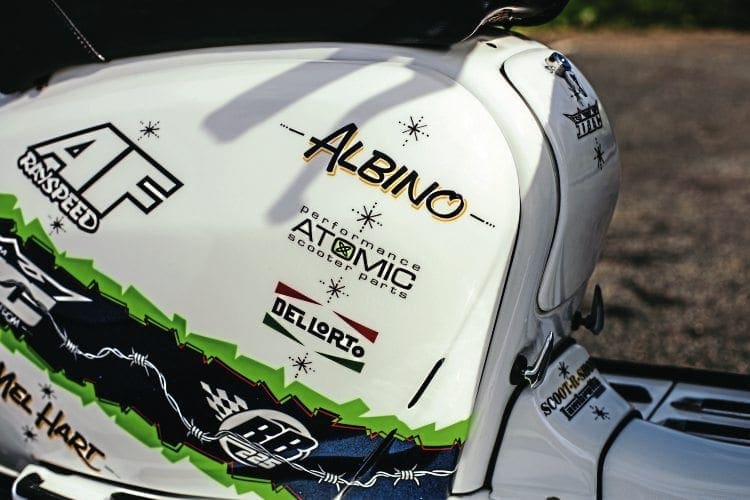 When he created the Rosa Bianca scheme Maca secured his place as a legend within scootering. The New Breeds are instantly recognisable as part of the Down Town Custom family, mixing traditional skills with modern techniques. They represent the current height of 21st century street racer chic and may well be the jewel in DTC's crown.
SCOOTER DETAILS
Name: Mel Hart
Town: Wakefield
Club: Wakefield Outlaws.
Job: Sales manager.
First interest in scooters: Around 1980, a bit of 'The Film', but mostly mates at school.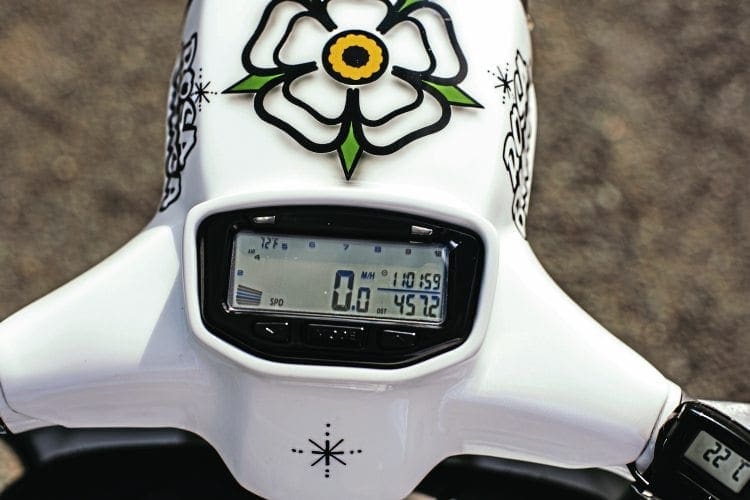 First scooter: 1980, I bought a Vespa 50 but didn't tell my mum. I had to hide it in the shed until I plucked up the courage to tell her.
First rally: Southport.
Favourite model: GP200.
Favourite style: Street racers or full blown customs thought I can appreciate anything that's been well done.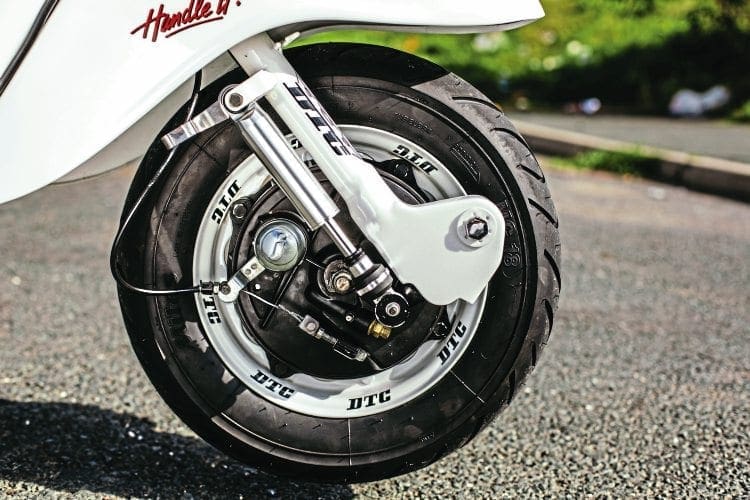 Favourite dealer: Scoot R at Kippax and Chiselspeed.
Most useless part bought: Lever gaitors – useless.
Best memory/story: I, sorry a friend of mine, took L-plates off to give a girl a lift and a police car pulled alongside at some lights. The girl began pointing at the police car and shouting that it was the police. I, sorry my friend, nearly had a fit.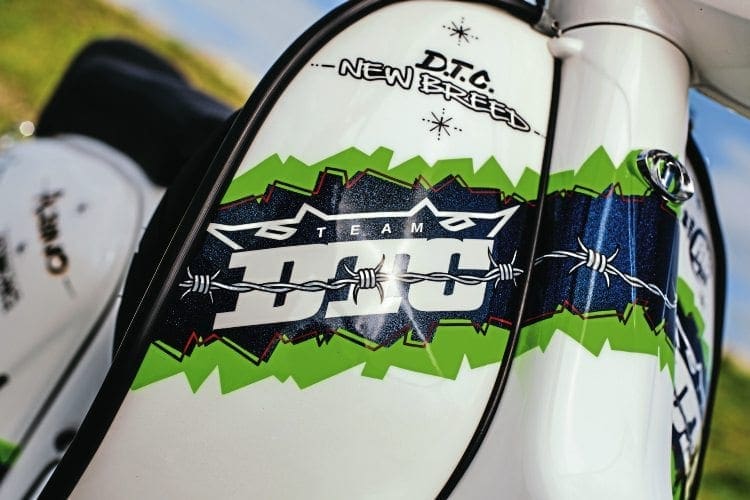 Name: The Albino
Model: Innocenti GP
How long owned: About two and a half years. I bought it from someone who needed a quick sale.
Condition when bought: It was very tatty.
Inspiration for project: I'd admired Keith's for some time and always wanted a piece of Maca's work.
Time to build and who by: Built by Mick and Keith.
Engine: RB225, 30mm Dellorto, NK pipe, GP200 gearbox and six-plate clutch.
Paint: By Maca, white with blue spin drift. The colours are mind-blowing in good light.
Reliability: So far so good.
Biggest challenge: Waiting for the lacquer to dry.
Advice to anyone starting a project: Buy the best quality you can afford or you end up paying for things twice.
Thanks to: Maca, Mick and Keith.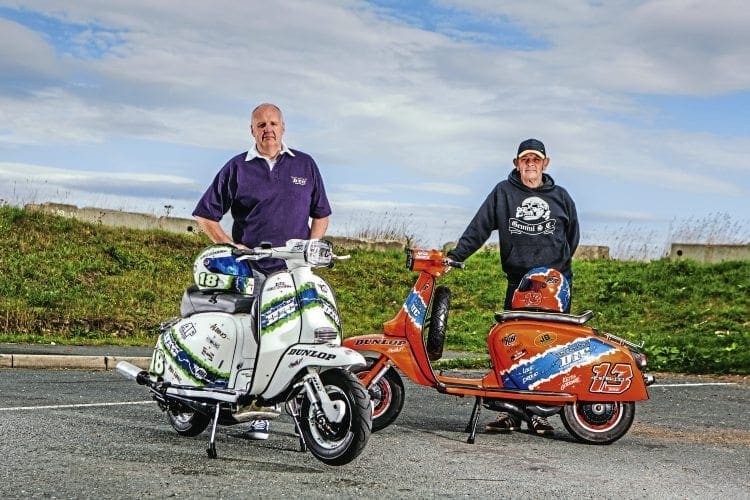 MACA AND THE NEW BREED
"When I came back to scooters I wanted to do something different," Maca explained to Scootering. "The Rosa Bianca scheme was very successful, and I still enjoy painting them. Unfortunately it's also fairly easy to copy — I think they can still be ordered direct from India! My idea was to create a new scheme that could be replicated in various colour combinations but wasn't easy to reproduce. New Breeds were the end result."
From a distance the New Breed scheme looks fairly simple, it's only on closer examination that their complexity becomes apparent. "In the main I use Spin Drift on the New Breeds. Depending on the light conditions, or the angle from which it's viewed, its square cut flake produces a colour changing effect. For some reason the lights used on garage forecourts at night give the best effect"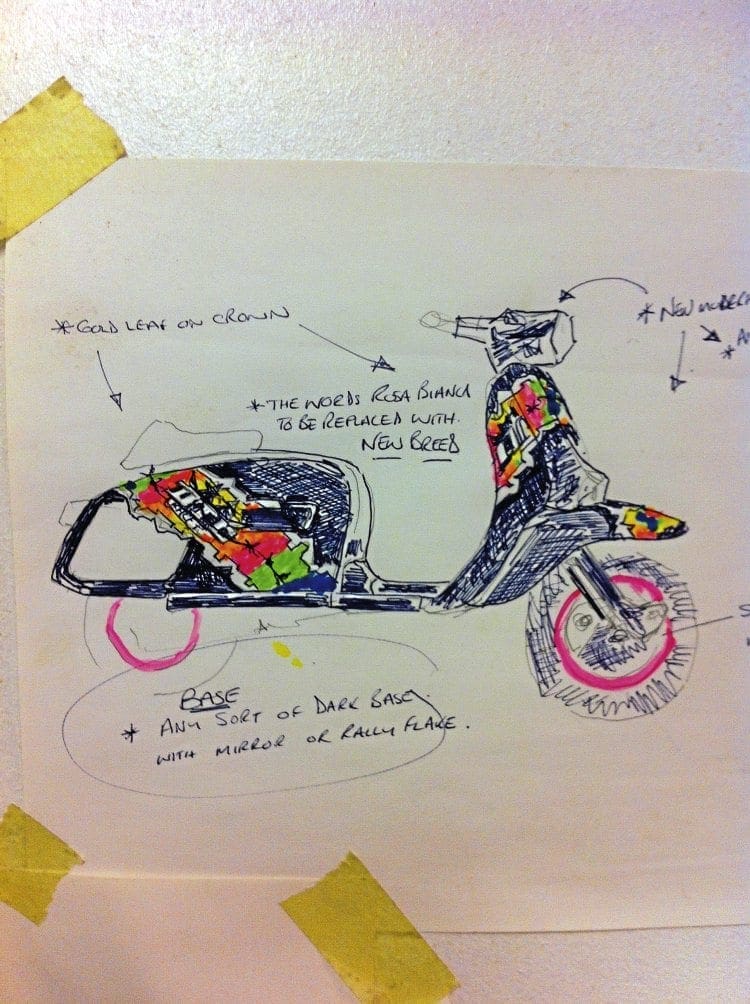 Maca realised long ago that wedges were important in creating effective scooter schemes as they give the impression of speed, even when the machine is static. The New Breed's panel band sticks with this formula and the depth of effect is incredible — it really does look like it's possible to reach into the panel. Final touches include hand-applied pin striping, painted logos and a barbed wire effect that's popular among motorcross riders and pays homage to the success of his children in that sport.
Although it's proven popular Maca sees the New Breeds as a work in progress! "Each one has been slightly different as the scheme evolves, for example Keith's machine has the third type of updated rose I've tried so far. Interestingly most owners have left the choice of colour to me. The Rosa Bianca scheme was also intended to work in different colours but there's been little variation with that."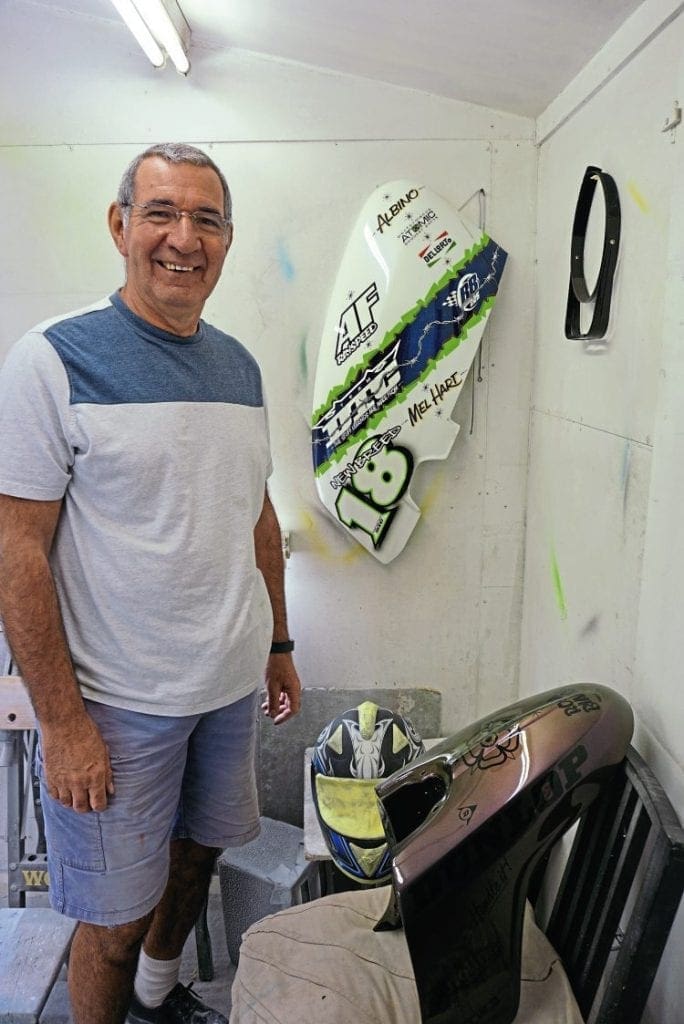 As the original scheme's being copied with varying degrees of skill, how does Maca feel about them? "I can spot them a mile off. So long as they don't try to pass them off as an original I take it as a compliment. Anyone who picks up a spray gun deserves some credit for trying. So far as the New Breed's concerned I've only seen one attempt at a copy and it wasn't anywhere close."
Maca closed our interview with a tease about the future. "I've plenty of work lined up and while I'm enjoying things I'll keep going. Nothing lasts forever though and I've been looking for fresh avenues to express myself. I'm a trained commercial artist and have found that recently I'm leaning towards oil on canvas." Maca's chosen subject is of course scooters. This raises the exciting prospect that in years to come enthusiasts may be able to boast that they've got 'Genuine Macas' both in the garage and hanging above the mantelpiece.
Words: Stan
Photographs: Gary Chapman

Enjoy more Scootering reading in the monthly magazine. Click here to subscribe.