Singer, artist, window cleaner. Jep's first custom build shows that some people were at the front of the queue when talent was being handed out…
Before going any further, it's worth saying that 'Jep' doesn't claim to be in the league of professional artists whose work decorates the show-winning scooters we know and love. "I just wanted to see if I could do it" he explained. But we're getting ahead of ourselves. The story of Jep and The Jester is firmly rooted in the late 1970s.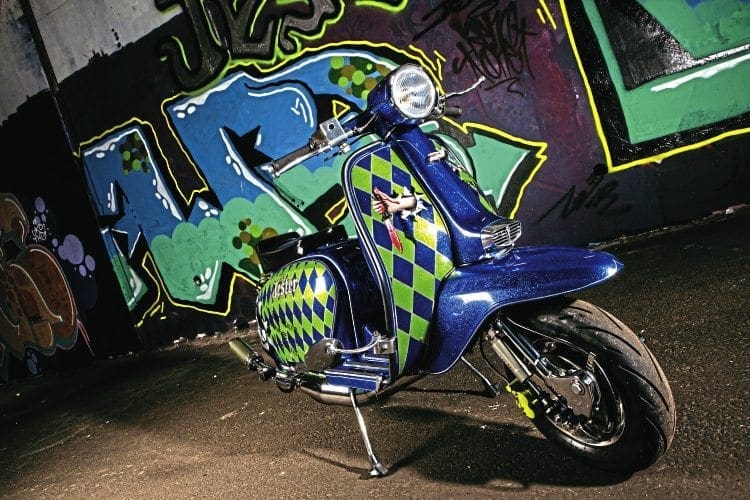 Missed opportunity
By the 1970s, most of the country had lost interest in scooters but in the working class communities where Jep grew up the fire never died. "I'd see lads out on their scooters, thought they looked fantastic and wanted to be part of it," he said. After a short time riding pillion, Jep progressed to scooter ownership, becoming a familiar figure at local and national events where he spotted an opportunity to make his mark.
A major influence on Jep is his dad who was heavily involved in the custom van culture, securing some success with a heavily customised Land Rover. "There were no scooters being entered in shows at that time," explained Jep. "I wanted to build a scooter that went beyond the basic street customs of the time and bought a rough Rally to use as a base. When I commissioned Don Blocksidge to engrave the headset he told me it was the first time he'd worked on a Vespa.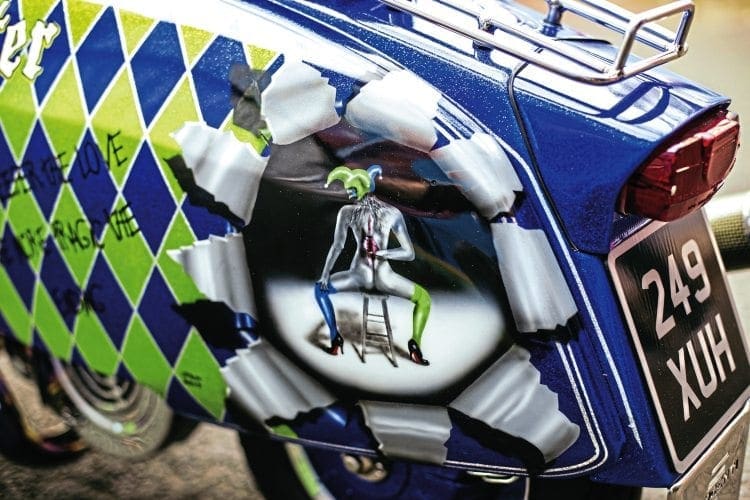 "It was called 'The Valkyrie' but for various reasons I never completed it." Like so many projects The Valkyrie lingered for a while before being sold on, something that Jep still regrets.
Kismet
Although Jep's had a successful career as a front man for various bands, most recently The Strikes, his interest in scooters never waned. "A few years ago I impulsively bought a Richpen Airbrush with compressor for about £300. I thought my son might want to try it on his Li but he never showed any interest."
In early 2015 Jep bought an Imola powered Li 150 '249XUH'. "It ran well but needed a refresh," said Jep, "After running it for a season I began to toy with various ideas. While clearing out the garage I found the airbrush kit and thought 'How hard can it be?' The answer is, VERY! But I didn't know that then!"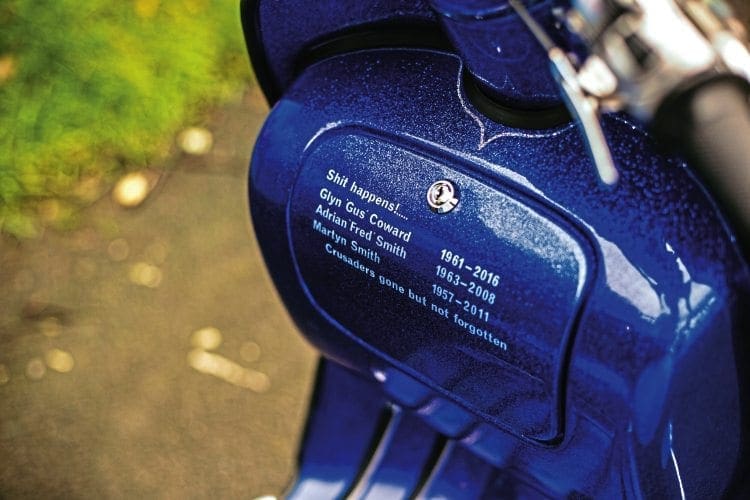 Let the rebuild commence
Like most scooterists, Jep can wield a spanner or two but he's the first to admit that without Paul Wood the rebuild wouldn't have happened, "Woody stuck with this through thick and thin," he said. "His advice was invaluable." With various modifications planned, XUH was stripped and only then did the scale of the task ahead became obvious. "Nothing fitted" Jep explained. "Only when we compared the frame to a straight one did we realise just how much bodging it had been subjected to over the years. The stand bracket had bent upwards and a previous owner had simply sliced a few mm off the frame loop so the running boards would fit!" Fortunately Jep and Woody are made of hardy stuff and they agreed the only logical course of action was to design and build their own jig. "It'll come in handy," laughed Jep.

Once satisfied with the frame's alignment, Jep began to prepare XUH for paint, the first step being constructing a spray booth. If that sounds excessive the booth in question was Woody's shed re-lined with clean ply for the occasion.
The first coat was silver metal-flake "I could've left it there as I was quite pleased," said Jep, but Woody pushed me on. Masking for the blue candy was a nightmare. I spent a full day applying a harlequin design to the side panels. When I put them side by side I realised that the lines ended at slightly different points. Even if no-one else noticed I'd know and it'd drive me nuts so I pulled it all off and started again."
The most challenging part of painting had been keeping the booth surgically clean. Jep said: "I'd do the prep work, clean it down and after applying the paint I'd go home a happy man. The next night I'd come back and the paint would have peeled or be full of fish eyes (small imperfections in the finish). There are some parts I'm still not happy with but they don't spoil the overall effect".
Mural magic
Although he'd never previously attempted airbrush work, Jep's preparation for applying the murals was surprisingly short: "Someone suggested I paint a portrait and ask people who they thought it was. The theory was that if they got it right I could get on with painting the scooter." Fortunately Jep's portrayal of Sylvester Stallone passed the test and he began to work on his 'Jester' scheme. "The only inspiration was a harlequin scooter I saw years ago," he said. "In my mind the Jester is a woman scorned and out for revenge."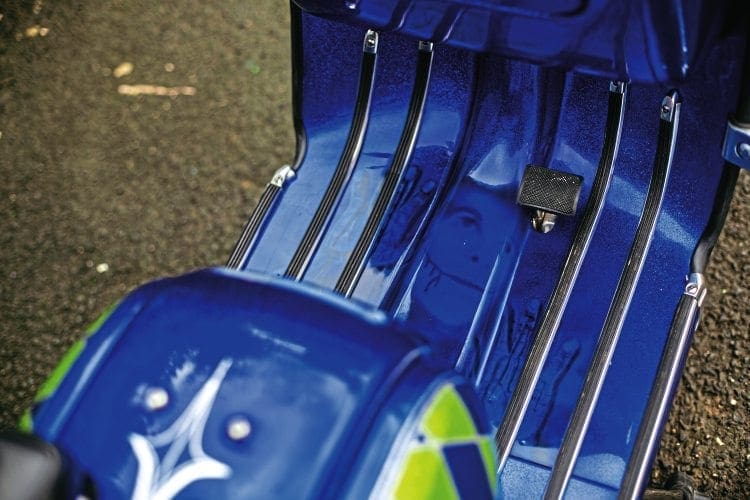 No chequebook required
Jep makes no claims to have produced anything other than a tidy road going scooter but he should be proud of his efforts. The Jester is the antithesis of the cheque book culture that many claim dominate the custom scooter scene.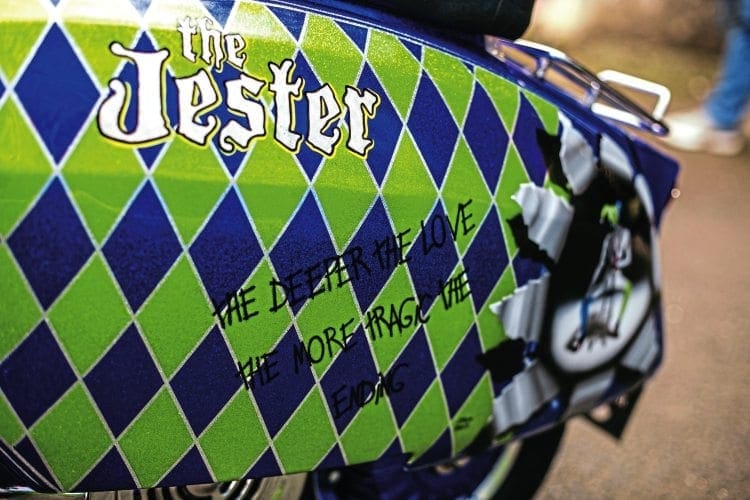 While saying goodbye I notice a Rally in Jep's garage without a headset. Seeing my interest Jep winked and said: "I'm determined to build The Valkyrie. Don even remembers the pattern he applied first time around…" This may be Jep's first build but it looks like it won't be his last.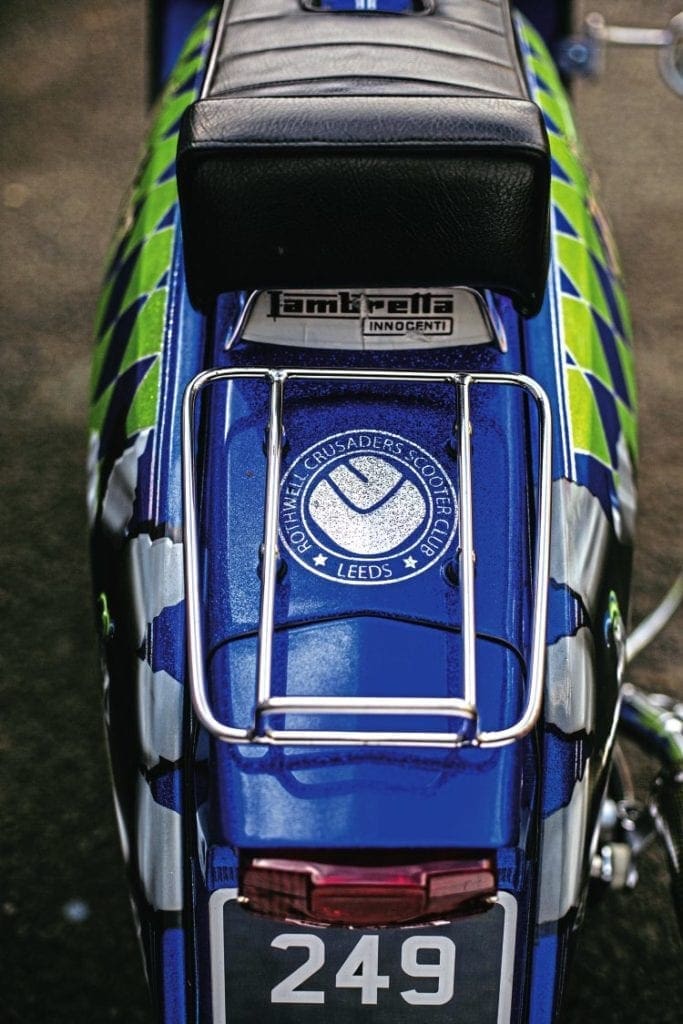 MAN & MACHINE
Name: Mark Jepson ('Jep')
Town: Leeds.
Job: Window cleaner.
Club: Rothwell Crusaders.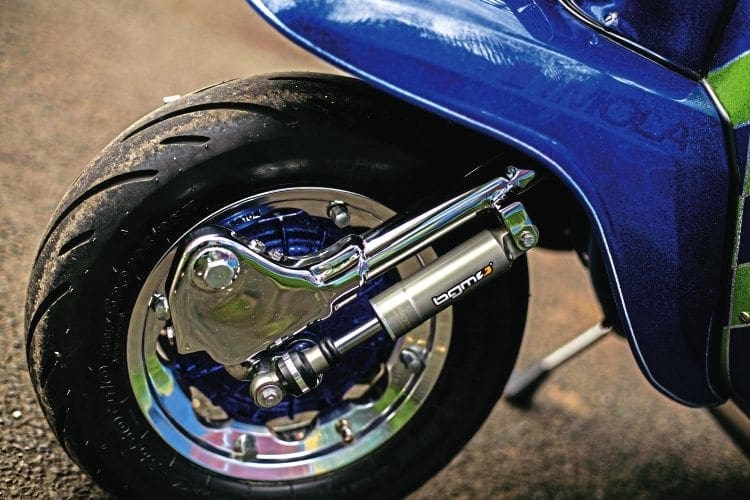 First rally: Scarborough 1979.
Favourite scooter model: SX and Rally.
Memorable experience: Keswick 1981 – the first time British police used riot shields!
Useful advice: Always dry build, it can uncover all kinds of problems.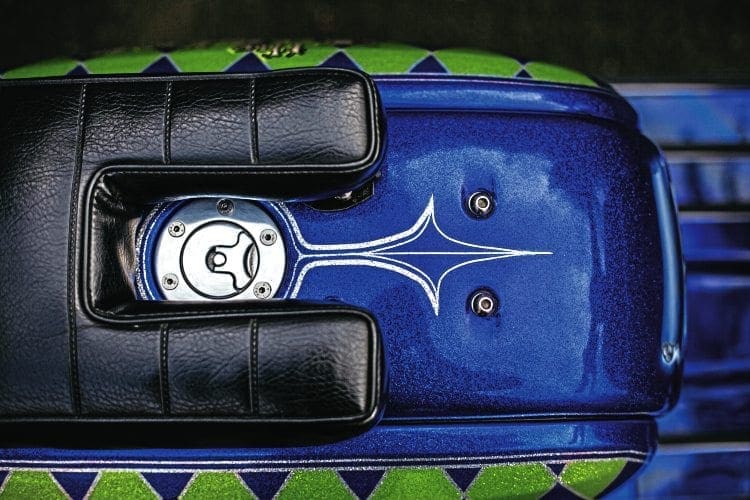 Scooter name: The Jester.
Model: Lambretta Li 150 Series 3.
Body modifications: SX horncast, GP mudguard and panels, shortened rear boards by Oiltek, SIP Speedo.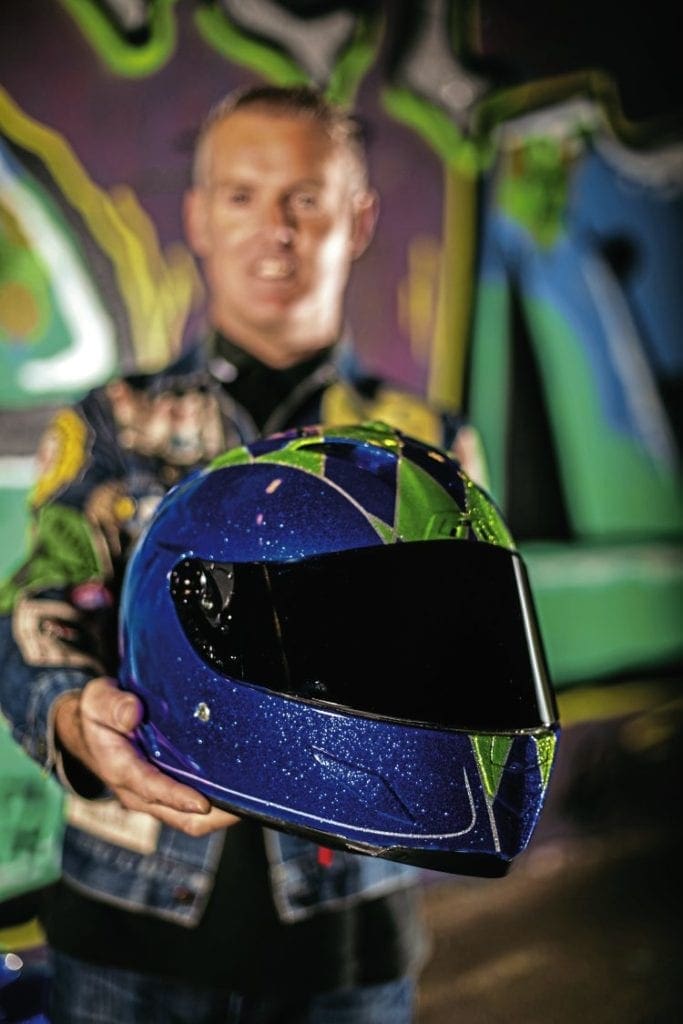 Engine: Ralph Saxilby, Imola 185, JL4 exhaust, 30mm Dellorto, AF six-plate clutch, GP200 gearbox, BGM ignition.
Power: Dyno at 21.5bhp.
Chrome: Quality Chrome.
Paint: by Jep.
Thanks to: Paul Wood, Ralph Saxilby, Paul at Oiltek and of course, my lovely wife Carol.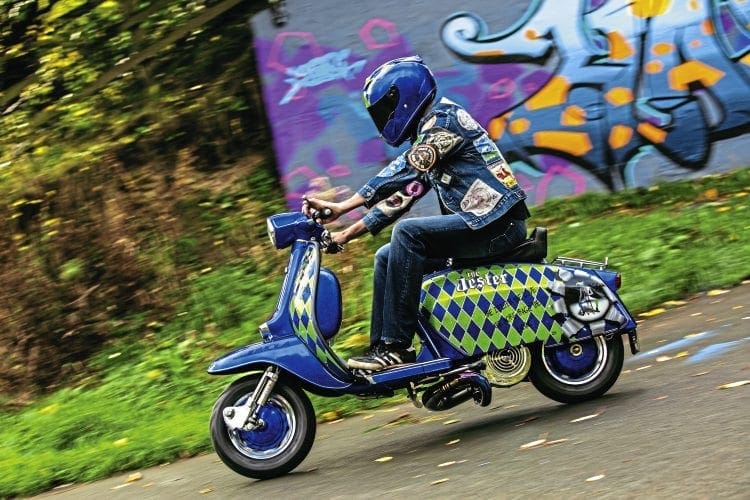 GRAFFITI HEAVEN
The images accompanying this piece were taken in a tunnel that runs under the M1 at Horbury, near Wakefield. Licensed by the Local Authority as an 'artistic space', it's a constantly changing art gallery that attracts renowned street artists from across Europe. It's well worth a detour when in the area and Scootering is very grateful for the patience of artists working on the day of our visit.
Words: Stan
Photographs: Gary Chapman
SPOTLIGHT ON… THE STRIKES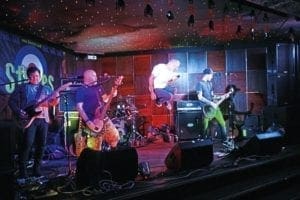 The band
Jep — lead vocals
BSD — bass and vocals
Dom — guitar/keyboards and vocals
Tom — guitar and vocals
Rick — drums
Music genre(s)
Mod, ska, indie, punk, rock (covers)
A quick one with Jep
How long have The Strikes been going?
"About six years now, I was in another band for years before. There's five of us, I'm the vocalist and frontman and do like to give a real performance. For example one of the first times The Strikes played it was in Halifax for Yorkshire Scooter Alliance, during the first song I climbed up on top of the speaker stacks!"
How do The Strikes decide on what songs to perform live?
"It's a really mixed bag, we tailor what we play to suit each gig, with a few surprises thrown in too. We've got a repertoire of 70 to 80 songs we can do, and do well. The Strikes have a reputation for performing with energy and building an electric atmosphere every time we gig. We get a lot of bookings for scooterist inclined events, including National rallies, plenty of Mod, ska, indie and punk favourites, all given The Strikes treatment. We even sometimes put in our version of Ace of Spades, and the odd Darkness song, Kasabian, and even The Monkees among other more rock type of numbers."
What have been the highlights for The Strikes so far?
"I could say the bigger the gig the bigger the buzz, but I won't, they're all good, we have a great time every time we play live. As a scooterist for many many years, playing a National Rally is always special. We've done Cleggy three or four times, Skeggy too, Bridlington last year, there was a write up about it in December (2016) Scootering, with a brilliant picture of The Strikes on stage with me caught in mid-air. That was a real highlight for me."
Sarge

Enjoy more Scootering reading in the monthly magazine. Click here to subscribe.