Jack Edwards is a young scooterist who has a passion for the scene. Together with his father, Doug, he shared with us the highs and lows of his first scooter build and his first ride to a scooter rally…
The acquisition
Doug spotted Jack's Vespa 50 Special on eBay. It had a 'buy it now price of £600. Doug pressed the button, paid the money and the following weekend they set off to Maidstone and collected the scooter.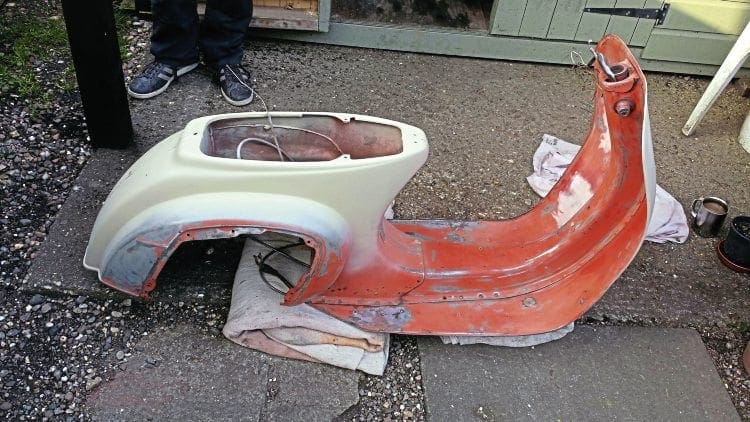 With the scooter now safely back at home, it sat covered up in their shed, but with Jack's 16th birthday fast approaching, work needed to start. Doug decided the best way for his son to learn was for Jack to get stuck in, get involved and wherever possible actually do it. Reflecting back on the whole build process, Doug said: "I assumed the role of foreman and did very little!" Doug and Jack started stripping the scooter and during the process they discovered some problems. The frame had holes drilled in it, there was rot to the running boards, there were various dents to the bodywork, headset, front mudguard, and engine cover side panel. Doug said: "To get the scooter to be perfect we decided that some parts might have to be replaced. We weren't going to take any short cuts and if it wasn't right it would be redone and started again."
Planning and preparation

To support the scooter build, Doug and Jack built their own work/spray shop in their back garden, which also gave them time to start thinking about what sort of paint job the scooter was going to have. To Doug the answer was easy, being an Eighties scooterist; it had to be metal flake and candy, but what colour? They discussed their options and because the scooter originally came out of the factory painted orange Jack decided that the scooter would stay orange. Tango orange was available and the paint was ordered. The final product would be silver metal flake covered in orange candy and with their build premises organised the preparation work began.
Paintwork and sanding

Optimistically Doug booked four days off work to supervise Jack with the paintwork process. However; the whole process took about six weeks, which gave Jack the opportunity to learn the craft in detail. After the last clear coat had been applied it was time to 'flat back' with wet and dry, and Jack was designated with the responsibility of 'senior sander.' Six hundred grit wet and dry was used and then the whole thing was polished with cutting compound. Jack said, "There was so much sanding involved. I've vowed never to sand anything ever again!"
Light of day

On the day when the paintwork was completed darkness had drawn in, which meant that during the latter stages of the process Doug and Jack had been working under poor lighting conditions. Doug said: "In all honesty it didn't look good and we were hoping it was just the light; so we left it, in the hope that it would look better in the morning."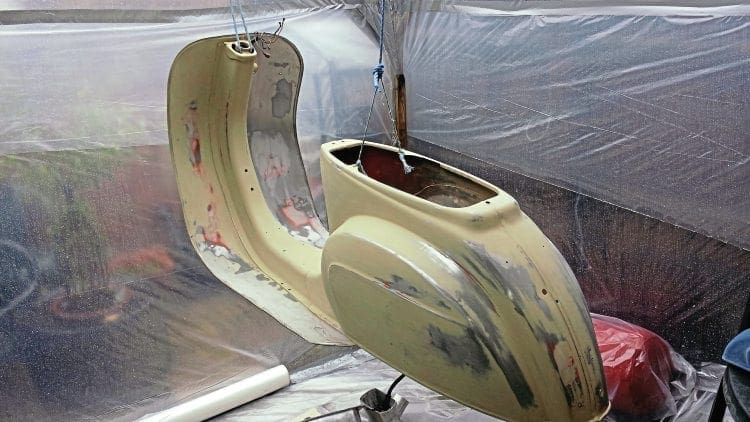 The following day, and under better lighting conditions Doug and Jack returned nervously to examine their work. Doug said: "It was good, but it wasn't to the standard we were looking for." After some deliberation Doug and Jack decided to wet and dry the scooter again, but with finer grade paper. Doug said: "Can you imagine Jack's delight at the prospect of yet again rubbing it down? Only this time it was worse, I had sprayed the whole thing with a wax polish! In hindsight, cleaning it first with panel wipe would probably have worked." The scooter was sanded again and soon it was time to start polishing. Bingo! Almost instantly it was there and the shine was coming back; what a relief! The rest of the scooter was polished and it was looking good.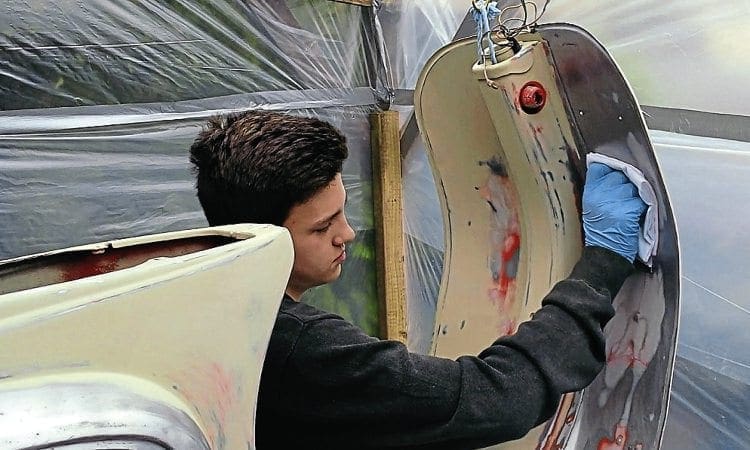 Doug said: "The problem now was, how could we put anything old or rusty back on it?" Doug and Jack had to be honest with themselves. The mudguard wasn't up to scratch and neither was the engine cover side panel. These parts were replaced and within 10 days of the scooter being painted it was reassembled.
First outings

The scooter was given its first outing and test-ride and everything proved okay. The next part of the plan was for Doug and Jack to go on the Skegness Rally but due to some unforeseen circumstances they were unable to make it.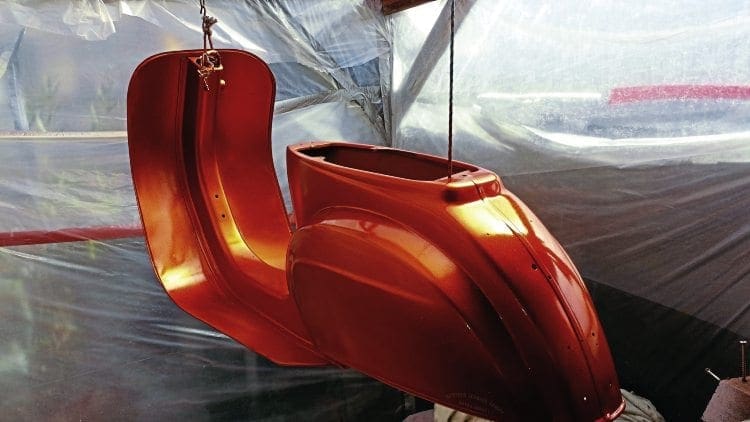 As a result, the first rally outing for the scooter was put on hold, but this also gave Doug and Jack time to deal with some electrical problems, which had arisen, and needed to be outsourced. Ten days later they got the call that the scooter was fixed and with the electrical problems sorted it was booked in for an MOT, which it passed with flying colours!
Cleethorpes
Having not been able to make it to the Skegness Rally, Doug and Jack were determined to make it to the Cleethorpes National Rally. They said: "We were going; not only going, but going no matter what!" Jack would ride the 50 Special and Doug would ride his P200 (the journey would present its challenges). Having set off for Cleethorpes and with several previous mechanical events already dealt with, Jack came up to a queue of traffic and his scooter died. Initially it wouldn't kick up but with a quick push it fired but then failed again when the back brake pedal was pressed. Nightmare, they thought, so they moved to a safer place to take a closer look. They first stripped the lights and junction box to check the connections, which appeared okay.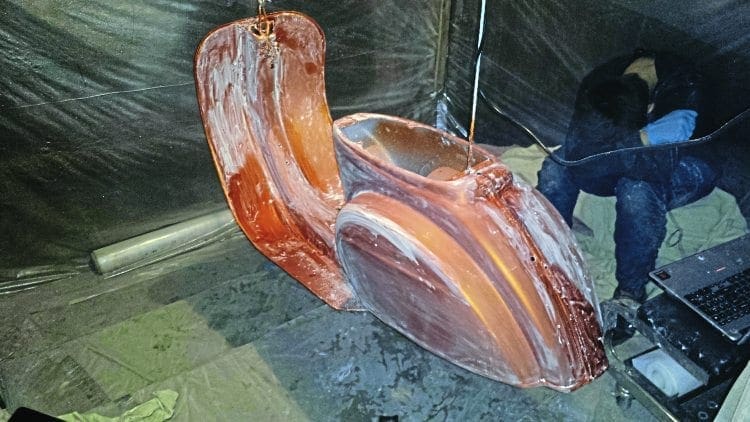 They then took out the brake pedal and found that the brake light switch was shot. They joined the wires together and taped them up. The brake pedal was put back in and the cable was adjusted. Ten minutes later they were ready to go again.
Destination achieved

On the Friday evening Doug and Jack arrived safely at Cleethorpes and with a couple of tent pitching hiccups behind them, such as forgotten tent pegs, they finally settled in to enjoy the rally. On Saturday Doug and Jack entered Jack's scooter into the custom show where it held its own against significant and accomplished rivals.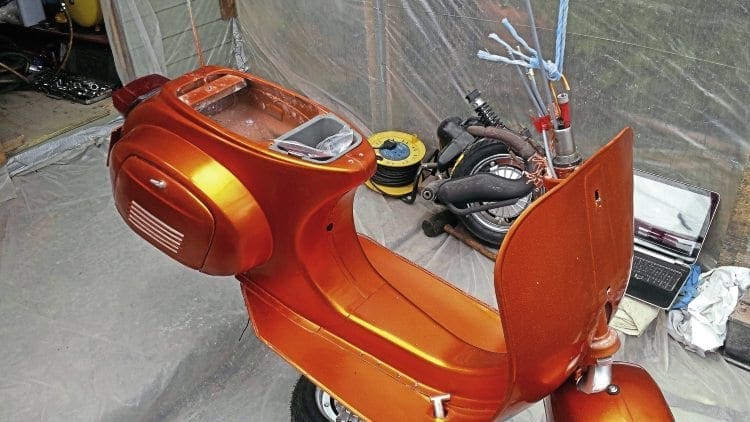 During the evening in the Beachcomber, Doug, Jack and I chatted, and Doug also caught up with Carl Fortnum, an old Stamford Scooter pal. Doug said: "In my opinion in the early Eighties Carl was the original rally going customizer, and to have him and Jack here together with me in this room is something special."
Hard work pays

Having completed their weekend at Cleethorpes, Doug and Jack decided that their next rally would be the This is England rally at Peterborough. And guess what? They entered Jack's scooter into the custom show and it only went and won Best Vespa!
Jack turned 17 earlier this year and I asked him what his future plans for the scooter were? Jack said he was considering a big bore 130cc kit, and upgraded carb and exhaust, along with 12v ignition and a new led rear light.
Jack and Doug are truly inspiring individuals and with young men like Jack entering our scene you can rest assured that this scene will continue to go from strength to strength.
LAD & MACHINE

Name: Jack Edwards-Race
What was your first scooter: Vespa 50 Special.
First rally or event: Wicksteed.
What do you like about rallies/ events: There's a great sense of community; everyone is there to celebrate and enjoy scooters and their experiences, it feels like a big family.
What do you dislike about rallies/ events: Dislike — there's a lot of people. I have to wait forever in line to get some chips!
What's your favourite Scootering magazine feature: Show us Yours and Readers' scooters.
If you had to recommend one scooter part or item of riding kit what would it be: Buy as original as possible, it looks the best and likely fits the best too.
Scooter model: Vespa 50 Special Date purchased & cost: 2011 — £600
Inspiration for project: Dad's always been into scooters, I remember being in the garage sat on the Vespa, ever since then I wanted one.
Time to build & by who: One year. By me and dad together.
Paintwork & murals done by: All done by me and dad in a makeshift spray booth round the back of the shed.
Overall cost: £1900 inc the buy price.
What was the hardest part of the project: The hardest part of the project had to be the initial sanding down of the scooter, through so many different layers of colours!
Do you have any advice or tech tips for anyone starting a project: Either get someone else to do the sanding, or use a power tool to do it. Sanding for four hours makes you feel as if you sanded your fingers off.
Is there anything still to add to the scoot: Big bore kit 130cc, carb, exhaust, 12v ignition, and new led rear light.
In hindsight, is there anything you would have done differently: I wouldn't have sanded it all down by hand, I hate sanding now.
Is there anyone you wish to thank: I'd like to thank The Bank of Dad for funding the project, and dad for all the late nights he's put into the project.
MAN & MACHINE

Name: Doug Edwards
Job: Carpenter and owner of Stamford Scooter Centre.
How and when did you first become interested in scooters: At age of about 10 or 11.
What was your first scooter: Obscure oddity, never did find out what it was before an ex-wife smashed it up!
What is your favourite scooter model: GP Lambretta.
What is your favourite style of custom scooter: Cut down or full frame race style.
First rally or event: Skegness 1983.
What is the funniest experience with a scooter: Pushing a Lambretta five miles home in the dark only to find out the following day that I hadn't turned the petrol on!
What's the furthest you've ever ridden on a scooter: Rhyl, North Wales.
What do you like about rallies/ events: People, scooters and the laughs.
What do you dislike about rallies/ events: Toilets.
Your favourite custom/featured scooter of all time: Clockwork Orange.
Name of scooter & reason: Purple PX
Scooter model: Vespa PX200e.
Inspiration for project: Still looking for it.
Is the scooter reliable: So far.
What was the hardest part of the project: Getting the DVLA to release the logbook. It took 12 weeks and arrived the day before Cleethorpes!
Do you have any advice or tech tips for anyone starting a project: Work out your budget, then double it and then do the same for the time to build it!
In hindsight, is there anything you would have done differently: Bought a Lambretta.
STAMFORD 1980s SCOOTERS

Doug and Jack are from the town of Stamford near Peterborough, which is firmly established in the world of scootering. Stamford scooterists brought us 1980s classics such as Carl Fortnum's 'A Clockwork Orange', Mark Reed's 'Born for Revenge' cut-down, Nick Smith's 'Bionic Lambretta', Pete Margardo's DJ240 cut-down, Bobby Ball's 'Lamby GP' and Eddie Ball's Series 2 Lambretta 'Spider Lam'.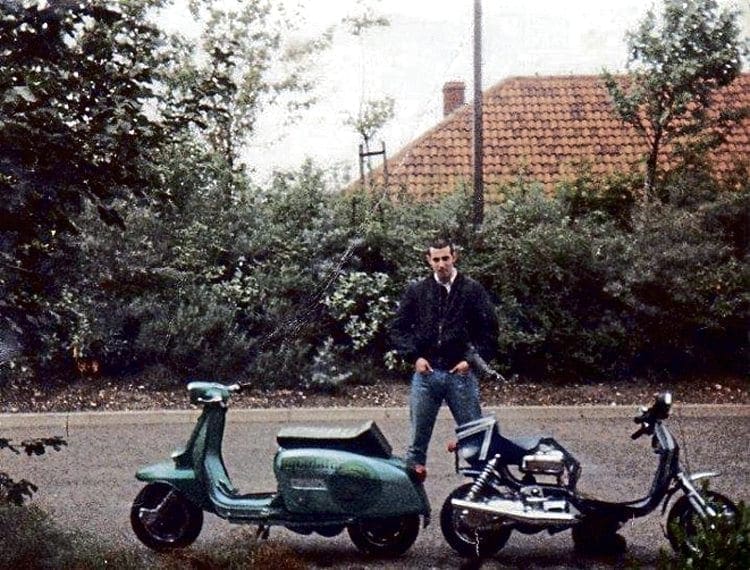 Stu Smith

Enjoy more Scootering reading in the monthly magazine. Click here to subscribe.