During the mid-1980s Lambretta restoration was seen by most as a novelty. With the rally scene in Britain at its peak most owners had little interest in returning one back to its former glory. Those that did faced a constant battle to source spares. There were a few Lambretta dealers still in business but finding that elusive part remained a problem.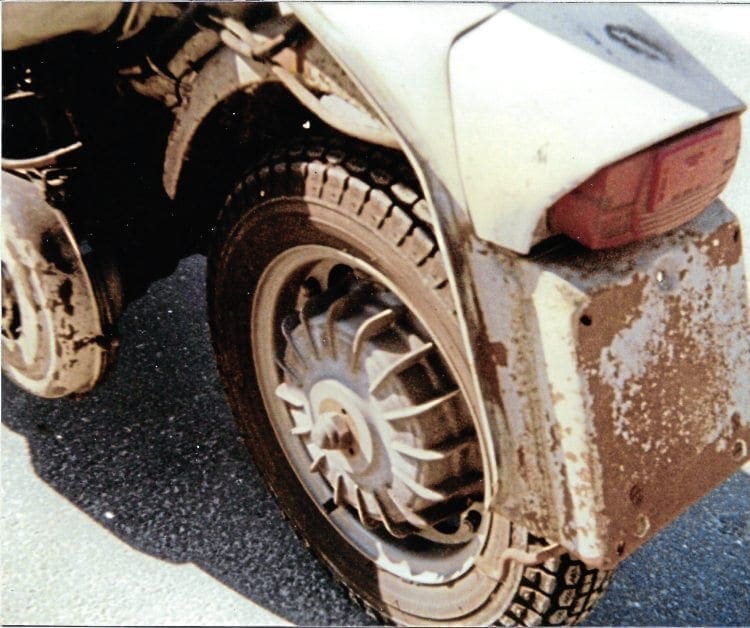 A trip to Italy
Having spent most weekends sifting through the remains of old dealers' stock it was inevitable that at some point I would meet up with Nigel Cox. For a year or so he had been travelling the length and breadth of the country clearing out whatever the remaining dealers had left. Soon our paths did cross even though it would be confrontational at first. Seeing that someone else had the same idea as him maybe came as a threat but it was soon pointed out that no-one had exclusive rights to what Lambretta parts were scattered around the country. A deal was soon struck to trade and exchange what we had found as we were restoring different types of Lambretta models.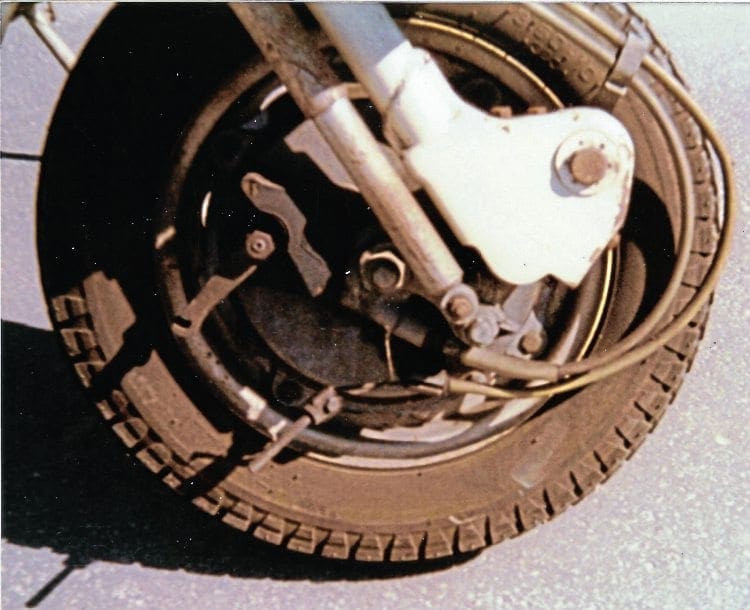 It soon became apparent that there was not much left in Britain and Nigel had discovered on a flying trip to Italy that a vast amount of original Lambretta spares were still left over there. Determined to get his hands on it he soon planned and organised several trips to the Lambretta homeland, offering a paid seat in his car to help with the expenses. I duly paid up and armed with a few million lire prepared to stock my shed with as many genuine Innocenti spares as possible. We would mainly concentrate on the auto jumbles which were like a market of Lambretta parts. However, during the course of the trip we would pop in to see one of Nigel's contacts he had steadily been making. One of these said contacts was Vittorio Tessera whose house in Rodano just outside of Milan had become a shrine to the Lambretta motor scooter. Nigel had kept Vittorio's identity a closely guarded secret and it soon became apparent as to why.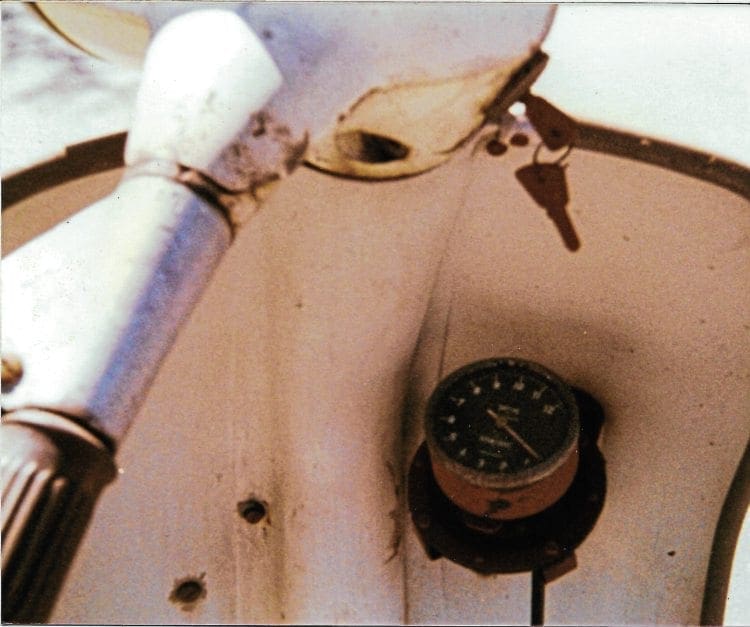 Vittorio had been given permission by the Innocenti family to clear out what was left at the factory in Lambrate. While this would include a wealth of original stock parts it would also contain a great deal of memorabilia. The idea was that Vittorio would set up a museum to preserve what Lambretta history remained, which he duly did. Among the many archives recovered from the factory were a host of rare machines and prototypes that until then had remained undiscovered. It was by chance that on our trip to visit Vittorio, only a few days earlier he had made possibly the rarest find of all.
Seeing double
Vittorio's premises in the centre of Rodano were quite large, with the living quarters upstairs. This meant the basement could be converted into a Lambretta workshop and spares department of the most impressive kind. We were all in awe of what was on display from very early open frame models to some great factory racing machines. However what seemingly looked like a standard SX200 and had gone unnoticed by us was soon found to be probably the rarest Lambretta in existence. Vittorio, whose grasp of the English language was very limited, keenly pointed out that the SX200 was "duecento". We knew this meant 200 but he seemed frustrated that we didn't quite understand. Quickly he took a pen to paper, writing down the word cento twice, 100 x 100. Still confused and scratching our heads he pulled the SX200 out and lifted it to one side to expose the underneath. Again he remarked "duecento" this time pointing to the two exhaust manifolds coming out of the engine. "Twin cylinder," I replied to which he gave a strong thumbs up. We weren't stupid or slow on the uptake — just in shock. You have to remember nothing like this had ever been heard of let alone seen in the Lambretta world before.
The mother of all test drives
Slightly dumbfounded at what we were looking at, Vittorio was more than happy to take the twin outside and fire it up.
Two prods of the kickstart and it burst in to life, Vittorio with a wide grin on his face as he blipped the throttle. What a sound it had and one none of us had ever heard before coming from a Lambretta. Outside Vittorio's was a long straight stretch of road which he quickly disappeared up in a cloud of blue smoke.
After a couple of runs to warm the engine up he handed the Lambretta over to me to have a go. I had only met the man an hour or so before, now he was entrusting me to take responsibility for the holy grail of Lambrettas. What a predicament to be in — do I take it easy knowing that if I fall off and damage it I can never show my face in the Lambretta world again? Or on the other hand, do I thrash it up the road and experience the exhilaration of such a fine creation? I opted to take a tentative run up the road to see how it handled and where to brake, which incidentally were not the best. This was followed by a flat-out run to experience its speed and acceleration, well several runs actually.
I was like a child on a fairground ride and didn't want to get off. Though it was still early in my Lambretta career I had already experienced the bone shaking qualities many Lambretta scooters had to offer. This was something totally different. The smoothness was incredible even at full throttle. Though not the fastest accelerating Lambretta I had ever ridden, its performance was not to be frowned at. And this was in reality a factory standard machine and if it had of gone in to production there would have been nothing else like it at the time.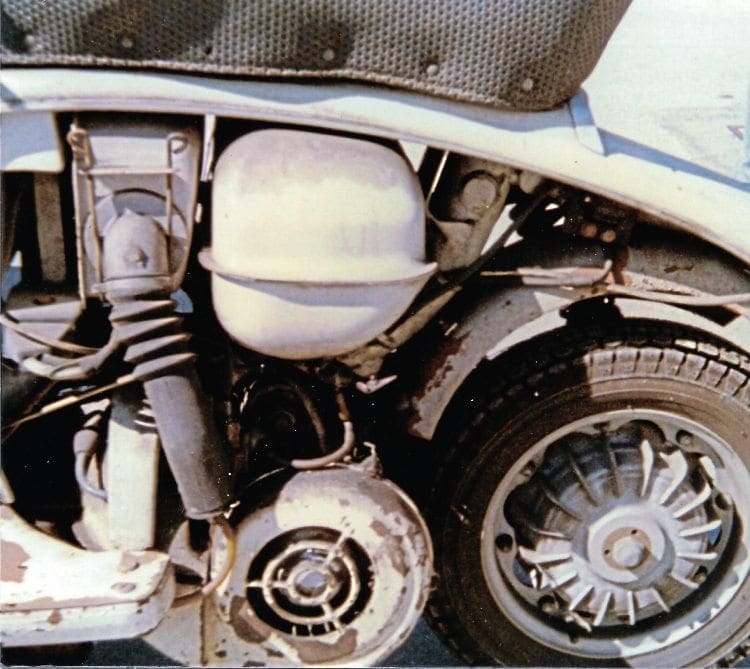 Picture this
Finally realising I was pushing my luck it was best to quit while I was ahead and rest this priceless machine while it was still in one piece. By now Vittorio's friend had arrived and quickly stepped in as translator to fill us in on the details. The twin had been found locked in an outbuilding at the Innocenti factory where it had lain dormant for the last two decades. Apparently there were a set of blueprint drawings which appeared afterwards, these confirming the project's date. Vittorio's friend explained how he had fuelled the twin up and it ran at the first attempt. Besides him, we were the first to see it and take it for a ride since it was found a few days earlier.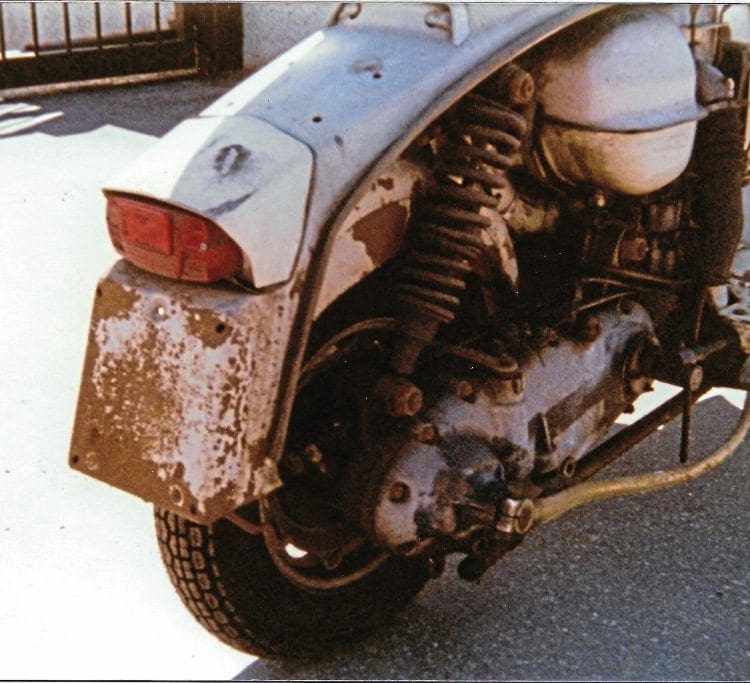 At the back of Vittorio's house was a large open courtyard where we positioned the twin to take photographs. Sadly camera technology (or my camera technique?) back then is not what it is today, so the picture quality was not the best, you have my sincerest apologies. Here for the first time though it was possible to look everything over in fine detail. It soon became apparent it wasn't just about the engine either, there were many development parts fitted but strangely none that made it to production. It was plain to see in its build quality the crudeness of parts fitted confirming this was a prototype. Since that time the twin has been moved to Vittorio's museum where it has been necessary to carefully clean everything up and make sure the engine is in full working order. Despite the substandard quality of the images they show exactly how this historic Lambretta was found in its untouched condition.
Legacy
Shortly afterwards a second, more refined, twin was discovered at the factory, the one ready to take it in to production. During the intervening years more information has come to light about why it was cancelled, but if it hadn't have been… where would Lambretta tuning be today? Perhaps we know; Casa Lambretta is about to launch an updated vesion of the twin cylinder engine, while Tino Sacchi who produced the Targa Twin version, directly took the idea from the original drawings. Fifty years on from Innocenti's original design, the twin cylinder Lambretta has finally come to fruition.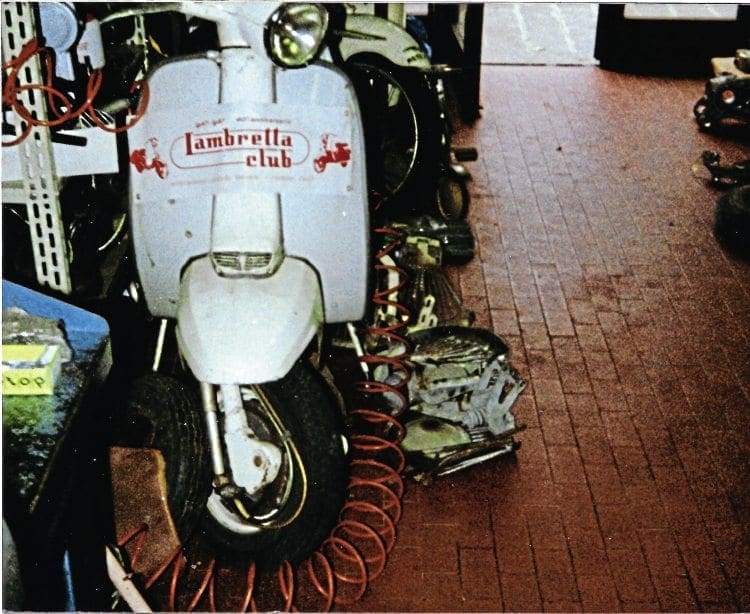 Words & photography: Stu Owen

Enjoy more Scootering reading in the monthly magazine. Click here to subscribe.