Aubrey is the kind of guy who, when you're chatting with him, make you think 'what's next? Tell me, tell me, tell me!' because when it comes to scooters there's one word that just doesn't exist in Aubrey's vocabulary, and that word is 'impossible'.

One of the first questions I asked Aubrey was how did he get his nickname? He explained: "It was from when I was at school, when I was about 10 years old. I was always making things in my shed like the cartoon character and it stuck. Things have moved on since then. I'm still at it but I've got a bigger shed!" With that matter taken care of, we moved on and got down to business: scooters.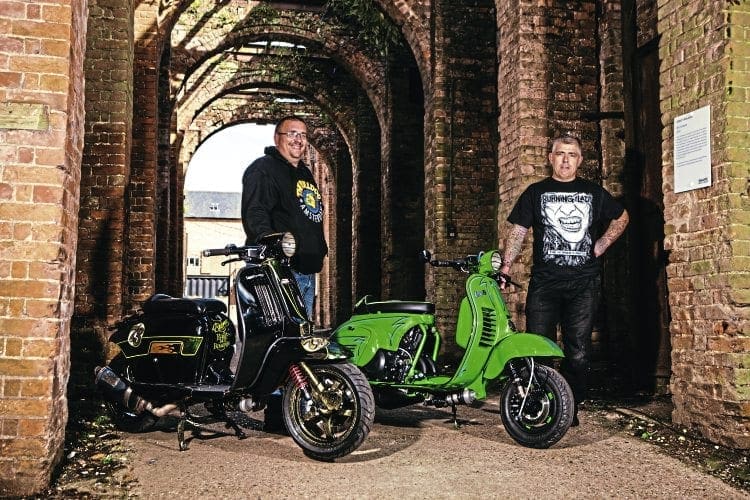 As we headed down to Aubrey's workshop I asked him about the problems he must encounter his with projects and the fundamental build conflicts he must experience. In his endearing style Aubrey said: "Once I've committed myself to it I just make it work."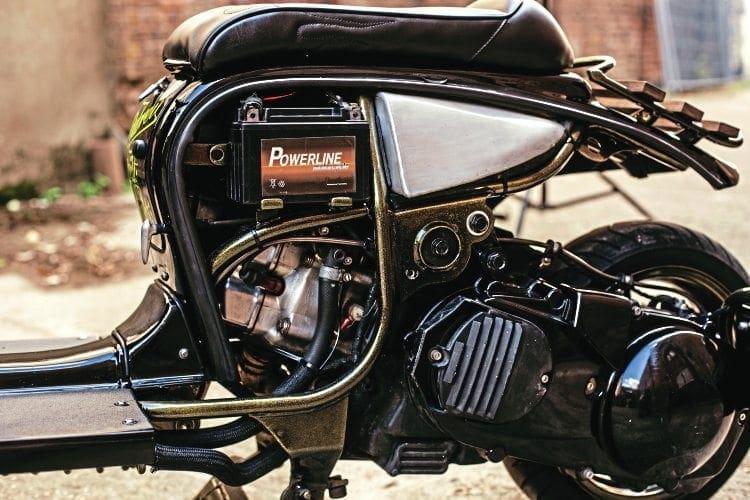 Li400
Aubrey explained that the Li400 is based around a Lambretta Li150 Series 3 frame, which is fitted with a Suzuki Burgman 400 engine. His inspiration to build this scooter came simply from his desire to build an auto. Showing me round the scooter, Aubrey explained that he'd modified the headset to support the auto engine setup. The left handlebar grip is fixed as there's no requirement for any form of gear change.
The engine is cooled by the standard Burgman radiator, which is fitted neatly behind the legshields and is subtly housed in a modified P-range tool box. Airflow to the radiator is maintained through vertical vents fabricated into the legshields.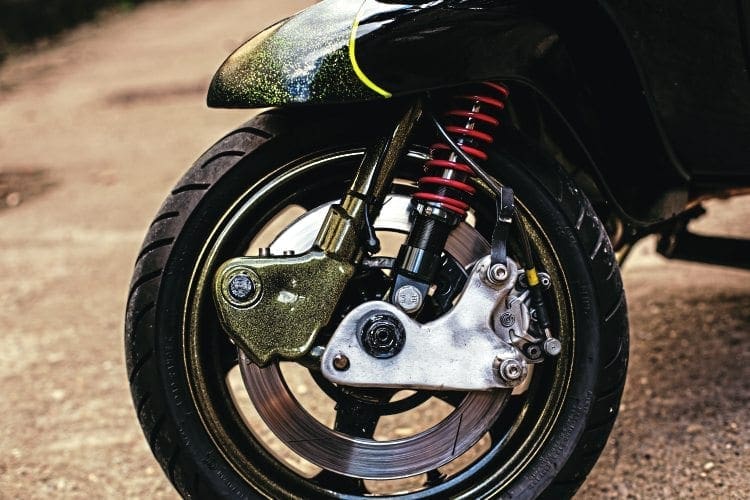 There is a mid-range shock absorber, which sits between the forward Lambretta section of the main frame and the rear fabricated end section. Aubrey explained that with a normal shock absorber setup the motion stays mainly in a vertical movement; with this arrangement the majority of the up and down movement is tamed, which improves stability and the ride. The fabricated rear section of the frame grasps the 400cc engine, which is hidden by neatly modified Lambretta side panels. The side panels fit perfectly to the frame and clip cleanly into the rear portion of the footboards, which helps keep the look of the scooter as close as possible to its original appearance.
WIDER ISSUES

The front wheel and disc brake are also standard Burgman items, which using common sense and a bit of initiative Aubrey has managed to fit into the Li400's Lambretta forks. Aubrey explained that after giving it some thought the solution to fitting the wider Burgman front wheel into the forks worked out to be pretty easy. Aubrey said: "I simply swapped over the fork links; so instead of them splaying inwards they now splay outwards, this gave me a wider hub diameter to accommodate the wider wheel, front brake and calliper."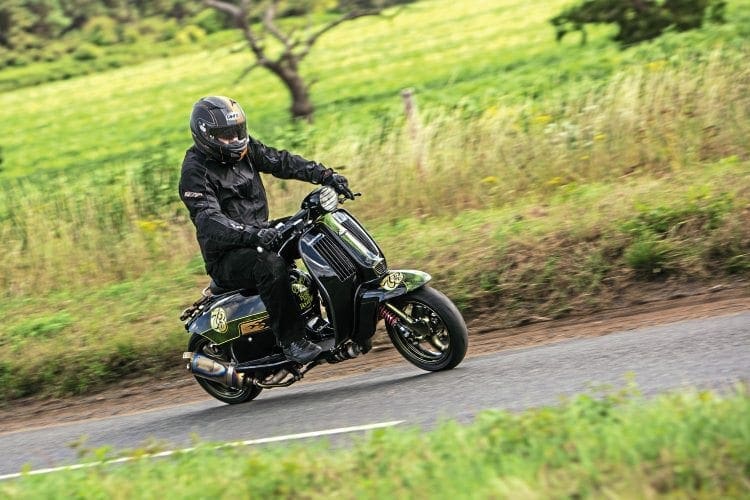 METALFLAKE
I asked him who did the paintwork on his scooters and he explained that he does the majority of the paintwork, but pinstriping and graphics are done by Jon Lear of Jon's Custom Paint.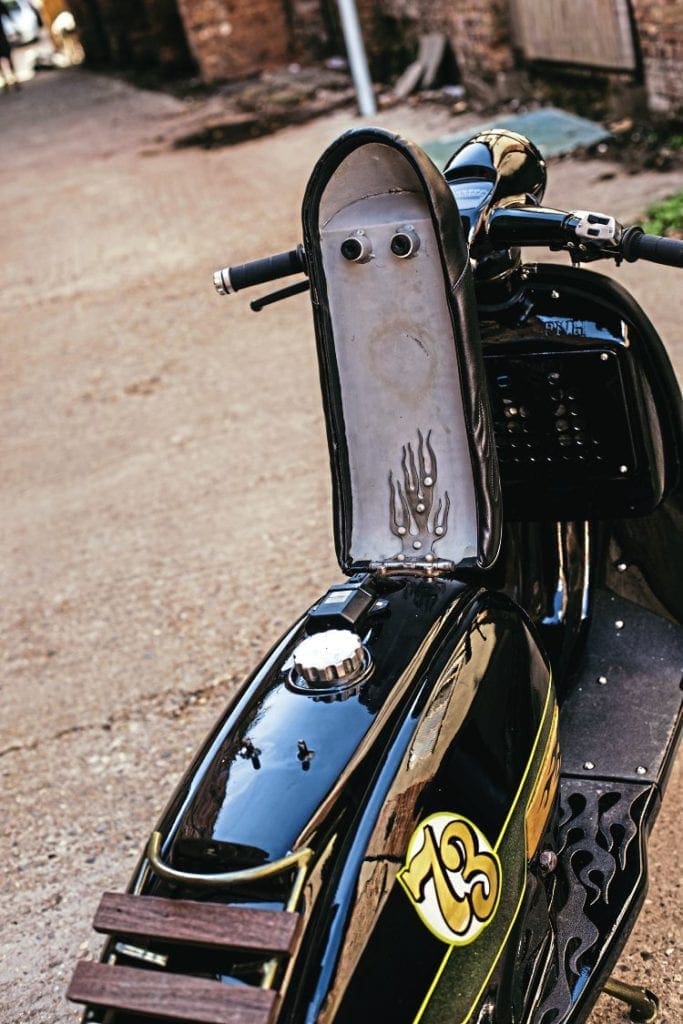 So who did the Li400's metalflake? Aubrey explained that he'd had an idea and decided to have a go at doing the metalflake paintwork himself. I asked him what technique he used. Aubrey raised a smile and said: "I masked off the shape; lacquered it and blew some kids' glitter on it, which I'd bought from a newsagents. The glitter stuck to the lacquer and then I applied another coat of lacquer; job done."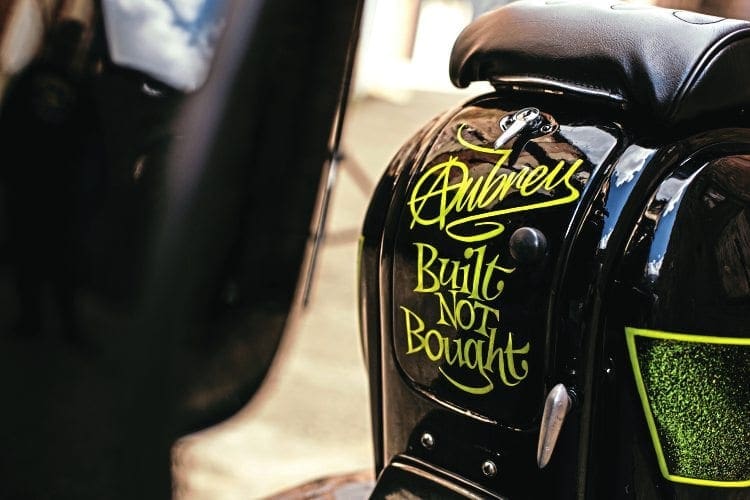 SMALL FRAME BIG HEART

The idea for this scooter was conceived after Aubrey received an offer from a friend. The friend asked him if he could do anything with a smallframe, which he said he'd give to Aubrey on one condition: that he would do something crazy with it. Of course Aubrey accepted. He said: "When I got the frame it was twisted around the legshield area but this added to the challenge of the build." In Aubrey's world any challenge is an advantage! He jigged out the frame and got it straight, and in the meantime he purchased the scooter's main organ; a Suzuki Gamma 250cc engine.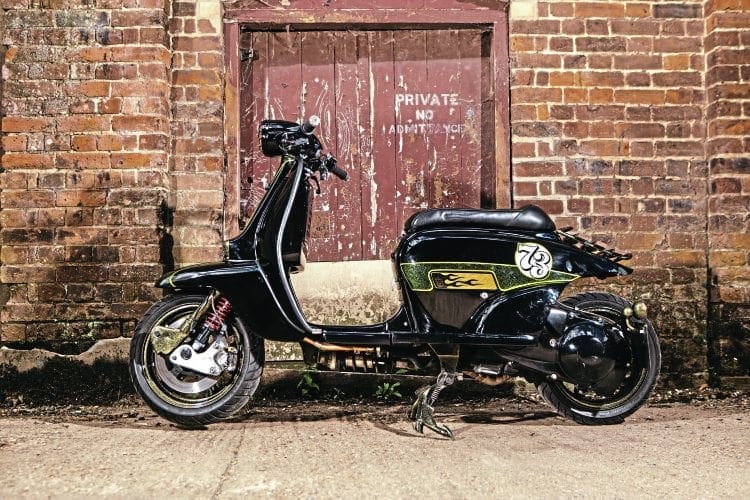 EMBRACING CHANGE

How do you get an engine which drinks fuel, had two large expansion chambers, a six-speed foot gear selector, higher level kickstarter, and water cooling system into a Vespa 50N smallframe? I'm not sure, but ask Aubrey and he'll tell you. Aubrey explained that with these issues in mind he needed to fabricate a frame, which could cope with the engine and maintain the lines of the original Vespa smallframe. To make room for the engine Aubrey slightly extended the rear portion of the smallframe, which also allowed for the accommodation of the rear wheel and swingarm (the detail of the rear wheel setup is Aubrey's own design, which he is keeping secret). Above the rear wheel, sitting behind the engine and fitting neatly into every last bit of available space is a cool looking one-off fabricated fuel tank. Lower the rear end of the smallframe and you'll see a blended-in rear light, which give away no visible lines, joints or seams. Who would ever have known there had been so many modifications?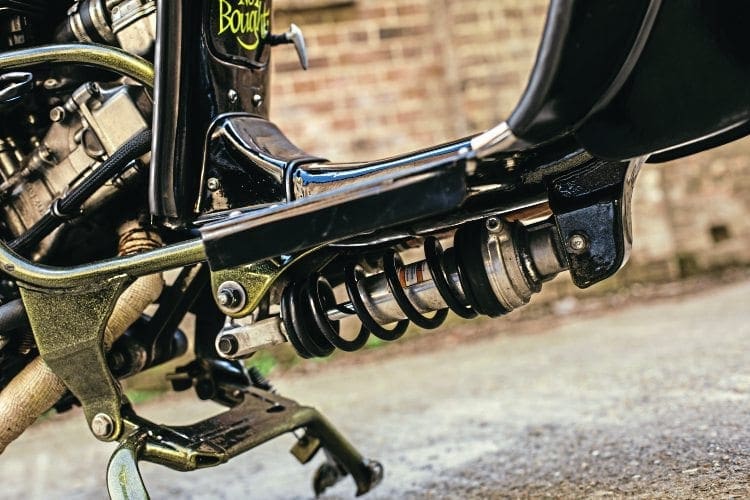 With the upgraded power a front end issue emerged which needed to be tackled. This surrounded the problem of an extremely thin front mudguard needing to accommodate a set of P-range forks supported by an SIP ungraded shock absorber. Again, keeping the original smallframe appearance was crucial. Aubrey went to work; he cut out a section of the mudguard and created a smooth bump extension, which now neatly receives the upgraded front end non-standard parts.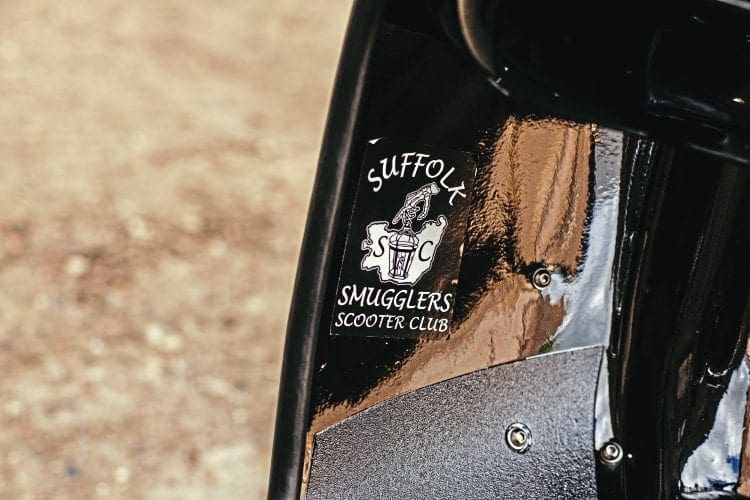 MANAGEMENT TOUCHES

The Smallie's radiator is fitted behind the legshields. Airflow is maintained through two cut out sections in the legshields. These sections each have individually fabricated vent blades. The vent blades fit to the shape and curvature of the legshields and evenly direct airflow onto the radiator.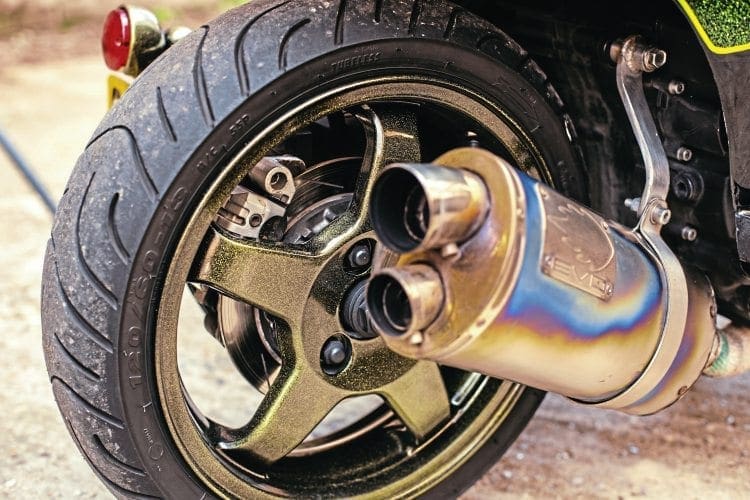 I asked Aubrey about the significance of the cut out sections in the toolbox/radiator door. Aubrey explained that they were a representation of a Japanese sunrise and an inference of the scooter's Japanese elements.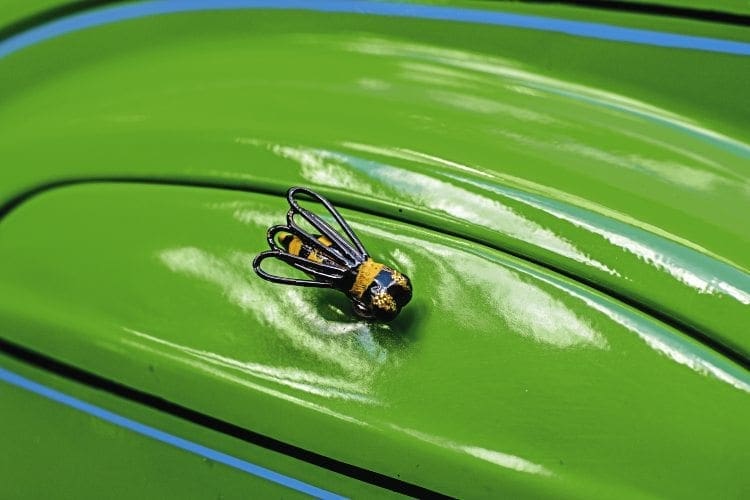 Moving round the scooter, and equally impressive, are the neatly positioned gear selector and rear brake pedal, which emerge discreetly from beneath the legshields. They're practical, they work, they look good and again they underpin Aubrey's commitment to detail.
Other nice touches are the under-seat flame with its 8-ball hinge, magic mushroom side stand, skull horn cover, and Suzuki Gamma clip-on handlebar grips with end wing mirrors.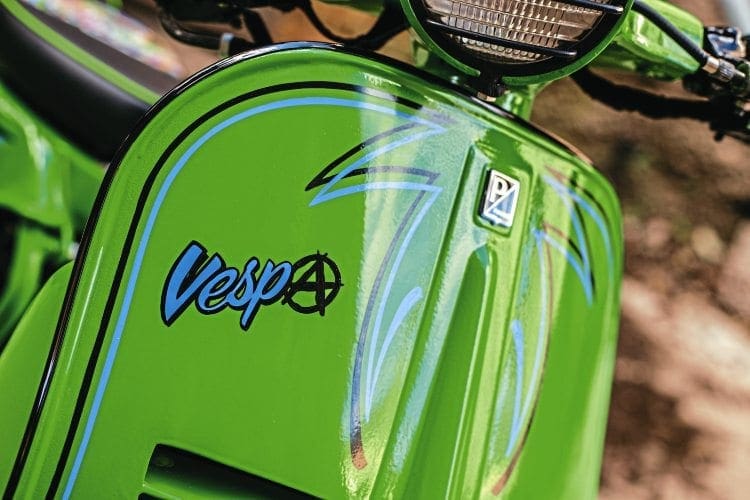 PERFORMANCE
Unclip the 'Wasp' engine cover side panel and the kickstarter is revealed. Kick it and the engine fires up with a crackle. Clip the panel back on and you're ready to go. I asked Aubrey to describe the ride and performance. Aubrey paused for a moment, grinned and with intonation said: "I don't know really. Quite exhilarating?" To support this Aubrey explained that the scooter weighs around 139kg and the engine provides about 49hp!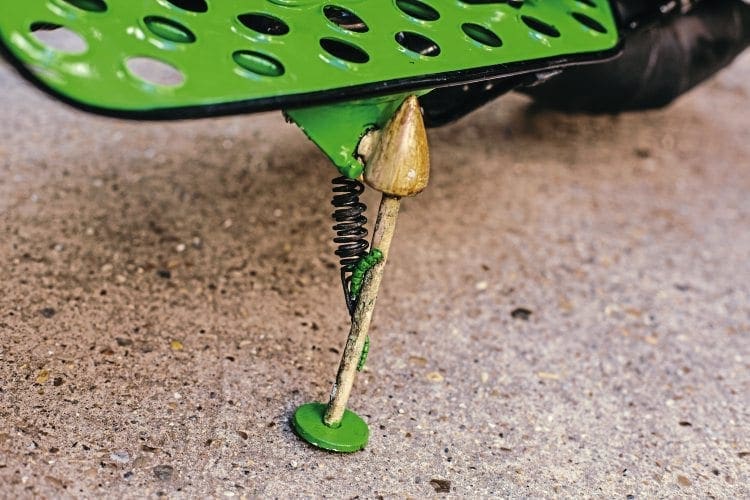 SITTING COMFORTABLY

The seat coverings on both scooters are the work of Corky of Lambretta and Vespa Covers. The Li400 seat has flames stitched into it, flame footboard grips and flame wooden side panel badges. Small Frame Big Heart's seat has a one-off Day of the Dead candy skull stitched onto it along with Aubrey's initial 'A' on the rear section.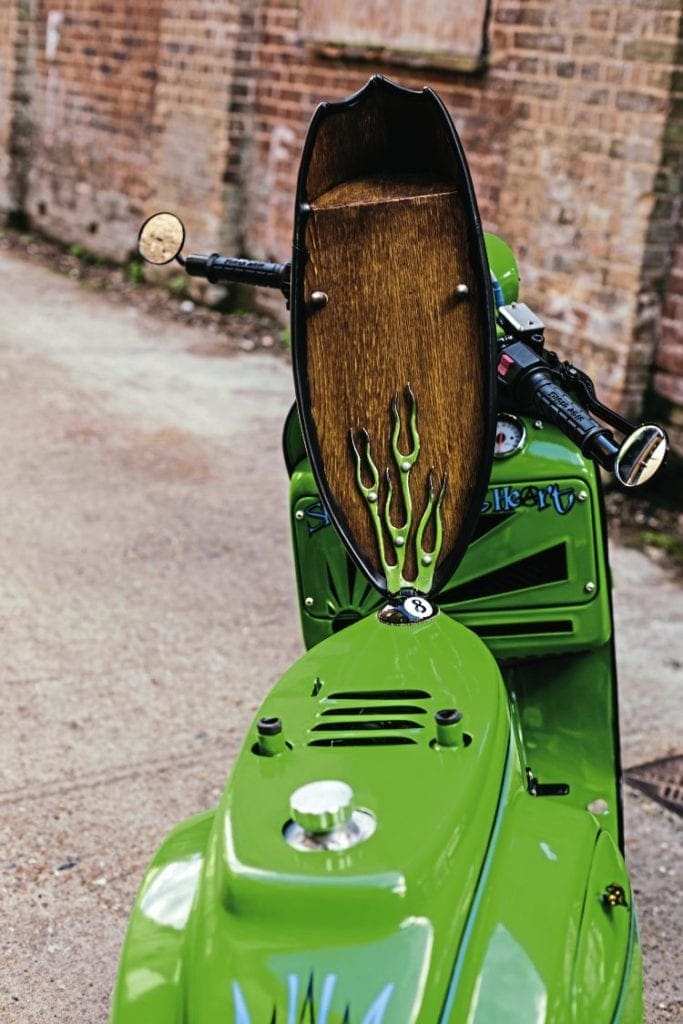 AN EYE FOR DETAIL

After 34 years of fabrications in a shed Aubrey doesn't need to rely on a tape measure or ruler; why would he? They would only complicate matters. Aubrey uses his eye for detail, passion and creative mind-set, and if it looks right, it usually is right.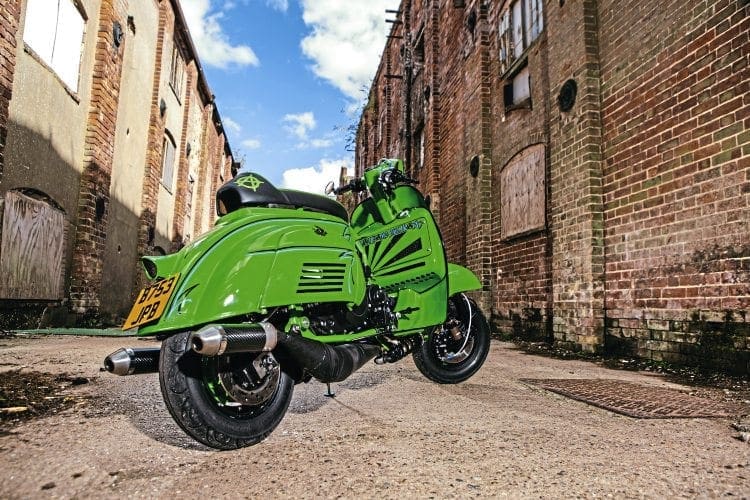 OWNER DETAILS

Name: Simon Aldred (Aubrey)
Job: Welder/fabricator/owner of Dark Arc Engineering.
Scooter club & town: Suffolk Smugglers SC, Saxmundham.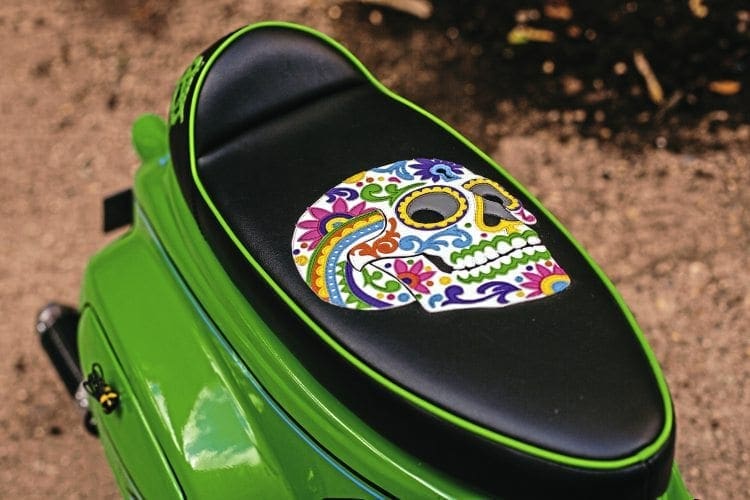 What was your first scooter: Vespa 50 Special.
What is your favourite style of custom scooter: Crazy looking. No chrome.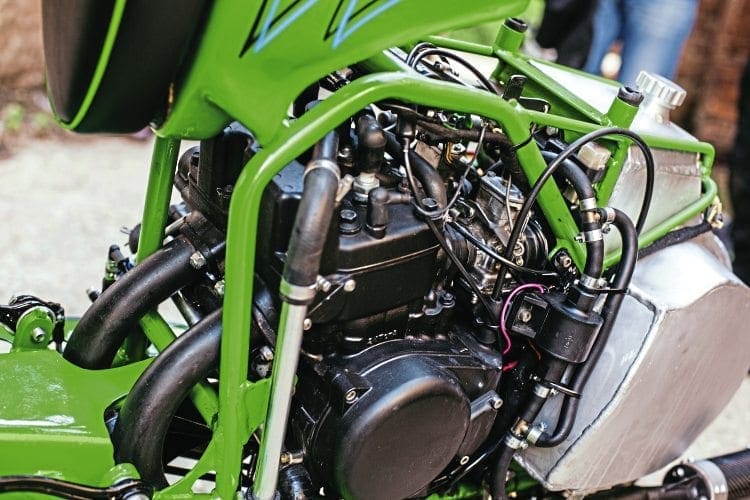 First rally or event: Great Yarmouth.
How did you get there: Vespa 50 Special.
Favourite and worst rally/event: Many. Not all have been brilliant but I've never disliked one. I always make the most of each rally I go to. I like putting my scooters in to the custom show. It's nice just to show them and if I pick up a trophy or an award it's always a welcome bonus.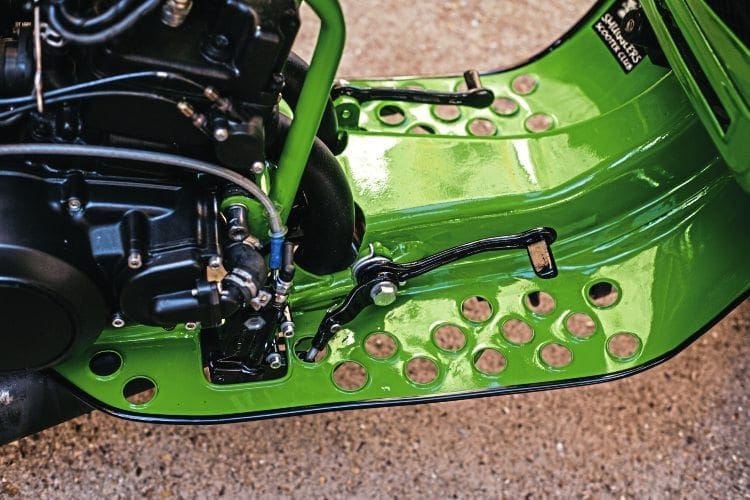 What's the furthest you've ever ridden on a scooter: Fort William.
What's the most useless part you've ever bought for one of your scooters: A Vespa or Lambretta engine! No, only kidding. If I find a part that comes up with a problem, I usually make my own.
Li400 SPECIFICATION

Scooter model: Lambretta Li150 (Spanish Series 3) Suzuki Burgman 400cc auto engine.
Date purchased & cost: £350.
Inspiration for project: The love of making stuff.
Time to build & by who: About 400 hours. Self-built.
Any specialised parts or frame mods? What & by whom: Most of it myself.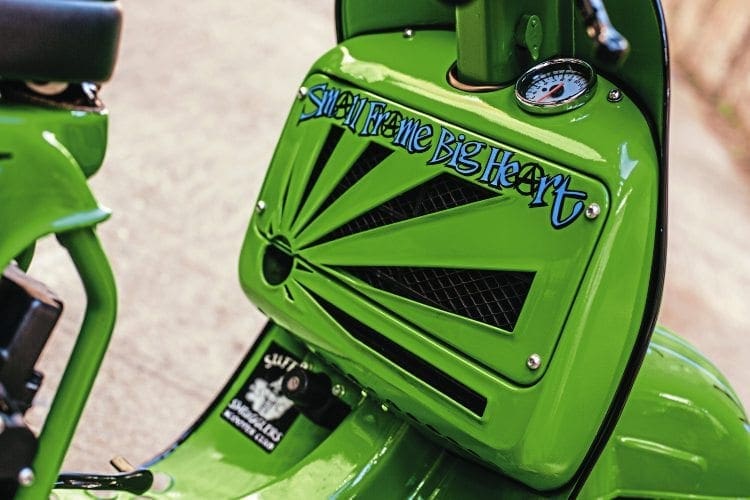 Engine spec: Standard Suzuki Burgman 400 engine with the ECU removed. I converted it to run on a CDT, which simplifies things. It's a bit more like an electronic ignition on a Lambretta really.
Describe engine performance, power delivery and scooter handling: Handles a dream.
Top speed: 97mph.
Cruising speed: 75-80mph.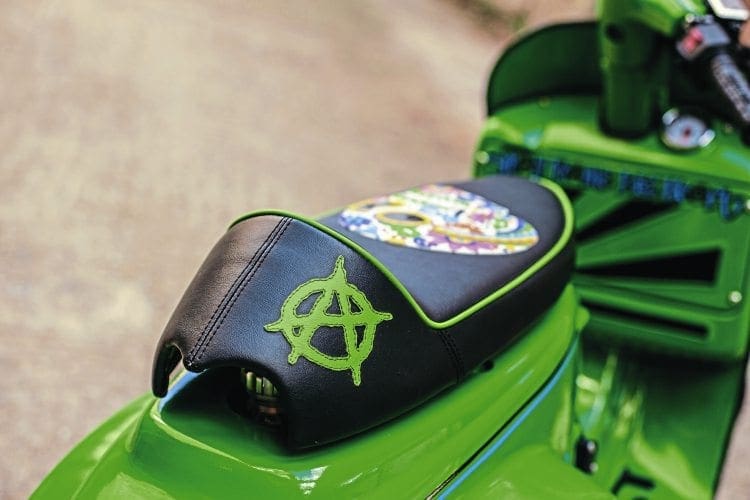 Is the scooter reliable: Very.
Paintwork & murals done by: Paintwork by myself. Pin-striping and signwriting by Jon Lear (Jon's Custom Paint).
Is there any powder coating? Yes. Aero Coat.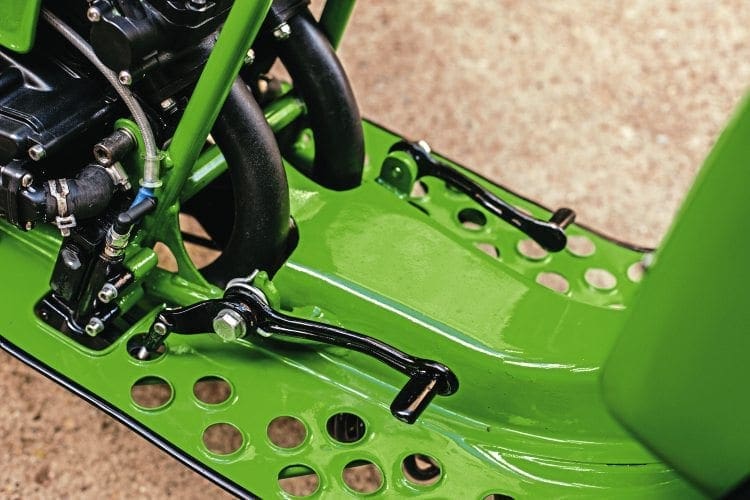 Overall cost: £2700.
What was the hardest part of the project: ECU.
Do you have any advice or tech tips for anyone starting a project: Call me.
In hindsight, is there anything you would have done differently: I would have removed the centrestand and replaced it with a side stand.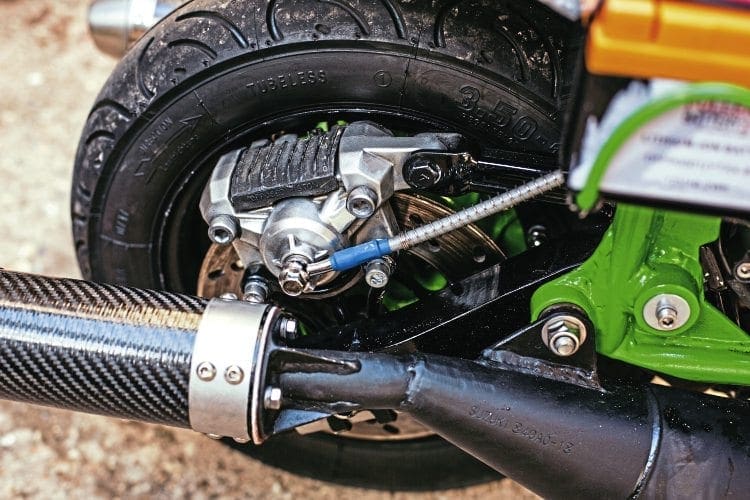 Is there anyone you wish to thank: Tina Davis (my girlfriend), Lee Richardson, Jon Lear – Jon's Custom Paintshop, John Andrew Corcoran (Corky) – Lambretta Vespa Covers, Graham Hitching.
VESPA SPEC – A QUICK COMPARRISON

Vespa 50N (Standard)
Engine: 2-stroke, 49.77cc.
Max power: 1.45hp.
Transmission: 3-speed.
Brakes: Front and rear drum.
Small Frame Big Heart
Engine: 2-Stroke Suzuki RG250 Gamma.
Max power: 49hp @ 9500rpm.
Transmission: 6-speed.
Brakes: Front and rear discs.
Words: Stu Smith
Photographs: Gary Chapman
PS — I would like to say a personal thank you to Aubrey's pal Lee Richardson of Suffolk Smugglers SC. Lee helped us out on the photoshoot with the logistical movements of the scooters and security of Gary Chapman's camera equipment!

Enjoy more Scootering reading in the monthly magazine. Click here to subscribe.