Where is the best place for a Ferrari owner to visit? The answer has to be Maranello! So for the owner of this Ferrari-themed Lambretta, it had to be Marenello too, the home of Ferrari.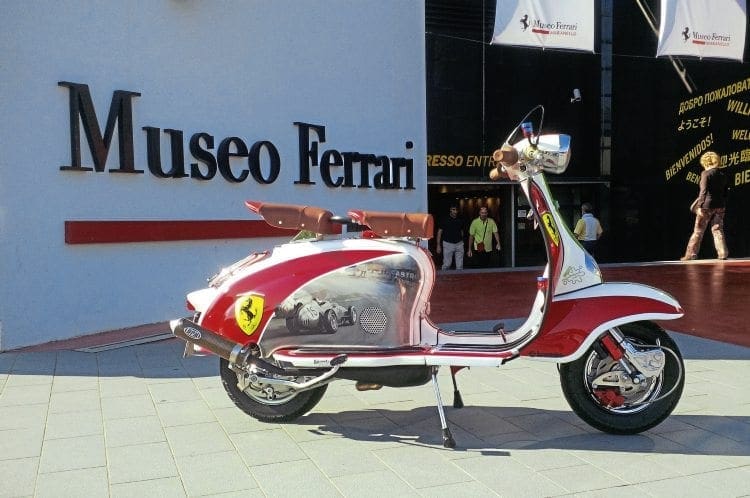 During a rally called Lambretta & Lambrusco in Castelvetro (Modena), organised by the Lambretta club of Modena, we decided to visit the Ferrari museum and had the opportunity to take these photographs. This scooter has many features which catch the eye, the most obvious being 'Rosso Corsa' (Racing Red), the true livery of the famous sports car and the airbrushed scenes from the racetrack depicted on the side panels.
There was no compromise to the details that make up this unique Lambretta, it has hydraulic disc brakes front and rear which bring the machine to a rapid stop, and is powered by a 250cc Targa Twin engine. The stability of the scooter is maintained by adjustable Gas Plate Line shock absorbers, which give both supreme comfort and road-holding. The tailored individual seats are in leather with red trim retaining the vintage look, and the xenon lights and race tyres complete this project
During the brief visit to the museum for the photo shoot, the Lambretta Li150 based Series 2 attracted a lot of favourable attention from the visitors to the reowned museum. Maybe not totally unexpected as a scooter such as this could hardly go unnoticed! This all led to making the owner (appropriately named Damiano Ferrari) a very proud man and worth all the hours of construction invested.
MAN & MACHINE
Owner: Damiano Ferrari
Job: Professional contractor.
Club: Lambretta club Lombardia.
First scooter: TV1 with Bambini sidecar.
Number of scooters owned: 14.
Best rallies: Milano-Taranto and quarter pass on the Alps.
Favourite tuner/mechanic: Adolfo. Dartagnan of LambrettaMilano.it.
Other scooters: Liu 75 Lubematic, Li150 Series 1, early version 125 D racer Mi-Ta replica.
Thanks to: Damiano's wife and his son Paolino for their patience.
Article continues below...
Advert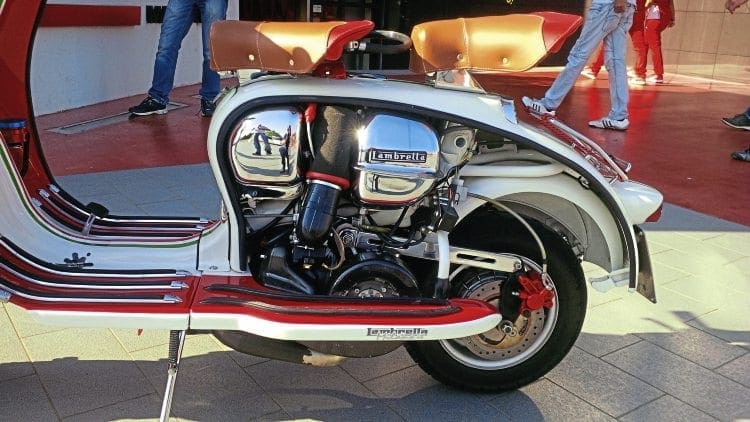 Name of scooter: Targa Twin Ferrari 250 1960 LI 150 Series 2 Targa Twin 250, Twin PHBH 30mm carbs, Targatronic six-plate clutch, five-speed gearbox, Breath sweet filters, Hydraulic front disc with modified handlebar mount, Self-engineered hydraulic rear disc, SIP tubeless rims, 30bhp.
Cruising speed: 130kph.
Top speed over: 150kph.
Time to build: Four months.
Reliability: 100%!
Words & images: An Englishman in Milan
Article continues below...
Advert

Enjoy more Scootering reading in the monthly magazine. Click here to subscribe.