The two most frequently asked questions, when interested individuals first encounter Carl Goldspink's radical Vespa are: 'Has that got an auto engine?' and 'Who did the paint?'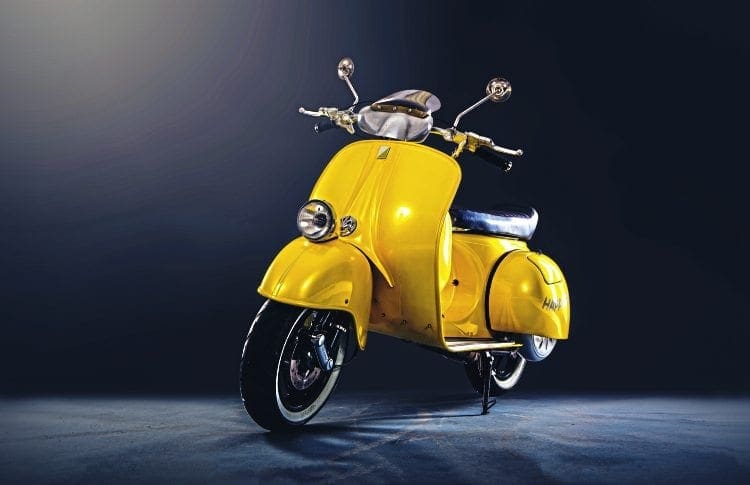 Despite the scooter being fitted with a heavily modified T5 engine, the first of the aforementioned enquiries isn't as odd as it might seem. Especially as the frame, body and paneling have been subjected to some serious, albeit subtle, (in the main), reworking in just about every area. The result is an appearance, in silhouette and when parked up alongside a stock P-Range, of having been on a long-term course of scooter steroids! This is similar to when visually comparing a Scomadi to a GP Lambretta. Except Talk Talk is not a mass produced machine, it is a bespoke, one-off that is totally unique. With the advent of auto engine scoots, it's an easy erroneous assumption to make based on a quick, cursory glance.
Although he has had an interest in scooters that has lasted from the early 80s, when he experienced his first rally (Skegness), Carl is making up for lost time. "I would've had scooters years and years ago, more or less straight after going to my first rally. My dad was having none of it. I remember him saying something like: you don't want a scooter son, get yourself a car. Which, with his help, I did.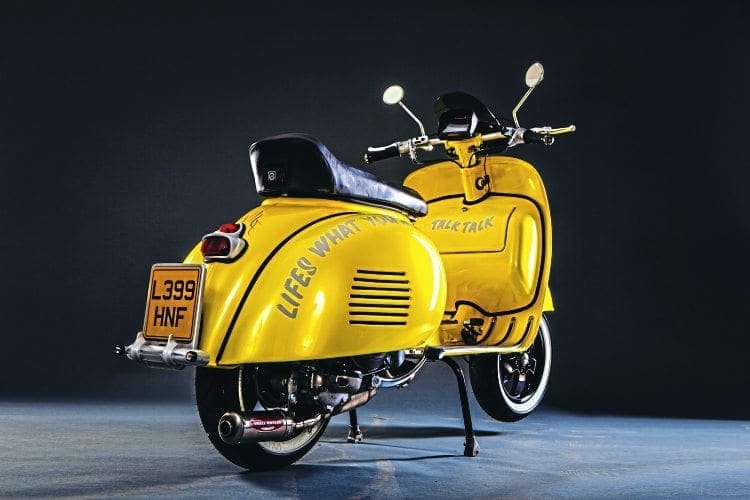 "My first car was a VW Beetle. From which I became a confirmed VW man, and a lifelong love of VWs began. I'm a partner in C And C Autos (in Boston, Lincs). We specialise in VWs and for the past 10 years, scooters too. I love working on both scooters and VWs, it doesn't get much better working on your hobbies for a living."
It's My Life
The base machine, of what eventually became Talk Talk found its way into Carl's ownership as a rather sorry looking rusty P2 some years ago. He picked it up very cheaply with a view to breaking it up to recycle some of the salvageable parts. After stripping out the engine and one or two other bits and bobs, what remained of the P2 lay at the back of C And C Autos, neglected for a while. That's where it remained, until Carl had one of those lightbulb moments, sparking his inspiration for creating a custom Vespa. "I like the look of old style early Vespas and I liked the idea of doing a scooter with a 50s hot-rod look. I didn't want to cut up a rare 50s Vespa, so I decided to have a go at building one of my own.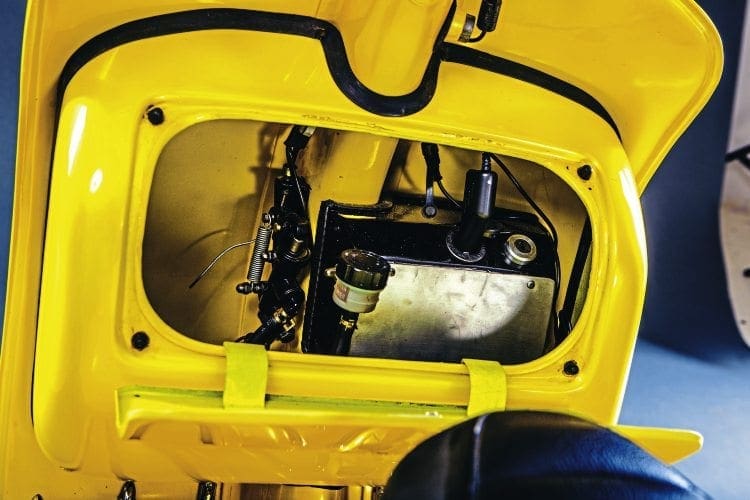 "The P2 frame was sat there doing nothing, so it became the start point for my project. My initial aim was to have it finished for Skegness Rally 2016, the first time out was actually the following year, Skegness Rally May 2017. In the end, it was built over two years, in any spare time I had at evenings and weekends. To get the wide and fat look I wanted took a lot of modifications to the bodywork, frame and panels, including a lot of hand beating; I'm self-taught as a panel beater.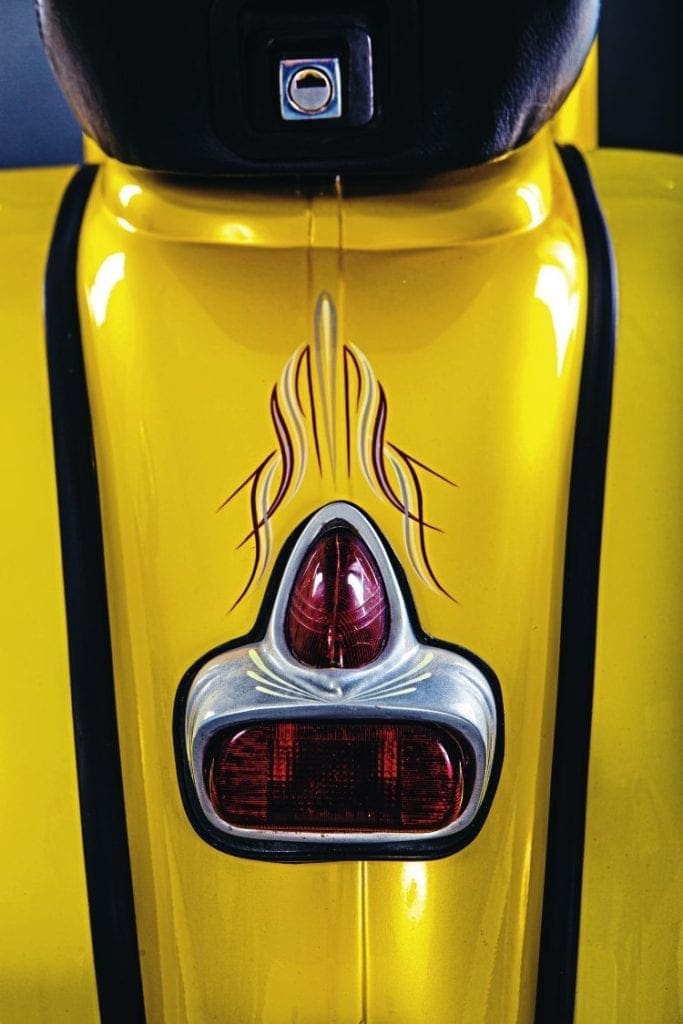 It tested my abilities to the limit and beyond, especially reshaping the rear end so everything visually flows. It's been lengthened, widened and shortened in various areas of the frame. I hand¬made the horncasting out of flat steel, extending the bottom ends of it to complement the reshaped front mudguard, which itself has had longer sides added, and a mudguard mounted headlight, which I got from a source in India.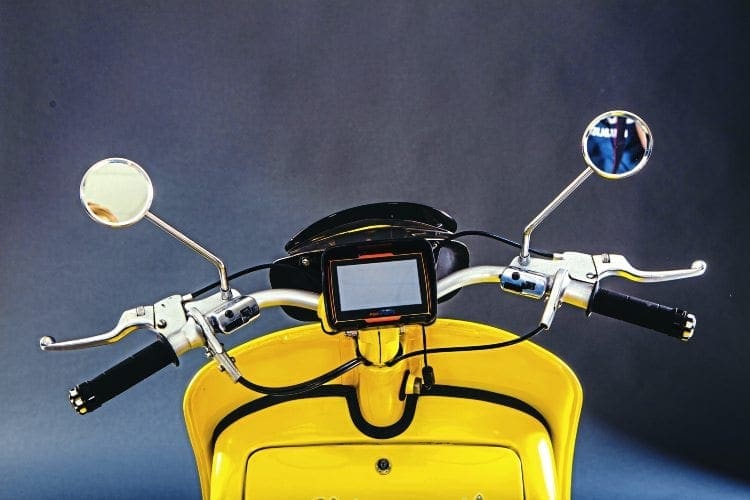 "Using new steel plate and starting from scratch, I made the leg shield and floorboards 4in wider than standard. The side panels I got second hand from Kettering parts fair. Originally off a 150 Super, I've reworked them by stretching, widening at the front and lowering at the back, which gives it a fat boy look. Handlebars are off a 50s Vespa, extended both sides to keep things in proportion. The flyscreen, number plate surround and rear bumper I made from scrap aluminium, with the rear indicators moulded into the bumper, the back end looks like it belongs in an old 50s episode of Flash Gordon."
Spirit of Eden
Specifications for Talk Talk, provided by Carl, are very thorough, comprehensive and informative, covering all aspects of the bodywork and frame; plus specialised parts and the power unit. They're well worth a gander to find out more about the sheer amount of engineering know-how invested into physically creating Talk Talk. Given that Carl's aim was to build a low, wide hot-rod inspired scooter, why did he opt for 12in wheels? "I decided on GTS 12in wheels for several reasons — first and foremost they are visually in proportion to the scooter. Fitted with wide tyres (120x7x12 front and 130x7x12 rear), the scooter looks great, totally in keeping with the fat boy appearance. Like lots of scooterists, I've visited that site featuring those Indonesian street fighter scooters and they all seem to go for big wheels on theirs. Going with 12in wheels created a few extra hurdles to overcome, I had to come up with a rear hub. That was one of the very few things that I didn't do myself. Phoenix Gears in Boston made the rear hub to my specifications; it's splined and fits direct onto the rear drive. I found a disc in the scrap bin, off an Aprilia (I think), which has a one-off custom made calliper mount, rear brake operates by cable over a hydraulic cylinder.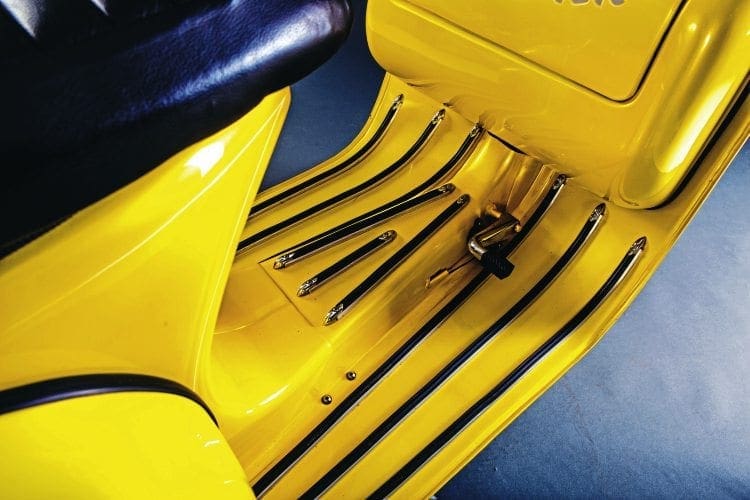 "The front disc runs a similar setup, which is housed, along with the electrics, inside the (modified) glovebox. Using 12in wheels makes it much more stable on the road, although getting the gearing right is still a work in progress. Bigger wheels raises the gearing (ratio) which is going to take a bit of sorting out! I'm currently running a Cosa gearbox which, when in first, second and third gear it rips. In fourth, I have to absolutely scream it. I'm planning on trying different fourth gear cogs until I get it right."
The Colour of Spring
In response to the second frequent enquiry, 'Who did the paint?' it was, of course, Carl himself. "Although I'm not a paint man it was something I wanted to do. Usually one of the first questions asked about a custom is: who painted it? I wanted to do as much as I could, which was 99% of everything. Some people have a talent for paint; they make it seem so easy when, in reality, it isn't. This was my second attempt, first was my Malossi engined, 1964 Spanish 150S, GS-lookalike, which was candy apple with pin stripes.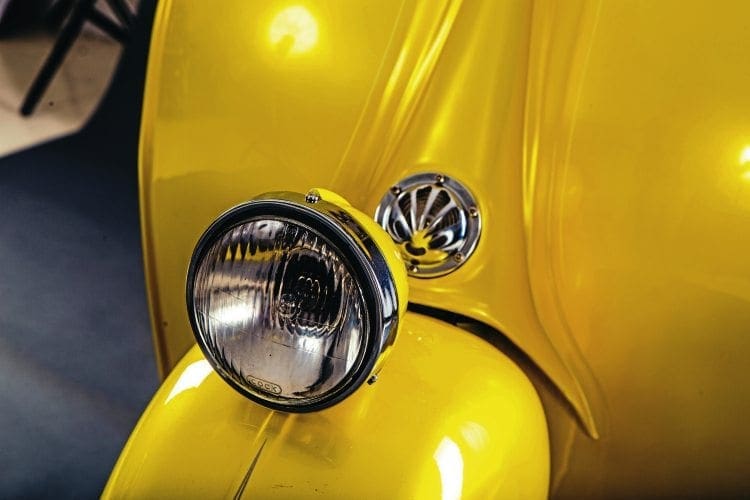 The second attempt wasn't any easier. It took months of applying a coat, rubbing down, applying another coat, rubbing down and flatting back, it was probably the most time-consuming part of the build. Pin striping and lettering, which is in 50s hot-rod, dragster lettering style, was done by Seaside Neil in Skegness. The name, Talk Talk, is on the glovebox door. It's named after the 80s band, who were one of my favourites. When I started on the build, I started listening to them again. Two of the band's song titles are on the side panels, Happiness Is Easy and Life Is What You Make It which sum up perfectly what it's all about for me."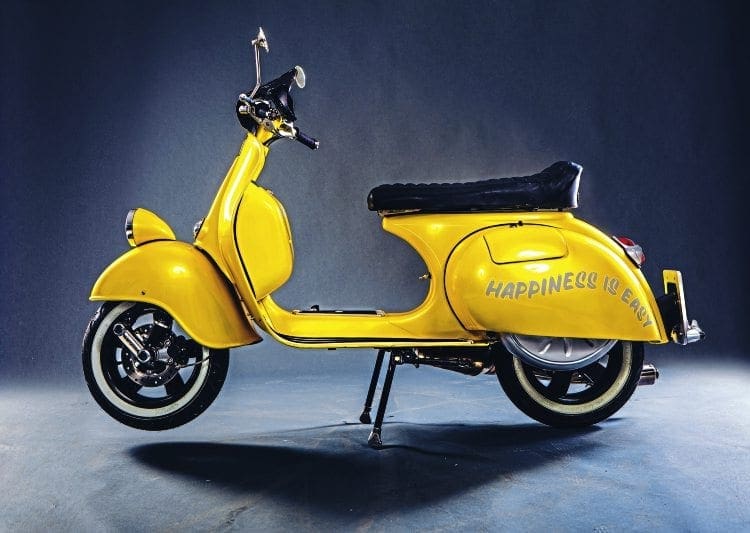 Admirable sentiments from Carl as well as a stunning custom creation that is guaranteed to turn heads.
OWNER DETAILS
Name: Carl Goldspink
Scooter club & town: Boston Scooter Club (unofficial).
Your first scooter: A 2-Tone themed PX125.
Favourite style of custom scooter: Street racer.
First rally: Skegness early 80s.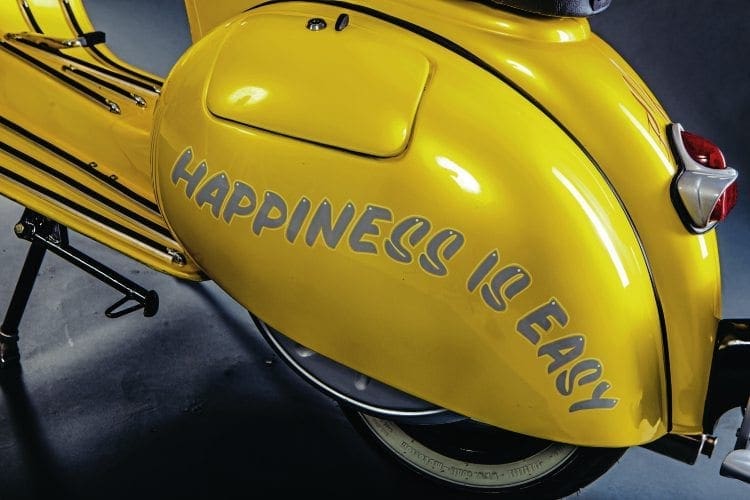 Favourite rally: Love going to Woolacombe; such a different feel to the rally, always scooters with fresh ideas.
Furthest you've ever ridden on a scooter: Kelso, went on my Vespa 1964 Spanish 150S that I have modernised. Malossi 210 engine, front and rear discs, candy red and pinstriped. Put it in the custom show, to keep it out of the rain, won best custom Vespa. Made my weekend.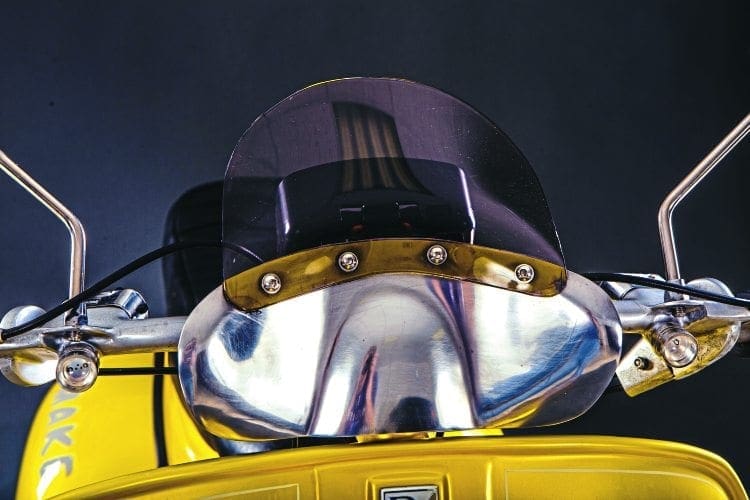 SCOOTER DETAILS
Name of scooter & reason: Talk Talk (the 80s band, not the phone company).
Scooter model: A rusty 1993 PX200.
Inspiration for project: Like the old style Vespas, I wanted to do something which had a 'hot-rod' look to it.
Time to build and by who: Built over two years of spare time and weekends, 99.99% by me. Technical machining, hand pinstriping/lettering and seat covering I've had done.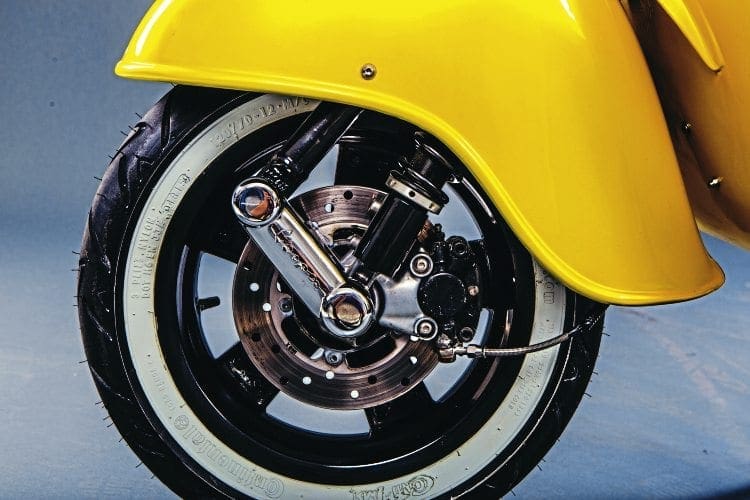 Any specialised parts or frame mods: The frame has been lengthened by four inches. Front body widened one and a half inches. The rear body I hammered the PX corners out, hammered the old style under seat shape in, and also narrowed by two inches. Top of the body is lowered and moved forward by two inches, I've then remade the curve up to the seat horn to make the body lines flow smoothly. New legshields and floorboards made from new steel four inches wider to give it a 'fatboy' look. The front mudguard is PX, reshaped with longer sides added. The horncast made from flat steel, copied from a picture, as close as I could, then added the 'moustache' ends were made to flow round the front mudguard. Front fork is ET2, handlebars are 50s Vespa, widened one and a half inches each side. The glovebox is PX. I altered the top and added a longer curved lower front. The side panels have been stretched by four inches, widened at the front by two inches, and made two inches lower at the back. The false sparewheel cover is made from an old front mudguard. The flyscreen and rear number plate surround/bumper combination have been made from scrap aluminium. The rear light is VBB but I have had to cut and alter it because the back is has such a curved shape. The seat base is PX but has been altered to fit and line up with the new body shape. The rear disc is an Aprilia part (I think), which is mounted on a custom made hub (I didn't make the hub though) with custom made calliper mount, worked by a cable over hydraulic master cylinder.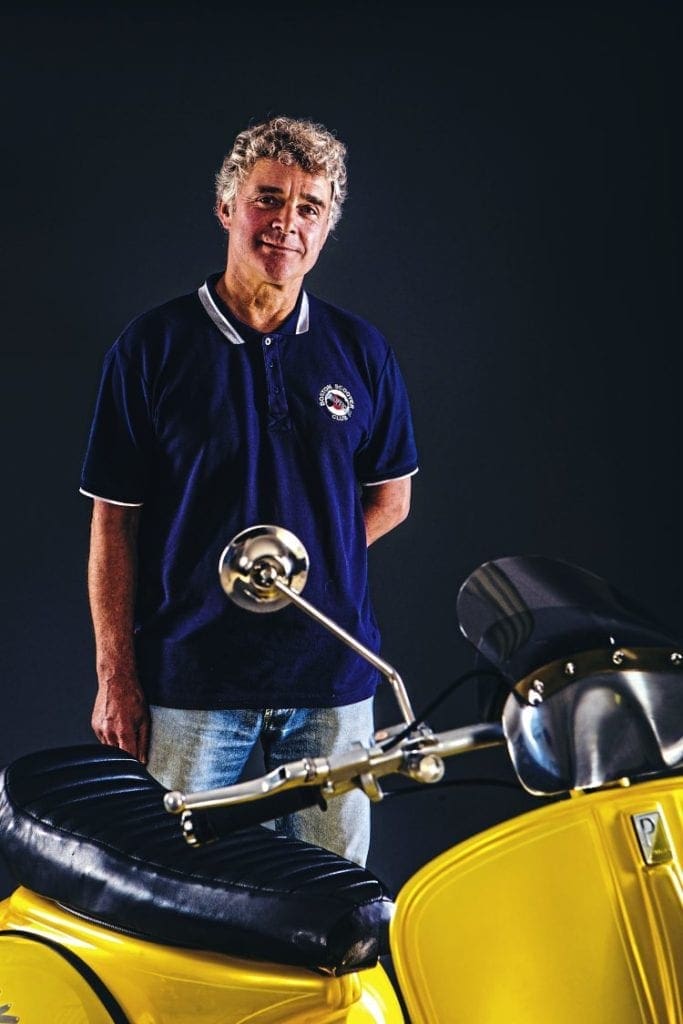 Engine spec: 180 T5, reed valve, auto cube, electric start.
Barrel and piston: A custom made steel lined T5 aluminium barrel with a reworked Yamaha 200 piston.
Case: Welded and machined to take LML reed valve, fitted with Malossi petals, and a PX starter motor. Autolube using PX200 drive.
Flywheel: Machined to take PX starter ring gear.
Exhaust: Made from stainless steel. I have had to alter it to give more clearance from the lower side panels.
Clutch: Cosa 20 tooth.
Gearbox: Cosa 200.
Carb: 26/26 Dellorto in a standard air box, with a cone filter.
Barrel/piston and engine machining: This has been done by Jim Morley at JME Boston.
Is there anyone you wish to thank: JME Boston, Ragbag Trimmers, The Croft, Skegness Seat Covering, Phoenix Gears, VRS Ltd and Neil Forster (Seaside Neil).
Words: Sarge
Photography: Gary Chapman

Enjoy more Scootering reading in the monthly magazine. Click here to subscribe.