Racing Legends Tribute
With a passion for motor racing, a sporty T5 scooter and racing legends in mind, the result was inevitable…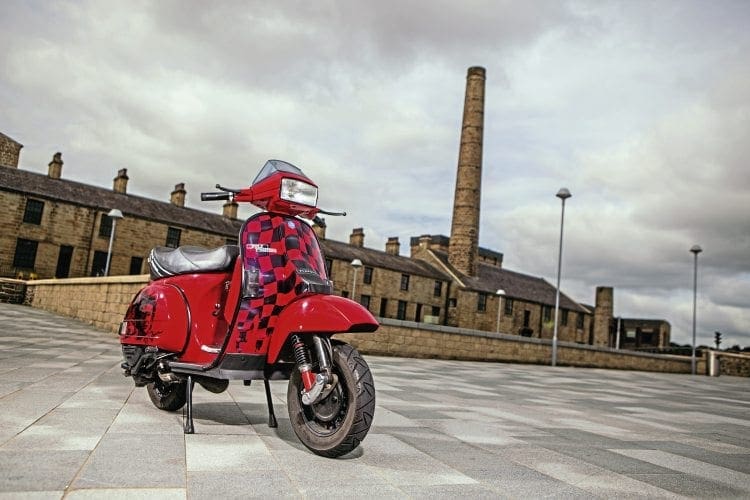 The Vespa T5 is a bit of an enigma, when it first appeared on our shores in 1985 it received a frosty reception from the scootering 'community' who had been more accustomed to the look of the work-horse P range. The rectangular headlight, curved instrument panel and flat rear end were a lot to take in, but the extra performance soon had the rally faithful smitten. This extra oomph came about due to an improved five-port, Nikasil-lined, aluminium cylinder, designed to give more power, more revs and have better cooling than its equivalent earlier cousin model.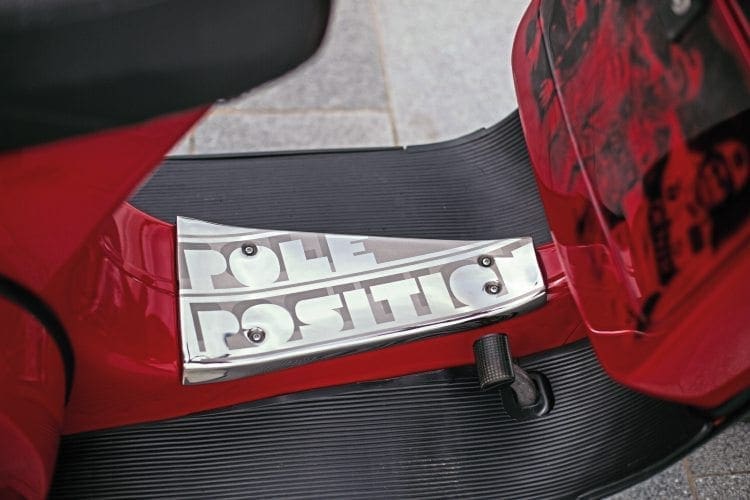 Due to this 'sporty' performance and sleek look it came with the catchphrase 'Pole Position'. To hook the buyer it could often be seen in advertising with glamour models, flying through the air wheelying or even with an F1 racing driver sat astride! Like many, I was doubtful at first and to be honest the standard performance didn't exactly blow me away. However, after a Pinasco kit and Mikeck were added it became my rally machine for several seasons in the late 80s and took me all over the country.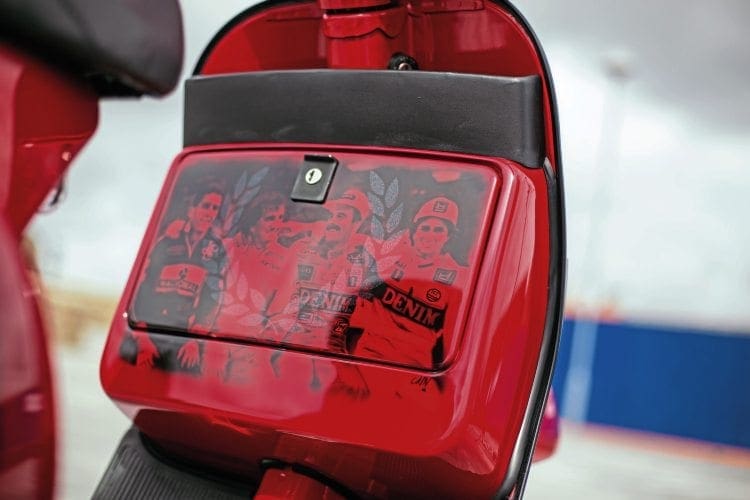 Anyhow, one thing the T5 did have in common with its 'chunky' predecessors was large 'flat' panel-work just crying out for art and personalisation. The beauty you see here is owned by Fran Di Vito, who hails from Burnley in Lancashire. Fran is a convertee from the motorcycle world and amazingly this is not only his first attempt at customising but is in fact his first scooter! He bought it as a basic model in November 2011, stripped it down immediately, came up with the theme, got MotoLab (also in Burnley) to carry out his dream and has ridden it ever since. As well as a love of motorcycles and scooters he also enjoys following racing driving and especially Formula 1. So with the T5's links to motorsport he thought it was a perfect theme to base his custom around. After talking through his ideas with the team at MotoLab they decided to change the base gun-metal colour to red and have the murals done in black, a nice twist on the normal black/white artwork, and I must say it really works well. Image-wise they picked out stills of the superstars from several eras of the sport. The left panel features a montage of 50s legend Alberto Ascari, the right the maverick genius Ayrton Senna. The toolbox door the big four from the 80s/90s golden age Senna, Prost, Mansell and Piquet, holders of no fewer than 11 world titles and 146 wins between them! The scooter has also been adorned with various overlays of circuits, flags and laurels – all this work was done by the very talented Cain Bramley. Engine-wise Fran has always been happy with the standard performance and as the saying goes 'If it isn't broken, why fix it?', however he has added a Sterling exhaust and up-jetted the carb to match and this gives a nice 60mph cruise speed and near on 70mph blast downhill, head-down with the wind behind! Other nice additions are the carbon effect finish to the engine and frame cowls and the machine etched centre plate. In all it only took six months to rebuild, not bad by today's standards! The finished product is not only eye-catching but very reliable; since completion it has only needed a clutch cable replaced.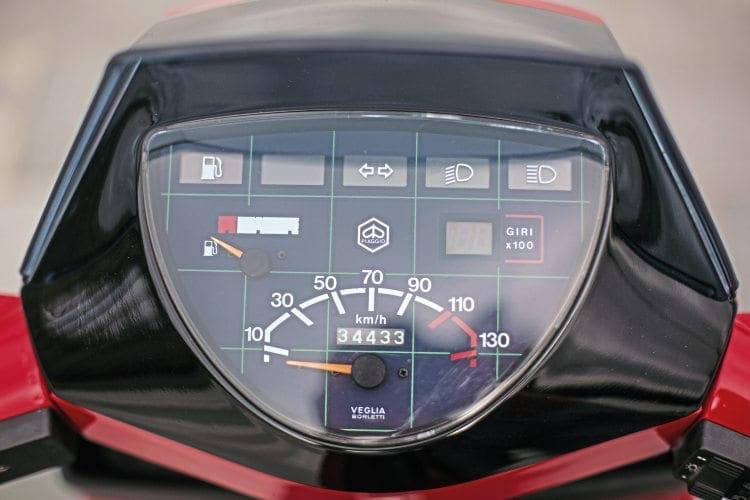 SCOOTER DETAILS
Owner Details: Fran Di Vito
Job: Mobile hairdresser.
Hometown: Burnley.
Scooter club: VCB.
First event: 2012 Ribble Valley Mod Weekender.
Favourite event: Welsh National 2015.
Worst event: Morecambe 2015 – weather!
Furthest ridden: Hartlepool, just under 100 miles each way.
What do you like about rallies/events: Meeting up with old/new friends, riding together and having people take an interest in my scooter.
Dislike: Nothing really apart from scooter snobs.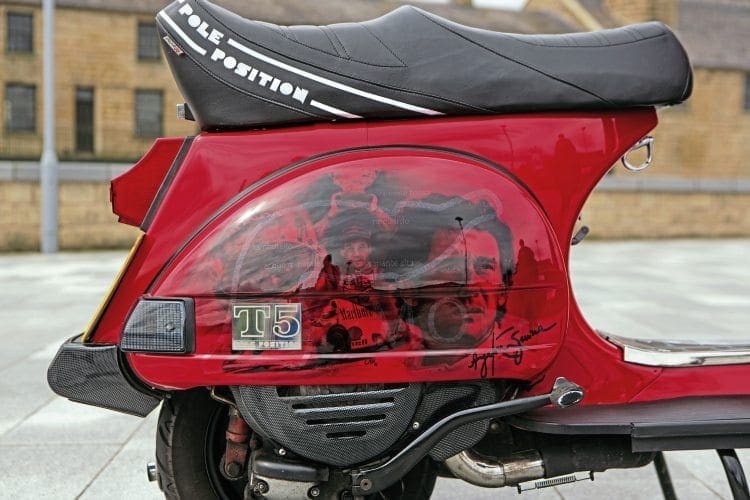 Name: Pole Position
Model: Vespa T5.
Inspiration: Formula 1 and my father. Sadly he died before it was completed.
Paintwork: Ferrari 'Rosso Corsa' and murals.
Engine: Standard apart from Sterling Expansion and up-jet.
Cost: Initial purchase £700, customising £2300.
Anything to add/change: Nicer wheels but still on the lookout, black alloys would finish it off perfectly I think.
Thanks: Martyn Kean & Cain Bramley from MotoLab, Cra Wisziewski, Graham Roper, Ian Melia and Ayrton Senna – legend. RIP!
Words: Dave O
Photography: Gary Chapman

Enjoy more Scootering reading in the monthly magazine. Click here to subscribe.